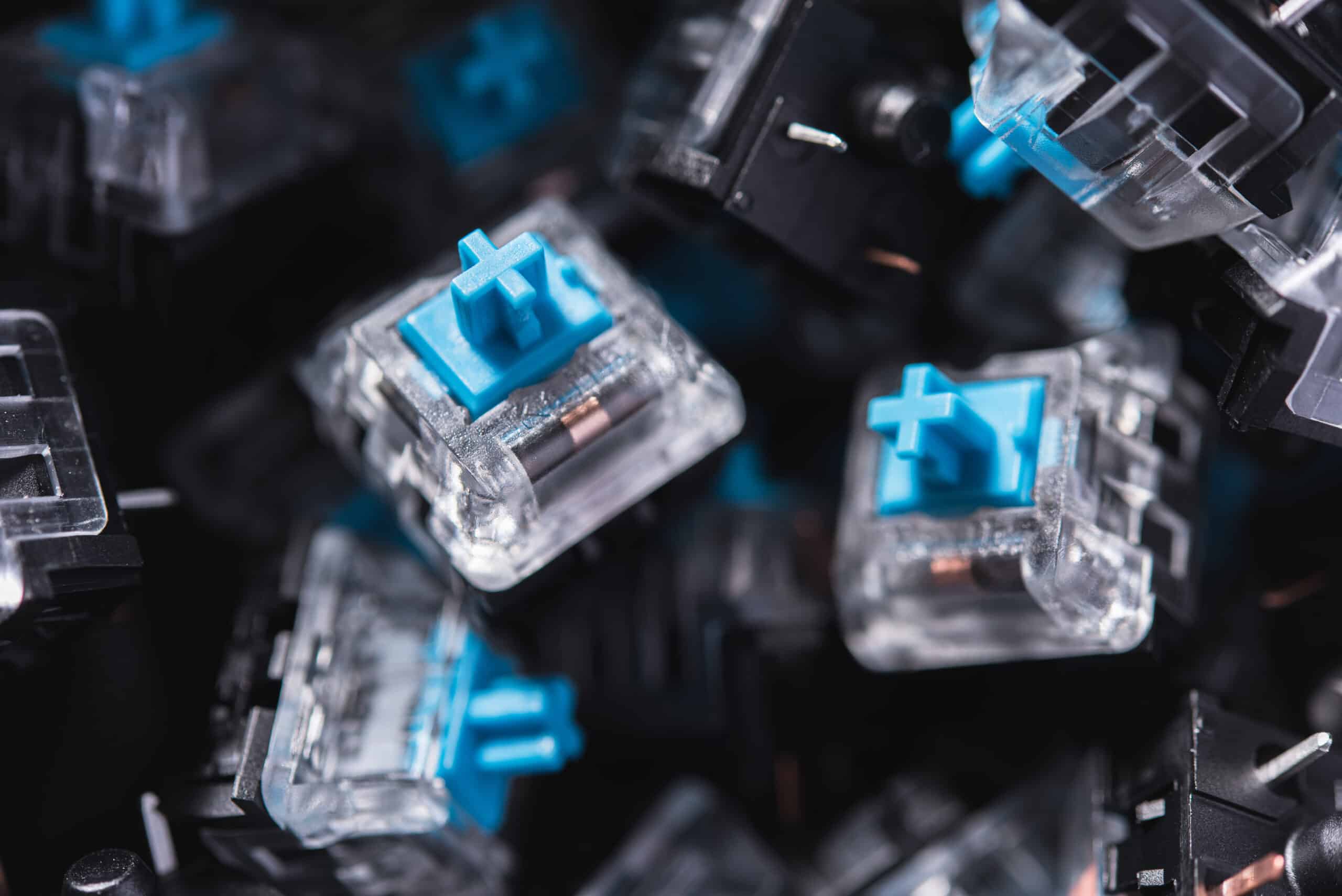 Mechanical keyboards have been gaining a lot of traction lately. So, finally, what was once a paragon of geekdom is moving quickly into the public sphere, and everyone should be excited about that. After all, when the geeks' favorite things make their way into the general population, there's always a boom of innovation that accompanies the spike in popularity.
But with mechanical keyboards, there will be a lot to learn for new users. After all, these keyboards tend to be pricey, and it makes sense to want to get the best possible keyboard for your needs. So here are some of the best mechanical keyboard switches we could find on the market!
Here were our favorite choices for keyboard switches:
Cherry MX is the go-to manufacturer for many mechanical keyboard enthusiasts. The Cherry MX and MV lines are some of the market's most reliable and well-known mechanical keyboard switches, and for a good reason!
Cherry MX switches feature low actuation forces, requiring just 50g of pressure to actuate their Blue Switches (click and tactile) and just 45g of pressure to actuate their linear Red Switches. They also feature hot-swap capabilities, allowing users to slot keyboards previously outfitted with hot-swappable switches to swap out of a set of Cherry MX switches.
Their high quality and vast options have made Cherry MX one of the leading names in mechanical keyboards. As a result, many other companies base and name their switches using Cherry MX's model. In addition, many top mechanical keyboard manufacturers outfit their keyboards with Cherry MXs as the default because they're reliable and durable, making them an excellent set to ship.
However, Cherry MX switches can be a bit pricey, whether you're buying just switches or a whole new keyboard. The price point of Cherry MX switches is one of the primary reasons people tend to go with budget alternatives. Still, those that choose to go with Cherry MX switches will not be disappointed when they feel those buttery smooth inputs.
Check out Cherry MX on Amazon.
Best Budget Option: Redragon
Regarding budget mechanical keyboards, Redragon is a go-to for many users. In addition, Redragon has many computer peripheral products, including graphics cards, mice, and keyboards. Redragon switches are modeled after the Cherry MX line and feature the same naming scheme used by Cherry MX.
Like Cherry MX switches, Redragon features several options for the type of switch or full keyboards outfitted with their switches. This makes it exceptionally easy for people to find a compatible keyboard. Redragon's switches and keyboards are also hot-swappable. So if you've used your keyboard to its limit or you're just looking for a new feel to your typing, you can yank the switches out and put new ones in.
The best part about Redragon switches is how much they cost. These highly economical switches and keyboards make an excellent choice for people who aren't sure if they like a mechanical keyboard.
Check out Redragon on Amazon.
Best Premium Keyboard Switches: Gateron
Gateron switches are an excellent premium choice for people looking for a fun, reliable, and premium mechanical keyboard switch. These gorgeous switches come in hundreds of options from full-height, to low profile. You can even get them pre-lubed and ready to be hot-swapped into your keyboard!
Gateron has options for smooth linear switches or tactile switches. So, they'll be able to satisfy anyone in the keyboard crowd. They're a little bit more expensive than some of the other keyboard switches out there, but they're some of the most high-quality and reliable switches you can outfit your keyboard with.
Some of the Gateron switches are also much more economical to purchase than Cherry MX switches. But they're only about half as durable, able to withstand 50 million inputs before they start to degrade, compared to Cherry MX's 100 million.
Check out Gateron on Amazon.
Best Proprietary-Only Switches: Razer
If you're not as picky about who manufactures your switches, considering a Razer keyboard is an excellent way to get into mechanical keyboard ownership. Razer's keyboards are of excellent quality and feature proprietary switches.
Razer's switches are designed with LED backlights in mind, and they work to project the most light they can from the LEDs to give your keyboard a unique feel. This light-projecting housing is also excellent for making your keyboard look simply fantastic.
Razer's switches don't follow the same name scheme as most other keyboard switches. So you'll want to brush up on their proprietary terminology before you start adding things to your cart with fervor.
If you're looking for tactile switches, you'll want Razer Yellow switches which provide a tactile bump and click. Linear switch fans will want to grab a keyboard with Razer Green switches which are fast, quiet, and lighter than the Yellow version.
Razer also offers an affordable route to outfitting your keyboard with optical switches. Currently, their optical switches are only available on the Razer Huntsman V2. Still, we should see Razer rolling out more options for optical switches in the future.
Check out Razer on Amazon.
Best Gold-Plated Switches: JWK
People looking to get into the gold-plated keyboard switch game should check out JWK's Durock series. These switches are pre-outfitted with gold-plated springs that offer superior corrosion and rust resistance. People who live in humid climates may find that their springs rust and degrade, but a non-reactive metal plating – such as gold – can help your springs resist the humid weather without rusting or corroding.
It is worth mentioning that gold-plated keyboard switches have a notable downside in degradation which is the plating flaking or falling off the spring. This can result in keyboard chattering and other degradation, as well as rusting or corrosion of the spring underneath the plating.
Check out JWK on Amazon.
How to Pick the Best Mechanical Switches: Step-By-Step
Picking out mechanical switches starts by understanding what makes mechanical switches different from the typical rubber dome keyboard. Most generic keyboards use a rubber dome or membrane setup to determine which keys are pressed.
Rubber Dome Keyboard Switches: How They Work
Rubber dome keyboards have a straightforward mechanical composition. There is a series of rubber domes underneath your keys. When the corresponding dome is depressed, a plunger on the bottom of the key presses the rubber dome down. Pressing the dome down puts the dome's carbon center in contact with the key matrix circuits. It sends a signal to the computer to tell it what input you've completed.
Membrane Keyboard Switches: How They Work
Membrane keyboards have a similar design to rubber dome keyboards, except membrane keyboards use a continuous membrane that stretches over the key matrix. The membrane is printed with a pattern that completes the necessary circuits when the membrane is pressed down.
Mechanical Keyboard Switches: How They Work
Mechanical switches use a spring-loaded switch. The spring keeps the switch from staying depressed when the key is not in use, and the switch actuates when the stem of the switch presses down the switch at the back of the keyboard.
Mechanical key switches are considered ideal for typists and gamers who use their keyboards often because they use a spring and physical switch, the actuation force required for mechanical keyboards is typically lower than rubber dome or membrane keyboards.
Actuation Force
When deciding what key switches to use, this is one of the most important things to look at. Actuation force is the amount of pressure that needs to be applied to a key for it to register that a key has been pressed. For example, rubber dome and membrane keyboards usually need 65g of force or more to actuate the keys.
While that may not sound like a lot, typing and using a keyboard is much different from lifting a weight. The amount of force needed to actuate the keys is important for people who want to preserve their hand function and avoid carpal tunnel while doing the very repetitive motions of typing.
Bottom Out Force
While not every company advertises it, the bottom-out force is something you should consider when choosing your key switches. The term "bottoming out" refers to when the keycap affixed to a switch hits the backplate of the keyboard.
Mechanical keyboards do not require the switch to be pressed all the way down to actuate the keys. Bottoming out is when you push the key harder than is necessary. Bottoming out your keys isn't associated with degrading the keyboard's switches. Instead, it's associated with increased strain on your hands. So you'll want to get used to your new keycaps and press them only as much as is necessary to keep your hands in good condition.
You can tell that you've bottomed out your keyboard makes a loud "CACKA" sound when you press the key. So you'll want to check the bottom-out force to get an idea of how hard you'll need to press the keys.
Switch Height
Another thing you should consider when choosing your new keyboard switches is the switch height. If a switch is too tall, it will take longer for you to press the switch down because the stem of the switch will need to travel further to reach its actuation point.
Many companies now offer "low profile" switches intended to be used by people with low-height keycaps. Low-profile switches are often slightly faster than full-height switches, as the stems are shorter and don't have to travel as far to reach the key matrix.
You'll also want to consider what keycaps you plan to use with your keyboard. For example, if you have full-height keycaps, you'll need to find a full-height keyboard, as low-profile switches may not fit full-height keycaps; if the keycaps are the wrong height, they may pop off accidentally while you're using the keyboard.
Tactile Feedback
Mechanical switches also have different types of tactile feedback that can help you better learn to use your keyboard. Tactile feedback in switches tends to have two categories: tactile bumps and tactile clicks.
Tactile bumps are a soft "bump" feeling when the key actuates, while clicks make an audible "click" noise when the key has been pressed. There are also linear key switches that aim to provide no tactile feedback when the keys are depressed, making them good for users who prefer a quiet keyboard.
Manufacturers will list the tactile specifications of each key switch and keyboard. So, finding a keyboard that suits your specific needs is not hard. Generally, Blue switches—named after the Cherry MX Blue series—are tactile and clicky.
They're loud and clacky, which some people like as they find the sound feedback satisfying. Blue switches have a small tactile bump when the key is depressed, but they focus more on audible feedback.
Brown switches have a notable tactile bump when the keys are actuated, making them excellent for people who like the tactile feedback but don't want to hear the loud "clack clack clack" of a Blue switch keyboard.
They're not as quiet as Red switches, but they're not as loud as Blue switches and have excellent tactile feedback for people with poor hearing.
Red switches have no tactile feedback unless you bottom out the keys. These are the fastest switches that have the lowest actuation forces. They are referred to as being "linear" because the key pass—the chamber in which the switch is housed—is linear, preventing a tactile bump or click from occurring.
Keystroke Durability
Most key switches will include a metric for durability. Like any piece of technology, the switches, springs, and other parts of the mechanical keyboard will experience wear and tear through use. Mechanical keyboard switches' durability is measured using a number of keystrokes. Most key switches can withstand 100 million or more keystrokes before they start to degrade.
Before you ask, rubber dome and membrane keyboards also have an upper limit to how many times a key can be depressed before the system degrade; they just don't admit to it or give you a discernable metric to measure your degradation by.
Mechanical Keyboards: What to Know Before Buying
Mechanical keyboards are a bit more performance-focused than generic keyboards. Mechanical keyboards are typically wired. So if you're looking for a wireless keyboard, you may consider a rubber dome or membrane keyboard. However, wireless mechanical keyboards are an emerging market that receives many new products.
If you're looking for a wireless keyboard, check the technical specification to ensure it supports Bluetooth or 2.4 GHz connections. Most keyboards that support 2.4 GHz connections will come with an adapter that allows them to connect to the computer.
Mechanical keyboards are also a fair bit more expensive than generic keyboards. Since the mechanical keyboard is relatively new to the general public, the prices of keyboards are still in the range of premium products that don't have a considerable following. If the interest boom in mechanical keyboards continues, lower priced alternative brands will likely crop up.
Mechanical Keyboards: What's It Like to Use One?
Using a mechanical keyboard is one of the most satisfying typing experiences. The keys barely need to be depressed to actuate. As a result, they're much faster for anyone interested in input speed, like gamers and typists.
Final Thoughts
Upgrading to a mechanical keyboard is an excellent idea for anyone interested in taking their computer game to the next level.
Not only are mechanical keyboards faster and more reliable than rubber dome or membrane keyboards, but they're also better for your hands. In addition, they can help you stay fit and active by preventing early-onset carpal tunnel and arthritis.
Next Up…
Check out these awesome space articles: