If you didn't know any better, most people might think that because of the number of Apple laptops you might spot at a coffee shop or in a college classroom they have a significant industry market share. The reality is that all of Apple's computers only account for 13.5% of the global PC market though you'd never know by all of those MacBook Pros you saw at your local Starbucks. As popular as they might be, what
if you don't want to use macOS or your work or school require incompatible software with macOS?
Regardless of the reason, there are a ton (really, that many) of laptops out there that are looking to steal Apple's crown as one of the most favored laptops for new computer buyers. That's not to say the competition will be less expensive. On the contrary, any true MacBook Pro competitor should have good hardware with powerful components which likely means a similar price tag. With that in mind, let's take a look at some of the best competitors to the MacBook Pro.
Best Overall: Dell XPS 13 (9310)
For a few years now, the Dell XPS 13-inch laptop has been considered the best MacBook Pro alternative on the market. It's thin, lightweight, good-looking, has a beautiful display and plenty of power. Those are pretty much the same adjectives you would use to describe the MacBook Pro so it makes sense that the Dell XPS 13 would be the best overall competitor.
Powered by Windows 11, you get the complete Windows experience on the 13.4-inch 3.5K (3456 x 2160 resolution) which makes working in Excel or watching videos look gorgeous. Speaking of working, day-to-day tasks or multitasking with the best of them will be a breeze thanks to the 11th generation Intel Core i7 processor. This chip is more than capable of handling a bunch of open Chrome tabs plus PowerPoint and Excel. You'll need to really try to slow the Dell XPS 13 down. Plus, with 16GB of RAM, multitasking between different open applications is seamless.
Weighing in at 2.8 pounds, the Dell XPS 13 comes in at 0.2 pounds lighter than the 13-inch MacBook Pro (2022) so there is no sacrifice when it comes to weight. Add in Wi-Fi 6, Bluetooth 5.1, and Thunderbolt 4 ports and you have the best MacBook Pro alternative. 
Best Battery: HP Spectre x360
With the M series chips powering all of Apple's MacBook Pro lineup, Apple has been able to make some pretty definitive statements about all-day battery life. Given that, you'll need a Windows-based alternative to match and you can find it with the HP Spectre x360. Running a 12th-generation Intel Evo i7 processor, there's more than enough horsepower to do all of your lightweight and heavyweight tasks. This is even more true when you consider the 16GB of RAM and 512GB of storage which gives you even more power to multitask and download all the files you could ever need.
All of your work or play will be handled by a 13.5-inch PixelSense-based touchscreen and at only 3.01 pounds, it's light enough to go anywhere. Of course, to go anywhere that doesn't require a plug, you need battery life and the HP Spectre x360 has plenty. HP claims that under medium load the battery life can reach up to 18 hours on a single charge which is right in line with MacBook Pro numbers.
Rounding out the HP Spectre x360 are two Thunderbolt 4 ports, a microSD card and Wi-Fi6E. What's really cool about the x360 is that it will convert to a 2-in-1 by flipping backward so you can write or draw on the screen.
Please note: As of July 18, 2023, the HP – Spectre x360 2-in-1 13.5″ 3K2K OLED Touchscreen Laptop is out of stock on Amazon. Check the retailer for future availability.
Best Value: HP Pavilion Plus 14
When you want to get close to the performance of a MacBook Pro without spending too much, the HP Pavilion Plus is the best computer you can find. Right from the jump you are drawn in by the beautiful 14-inch 2.8K OLED display that just begs you to watch movies and TV shows in full screen. Add in a low blue-light filter and not only is the screen a pleasure to use, but it's also better for your eyes. You can also use the screen for video calls with the 5MP camera which runs circles around the MacBook Pro's HD FaceTime camera at 720p.
In the event you're buying the Pavilion Plus 14 to do more than watch movies, you have a 12th-generation Intel Core i5 processor and 8GB of RAM. All three hardware components combine for enough power to handle whatever you want to throw at Windows 11.
For those moments when you really need all of the computer's power, switch to Performance Mode and you can open up as many Chrome tabs as you need and the Pavilion Plus 14 will keep up. The same goes for light gaming and entertainment. With entertainment, you might need a good pair of headphones and the HP comes equipped with a headphone/mic combo input as well as USB-C, two USB-A, HDMI, and a microSD slot for extra storage.
Please note: As of July 19, 2023, the HP Pavilion Plus 14 inch Laptop PC is out of stock on Amazon. Check back for availability.
Best Gaming: Razer Blade 14
As part of the release of the M2 series chips, Apple has touted improved performance across all facets of the MacBook Pro lineup, including gaming. While Apple still has a long way to go to win over gaming fans, the Razer Blade 14 does not. As a laptop that even resembles a MacBook Pro with its aluminum exterior and black keyboard, the Razer can handle just about any game you can throw at it, M2 chip not required.
Powered by the AMD Ryzen 9 6900HX processor, the Razer is also ready to tackle your backlog of games from the Steam store. Add in a GeForce RTX 3070 Ti GPU and it only emphasizes just how far apart the MacBook Pro and the Razer Blade 14 are in gaming performance. All of your gaming will take place on a 2560×1440 resolution screen with a 165Hz refresh rate. This is just a smidge behind the MacBook Pro 13-inch 2560×1600 resolution but with a far better refresh rate.
Up to 11 hours of battery life will keep you gaming all day and while it doesn't quite match Apple's up to 17 hours of use, it's a sacrifice worth making for gaming whenever, wherever.
Best Travel: Samsung Galaxy Book2 Pro
Whenever you travel, the last thing you want is extra weight and while the MacBook Pro isn't traditionally heavy, the Samsung Galaxy Book2 Pro is noticeably lighter. In its 13.3" form factor, at 1.92 pounds, the Samsung is a full pound lighter than the MacBook Pro which makes a difference over time. What is also noticeable is that giving up half a pound doesn't mean you surrender any performance gains as the Galaxy Book2 Pro is powered by a 12th-generation Intel Evo i7 processor. Paired with 8GB of RAM and a 512GB hard drive, there's more than enough power to keep you going wherever your travels may take you.
Add in a stunning Samsung AMOLED screen that really brings to life the 1920 x 1080 Full HD resolution and it's easy to see why this computer is so popular. It also helps that you can easily match the MacBook Pro's all-day battery life with Samsung promising 21 hours of battery life on a single charge. Even more notable is that with fast charging, you can power the laptop back up by 40% in under 30 minutes.
Like the MacBook Pro and iPad, the Galaxy Book2 Pro can seamlessly sync up to the Galaxy Tab S8 and add a second screen which is a nice bonus if you have both devices.
Best Versatility: Microsoft Surface Laptop Studio
After decades of allowing other manufacturers to utilize Windows software and their own hardware, Microsoft has jumped headfirst into the hardware game over the past decade. The Surface lineup of laptops and desktops has been praised for its tight combination of hardware and software. This is especially true when it comes to the Microsoft Surface Laptop Studio. Looking at versatility with this Surface is an exercise in not what you can do, but whether there is anything you cannot do.
Powered by an 11th-generation Intel i5 processor, 16GB of RAM, and 256GB of memory there's very little productivity work that the Surface Laptop Studio cannot handle. Go ahead, try 16 Chrome tabs, one Excel spreadsheet, a Zoom call, and watch this laptop just smile and keep going.
If you're not already convinced, the Surface Laptop Studio continues to stand out with its quick ability to seamlessly transition from laptop to entertainment-ready form factor slash portable creative canvas as Microsoft likes to label it. If you have a Surface Slim Pen 2, you can do even more but whatever you do, it all looks good on the 14.4-inch touch 2400×1600 display with a refresh rate of 120Hz. Knowing that Microsoft includes an NVIDIA GeForce RTX 3050 Ti GPU only enhances the idea that this can handle animation, video rendering, and picture editing without breaking a sweat.
How to Pick the Best MacBook Pro Alternative: Step by Step
As popular as the MacBook Pro might appear, this list shows you can easily find equal performance in the Windows PC world without spending too much and potentially even spending less. Before you make any decisions on which of these fine alternatives to buy, there are a few important areas you want to consider.
Size
Performance
Versatility
Battery
Size
As of February 2023, the MacBook Pro comes in 13, 14, and 16-inch sizes so Apple customers have a good range of size options. There's an equally good range of sizes available in the Windows PC (13, 14, 15, 16, 17-inch) space so this isn't an either-or discussion between Mac or PC. Long gone are the days when larger computers meant more power so today it's more about the size of the screen you prefer and how much weight you want (or don't want) for portability.
Performance
When it comes to performance, there is little argument Apple is showing some really impressive stats with its M2 chip lineup. For the moment, Apple's chips are arguably more powerful than their Intel or AMD counterparts but you can still find plenty of performance strength with an Intel Core i5 and above or its AMD equivalent. At the bare minimum, you also want 8GB of RAM and 256GB of storage to make sure you're looking toward the future with multitasking and increased demands on a computer.
Versatility
As good as the Apple MacBook Pro is, it's definitely not the most versatile laptop lineup. Apple is not on 2-in-1 form factors nor have they shown any interest in laptop touch screens. This is okay as PC buyers have significantly plenty of options available when it comes to versatility. There is no question that the Microsoft Surface laptop is far more versatile than anything Apple can currently offer.
Battery
With the release of the M2 MacBook Pro lineup, there was a definite focus on increased battery life efficiency as Apple is able to closely tie its hardware and its software. The good news is that as good as the Apple numbers are, there are plenty of options for PC users to get either close to or just a smidge more than Apple is offering. This may not be true if you opt for a dedicated gaming computer but finding an equally strong battery life of 15 hours or more is not a difficult task.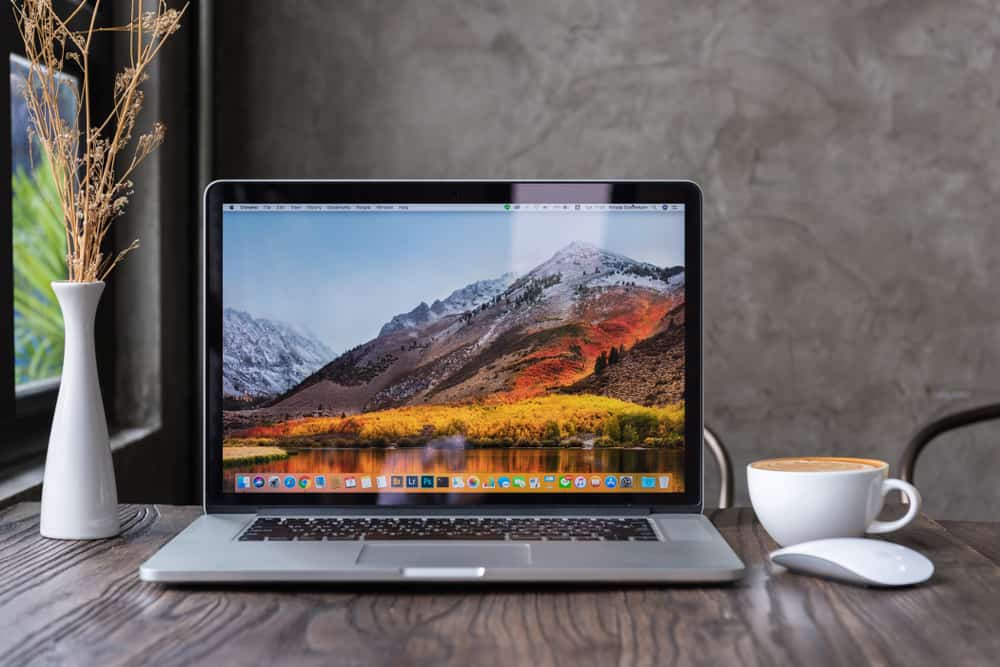 Using MacBook Pro Alternatives: What It's Like
There's no way around it, using any of these MacBook Pro alternatives is going to end up with you believing you got a very good computer. In fact, most of these computers are not just good MacBook Pro alternatives but among the best Windows laptops on the market today. Each one is a joy to use with bright screens, great keyboards and solid battery life. The versatility that you find with these computers is also a huge bonus between their touch screens, pen access, or their ability to fold or transition to a 2-in-1.
The toughest decision with the laptops on this may not be whether you go Apple or PC but how do you choose which one of these is right for you. At the end of the day, no matter which one you choose, you will find yourself with great battery life, a much deeper library of games to enjoy as well as access to the full suite of Microsoft products which is a definite highlight of any PC ownership.
Final Thoughts
No matter which PC on this list you choose, you are going to find yourself with a computer that rivals the MacBook Pro. Even as Apple has a clear lead (for now) in terms of raw processing power with its M2 chip lineup, Intel and AMD are not too far behind. One advantage that all of these PCs have is a deeper lineup of compatible software that works with Windows 10/11 and when paired with hardware like the Dell XPS 13, it's just as good of an experience as Apple's.
The image featured at the top of this post is ©Dean Drobot/Shutterstock.com.