Key Facts
KDE Neon has a modern, professional appearance and low system requirements.
Pop!_OS is minimalist and will not cause bloat on systems, ensuring they will be able to run smoothly.
Linux Mint based on Ubuntu is not only easy to install but customizable too.
Different people have different likes and dislikes, but one thing that's always popular with computer users are operating systems. There are plenty of options available, but only a few have become as popular as Linux distros. While there are lots of factors to consider when deciding which distro you'd like to try out or use full-time, one of the most important things you should consider is the distribution itself.
The appearance of the Linux distribution plays an important role in the choice of many users. Some prefer to look at the operating system they use daily, others are attracted by what they consider the most stylish interface. As a Linux user, you may be a bit confused with the different Linux distributions available. This is not just a problem for newbies but also for seasoned Linux users.
The good news is that there are some great-looking Linux distributions out there. In fact, some of them are really impressive! If you're thinking about switching to Linux, check out these ten distros, which offer both unique user experiences and beautiful looks.
#10: KDE Neon
Neon is the most recent edition of the KDE family of desktop environments. It's a user-friendly and customizable interface that features an attractive design. it allows users to change their window manager, widgets, themes, and more. It also has a default theme which looks amazing! If you're looking for an easy-to-use but still aesthetically pleasing desktop environment, this might be what you're looking for. It's great for people who want something different from the traditional GNOME or MATE desktops.
KDE Neon has a modern, professional look that should please any Linux user. The developers clearly put a lot of thought into the icons and the application menus. KDE Neon is a curated collection of desktop applications inspired by the Plasma 5 Desktop and API, which aims to provide a consistent user experience across devices.
Plasma includes a different dark theme, similar to several other distributions, extending the color pattern throughout all installed programs. You can simply convert to KDE Neon despite its graphically extensive feature set because of its low system requirements.
#9: Manjaro Linux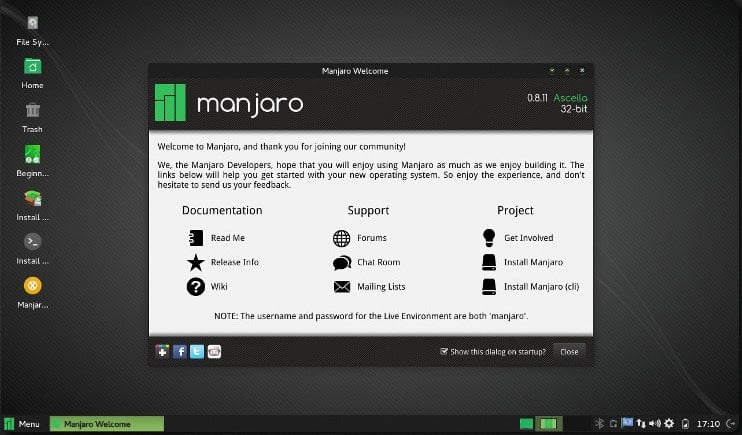 Manjaro is a user-friendly, fast, easy-to-use operating system based on Arch Linux. It comes pre-installed with all the necessary applications for a modern desktop, including LibreOffice and Firefox, and has optional installs for Google Chrome and Skype.
The Manjaro community provides free application repositories, which make installing new software easy while also providing extensive documentation. The OS includes XFCE, KDE, GNOME 3, and Mate desktop environments. This allows users to choose their desired interface.
#8: Nitrux
Nitrux is a distribution that perfectly balances the usability and performance of Linux. It also has useful applications and a graphical user interface, making it very simple to use. Nitrux is built using Debian as its base OS, but it comes with additional packages that make it more suitable for gaming, multimedia, and office tasks. Nitrux features lightweight repositories that allow users to employ only the version of the packages they want without dependencies or bloat.
It focuses on giving a positive user experience to customers who want a unique design language and a new perspective on a Linux distro. In addition, it makes use of the KDE-based Nomad desktop. Nitrux promotes the use of AppImage for application development. But Nitrux also supports the Pacman package manager from Arch Linux.
#7: Pop!_OS
Pop!_OS is a Linux-based operating system based on the Ubuntu core that aims to provide a user-friendly, practical, and elegant desktop environment. Pop Shell creates an auto-tiled aesthetic that organizes your workplaces automatically. In addition, the touchpad and dock gesture support give the device a neomorphic feel. The macOS-style dock with customizable functionality is enhanced by Pop! _OS gestures, transitions, and workspace navigation.
Pop!_OS has quickly become one of the preferred Linux distributions for users and developers looking for something a bit more minimal. This minimalist distro is designed to run fast and doesn't bog down machines with unnecessary bloat. And with its focus on speed, you can easily concentrate on your projects.
#6: Deepin
Deepin is an operating system based on the Debian GNU/Linux distribution. Deepin provides a graphical environment for desktop computers. It integrates software updates in order to provide users with the newest and most stable versions of all installed applications, as well as its own Deepin applications.
It includes the Deepin Desktop Environment, which has a variety of critical features for the best possible user experience. Deepin may not look exactly like the UI of any other distribution, but it's simple to get used to. Deepin Linux also comes with a number of pre-installed programs that should be useful and fit in with the desktop environment.
#5: Linux Mint
Linux Mint is one of the most popular and best-looking Linux distros out there. It's designed to be easy to use, fast and elegant. The Cinnamon desktop environment is a favorite among many users because it looks great while also being very responsive.
If you're looking for a Linux distribution that keeps things as simple as possible, it's hard to beat Linux Mint. It's based on Ubuntu and uses the same package management software, so it's easy to install and use, but it also gives you a lot of flexibility when it comes to customizing your system.
#4: Feren OS
Feren OS is a Linux distro that's designed to be easy to use and fast. It comes with a beautiful, modern interface that makes it easy to get things done. It offers a minimalist aesthetic. It's also compatible with many other open-source software programs and has native support for Windows.
End users find it a visually stunning experience thanks to the new icon design schemes, animated task-switching, fading transitions, and six desktop layouts. The Feren OS Classic version has a ton of standout features that seamlessly combine the finest of the KDE Plasma environment with the best of the Cinnamon desktop components. You can, however, go back and forth within the Plasma design thanks to Feren's customizability.
#3: elementary OS
elementary OS is an elegant, open-sourced, Apple-inspired operating system that provides a consistent and simple experience for the user. All of this is facilitated by a polished and aesthetically pleasing interface. It's also not bogged down by excessive features or bloated software. The design is incredible, too. It looks great out of the box and looks even better when customized with a few themes/icons.
The Pantheon desktop environment is intuitive and easy to use, with an emphasis on maximizing screen space. It also provides plenty of customization options for users who want more control over the appearance of their operating system. The distro's new multitasking view facilitates seamless window switching, letting you change workspaces with a single swipe. And with the newest picture-in-picture capability, you can use your desktop as a kind of dashboard.
#2: Kubuntu
Kubuntu is the most popular flavor of Ubuntu, which has a vibrant and active community with tons of software available in the official repositories. Its KDE Plasma desktop environment is one of the best looking on any platform, with a streamlined interface and plenty of customization options. In addition, the distro ships with tons of great apps for productivity, multimedia, system administration, and more. You can also find thousands of additional programs in its extensive software store to suit your needs.
Everything, from the user interface to the animations is incredibly well-polished and stands out from the other distros. When you first log in, you get a splash screen, followed by a lovely wallpaper. Ubuntu has also made it very stable. It's one of the distros on this list with the best overall aesthetics.
#1: Zorin OS
Zorin OS is a Linux distro that is designed for people who are not familiar with Linux. The Zorin OS looks beautiful and has some great features, with themes that make it easier to customize the appearance of your computer. Thanks to this, it can resemble Windows and macOS. If you want to try out a different operating system but don't want to give up your current one, this is a good option. You can try it without doing anything permanent to your hard drive.
Zorin OS uses the Gnome desktop environment but also supports KDE, Cinnamon, Xfce, and LXDE. The main advantage of using Zorin OS is its speed. It's built on top of Ubuntu's repositories, so you'll get the same features as other distributions, but without the bloat or performance issues associated with other popular Linux distributions.
How to Choose the Best Linux Distro
Choosing the best Linux distro is a tough task. There are so many options, and they're constantly changing. If you're just starting out, it can be overwhelming to try to pick one. Here are some factors to consider when choosing the best Linux distro for your needs.
Software Repositories
Repositories are packages of software that can be installed on a Linux system. You'll find that many different repositories are available for Linux distributions, each with different capabilities. Some offer more than others, so it's important that you know the particulars before installing them on your system. For example, Ubuntu has more third-party support and significantly larger software repositories.
This would undoubtedly give Ubuntu the advantage if you intend to use your desktop for both daily tasks and multimedia. Some distributions, like Debian, package non-free software in a separate repository rather than include it in the base package.
Desktop Environments
Different desktops have different features that make them user-friendly. For example, KDE is known for being especially user-friendly, while GNOME is decidedly less so. Other options include Cinnamon, Unity, or Xfce, which are all good choices depending on what you need from your desktop environment.
Desktop environments are essential because often define which tools are included with your installation. OpenSUSE, for example, is built around the KDE Plasma desktop environment. Plasma includes a comprehensive collection of tools, and OpenSUSE has been tested and developed to ensure that those tools work properly.
Update Cycles
The update cycles of a Linux distro are important because they determine how often you'll be able to get security updates and bug fixes from the software, as well as how much time it takes for a new version of the software to be released. There are certain distributions without designated versions, including Gentoo, SolusOS, Arch Linux, and OpenSUSE Tumbleweed. When new software is launched, they update it. Ubuntu, Linux Mint, SolusOS, OpenSUSE, Debian(Testing), and ElementaryOS are a few distributions that frequently straddle the line between dated and cutting edge.
Support
You need to consider how well-supported your chosen distribution is by its community and developers. Does it have forums where users can ask questions? Does it have support forums where developers can help users solve problems? Choose a distro with lots of people willing to help others out when something goes awry! The Ubuntu community is vast and used to assisting Linux newcomers. In comparison, the Arch Linux community expects a certain level of skill and expertise from its users.
The community is also in charge of packaging software that is not found in the default distribution repositories. Again, Ubuntu's enormous popularity comes in handy here. When someone wants to support Linux, they package for Ubuntu. Other communities are likewise known for meticulously packaging new software. The Arch Linux AUR repository contains software that the Arch Linux community bundles and maintains.
Bottom Line
Tens of different Linux distributions come out every year, but only a handful of them actually stand out. The best-looking ones combine simplicity and elegance, following the principles of modern design. The problem with different Linux distributions is that there are too many of them.
While there are numerous opinions on the subject, they usually boil down to personal preference. Ubuntu is one of the most popular contemporary Linux operating systems. It boasts a long list of features and benefits, as well as an elegant, sleek interface. Its wide-ranging appeal has made it the choice of many users who want a good-looking and functional operating system.
Zorin OS is definitely worth checking out if you're looking for a Linux-based operating system that looks as good as it works. In fact, the Zorin team has introduced countless other features in the desktop environment that go above and beyond the call of duty. Whether you're a beginner or an experienced user of Linux-based operating systems, there's something to be gained from this beautiful open-source OS.
Up Next…
Interested in more articles on computing? Click on the links below:
The image featured at the top of this post is ©isak55/Shutterstock.com.