Key Points:
For first-person shooter games, the Logitech G Pro Wireless is works well. It sports a removable wire, is portable, and the click latency is very low, around 9ms in wired and 10ms in wireless mode.
The Logitech MX Master 3S is a true workhorse of a mouse with a bigger, ergonomic design and a second scroll wheel to make it easier to handle multiple tasks.
Powered by a single AA battery, the Logitech G305 can connect wirelessly using Logitech's USB Unifying Receiver, and comes with personalization software, allowing you to program buttons, create profiles, and adjust sensor parameters.
A Logitech mouse is one of the top options for anyone looking to upgrade their computer's input devices. What's more, Logitech is a fantastic fit for many regular computer users because it's inexpensive, lightweight, and easy to use.
The company makes optical mice that use light to track movement. The lens on the mouse directs light from an LED underneath it onto your work surface. It also monitors the amount of reflected light obstructed by things on your desk as you move the mouse around. Your computer receives this information and uses it to define cursor movements on the screen.
There are many reasons why Logitech mice are much better than other brands. For instance, most have a solid, reliable build quality. There is very little give in the mice, and the buttons are satisfyingly responsive and clicky. The sensors are generally very accurate and consistent, especially on gaming mice.
Moreover, you may also find various customization options, mainly due to Logitech's G Hub software. It gives you a great deal of freedom to adjust things like sensor settings and RGB illumination, among other things. Being compatible with both Mac OS and Windows makes a Logitech mouse a versatile choice.
So, let's look at some of the best Logitech mice you can buy today.
| | G Pro Wireless | M720 Triathlon | MX Master 3S | G502 Hero | G305 | G403 | G604 Lightspeed |
| --- | --- | --- | --- | --- | --- | --- | --- |
| Weight | 80g | 141.75 | 141g | 121g | 99g | 90g | 135g |
| Grip | Palm/claw/fingertip | Fingertip/claw/palm | Palm | Palm/Claw | Palm | Palm/claw/fingertip | Palm/claw/fingertip |
| Battery life | 60 hours | 30 days | 70 days | 60 hours | 250 hours | 24 hours | 240 hours |
| Buttons | 8 | 8 | 8 | 11 | 6 | 6 | 6 |
| Connectivity Tech | Wireless | Wireless/Bluetooth | Wireless | USB | USB | Wireless | Wireless |
Logitech G Pro Wireless Gaming Mouse with Esports Grade Performance
Made with and for Pro Gamers: G Pro Wireless Gaming Mouse is the result of two years of work with professional esports gamers, combing advanced technologies in an ultra-lightweight design
Light-speed Wireless: Pro grade performance overcomes the traditional limitations of wireless latency, connectivity and power to deliver a rock solid, super-fast 1 millisecond report rate connection
Hero 25K sensor through a software update from G HUB, this upgrade is free to all players: Logitech's most accurate sensor yet with up to 25,600 DPI and 10X the power efficiency of previous generation...
Ultra-lightweight: Innovative endoskeleton design creates a super-thin yet incredibly strong outer shell, enabling the body to weigh in at a remarkably light and maneuverable 80 grams.
Ergonomic ambidextrous design: Tournament ready mouse developed with Esports pros for maximum comfort, control and 50 million click durability. Four removable side buttons for supreme customization....
We earn a commission if you make a purchase, at no additional cost to you.
When it comes to wireless gaming mice, the Logitech G Pro Wireless is hard to beat. It has a low click latency and may be adjusted in the accompanying app. Its dimensions and design make it a pleasant experience for virtually every hand, regardless of grip style. There are two sets of side buttons on each end, making it equally suitable for right- and left-handed users.
Apparently, it looks like your standard wireless mouse with a single RGB lighting zone on the logo on the rear, but it packs a solid punch. It's constructed from matte plastic but does not look cheap at all. However, there is no noticeable wobble in this all-plastic construction. Furthermore, the side buttons can be repositioned to either the left or right side, but all four are still accessible simultaneously. But when you shake it, the buttons may make a bit of a rattling noise.
For first-person shooter games, the Logitech G Pro Wireless is highly recommended. It comes with a removable wire and is quite portable. With either a wireless or wired connection, the click latency is very low, around 9ms in wired and 10ms in wireless mode. So no lagging whatsoever!
It's designed to be used with a fingertip grip, so it should be easy to operate for those with even the smallest hands. It's also not too heavy when you do not have to plug it in; otherwise, the cable can be a nuisance. Moreover, you should remember that it does not support a Bluetooth connection, which may not be a deal-breaker but is still a concern for many.
Check out Logitech G Pro Wireless on Amazon.
Thanks to its excellent ergonomics, this is probably the best choice for students who put their mice under serious stress. The Logitech M720 Triathlon is a Bluetooth mouse that can connect to three different devices at once, allowing for easy switching between them. It also has a USB dongle for wired connections.
The Logitech M720 Triathlon's appearance is straightforward and businesslike, much like that of the Logitech MX Master 3 and Logitech MX Master 2S. In fact, its design is nearly identical to that of the Logitech Precision Pro, with the exception being that its underside is white rather than black. The L/R clicks are constructed of matte black plastic, and the sides are rubberized for comfort. The thumb rest on the left side indicates that it's intended for right-handed use.
In addition to the scroll wheel's ratcheted and smooth scrolling capabilities, this mouse also features six programmable buttons via the Logitech Options software. In terms of click latency, it is just about average, which means it's not ideal for fast-paced games. But again, you are not buying it for a quality gaming experience, are you?
Overall, this is a very good choice for students looking for a sturdy mouse. Logitech estimates that a single AA battery will power the device for two years, which is impressive. But keep in mind that Triathlon is not the best mouse for left-handed people, and it cannot be used on smooth, shiny surfaces like glass or mirrors because of the way it's shaped.
Check out Logitech M720 Triathlon on Amazon.
Best Premium Option
Logitech MX Master 3S
8000 DPI sensor with customizable sensitivity
Quiet Clicks (90% less click noise )
Magspeed scrolling
Ergonomic design
Upgraded customization software
We earn a commission if you make a purchase, at no additional cost to you.
Those working with a mouse for extended periods might consider purchasing the Logitech MX Master 3S. It's a somewhat fancier option but is just what you need for work. It is a true workhorse of a mouse with a bigger, ergonomic design and a second scroll wheel to make it easier to handle different tasks.
A single charge of its rechargeable battery will keep it going for around two months, so you do not have to worry about anything when working long hours at your desk. And it's a beast when it comes to withstanding abuse. That's mainly because the Logitech MX Master 3S is exceptionally well-made. The mouse does not produce any noise when squeezed because there are no movable parts.
That being said, the main scroll wheel makes a tiny movement within its casing. This, however, is imperceptible in everyday use. The mouse is also an excellent fit for any grip. Especially those with larger hands would love it. The MX Master 3S is distinguished by its five programmable buttons and an additional scroll wheel for your thumb.
It has a wireless USB dongle and can pair up to three Bluetooth devices simultaneously. In addition, it works nicely on shiny surfaces like mirrors and glass, which is a big plus. It's also worth mentioning that the Logitech MX Master 3S, with its respectable click latency, is an excellent choice for light gaming, web surfing, and general work. However, it struggles to keep up with the speed of competitive or fast-paced games.
Although it looks great and is quite impressive, it's often twice as pricey as many other mice in the same category. Also, keep in mind that it requires the Logi Options+ software to modify the mouse's buttons and sensitivity, necessitating some software adjustments to eliminate choppy scrolling on macOS.
Check out Logitech MX Master 3S on Amazon.
The Logitech G502 Hero is an excellent choice if you need a multipurpose mouse with a mid-range price tag. It is designed with gamers in mind, but it is also the best Logitech gaming mouse for general use and productivity.
It boasts a solid build quality and a right-handed design that makes it perfect for marathon gaming sessions or work days. There are 12 buttons in total, and the programmable software allows you to change their functions. Another layer of controls can be assigned to the G-Shift button.
For horizontal scrolling, you can tilt the scroll wheel to the left or right, and you can choose between a notched scrolling mode that allows for greater precision and a free-scrolling option that results in considerably faster scrolling. Its low click latency ensures excellent performance, so you will not experience any lag while you play. If the default CPI is too high or too low, you can easily change it.
Moreover, it has respectable feet, but they have sharper edges and are slightly thinner than usual, potentially making scratching noises and ending up a little abrasive on desktops. It is not a deal-breaker though because you resolve the issue simply by using it on mousepads.
With that being said, it is heavier compared to many other gaming mice, and while it is superb at managing numerous gaming genres, it isn't perfect if you solely play fast-paced or FPS games. Logitech also offers a wireless option, the G502 LIGHTSPEED, but this one is wired. This variant impressively retains virtually all of the original's functionality while being slightly lighter. But it costs a lot more than the other options.
Check out Logitech G502 Hero on Amazon.
Are you looking for a versatile yet cheap wireless mouse? Look no further than the Logitech G305 LIGHTSPEED! By design, it looks like another gaming mouse with excellent sensor performance and low click latency. However, it does not have a brash gamer aesthetic or bright RGB lights, so it can be used in both domestic and professional settings.
The construction is excellent and feels similar to high-end products from Logitech. And a variety of hues is offered to ensure a perfect fit with your office or home decor. Its symmetrical design makes it easy to use with either hand, and its small size means it can be easily carried in most laptop bags.
Powered by a single AA battery, it can connect wirelessly using Logitech's USB Unifying Receiver and supposedly lasts for over 250 hours. In addition, the USB receiver has its own chamber for safekeeping while it is not in use. And all this comes with its powerful personalization software that allows you to program buttons, create profiles, and adjust sensor parameters.
Overall, this is Logitech's finest all-around budget selection for most users, as it is both wirelessly versatile and affordably priced. The only issue you might notice is that it is a bit heavy for its size, but again, this is not a huge issue if you are more concerned about the price.
Check out Logitech G305 on Amazon.
Best Gaming Mouse for Comfort: Logitech G403
Logitech G403 Hero 25K Gaming Mouse, Lightsync RGB, Lightweight 87G+10G optional, Braided Cable, 25, 600 DPI, Rubber Side Grips
Hero 25K sensor through a software update from G HUB, this upgrade is free to all players: Our most advanced, with 1:1 tracking, 400 plus ips, and 100 - 25,600 max dpi sensitivity plus zero smoothing,...
Lightsync RGB: Full spectrum lighting responds to in game action, audio, and screen color; Customize lighting effects from 16.8 meter colors with g hub gaming software, and sync across g gear
Comfort and durability: lightweight (87g), comfortably designed to mold to your hand with rubber grips for added control; 10 g removable weight lets you tune to your preferences
G hub: configure 6 programmable buttons to simplify in game actions. On the fly dpi shifting lets you program and switch between five sensitivity settings from 100 to 16, 000 dpi
Advance gaming performance: 8x faster than standard mice with a 1 ms report rate, and spring button tensioning for better response with less force. Cable length: 2.1 metre (6.9 feet)
We earn a commission if you make a purchase, at no additional cost to you.
An excellent gaming mouse is the Logitech G403 HERO. It is essentially a wired alternative to the Logitech G403 and features the same high-quality HERO sensor. A gaming mouse would fail miserably if not designed for extended use. Thankfully, this mouse is incredibly user-friendly, as prolonged use does not lead to tiredness.
Whether you prefer a claw or palm grip, its ergonomic design will feel at home in your hand. The placement of the side buttons is optimal, as they are out of reach but not out of sight. In terms of build quality, you would not find anything to complain about. Yes, it is entirely plastic, but the construction feels very durable. The buttons have a pleasant click to them, and the mouse moves effortlessly thanks to its rubber feet.
What's more, superior click latency and fine-grained sensitivity control are two of its many advantages. Still, it is worth mentioning that though there are plenty of configurable buttons, they may not be enough for some massively multiplayer online gaming enthusiasts. There are no L/R tilt inputs or limitless scrolling on this strong but simple scroll wheel.
Check out Logitech G403 on Amazon.
Logitech G604 LIGHTSPEED Gaming Mouse with 15 programmable controls, up to 240 hour battery life, dual wireless connectivity modes, hyper-fast scroll wheel - Black
15 programmable controls: include 6 thumb buttons; fully programmable with G hub software
DUAL CONNECTIVITY: Toggle between convenient Bluetooth and ultra fast 1 mms LIGHTSPEED advanced wireless technology. Bluetooth report rate: 88 133 Hz (7.5 11.25 ms)
Hero 25K sensor through a software update from G HUB, this upgrade is free to all players: Our most advanced, with 1:1 tracking, 400-plus ips, and 100 - 25,600 max dpi sensitivity plus zero smoothing,...
DUAL MODE HYPERFAST SCROLL WHEEL: Durable metal scroll wheel switches between hyper fast and ratchetted scrolling; Programmable scrolling lets you apply key binds
240 HOURS WITH 1 AA: efficient HERO 16K allows for 240 hours in LIGHTSPEED mode or up to 5; 5 months in Bluetooth mode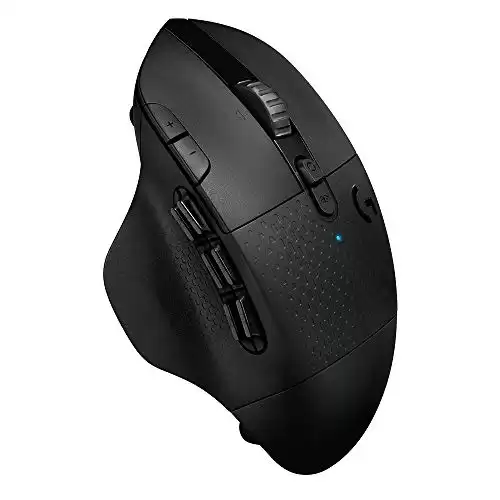 We earn a commission if you make a purchase, at no additional cost to you.
When looking for an MMO- or a battle-royale-style mouse, the Logitech G604 Lightspeed is undoubtedly the best option available. By a wide margin, it is the fastest, and it also has a long battery life with the advantage of being wireless. This way, you get the convenience of Wi-Fi without the usual drawbacks. Other than a few minor glitches, everything about it is top-notch, including its appearance, feel, and functionality.
The Logitech G604 could easily pass for an office mouse instead of a gaming mouse. That's because there are no customizable lighting or RGB features, although there is a little Logitech G logo on the rear. The ergonomic shape includes support for your thumb, and the various black finishes provide a modern look. Unfortunately, there are no additional color options available at the moment.
It is important to mention that the body of this mouse is a bit too lengthy, making it difficult to use with a fingertip grip or if your hands are particularly small. Moreover, the mouse wheel shakes and jiggles a little, but that could be because you can adjust it to different angles. Except for that, the construction is good, and the latex grips on the top and thumb rest are comfortable.
This Logitech masterpiece will never disappoint you if you play multiplayer online games. There are a ton of customizable buttons on this mouse, and if you want even more flexibility, you can assign a G-Shift button to do a different sequence of actions whenever you hold it down. Low click latency is another advantage for those interested in reaction-based games. So, overall, it is an unbeatable little device for MMO/MOBA gaming enthusiasts.
Check out Logitech G604 Lightspeed on Amazon.
How to Pick the Best Logitech Mouse?
The ability to aim and move with more precision in games, or whatever you do on your computer, is not the only perk of finding the perfect mouse for your hands. As a bonus, it helps avoid chronic pain and issues like muscle strain. Logitech is a great choice because it seems to have a suitable mouse for every user. That's why it's important to ask yourself a number of questions before picking the best Logitech mouse for you.
Is It Lightweight?
Before you finalize your buying decision process, consider the weight of your selected mouse. If you play FPS games, you need a lighter mouse because you will be constantly flicking it while playing those fast-paced games. Similarly, you may want a heavier mouse for MMO games because they are a little slow.
Is It Easy to Grip?
The way you hold the mouse is crucial. Which Logitech mouse is easiest on the hands depends on whether you use a claw grip, palm grip, or the rarest of all grips, your fingertip.
How Fast Can It Move?
Before you pick a mouse, consider the DPI numbers listed on it. These represent the distance your mouse can travel when you move it. If the DPI settings are high, you can cover larger distances with precision, which can be extremely important for gamers.
What Is Its Click Latency?
A Logitech mouse with a lower click latency is the best choice for hardcore gamers. Latency, also known as lag, is a delay introduced by every component in a PC gaming setup. Having the least possible latency is ideal for gaming since it makes your actions feel more instantaneous and the game more responsive. Naturally, a monitor and computer with low input lag make a difference, but a responsive gaming mouse might be the difference between victory and defeat.
How Efficient Is the Scroll Wheel?
This is vital, especially if you want a mouse for work or school, because the wheel determines how fast you can navigate through files and pages. You may want to avoid buying a mouse with a mediocre scroll wheel. It also matters in gaming, as it gives you multiple ways to input commands, which can significantly improve your gaming experience.
What to Know Before Buying a Logitech Mouse?
Not every mouse you find listed online will suit your needs. Therefore, you need to take a moment and decide how you are going to use your new mouse in order to be able to make the best choice.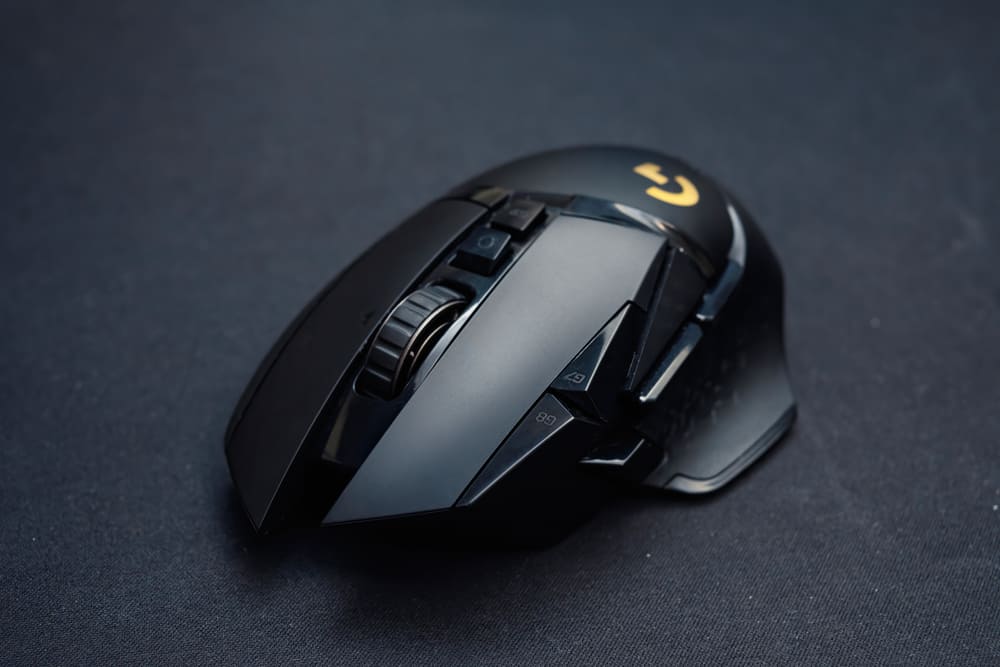 What is Your Budget?
There are certainly some high-priced Logitech mice on the market nowadays, but you don't need to pay a fortune to get a reliable one. Knowing how much you can spend on a mouse will help you shortlist the best option. After all, there is no point in checking the list of Logitech mice costing a few hundred dollars when all you can spend are fifty bucks.
Just bear in mind that it might be a good idea to spend a few extra dollars on a mouse with additional features. It makes a difference, especially when you're a competitive gamer and play battle royale or FPS games.
How Much Time do You Spend Playing with Your Mouse?
Whether you need a mouse for work, studies, or gaming, know how much time you are going to spend doing that. Choosing an ergonomic mouse is important because it's comfortable to grip and doesn't cause any fatigue.
Should It Be Wired or Wireless?
Most people think of a wired mouse when they think of a gaming mouse, but some of the best mice available now are wireless. The disparity in efficiency is rapidly narrowing, but it's still there. Consider whether you're okay with charging your mouse every now and then. If so, you can go with a wireless mouse. Similarly, if you like a minimalist desk design, you may have no other choice but to go with a wireless mouse.
If you are unsure which way to go, you may want to consider getting a mouse with detachable wires. That way, you can easily attach a wire and turn them into a "wired" masterpiece, but when you want a more streamlined desk appearance, you can stick to its wireless feel.
Up Next…