Key Points
Top of our list of operating systems built for gamers is Drauger.
This Linux distribution is perfect for gaming.
The official Fedora community provides the spin with games and other packages added to it.
Gaming is one of the most entertaining and enjoyable pastimes. Although numerous games are available for different platforms, not all of them can play out the same Windows games. This is where gaming on Linux becomes alluring as an alternative to Windows.
Sinking into your favorite games on Linux and immersing yourself in fantasy realms is appealing. We now have various Linux distributions to choose from, depending on your needs. Here is a list of the top 10 best Linux distros for gaming.
1. Drauger OS
Top of our list of operating systems built for gamers is Drauger. It uses Steam to install, manage and configure games, making it easy to find and launch them. This OS has a portable mode, so you can take your Drauger anywhere on a USB drive.
It comes with an app manager, a script manager, and other tools that allow you to install, play and modify games and apps quickly. Drauger is provided for free via torrents for the x86 and x64 platforms, but you may be required to register manually.
Drauger OS aims to make installing and running games on Linux as easy as possible. They can be installed with a single click or from a custom launcher. All you need to do is buy games from the Steam Store, download them, and they will appear in the Drauger OS Library. This OS is based on Debian Linux.
2. Ubuntu GamePack
This Linux distribution is perfect for gaming. It is designed to be compatible with popular games. As one of the best editions of Ubuntu available for gamers, the Ubuntu GamePack offers improved performance with better graphics and audio quality. You can also replace the default theme with one of your favorites.
In addition, Ubuntu GamePack is easy to set up and update. It comes with the Unity desktop, which is simple and intuitive. What's more, the newest release of this OS has been updated to include support for Unity 2D panel icons, making it easy to find your favorite games.
3. Fedora Games spin
This is a Fedora-based, gaming-oriented Linux distribution. The official Fedora community provides the spin with games and other packages added to it. You will be able to play all your favorite games on this distribution without any hassles if you already have the Steam client.
This distribution comes prebuilt with the Steam client, and you can install it within minutes after a LiveCD boot-up. If you don't have the Steam client, you can install the Electronic Entertainment Pack (E-pack), which features a collection of games for Fedora and other gaming platforms.
Advantages
This is an easy-to-install type of distribution that has been designed to be compatible with any game, regardless of its origin. In addition, Fedora Games spin comes with a full range of multimedia tools, and users can easily browse the Internet, chat, and watch videos. You will also get a pair of fully-working 3D drivers with this distribution.
One of the major advantages of using this Linux distribution is that it comes with a full complement of packages that must be available in order to enjoy gaming and other multimedia functionality. The best part is that you don't even have to go through the hassles of setting up repositories, installing graphics stacks from scratch, configuring your X server, etc. – it's all done for you!
4. Pop!_OS
This Linux distro has been developed to provide a lightweight and fun operating system that is easy to use. The OS comes with a number of games, including Steam and Steam Big Picture Mode. Unfortunately, you need to purchase some games from the Steam store to play them.
A lot of work has gone into Pop!_OS Linux, including ensuring it works perfectly with application launchers like Steam and popular games such as Minecraft and Paladins. So, it's committed to making your gaming experience smooth and enjoyable. Pop!_OS Linux distro is available on the Live CD, which means it can be booted up and used immediately.
This distro is based on Ubuntu and supports gaming across all platforms. It's also available in three editions: i386, amd64, and a PPC version. One of the engines used to develop the Pop!_OS Linux distro is Antergos, but the distro uses Flatpak as its main application runtime technology. What's more, it installs easily and can be used without much configuration.
5. Lakka
This is a lightweight Linux distribution based on RetroArch. Lakka comes with a simple interface and lets you download additional packages. It has an easy-to-use interface and is therefore accessible to beginners as well. Being small in size, it boots very fast on any hardware.
Its main focus is on emulating game consoles such as the PSX, PS2, and PSP. In addition, it comes with easy configuration settings and does not require any previous experience. What's more, Lakka is a free, open-source firmware and software project that lets you download and run emulators and play games. Importantly, you can download Lakka from the official website.
Overall, this is one of the easiest Linux distros to install and will support all sorts of emulators. Furthermore, you can use other software on it, such as Openbox and WMs. And an adaptable toolkit gives you the ultimate flexibility to explore your gaming potential.
6. Ubuntu
This is one of the most popular and favorite Linux distributions. In fact, it's considered one of the best Linux distros for beginners. Ubuntu is known to be a user-friendly, fast, and easy-to-use distribution.
It comes with a lot of pre-installed software. This saves you from having to install additional software every time you want to use something new. The latest version, Kubuntu 13.10, supports several games without any errors or video card issues.
This Linux distro also comes with a fully functional and easy-to-use package manager. This makes it easy to download and install applications and updates. Ubuntu also comes with over 1,200 free software titles that can be installed on your desktop.
What's more, the distro has some cool features that are quite helpful for gaming. For example, many games like Tomb Raider or Call of Duty can now be installed directly through the Ubuntu Software Center.
7. Kubuntu
This is a Linux distro that caters to all types of OS. It has a clean interface and cuts down on the clutter to provide a simple look and feel. With this distro, you will not have to deal with any confusing terms for installation, as everything is user-friendly.
The installation procedure is quick, straightforward, and requires almost no time at all. It has been on the top 10 list for quite a long time and is still one of the best distros available at present.
It also provides a flexible partition scheme. You can install a pre-configured system using the installer or choose to partition your hard drive manually. In addition, Kubuntu has a number of features that make it an excellent choice for those who want to play games on Linux.
8. Linux Mint
This is a popular and stable operating system designed for home users. It's based on Ubuntu and Debian in a way that it is compatible with these platforms. Importantly, Linux Mint comes with several default applications already included, making it easy to install. In addition, it can run on any x86 processor.
It also comes with a live-DVD version that you can use to try it out before installing. And so, it's one of the easiest Linux distros to install. If you don't have any experience with Linux, you will still find it easy to learn how to operate it, as all the applications included are pre-installed, and their icons are available on the desktop. What's more, it uses the Xfce desktop environment, which is considered lightweight and consumes fewer system resources compared to other environments.
9. Manjaro Linux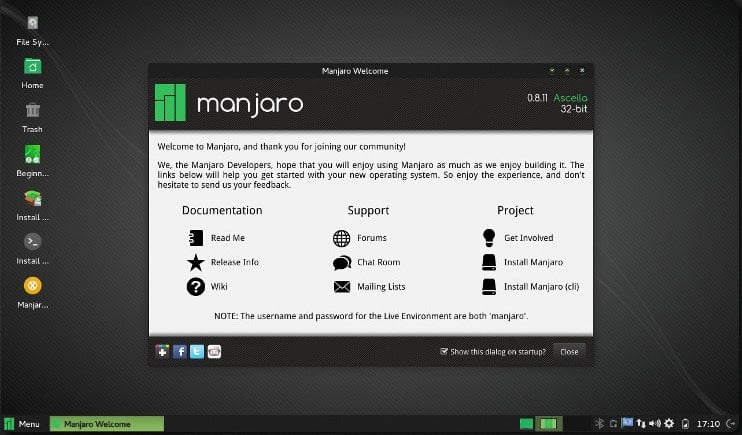 This is the ninth-best choice for gaming. It is a user-friendly operating system that lets you play all kinds of games on it. What's more, it has a setup user interface with a KDE-based desktop environment and easy-to-use applications that can be used to play various games.
Manjaro Linux offers you several packages available for installation to make life easier. It also has Microsoft Office, Skype, and other applications pre-installed. Importantly, this distro is based on the Arch Linux distribution that uses the Xfce Graphical environment.
Built for aesthetics, it's an elegant, modern, and simple operating system that does not require the user to know much about the system's work. Manjaro Linux comes with all the required applications, including software installation and gaming. It also has support for multiple desktops that users can customize and maintain as they access the system through different devices.
10. Garuda Linux
This is a new Linux distribution that has been designed with gaming in mind. Garuda Linux is built on top of OpenSUSE, which means it inherits the good parts of this great Linux distribution. It comes with plenty of games right out of the box, and more can be added later using the built-in Apper software management tool. In fact, Garuda Linux can be used to play all major game types and can handle a wide range of system requirements.
This Linux distro can be run from a live CD/ USB and is designed for gamers who want to remain on the bleeding edge. It's fast, lightweight, and features a very nice, simple interface. It also comes with lots of pre-installed software and has its own package manager.
Overall, this is one of the many Arch-based Linux distributions available. It strongly focuses on gaming but also features a wide range of productivity software and multimedia support. In addition, it comes with the Steam platform installer and can be used to access thousands of games that have been ported over from Windows. In short, it's a great choice for those who want to play games on a Linux distro that is as up-to-date as possible.
How to Pick the Best Linux Distro for Gaming
Linux gaming has advanced to the point where you can play almost any game on a Linux distribution of your liking. With the wide variety of open-source games available, you'll have a great time without even noticing that you are using a different operating system. Here is what to look for when choosing the best Linux distro for gaming.
Games
The first thing to look for when choosing a distro for gaming is the type of games that are offered in the package. For example, if you're looking to play something like Dawn of War 3, you'll need a distro that provides a free-to-play environment. Do not limit yourself to one set of games, and pay attention to any games being developed and released soon.
Software
Another thing you want to be sure of is that the software you need to run on your distro is available.
Graphics Card Support
You should check with your graphics card manufacturer and see if your GPU can be used with a certain distribution. There have been cases where certain distros have been released that can't support your GPU. You will want to ensure the distro you choose supports your graphics card, as this is one of the most important factors when choosing a distribution for gaming.
Multi-Threading
Multi-threading is a very important aspect of Linux. This is especially true if you're looking for the best Linux distro for gaming, as you will want to make sure that your distribution has the power to run more than one application at a time.
Stability and User-Friendliness
You'll want to be sure that the distribution you pick can be used without any issues. This is especially important if you're looking for the best Linux distro for gaming, as there are several different Linux distros available, and some are more unstable than others.
The Linux Gaming Community
The last thing to look at when choosing a distribution for gaming is the community surrounding it. You'll want to make sure that a community will be available if you have any questions or concerns about your distro's performance. For example, finding out that the games you like are not available for your system can be frustrating.
Using Linux Distro for Gaming: What It's Like
Using a Linux distro for gaming is one of the most entertaining things you could do, as several options are available. Essentially, the best thing about Linux gaming is that it is completely free, and you can get it on your favorite device.
The best thing about using a Linux distribution is that you don't have to pay for anything. Another good thing about it is that several different distros are available to choose from, and they are always updated. You'll never run out of options, as there are countless applications to try out.
Next Up…
Take a peek at some of our other content: