Key Facts
Small in size, Tiny Core is ideal for less powerful computers and old computers.
Stable, popular, and well-established, Debian is one of the oldest distros having been first announced in 1993.
The most reliable and slightly complex, Slackware is based on the Softlanding Linux System and is available for VirtualBox, as well.
Linux distro (distribution) is a version of the open-source Linux operating system that includes the Linux kernel and, often, a package management system. If you want to switch your operating systems to Linux, you can always test the new distro with the help of software like VirtualBox to ensure you get what you want.
Virtualbox is software that allows computer users to run several operating systems simultaneously. VirtualBox machine gives users the chance to test the Linux operating system using Windows or Mac. There are different types of Linux distros, and this post explains the best ones to use with VirtualBox.
#10: Tiny Core
Tiny Core is a Linux distro developed by Robert Shingledecker and released on January 5, 2009. This system uses BusyBox and FLTK as base systems. As the name illustrates, Tiny Core is small in size (11 to 16 MB). Thus you will not need much space for installation.
Tiny Core Linux is fit for less powerful computers and old computers. And the good thing is you can download and use it for free or upgrade to the open-source version. Tiny Core Linux is available for VirtualBox, where you can create a different environment without changing your operating system.
System requirements
A 46MB RAM will do just fine. But the micro Core needs 28MB RAM
A minimum CPU of i486DX
1GHz clock speed
The current version of Tiny Core Linux is 13.1 was released on May 8, 2022.
#9: Debian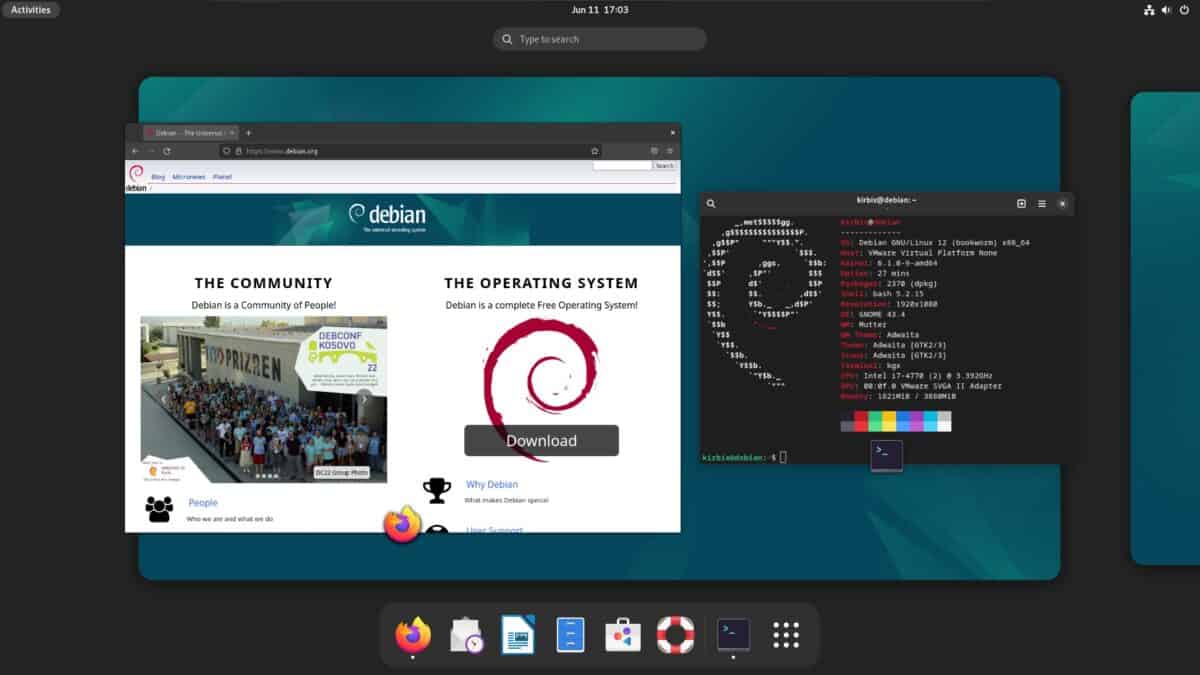 First announced on August 16, 1993, Debian is an extremely stable and well-established Linux distro. It is also one of the oldest distros in existence. Many other popular distros, such as Ubuntu, are based on Debian. It is a very popular choice among server administrators. It is also one of the best distros for beginners.
When it comes to using Debian as a VirtualBox guest, it is one of the best choices you can make. It has good performance. You can install and run any modern desktop environment in a Debian VirtualBox VM. When installing Debian as a VirtualBox guest, it is recommended to install the minimal version of Debian. This is because the minimal version is lightweight and runs well in VirtualBox VMs.
System requirements
Minimum 1GHz Pentium processor
Hard Drive Space: 10 GB
Recommended RAM: 2GB
Minimum RAM: 512MB
The latest rendition of Debian is Debian version 11.
#8: Lubuntu
Lubuntu is a superb choice for anyone who doesn't want to or can't allocate too many resources to a virtual machine. It's a lightweight version of the Ubuntu operating system that is fast and energy-saving. Lubuntu was using the Lightweight X11 Desktop Environment (LXDE) before version 18.10 in 2018.
However, the development of LXDE was a bit slow. Therefore LXDE merged with Razor-qt to form LXQt, which is faster and supports less powerful computers. Lubuntu has minimal hardware requirements for your computer, making it easily accessible by anyone, including Linux beginners. The little computer system requirements make creating a virtual environment with Lubuntu software easy.
System requirements
A clock speed of less than 1GHz
Dual-core
Less than 1GB RAM
Lubuntu's latest version is 22.04, released on April 21, 2022, and has long-term support of three years.
#7: Linux Lite
Linux Lite is another lightweight Ubuntu version suitable for less powerful computers, released on October 26, 2012. Just like Lubuntu, this operating system is ideal for beginner Linux users. When it comes to functionality and ease of use, Linux Lite is definitely one of the best Linux distros for VirtualBox.
With Linux Lite, there is an easy transition from Windows OS to Linux OS. Linux Lite provides familiar software such as Spotify, Skype, Stream, and Kodi, allowing Windows OS users to use the new OS easily. You don't have to worry about your computer's security since Linux Lite provides Security update notifications and has an inbuilt highly configurable Firewall.
System requirements
A 1GB RAM
1366×768 screen resolution
At least 20GB of hard disk
The latest version of Linux Lite is 6.0, released on June 1, 2022.
#6: Slackware
Slackware was developed in 1993 by Patrick Volkerding. It's a Linux distro based on the Softlanding Linux System and is also available for VirtualBox. In fact, many Linux distros have their basis in the Slackware distro, making it the most reliable, although it's a bit complex. Slackware doesn't have many new versions, which makes it difficult for hackers to do their thing.
This feature makes it more secure than other distros that produce their versions more frequently. Slackware is also neutral since it doesn't depend on other package managers like most Linux distros. Slackware has minimal system requirements, and it's still not too complicated to be used on VirtualBox.
System requirements
64MB RAM or 1GB
Your computer needs around 5GB or more of free hard disk space
The latest Slackware is 15.0, released on February 2, 2022.
#5: Fedora
Fedora is a popular Linux distro targeted at both server administrators and desktop users. It is also a great choice for running in a VirtualBox VM. Fedora is built by a large community of developers with a focus on stability and security. Hence, it's a rock-solid OS. Fedora Linux distro was launched on November 6, 2003.
There are free and open-source versions for hardware, software, and the cloud. Fedora Linux distro provides an easy-to-use operating system for all uses, including programming. This operating system is available in three primary editions: workstations, servers, and the Internet of Things (IoT). The secondary edition consists of CoreOS and SilverBlue. Fedora uses a Linux kernel security model that manages mandatory access controls and other security policies.
System requirements
2GHz clock speed
At least 2GB RAM
15GB free disk space
Dual-core processor
The latest Fedora distro version is 36.0, released on May 10, 2022.
#4: Ubuntu
Ubuntu is one of the most widely used Linux distros in the world. There are many reasons for its popularity. One of them is that it comes with the best hardware support of any Linux distro. It also has better driver support than other distros. So, when it comes to using Ubuntu as a VirtualBox guest, it's one of the best choices you can make.
You can run Ubuntu as a guest on a Windows-based host machine. You can also run Ubuntu as a guest on Linux, macOS, or another Windows-based machine. Ubuntu also has a large community of enthusiasts who help each other out on various forums. Hence, if you run into problems while installing Ubuntu in a VirtualBox VM, you can easily find help.
There is also a wide variety of software available for Ubuntu. This gives it an edge over other Linux distros. The most successful digital platforms use the Ubuntu operating system since it has advanced security. Most ports of Ubuntu are usually closed to keep hackers at bay.
System requirements
At least 2GHz clock speed
Dual-core processor
At least 4GB RAM
A disk space of at least 25GB, but the bigger disk, the better
Ubuntu is meant for more powerful computers with multiple cores and higher clock speeds.
#3: Manjaro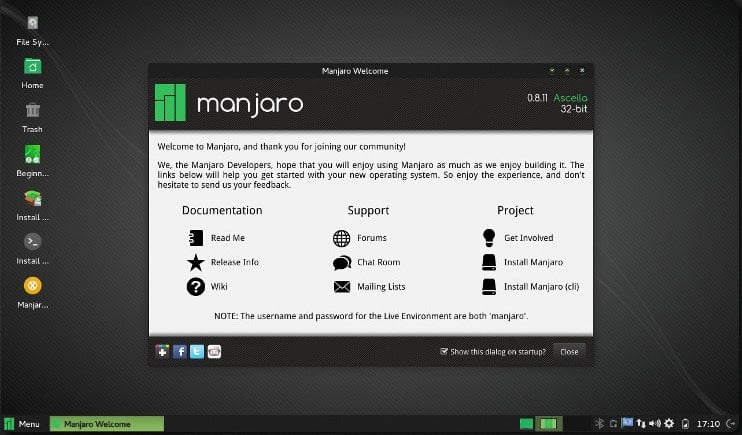 Manjaro is another great Linux distro available for VirtualBox that you can use alongside operating systems like Windows or Mac. It's available in free and open-source versions. It also has its basis in the Arch operating system, a fast and powerful lightweight distro. In addition, Manjaro gives access to the Arch User Repository (AUR).
This Linux distro provides the most updated operating system with the help of the rolling release development model. Therefore, there is no need to always install new system versions. You can comfortably use the Manjaro Linux distro as a newbie or a veteran. Manjaro has configurations that more experienced Linux users can modify to fit their preferences. The installation process of this distro is simple and user-friendly.
It detects your computer hardware automatically, making the process more efficient. This system is known for its high speed, power, and efficiency. In addition, a graphic driver is automatically installed when setting up your system. Manjaro has individual dedicated software repositions that ensure the stability of software packages. It also supports the use of multiple kernels.
System requirements
At least 2GB RAM
Hard disk space of 30GB or more
High-definition graphic cards and monitor
At least a 2GHz clock speed processor
The most recent version of the Manjaro Linux distro is 21.0.
#2: Pop!_OS
Pop!_OS is a Linux distro based on Ubuntu, launched on October 27, 2017. This OS has a slim GNOME interface and a very straightforward installation wizard. Its main features include integrated energy management profiles, keyboard shortcuts, optimized window management, standard hard disk encryption, and integrated GPU support.
If you are a gamer, you can consider using Pop!_OS since you don't need to install graphic drivers on your computer. In addition, this Linux distro supports the Steam game store, where you can download various games. There is an opportunity to enjoy all Pop!_OS features on a VirtualBox without changing your current operating system.
It supports AMD and Nvidia GPUs with a complete out-of-the-box experience. The latest version of this OS is simple to install and set up for TensorFlow and CUDA. Hence, a beginner Linux user will be comfortable with it.
System requirements
Pop!-OS runs on a 64bit processor x86 architecture.
You need 4GB RAM for convenience, but 2GB RAM can also do well
A 20 GB of hard disk space
A dual-core
The latest Pop!_OS version is 22.04, released on April 25, 2022.
#1: Linux Mint
Linux Mint is often considered the best Linux distro for VirtualBox, and rightfully so. That's because it comes with an intuitive and beautiful user interface. Above all, it's beginner-friendly and user-oriented. You can also customize the look and feel of the interface by using themes and plugins. When it comes to performance, you can use Linux Mint on low-end machines.
In terms of virtualization support, Linux Mint works perfectly not just with VirtualBox but also with similar tools such as KVM and VMware Workstation. This software was launched in 2006 and has dramatically improved since then. In fact, Linux Mint has grown to be the most popular Linux distro, with millions of individuals using it on their desktops and laptops. Linux Mint has its roots in Ubuntu and Debian. Thus it has around 30,000 software packages, making it among the best software managers.
Advantages
Extremely user-friendly compared to most Linux distros.
You can send feedback to help developers improve the software.
Just like Ubuntu, it has long-term support for up to 5 years.
The maintenance cost of Linux Mint is lower, since you don't need antivirus, no anti-spyware, or remissions.
Excellent support for virtualization and cross-platform apps.
System requirements
You need 4GB RAM for comfortable usage. However, 2GB RAM can still work.
The computer should have at least 20GB of free disk space, but 100GB is more convenient.
A screen resolution of 1024×768.
The most recent version of Linux Mint is version 21.0
How to Choose the Best Linux Distros for VirtualBox
Installing Linux on VirtualBox can be a very nice option if you are new to the world of Linux and want to try out several distros, but don't want to change your current operating system. By doing so, you have the opportunity to gain a better understanding of the distribution before making the decision to completely replace your current operating system with Linux.
However, before you begin your journey, it's crucial to understand the resource availability of your system. The system requirements (RAM, CPU, and Hard disk space) for each distro vary, which is why it's important to make sure that your system can fulfill at least the minimum hardware requirements of your chosen distribution.
To check your computer software configurations, click the start button, go to computer settings, and then click on properties. You will see your computer's RAM size, number of cores, clock speed, model, and other specs.
To make it easy for you, we have divided the requirements into three categories:
Distros for processors less than 1GHz and RAM less than 512 MB
Distros for RAM in the range 512 MB – 1GB RAM and processor above 1GHz
Distros for RAM in the range of 2GB and 4GB
Let's explore each in more detail.
Distros for Processors Less than 1GHz and RAM Less than 512 MB
With this configuration, you need lightweight distros that support old or less powerful computers like yours. So, what distros can you rely on for a better experience? A Linux Lite distro can do well with a RAM size of 512MB and a dual-core processor with a clock speed of 1GHz or lower.
A Lubuntu Linux distro can also support a RAM of 512 MB, a dual-core processor, and a clock speed of 1GHz or below. The Tiny Core Linux distro is another great choice that can support way lower RAM of 128MB, a dual-core, and a clock speed of less than 1GHz.
Distros for RAM in the range 512 MB – 1GB RAM and Processor Above 1GHz
The Linux Mint operating system can help if your machine has 1GB RAM, a clock speed of 1GHz, and a dual-core processor. Likewise, you can use the Manjaro Linux distro for similar system specifications.
Distros for RAM in the range of 2GB and 4GB
With these computer system specs, you need a higher Linux distro like Ubuntu. You can use Ubuntu with 4GB RAM, a dual-core processor, and a clock speed of 2GHz. A Fedora Linux distro is also suitable for these computer system specifications.
Conclusion
There you have it. The 5 best Linux distros for VirtualBox. Most of these distros are lightweight and perform well when used as a VirtualBox guest. Moreover, they are easy to install and configure. What's more, they come with excellent documentation and a large community of users who help each other out.
Up Next
Interested in reading more about Linux? Click on the links below: