Key Facts
Linux Mint based on Ubuntu is not only easy to install but customizable too.
Stable, popular, and well-established, Debian is one of the oldest distros having been first announced in 1993.
Ubuntu is not only compact, but ideal for both beginners and experienced users, alike. Its most popular versions are the Ubuntu desktop and the Ubuntu server.
Nowadays, there are various online services that stream movies, TV shows, music, podcasts, and more, making it difficult to keep track of all the media that matters to you. That means you have to move between several platforms to access your favorite content. But did you know that you can find and access most of your content in one place? Yes, with Plex media server software this is possible.
Plex is one of the most popular and adaptable streaming media services and client-server media player platforms available on the market today.
With Plex, you can access your videos, music, and photos from any device with an internet connection. From streaming music to free and on-demand Movies, web shows, and live TV, to personal media on your own server, you can enjoy it all in one app.
Setting up a Plex media server on Linux is not as difficult as you think. In fact, there are quite a few awesome distros that support Plex out of the box. However, just because Plex is accessible on Linux, doesn't mean that it works with every distribution.
Sometimes, if you try to install Plex on some distributions, you are likely to encounter some problems. As such, it's important to know the Linux distro that works well with the program to avoid any inconveniences. With that in mind, here are the 5 best Linux distros for Plex.
#10: Arch Linux
Arch Linux is a free and open-source Linux distro that gives you control and customizability over your machine. Minimalistic and lightweight, this x86-64-centric Linux distro adheres to the principle of making the operating system as simple as possible.
Arch Linux gives you the power to essentially create your distribution from scratch. Arch Linux also has an Arch User Repository with a massive library of installation packages related to Arch Linux. The best part is that the Arch User Repository comes with several packages to give you access to a whole new world of software.
With Arch Linux experience, you can learn new things, and download and even install software packages with just a simple command in Pacman. The main downside of Arch Linux is that it has a steep learning curve. But if that doesn't bother you, this is one of the best Linux distros for Plex Media Server.
System Requirements:
Any 64-bit CPU
At least 512MB of RAM
Hard disk space of 2GB, but the bigger disk, the better
#9: OSMC
Founded in 2014, OSMC (Open Source Media Center) is a free and open-source operating system. Although it's based on Linux, you don't need to have any experience to use it. You can manage everything on the interface or even customize it the way you want.
Besides receiving regular updates, you can always choose where to install the updates. With everything free, you can have a web browser, torrent client, and TV tuner up in seconds. OSMC also has a large community of users willing to help you get started. On top of that, it has a wealth of resources to help you get the most.
Like other systems that work on laptop, desktop, and server hardware, OSMC is designed for single-board devices. In addition, OSMC runs on the Vero and offers playback of media via network-attached storage and Internet-based sources.
System Requirements:
64 bit CPU
1GB RAM
8GB storage
#8: Linux Mint
Linux Mint is a community-driven Linux Distro for Plex featuring a variety of free and open-source applications. Designed to work out of the box, it can comfortably run Plex without issues. It also has a unique desktop environment making it a good choice for users who are switching from Windows.
Since it's an Ubuntu-based distro, you shouldn't encounter any issues once you install it. In addition, Linux Mint has a lot to offer including useful applications that allow you to choose between multiple installation packages.
Like other Linux distributions, Linux Mint comes with an integrated and pre-installed application suite that allows you to download and install additional applications. It also has 3 different flavors, which include:
Cinnamon: As the most popular version of Linux Mint, Cinnamon is slick, beautiful, and full of new features.
MATE: MATE is a classic desktop environment that runs faster and only uses fewer resources.
Xfce: This is a lightweight desktop environment. Although it does not support many features, it's light and extremely stable.
System Requirements:
Unspecified 32-bit or 64-bit CPU
1GB of RAM
15GB of storage
#7: OpenELEC
OpenELEC (Open Embedded Linux Entertainment Center) is one of the best Linux Distros for Plex, designed to only use a few resources. Similar to OSMC, it has wider device compatibility and works well for embedded devices. Given that it has low power requirements, OpenELEC is an excellent HTPC operating system.
It also runs on Kodi, thus giving you access to a plethora of Kodi addons. Additionally, OpenELEC is perfect for local file playback and media library organization. Since it has a fast booting distribution, it specifically targets a minimum set-top box hardware setup based on ARM SoCs.
System Requirements:
86 or x86-64 processors
2GB of RAM
2GB of storage
#6: Recalbox
Recalbox is a dedicated Linux Distro designed for running video games on console platforms. Whether you are looking for the best of gaming or a variety of free and open-source applications, Recalbox is your distro of choice.
Developed from scratch for Raspberry Pi, it's a Linux-based operating system that's available for many functions. While most Linux HTPC distros concentrate on TV music and movies, Recalbox provides retro gaming through the EmulationStation front end.
However, Recalbox also includes Kodi as an app. Since Recalbox includes EmulationStation, it's the perfect choice for gaming, video, and music. This comprehensive focus makes it one of the best Linux distros for Plex.
System Requirements:
64 bit CPU
8GB RAM
8GB of storage
#5: Fedora
Initially released in 2003, Fedora is an open-source operating system meant to make things easy for users. Specifically designed for developers looking for a reliable and easy-to-use Linux Distro, Fedora comes in three different versions, which include:
Fedora Workstation: It is an operating system that's designed to help businesses using Linux devices build, test, and deploy apps across multiple virtual environments. This OS is also suitable for both novice users and developers.
Fedora Server: It is a community-supported server operating system that allows you to take make use of the latest technologies available in the open-source community.
Atomic Host: This version is suitable for the LDK application stack.
Fedora Workstation comes with a good desktop environment, making it suitable for beginners. It also features a full set of tools along with support for powerful virtual machines. Although you don't have to use all three versions while setting up Plex Media, it's advisable to have them just in case.
Overall, Fedora is a stable, secure, and user-friendly Linux distro. It also supports other desktop environments such as Xfce, KDE Plasma, Cinnamon, and MATE.
System Requirements:
2GB of RAM
20GB of storage
2GHz processor
#4: Debian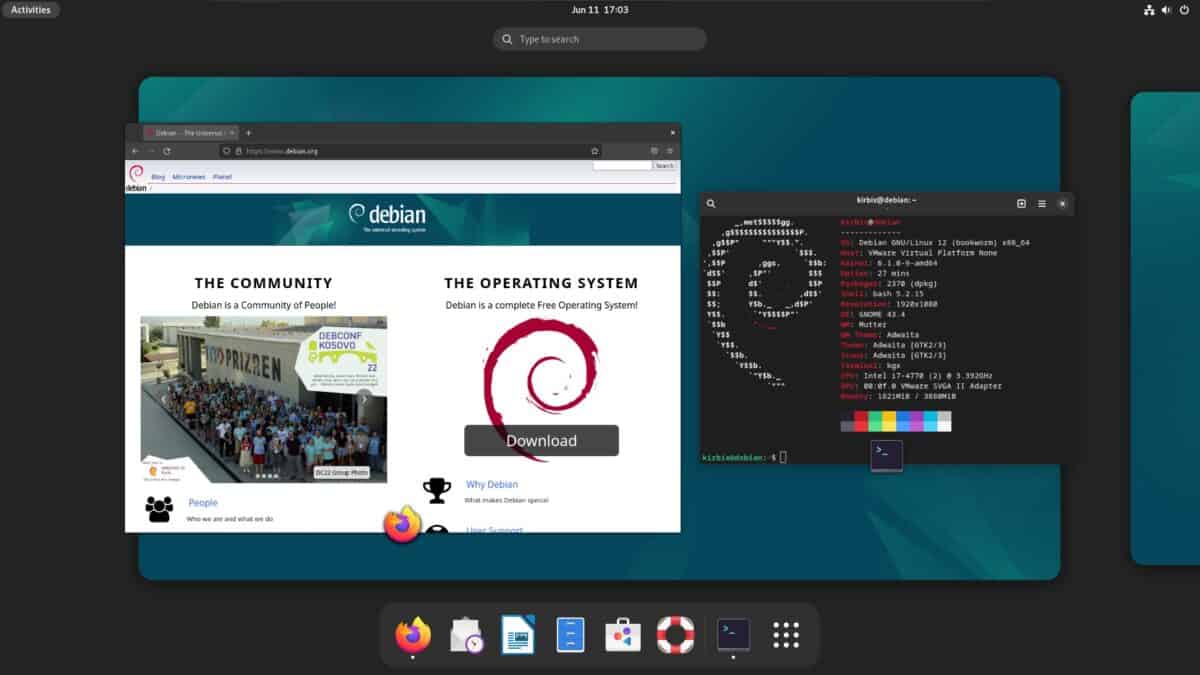 Debian is a reliable and stable Linux-based operating system designed for various devices, including laptops, desktops, and servers. Particularly popular with most users, this Linux Distro has inspired over 100 distributions since it was first launched.
With the main target audience comprising developers, it has since been modernized a bit to compete with the likes of Ubuntu. Debian isn't currently the best distribution out there, but it offers flexibility and stability, thus providing one of the best performances.
It also uses the Xfce desktop and has modest hardware requirements, thus making it suitable for both modern and old computers. If you intend to use it for more than Plex, you'll find over 60K packages in its repositories. Hence, there is no shortage of software.
The best part is that it supports many other desktop environments, including Gnome, KDE Plasma, MATE, and Cinnamon. It also allows you to keep things minimalistic by using a window manager like Openbox or Fluxbox. Once installed, using it becomes pretty easy. If you've used Ubuntu or Linux Mint, you will find it quite functional.
System Requirements:
1GHz 32-bit or 64-bit CPU
512MB of RAM
10GB of storage
#3: OpenSUSE
If you are looking for a jack-of-all-trades distro, OpenSUSE is the right option. As one of the most stable operating systems, it comes in two versions; namely, OpenSUSE Leap and OpenSUSE Tumbleweed. The former is designed for home users, whereas the latter is for developers and power users.
Compared to CentOS, OpenSUSE is very stable, making it suitable for all users. If you're looking for the latest edge updates, OpenSUSE is the way to go. In addition to providing a great environment for Plex Media Server, OpenSUSE offers an ideal platform thanks to tools like openQA, OBS, Kiwi, CMake, RPM, and more.
OpenSUSE also comes with Yast, a tool that allows you to easily configure everything related to OpenSUSE. Designed specifically for OpenSUSE, Yast is not available on other distributions. Whether you want to set up a desktop or a workstation that's easy to manage and use, OpenSUSE has you covered.
System Requirements:
Pentium 4 1.6 GHz or AMD equivalent CPU
1GB of RAM
3GB of storage
#2: CentOS
CentOS is a community-driven distribution that's popular for all types of servers, including Plex. The CentOS project was founded by the same developers who worked on Red Hat. CentOS can even allow you to access software packages used by RHEL. Besides support and stability, CentOS powers around 30% of all Linux-based servers.
This means it has already seen a lot of success, and that it can comfortably accommodate users of all skill levels. Although it works well for tech-savvy users, you can turn it into a beginner-friendly distribution by installing a dedicated desktop environment.
Since it has two main variants, CentOS Linux and CentOS Stream, it's important to know the difference between them. Since CentOS Linux is more stable compared to CentOS streams, most users prefer it. CentOS streams also follow a release schedule that requires updates now and then.
System Requirements:
2 GHz CPU or better
2GB of RAM
20GB of storage
#1: Ubuntu
Whether you are a beginner or an experienced Linux user, Ubuntu has all the features you need. While Ubuntu has different versions of operating systems, the most popular ones are the Ubuntu server and Ubuntu desktop.
Unlike the Ubuntu server, which only comes with server-related pre-installed packages, the Ubuntu desktop comes with several pre-installed applications and supports many desktop environments.
However, the Ubuntu server lets you download other packages or applications manually. Ubuntu Desktop comes with many applications and offers a nice selection of desktop environments, thus making the installation process easy. Ubuntu Server, on the other hand, only comes with server-relevant software packages.
Although it doesn't have a GUI in its base form, it takes up much less space. Whether you choose Ubuntu Server or Ubuntu Desktop, you'll still enjoy its long-term support policy. You can also find live images for both versions, allowing you to use them without installing them locally.
System Requirements:
2 GHz dual-core CPU or better
4GB of RAM
25GB of storage
How To Choose The Best Linux Distro for Plex: Step by Step
With several Linux distros available for Plex, finding the perfect one can be daunting. This is true especially if you are a beginner. Here are some of the things to consider when looking for the best Linux Distro for Plex.
Hardware Requirements
Since Linux is a very lightweight operating system, it uses very minimal hardware resources. It is also supported on multiple hardware architectures like ARM-based processors. So, you need to choose a lightweight Linux distro for Plex especially if you are faced with performance issues. The best Linux distros run efficiently on PCs with at least 1GB of RAM.
Software Support
While Linux is robust and stable, you'll still need support once in a while. From critical issues to downtime, there are various issues you might face. Therefore, it's important to choose one that will give you the kind of support you would get from Windows or macOS at a fraction of the cost.
Stability
Since Linux is a stable OS, it requires equally stable distros. This is partially true especially if you have critical projects or systems on your PC.
Documentation and Community Support
It's also important to check out whether it has important items and general tutorials needed for installation and setups. Alongside documentation, you should also choose one with wide community support.
Repositories
Since different distros have many different repositories with different capabilities, it's important to know the packages you are looking for before installing. For example, Ubuntu has significantly larger software repositories that give it an advantage if you intend to use it on a desktop.
Ease of Use
While Linux is relatively easy to use, it's important to consider your overall experience before setting on any distro. For instance, distros such as Linux Mint are specifically built to be easy for Plex users.
Bottom Line
As one of the best-operating systems for tech wizards and coders, Linux is not only lightweight but also reliable and flexible. Linux can also mold itself to fit your needs once you turn it on.
But with plenty of Linux distros that are virtually indistinguishable, you'll want to choose the one that provides the best experience. While Plex's capabilities are astonishing, you can get the most by pairing it up with the best Linux distro.
Summary of the 10 Best Linux Distros For Plex
| Rank | Linux Distro For Plex |
| --- | --- |
| 1 | Ubuntu |
| 2 | CentOS |
| 3 | OpenSUSE |
| 4 | Debian |
| 5 | Fedora |
| 6 | Recalbox |
| 7 | OpenELEC |
| 8 | Linux Mint |
| 9 | OSMC |
| 10 | Arch Linux |
Up Next…
Interested in similar articles? Click on the links below:
The image featured at the top of this post is ©Photo by Glenn Carstens-Peters on Unsplash.