Key Points
When choosing the best Linux distro for a laptop, there are several factors to consider, including hardware support, user interface, and features, among others.
Ubuntu was voted the best overall Linux distro for laptops.
If you are a beginner, Linux Mint may be for you.
Linux is one of the most secure, flexible, and versatile operating systems available today. It's no surprise that many prefer to use it over other operating systems like Windows or Mac OS X. When choosing the best Linux distro for laptops, you have to consider different factors than when choosing your main operating system. Not only do you have to worry about power consumption and battery life, but you also need to be able to work comfortably with both the desktop environment and whatever software you're running on the computer itself.
Choosing the right operating system can be difficult when you're just starting, or even if you've been using one OS for years and are ready for something new. Linux operating systems can be ideal for laptops since they have no complex hardware requirements, unlike Windows or macOS. But with so many different options to choose from, which one is the best Linux distro to install on your laptop? This guide breaks down a few of the most popular Linux distros and explains what sets each of them apart from the crowd.
Best Linux Distro Overall: Ubuntu
This distro is a great option because it's one of the most popular and highly-recommended Linux distributions. Ubuntu is an operating system that was started by Canonical Ltd. It's available in various flavors, commonly known as buntus. The main goal of Ubuntu is to bring true free and open-source software, as opposed to proprietary. With this goal in mind, they strive to provide a fully functional operating system that includes all the programs needed by the average user.
It's easy to use, has tons of community support, and is free to download. Plus, you can use Ubuntu on any computer that runs on Intel or AMD 64-bit processors. Unlike Windows, it doesn't have the usual bloatware that comes with a lot of other operating systems. The default applications are crisp and clean, while the multimedia player actually looks like it was designed for Windows.
No matter what you plan to do with your computer, it will make computing easier. It's popular among beginners and intermediate users, owing to the enormous variety of software utilities accessible. Ubuntu's default desktop environment is Unity, although it is also available in other flavors such as Lubuntu (which is based on LXDE/LXQT), Xubuntu (which utilizes the XFCE desktop environment), and Kubuntu (which features KDE Plasma).
Recommended System Requirements
4GB RAM
25GB HD
2GHz processor
HD graphics card
Either a DVD drive or a USB port for the installer media.
Best for IT professionals: OpenSUSE
If you are an IT professional, OpenSUSE is the best Linux distro for your laptop. This operating system is ideal for professionals who require stability, reliability, and a wide range of software. You can also customize your X-based desktop experience with OpenSUSE's superb proprietary hardware detection system. It's also considered to be the most secure operating system on the market due to its patch management.
In addition, OpenSUSE OS comes with advanced hardware support. It has a huge repository of software apps and a very modern appearance since its open-source software is natively designed for desktop use. OpenSUSE has tons of tools, such as KDE and GIMP, that are perfect for programmers. It also includes a ton of security features that will keep your laptop safe from the latest viruses and hacks.
Despite being developed primarily for tech professionals, it can be set up for use as a daily desktop driver as well, thanks to YaST, a fairly thorough system configuration and installation tool that makes the distro more approachable to users who don't like working with terminals. OpenSUSE is pre-installed with many drivers for modern and older computers. However, unlike the other distros on this list, it only comes in two flavors, Tumbleweed and Leap.
Recommended System Requirements
Pentium 4 1.6 GHz or AMD equivalent CPU
2GB of RAM
5GB of storage
Best for Beginners: Linux Mint
Linux Mint is one of the most popular operating systems for computers. But it's not just beginner friendly. It's also well suited for older computers or less powerful devices due to its lightweight nature. With the recent release of Linux Mint 19 "Tara," you can now install this Linux distribution onto your laptop without having to install software that might slow it down.
It has a good mix of beginner-friendly applications, such as LibreOffice and GIMP, while still being able to support heavier applications such as Skype and Chrome. Plus, it comes with a live CD, so you can try it out before installing it. You'll have the option to install it using the Cinnamon or Mate interface, and there are multiple options for booting up your laptop.
One of Linux Mint's major advantages is its enormous software library, which boasts over 30,000 options. Nemo, the company's file manager, offers more advanced file management capabilities and numerous protocols for connecting to servers and mounting places.
Recommended System Requirements
4GB RAM
100GB of disk space
64-bit CPU (single core) with 2 GHz speed
Most Beautiful Linux Distro: elementary OS
Elementary OS is a lightweight, beautiful and elegant operating system. If you're looking for a stable, beginner-friendly Linux distro to install on your laptop, it should be your go-to. The distribution ships with the latest Ubuntu 22.04.0 core on board, so it's up to date with all the latest apps like Firefox and LibreOffice.
It also comes with some apps like Geary Mail and Scratch, both based on GNOME technologies. And that's not all! For those who want more out of their laptops than just checking their email or browsing Facebook, there's an app called AppCenter, which lets users download hundreds of other open-source programs from a central repository. There are many useful apps available through AppCenter, including music like Melody and productivity tools such as Notes-up, Quilter, and Agenda.
With Elementary OS, you can easily create beautiful, professional-looking documents, spreadsheets, presentations, and more. You can also get your work done quickly and efficiently with its built-in tools for editing text and code. You'll love Elementary OS's speed and responsiveness. Whether you're writing a blog post or editing a video on YouTube, the system will let you work quickly without slowing down or freezing—every time!
Recommended System Requirements
Solid state drive (SSD) with at least 32 GB of free space
4 GB of system memory (RAM)
A dual-core 64-bit CPU
Best for Programmers and Engineers: Pop!_OS
Pop!_OS is a desktop environment with a minimalist design. It's made by System76, which specializes in high-performance laptops and desktops. Pop!_OS is based on Ubuntu and includes all the tools an engineer or programmer needs to develop their software or hardware. The company also makes open-source drivers for its laptops and many other popular models.
It's also great for engineering because it has a massive array of configuration options. As a result, Pop!_OS lets you create your own custom settings to get exactly what you need out of your machine without relying on third-party software or fiddling around with the command line.
Pop!_OS has a clean desktop that looks like Windows 10, with only one app running at a time, so you can focus on your work. There are no notifications popping up while you're coding. You just get a discreet message that pops up in the corner of your screen when something happens. And since Pop!_OS is based on Ubuntu LTS, updates are always current, and bugs are minimal because there aren't any third-party apps to deal with (a common cause of security issues).
Recommended System Requirements
4 GB of RAM
20 GB of storage
64-bit compatible processor
Best Arch-Based: Manjaro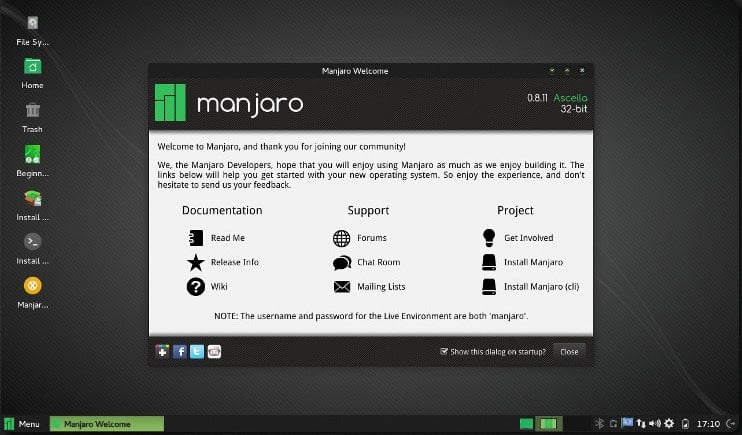 Manjaro is a Linux distribution based on the Arch Linux base. This distro has some of the best hardware detection and driver support in the industry. It also comes with a great selection of software out of the box, making it suitable both as a beginner's first experience with Linux and as an experienced user's personal system.
It's both lightweight and flexible, allowing you to install just about anything you can think of. Manjaro users will find it extremely user-friendly, with a system installer that makes installing and removing software easy. The Manjaro community has been working hard to ensure the distro works well on different hardware, which is why it's so popular among desktop users.
Advantages
Manjaro also has a few advantages over other distributions when it comes to security. It uses the latest kernel release (5.0), which means that it should be more secure than other operating systems at this point in time. The use of this kernel also means that there are fewer bugs in Manjaro than there are in other operating systems like Ubuntu or Fedora.
Manjaro also uses a rolling release model, which means that when new software packages are released by their respective vendors, they are immediately installed onto your system without any kind of waiting period required. This makes it easy to keep up with the latest software releases without waiting for older versions to be updated, or making changes yourself.
Manjaro provides the bleeding-edge technology that many Linux users seek, and as a result, some users prefer Manjaro to Ubuntu (based on Debian). Manjaro also allows users to install and utilize multiple kernels, making it suited for advanced Linux users.
Direct access to the AUR opens up a world of possibilities for the end user, making Manjaro so appealing. The Pacman package manager is also responsible for this. And so, Manjaro is one of the greatest distros for your laptop because of its bleeding-edge technology and boundless customizability.
Recommended System Requirements
1 GHz or better CPU
1 GB of RAM
30 GB hard drive space
HD graphics card
How to Choose the Best Linux Distro for Laptop: Step by Step
Choosing the best Linux distro for a laptop is a process that differs depending on the person's needs. The following steps are a guideline to help you find what might be right for you.
#1: Hardware support
The most common reason why people choose a particular Linux distro over another is that they have specific hardware needs. How well does the operating system work with your hardware? Does it support all major components, such as the processor, graphics card, storage devices, and memory? There are many distributions that have been optimized for different hardware platforms. So, if you have a laptop with a low-end processor or GPU, then you can choose a distribution that is lightweight and fast.
#2: User interface
The user interface also depends on your needs. If you want to use multiple applications at once, you should choose an operating system with good multitasking support. If you need speed and stability, you should choose an operating system based on the latest Linux kernel version.
You should also check if the user interface is user-friendly, fast, and responsive so you can work quickly and without difficulty. You can compare two different Linux distributions regarding their user interfaces by looking at their web pages and other online resources.
#3: Features
The features of a Linux distro will vary depending on what you want from it. For example, if you want a system that boots quickly but isn't too powerful, you might want to choose something like Ubuntu MATE or Lubuntu. On the other hand, if you're looking for something with good hardware compatibility and plenty of extra software, you may be better off with something like Fedora or Debian.
What to Know Before Installing the Best Linux Distro for Your Laptop
Before installing your new Linux distro, you must know what you want and how it will benefit you. The first step is deciding which Linux distribution is right for your needs. If you want to get the most out of your laptop, then you must choose a Linux distribution that has been optimized specifically for laptops. This means that it will run faster than other distributions.
Another thing to consider is stability and security. If your computer has been infected with malware or viruses, it could be difficult to get rid of those problems once they've been introduced into your system. By choosing an operating system that has been proven over time to be secure from threats, you'll be able to avoid potential downtime and inconvenience caused by problems with your computer's software. ]
Lastly, check whether or not it's easy for beginners to use. If not, then chances are you'll get frustrated quickly and give up on using your laptop altogether.
Using the Best Linux Distro for Laptops: What It's Like
Linux is one of the most versatile and powerful operating systems available today. However, there is a downside; it isn't very user-friendly. Thankfully, many distributions of Linux are designed to be easy to use. If you prefer to use a laptop for your Linux needs, it may be worth choosing a lightweight distro to ensure that the laptop's hardware can keep up.
If you care about a design that looks good, you should go for Xubuntu. Ubuntu and Linux Mint are great choices if you want to stay with lightweight distros with lots of themes. And the elementary OS is a good alternative if you want something that comes with a different look out of the box.
NEXT UP…
The image featured at the top of this post is ©jivacore/Shutterstock.com.