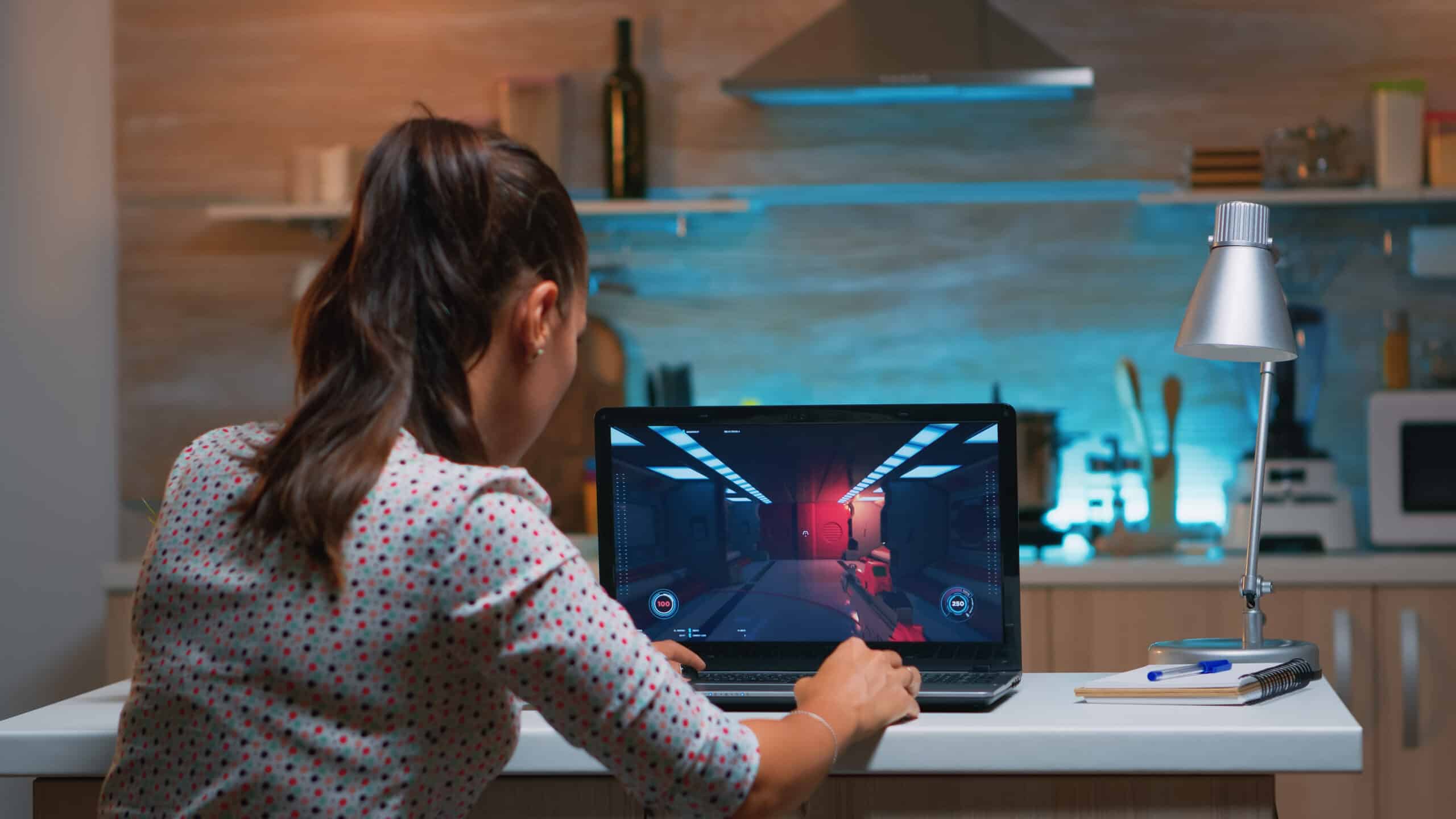 Key Points
When choosing the best Intel Core i9 gaming laptop, there are several factors to consider, including processor, graphics card, and display quality, to name a few.
The Acer Predator Triton 500 was voted the best overall Intel Core i9 gaming laptop.
If budget is a concern, Acer Nitro 5 AN515 may be for you.
Gaming laptops have become better and more powerful over time. While high-performance Intel Core i9 chips were reserved for desktops, the latest laptops allow you to leave your desk and take your gaming anywhere without sacrificing performance. With gaming laptop technology advancing rapidly, the average customer will struggle to keep up with new models and features.
If you're finally ready to pull the trigger and upgrade to an Intel Core i9 gaming laptop, now might be the best time to make a move. Prices on GPUs, CPUs, and memory are falling worldwide. But with so many new laptops available, how can you pick the best one? We've done some sleuthing and are happy to present to you best Intel Core i9 gaming laptops in 2022.
Thanks to a perfect combination of performance, design, and price, the Acer Predator Triton 500 is the best overall Intel Core i9 gaming laptop.
What sets it apart is the minimal design, which looks simple at first glance but is a well-engineered piece of art on closer inspection. The display is the crown jewel of this laptop. Acer designed this panel to answer the demands of gamers and creators, using the 16:10 aspect ratio. Lovingly referred to as the "golden ratio," this aspect ratio offers more vertical screen real estate for a diagonal screen measurement of 16 inches instead of the older 15.6-inch standard.
Gamers will appreciate the 240hz refresh rate and 3ms response time. Coupled with UHD 4K resolution, this display provides the most immersive experience of any panel on a laptop. Powering this display is an Nvidia RTX 3080 Ti graphics card. With 16GB of dedicated video memory, you'll be able to compete with high-end gaming desktops.
The Acer Predator comes with 32GB of DDR5 RAM and offers 1TB of M.2 solid-state storage. This is standard on a laptop of this caliber, but what really sets this machine apart is how slender it is. Acer created a unique new thermal design, allowing heat to dissipate quickly without massive cooling fans. While there are still fans, they are highly efficient and quiet, allowing the Acer Predator to sport a coveted slim form factor.
Check out the Acer Predator Triton 500 on Amazon.
Best Budget Intel Core i9 Gaming Laptop: Acer Nitro 5 AN515
The Acer Nitro 5 AN515 checks all the boxes for a stellar gaming PC while staying within a reasonable price range.
If you're on a limited budget, finding the best laptop for your buck can be tricky. Fortunately, you can still get an Intel Core i9 gaming laptop without breaking the bank. Acer offers up another winner in Nitro 5 for those looking to spend as little as possible.
You can expect solid gaming performance from the Nvidia RTX 3060. Acer has included 16GB of DDR4 to meet every popular game's recommended requirement. Although you could use more RAM occasionally, 16GB is enough to get started, and you can always upgrade later.
The display is competitive with laptops in this price range, running at 144hz and offering 1920 by 1080 resolution. You won't be gaming in 4K on this laptop, but you can still enjoy the performance benefits of an Intel Core i9 processor. The only catch with this laptop is that the CPU is only an 11th-generation. This shouldn't be a dealbreaker for most, as the differences are relatively minor.
Check out the Acer Nitro 5 AN515 on Amazon.
Best Travel Intel Core i9 Gaming Laptop: MSI Pulse GL66
If you're looking to take power and performance capabilities of the Intel Core i9 on the go, then you'll find your answer in the MSI Pulse GL66.
Gaming laptops are often some of the heaviest laptops, weighing up to ten pounds. The MSI Pulse GL66 is not only one of the most powerful gaming laptops but also one of the most portable, weighing in at only six pounds or 2.72kg.
Paired with 6GB of dedicated graphics memory, the 144hz refresh rate display offers a fantastic gaming experience. With a 12th-generation Intel Core i9 and an Nvidia RTX 3060, you can expect satisfying gaming performance even on high settings. MSI has included 32GB of DDR4, which is very generous in this price range. Additionally, you get 1TB of NVMe storage for housing all of your games and applications.
You also get WiFi 6, Bluetooth for connectivity on the go, and a wide selection of ports like USB C and HDMI. Overall, the MSI Pulse GL66 makes an excellent gaming laptop for travelers thanks to its lightweight and slender profile.
Check out the MSI Pulse GL66 on Amazon.
Best 17-inch Intel Core i9 Gaming Laptop: MSI Titan GT77
If you're after an Intel Core i9 gaming laptop with the biggest and best 17-inch display, the MSI Titan GT77 is the ideal choice.
The laptop's display is second to none, while the screen is crisp and vivid with a UHD 4K resolution and anti-glare wide viewing angle. Additionally, the design is highly attractive and modern. The screen goes right to the edge of the laptop, with only the smallest bezel remaining.
MSI is known for providing some of the best gaming laptop performance. The Titan GT77 is no different, and with an unlocked 12th-generation processor, you get a highly customizable high-performance system. Gaming performance is stellar thanks to the Nvidia RTX 3080Ti graphics card, with a whopping 16GB of video memory.
64GB of DDR5 RAM is included, with the option to upgrade as high as 128GB if you want to push the envelope a little more. You get a 1TB NVMe SSD by default, with additional slots to add more storage if you start running low on space. 
While the MSI Titan is a little bulky and heavy, you get a few unique upgrades, such as a Cherry Mechanical Steel Series keyboard. With a highly tactile sensation and sound, this keyboard style is beloved by gamers. To top it all off, every LED is completely customizable with unique patterns and combinations.
Check out the MSI Titan GT77 on Amazon.
Best Performance Intel Core i9 Gaming Laptop: Asus ROG Strix Scar 17
For those after the absolute best performance you can get in a gaming laptop, the Asus ROG Strix Scar 17 is the answer.
The pride and joy of this laptop is the Intel Core i9-12950HX processor, which is the most upgraded version of the Core i9 you can get in a laptop. This laptop delivers stellar gaming performance with an Nvidia RTX 3080Ti graphics card.
You'll first notice the striking design, with a vibrant LED strip across the front of the laptop and a strike-through impression running diagonally across the keyboard. All of this makes for a stunning first impression when you open the lid and are greeted with the massive 17-inch display. Running at 2K resolution and 240hz refresh rate, this is the ideal display for the discerning gamer.
Asus has generously included this laptop's massive amount of RAM and storage space. With 64GB of DDR5 RAM, you can enjoy the benefits of the fastest memory standard and smooth multitasking. Two separate 1TB NVMe SSDs are included and configured in RAID 0 for increased read and write speed.
All of this adds to the best gaming laptop performance possible. However, none of this comes cheap, and the price tag currently sits at over $4k USD. If you're after the best Intel Core i9 gaming laptop you can get your hands on, the Asus ROG Strix Scar 17 could be well worth it.
Check out the Asus ROG Strix Scar 17 on Amazon.
How To Pick the Best Intel Core i9 Gaming Laptop: Step By Step
Figuring out which Intel Core i9 gaming laptop is right for you comes down to a few critical areas. As long as you pay attention to these, you'll be able to spot a good laptop from a bad one and ultimately settle on which one is right for you.
Processor
Graphics card
Display quality and size
Ram and storage capacity
Extra features
Let's explore each aspect in detail.
Processor
The processor is the essential component in picking out the perfect laptop. You already know what you are looking for if you have your heart set on the Intel Core i9 series processor. However, you should pay particular attention when picking out your laptop, as all i9 processors are not created equal.
When shopping around for a gaming laptop, you may notice that the Intel Core i9 is available in multiple varieties, from the last generation to the current generation. Identifying the age and performance of a processor is simple. The first two numbers represent the generation. An 11th-generation processor will be labeled Core i9-11900, whereas a 12th-generation will be labeled Intel Core i9-12900. Opting for an older processor will hurt your laptop's performance, so make sure you pick a 12th-generation or newer model.
Graphics Card
You won't be doing any gaming without a strong graphics card. Fortunately, if a laptop is potent enough to include an Intel Core i9 CPU, it most likely has a competent GPU as well. However, you shouldn't be lax and pick just anything. Not all graphics cards are created equal, and minor differences can equate to noticeable variations in performance when gaming.
While the gaming laptop market is littered with midrange GPUs like the RTX 3050 and 3060, you should opt for a more powerful card if your budget allows it. While an RTX 3060 will provide more than satisfactory performance, you can find even more powerful cards if you keep your eyes peeled. 
The best GPU you can find in an Intel Core i9 gaming laptop is typically an RTX 3080 Ti. While the RTX 3090 series is the cream of the crop from Nvidia, it is typically only available for desktops. Additionally, the 4000-series is also missing from many gaming laptops and won't be hitting the market for quite some time.
Display Quality and Size
A powerful processor like the Intel Core i9 demands a good quality screen and plenty of screen real estate if you want to maximize its potential. With such a powerful CPU, you should take advantage of it by using the best possible display you can find. The good news is almost every Intel Core i9 gaming laptop out there also includes a state-of-the-art high-resolution display.
A deciding factor for you will be the screen size. Most laptops in the range will come in two sizes: 15-inch or 17-inch. While it is common to see laptops of all shapes and sizes, models with Intel Core i9 processors must adhere to a strict minimum size to fit a suitable cooling system. Therefore, you'll typically see the largest laptops also have the best specs.
Looking out for refresh rate and aspect ratio is also essential, but less so than the graphics card. If you don't have a powerful GPU, then you won't notice an increase in refresh rate. Focus on finding a system with a quality graphics card, and it will oftentimes sport an equally impressive display to go along with it.
RAM and Storage Capacity
While RAM and storage are not the most essential components of a gaming laptop, they should be on your checklist. If you don't have sufficient RAM, multitasking will be a hassle. You won't also be able to load games with massive textures, maps, or effects. A safe minimum amount of RAM is between 16GB and 32GB. This will give you enough room to work with and enjoy your games.
Additionally, you must consider the advantages of DDR5 when comparing gaming laptops. Older or less expensive models will come with DDR4 memory, while the latest models will include the much faster DDR5 standard. Although the older standard won't perform significantly worse, it will be less futureproof.
Storage is also another commonly overlooked area. You won't get far if you run out of space, so it is essential to ensure your laptop has enough storage. Luckily, larger gaming laptops with Core i9 CPUs frequently come with multiple solid-state drives or upgrade options. You should aim for at least 1TB minimum capacity depending on your usage. More space means more room to download games and mods.
Extra Features
If you're buying an Intel Core i9 gaming laptop, you're entitled to some extra features you won't find on cheaper laptops. Most laptops rocking a Core i9 processor also give you many other welcome features and design choices. All this can add up to create a unique and premium feel for your laptop. Paying attention to the extra features will help you determine the best Core i9 gaming laptop for you.
Sound quality is often overlooked on laptops. Fortunately, gaming laptops have above-average audio systems, so you will be in good hands if you like to crank the volume up on your games and movies. Another area that shouldn't be forgotten is the keyboard and trackpad. A comfortable keyboard is essential if you're typing for long periods.
Additionally, fun extras like customizable RGB lighting will enhance your gaming experience. If you like a flashy design and custom features, many Core i9 gaming laptops will serve you well. You won't have to search far to find a laptop with RGB lighting. However, you should ensure that each system has a reliable application for modifying and configuring your LEDs.
What it's Like to Use: Intel Core i9 Gaming Laptop
If you've never had the pleasure of experiencing Intel's Core i9 processors, you will be in for a wild ride. The latest generation i9 CPUs offer incredible gaming performance and will run circles around whatever processor you were using previously. Coupled with enough RAM and a speedy SSD, your laptop gaming experience will never be the same.
However, the performance gains come with a few caveats. Firstly, Intel Core i9 processors generate a massive amount of heat. This leads to manufacturers building laptops with extensive cooling systems and bulky cases. Some manufacturers skirt around this by designing innovative cooling systems that take up less space. However, with new technology, you risk being a guinea pig and testing out cutting-edge features for the latest laptops.
You will often have to pick between a bulky, oversized computer with a standard thermal design or a slim computer that may run the risk of overheating. While you shouldn't worry about overheating as long as you buy a system from a reputable brand, you should take extra care to ensure your laptop has a cool temperature environment to work in.
One advantage is that you will not have to upgrade for a long time. The Intel Core i9 processor is one of the most powerful consumer CPUs on the market, with unparalleled performance across the board. If you opt for an Intel Core i9 gaming laptop, you're setting yourself up to get many years of enjoyment before newer models surpass your system.
What To Know Before Buying an Intel Core i9 Gaming Laptop
An Intel Core i9 gaming laptop is a significant investment; you should be clear on a few things before buying. If you're upgrading from a cheaper gaming laptop, you've probably had your heart set on an upgrade for a while and know your preferences to a tee. However, before you pull the trigger on such a big upgrade, you should take stock of what you know.
Know how much it is going to cost you. Before buying an Intel Core i9 gaming laptop, you should determine the going rate and competitive pricing for the model you want. The last thing you want to do when buying a new laptop is to waste money. Overpriced systems abound in the wild, and you should shop around to ensure you get the best deal.
Additionally, you should pay attention to your applications. What operating system do you prefer to use? Windows 10 or Windows 11? You'll have to make this choice soon since most gaming laptops are released with Windows 11 but may have backward compatibility. If you prefer Linux, you want to ensure the model you plan to buy comes with full Linux compatibility.
Finally, you should know that an Intel Core i9 gaming laptop will open up a few possibilities for you. The early Intel Core i9 processors were reserved for desktops. If you want stellar gaming performance, you don't have to be chained to a desk anymore (even if it is a standing desk). You'll be able to take your gaming experience anywhere.
NEXT UP…