Key Points
A web host sells or rents space on the web for you to house your website or blog.
When choosing the best web hosting provider, there are many factors to consider, such as speed, security, ease of use, price, customer support, and bandwidth.
The company HostGator was voted the best overall web hosting provider for blogs.
When blogging, having the right tools at your fingertips is crucial. For you to make money with your blog, you need to be using the best hosting for blogging that there is. This is the only way you'll have the freedom to choose your perfect theme and template, edit images, and post on time.
With so many blogging platforms to choose from and so many hosting packages to sift through, picking the right hosting solution can be difficult.
The truth is, it's all about finding the package that's right for you and your blog's needs and price point, which can be especially tricky if you're just starting out in the blogging world and don't have much experience with how to host a website or know what to expect.
A few things you should consider when choosing your hosting plan include uptime guarantee, ease of use, support options, bandwidth limits, customer service availability, and more. In this guide, we'll help you find the right hosting company by giving you our top picks as well as helpful tips to help you narrow down your options.
Best Overall Host: HostGator
HostGator has been around since 2002 and is one of the most well-known hosting providers. They offer a variety of packages to suit your needs, whether you're running a small personal blog or a large corporate website. The company is known for its reliability, security, and performance, making it an excellent choice for small businesses and bloggers. It's also priced fairly, so it won't break the bank for those with smaller budgets.
HostGator offers many different types of hosting plans. They offer dedicated servers for businesses that need to be more stable and secure than shared hosting. They also provide shared hosting for small businesses that don't need any more resources than what's required by the most basic hosting plan.
The pricing for HostGator's shared hosting plans is quite low compared to other providers. This makes them an excellent choice for small businesses who want to try out web design or website creation without spending a lot of money on it (or risk losing all their data if something goes wrong).
If you are looking for easy-to-use tools, then this is a great option! Some of their offerings include cPanel (a control panel that gives users full access), 1-click installations for popular blogging software like WordPress and Joomla, 24/7 customer support, a 99.9% uptime guarantee, and an amazing 45-day money-back guarantee.
Best for Affordability: Hostinger
Hostinger is an affordable hosting provider that offers a number of different packages to suit your needs. You can choose from their Single Shared Hosting, Premium Shared Hosting, or Business Shared Hosting and then customize it with any features you need. All packages come with unlimited bandwidth, dedicated IP, and a free domain name in the first year.
If you're just starting out and want to learn the basics of blogging before deciding which hosting provider is best for you, Hostinger is a great place to start! All of their packages are relatively low-cost and include everything that most bloggers need to get started. They also have excellent customer service in case you ever have questions about anything related to your blog or account.
While there are plenty of other great options when it comes to hosting providers, with a single shared hosting plan starting at just $0.99/month, this might be the best option for you.
However, keep in mind that the renewal fee will rise. When selecting a plan, choosing the longest term offered is usually cost-effective to earn the maximum discount. Although Hostinger's plans are reasonably priced, their user interface is not. It gives consumers the sense of a premium host at a fraction of the expense.
Best for Help and Support: SiteGround
SiteGround is well-known for its stellar customer service, which includes a 99.9% uptime guarantee and 24/7 live chat support. SiteGround also offers phone and email support and a user-friendly interface that even the most novice of bloggers will be able to navigate with ease.
They provide a no-questions-asked 30-day money-back guarantee on all plans, so you can try them out without feeling like you're making any financial commitments. SiteGround has one of the best WordPress installation tools in the industry and is incredibly easy to use. Plus, SiteGround has some really robust features such as one-click staging, brute force protection against malware, automatic backups with zip file download capabilities every day or week at your discretion — and more!
SiteGround also offers a variety of helpful tools and resources for website owners, including tutorials on managing your website's security and performance better. Beyond the cost, some of the fundamental managed services it offers, such as automated WordPress upgrades, are beneficial. Additionally, the free automated daily backups are a major plus. Although the bandwidth restrictions are undoubtedly a downside, SiteGround is often competitive.
Best for Speed: A2 Hosting
The speed of your site directly impacts critical variables such as bounce rates and visitor satisfaction rates. Your website's performance even impacts your bottom line, since a 1-second delay in page load has a huge negative impact on your conversion rate. Even if you don't have an eCommerce site, your SEO keyword rankings consider your site's performance. Your choice of web hosting companies has a significant impact on the performance of your website.
A2 Hosting is a great option for bloggers who want to optimize their sites for speed. It's one of the fastest hosts, and its prices are also affordable. Features like PHP 7 compatibility, 99.9% uptime, and accessible 24/7 customer support make A2 hosting a great choice for bloggers looking to host a blog on a budget without sacrificing quality or speed.
Customer service is another area where A2 displays its value as a provider of some of the top hosting options. You can reach the Guru Crew throughout the year by phone, live chat, or email, receiving prompt and efficient service whenever you need it.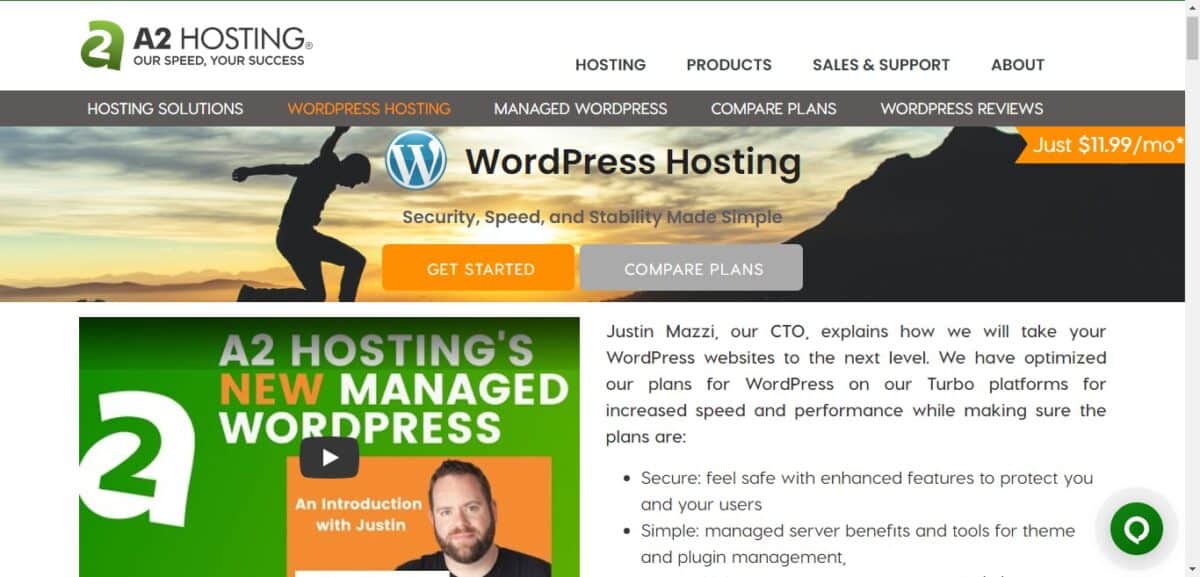 Best for Beginners: Bluehost
Bluehost is a great hosting service for beginners because it's affordable, offers 24/7 customer support, and has excellent uptime. It has all the basics of what you need to get started and is easy to use. This company offers a one-click WordPress install and a 30-day money-back guarantee without questions. They have one of the lowest prices and reliable uptime, so it's worth investing in them.
Bluehost is by far one of the most popular web hosting platforms available today, and its success can be linked to its user-friendly design that caters to the needs of both beginners and specialists.
It is also the top WordPress-recommended host, with simplified setup options and advanced WordPress functions –- making it ideal for bloggers. Bluehost also offers WooCommerce plans, with site migration for both accessible for a charge.
The downside? This isn't your host if you're looking for more advanced features like blogging software or PHP. They also don't offer any way to host an email account on their servers, which can be limiting if you want that feature as well.
But, if you're just looking for basic web hosting without too many frills, this is your company! You'll still get a domain name, a free SSL certificate, and plenty of bandwidth. There are tons of ways to contact their customer service representatives as well. Their plans start at $3.95 per month, but there's also the option to upgrade once you've been a customer for a while.
How to Choose the Best Hosting Provider for Your Blog
Choosing the best host for your blog can be difficult, but with the right information, you can find a plan that will fit all your needs.
Read on for the key factors to consider when choosing a host for your blog.
Speed
The loading speed of your website has a huge impact on how people perceive it. If your site takes more than three seconds to load, there's a good chance they will go elsewhere.
Ensure the hosting company offers fast page-loading times with minimal server lag time. Be aware that most hosts offer differing levels of services depending on which plan you choose. You'll also want to make sure they don't overload their servers at peak times, as this will slow down your site even further
Security
With hackers lurking around every corner, data security should be one of your top priorities when deciding which host to choose. Investigate any potential breaches or hacks that have occurred in the past and how the hosting company responded. Look into whether they provide SSL certificates to encrypt all sensitive data and identify whether or not any firewalls have been installed to protect against Distributed Denial of Service (DDoS) attacks.
Ease of Use
A successful blog means creating content regularly. You want a platform that's easy enough for anyone on your team to manage so you can focus on generating new content rather than fixing technical issues. Find out if the host offers automatic backups, scalability options, and FTP access.
Customer Support
The best hosting services offer fast and reliable support. With 24/7 live chat available, you won't need to wait hours for someone to answer your question when something goes wrong. They should also offer phone, email, and ticket-based customer support. Lastly, check to see how long you'll have to wait before getting a reply back from them. Responding within 24 hours is considered excellent, while 48 hours may still work for some brands. Still, others may need faster response times.
Pricing
As tempting as it may seem to get the cheapest option available online, remember that poor reliability could cost you more in lost sales than upgrading your package slightly. Some hosts offer inexpensive monthly plans, while others require you to pay upfront for an entire year.
Consider how much traffic your site receives, what content you publish, and how long you'll use the hosting service. From there, narrow down a list of potential hosts based on price range and other factors mentioned above. Try to find reviews online before committing to anything as well.
Bandwidth
Bandwidth is the amount of data that can be transferred between the site, its users, and the servers in a given time. High bandwidth means more data can be transferred than with low bandwidth. For a blog, visitors need to have enough bandwidth to access your content quickly and easily without experiencing connection errors or page loading delays.
What to Know Before Choosing a Web Host for a Blog
Hosting is an important part of your blog's infrastructure, and you'll want to choose a plan that will suit your needs. The best way to find the right one is to think about what you need to have a successful blog and then research the companies that offer those features. Some things to look for include storage space, bandwidth, email addresses, domain name availability, service cost, customer support, and reputation of the host.
Some services will also give you free website templates or applications to help you create content on your site more easily — these can be helpful if you're just starting out.
If you know someone who already hosts their blog with a certain provider, ask them about their experience with the company. Whatever blog hosting company you choose, be sure it has the prices, features, and support you need to keep you and your site running smoothly so you can keep your viewers satisfied!
Using the Best Hosting for Blog: What it's Like
Unlike other businesses, starting a blogging business requires little to no upfront capital. Your hosting platform will be the major expense you'll need to budget for, so you should look into your options and pick the one that best suits your requirements. At the end of the day, you will want a blog hosting company that provides good services and offers reliable uptime.
The best companies will have 24/7 customer support and be able to help you with any issue that comes up. You'll also need to look for a provider that offers plenty of bandwidth and storage space for your content. If you don't find enough features in one place, it's worth comparing services at various providers before making your decision. It's also important to consider your current and future needs since they might not remain static over time.
NEXT UP…
The image featured at the top of this post is ©Tartila/Shutterstock.com.