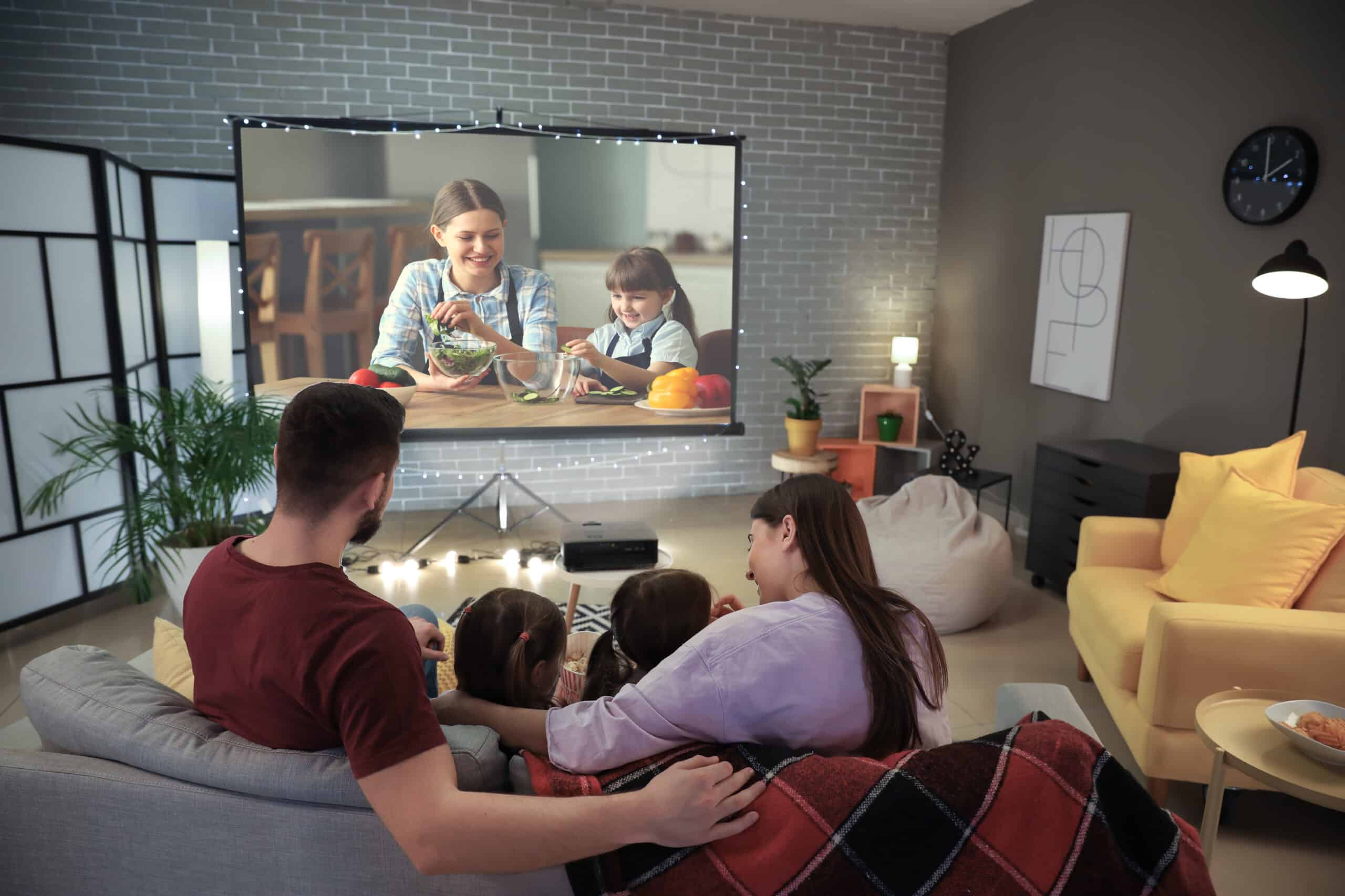 Key Points
When choosing the best recliner for your home theater, there are many factors to consider, including the shape and design, size, and the number of seats.
Other factors to think about are the quality, material, colors, and dimensions.
Some recliners have special features that you may want to include, like electricity, storage, USB plug-ins, and lights.
Looking for a way to create an inviting space in your home that will also provide you with a comfortable and relaxing environment? You might want to consider investing in the best home theater recliners. These pieces of furniture have become increasingly popular over the past few years, not only because they're stylistically impressive but also because they're super cozy. While they're not exactly cheap, they're still a worthwhile investment for any home with a dedicated theater room.
In order to get the most out of your home theater experience, you need to be comfortable and relaxed whenever you sit down to watch a movie or your favorite TV show. The right chair will support you so that even after an hour or two of sitting, you won't feel strained or sore. A good recliner is essential for this reason. With that said, there are plenty of bad ones on the market.
Many of them are uncomfortable due to hard plastic backs or other poor design choices. In this article, we're going to take a look at our top five picks for the best home theater recliners that will make watching movies much more enjoyable!
Best Home Theater Recliner Overall: RecPro Charles
We earn a commission if you make a purchase, at no additional cost to you.
The RecPro Charles is not only a manual recliner with smooth channels but also has a beautiful level of quality that sets it apart. Perfect for friends or couples, this recliner will change your home into a real home theater. One thing that differentiates it is the faux leather which is beautiful, durable, and easy to clean. Beyond its appearance and design, this recliner offers enough comfort and has a center console that can hold up to 2 cups.
If you don't favor the standard black recliner, there are several options you can choose from. Due to its small footprint and space-saving design, it's the perfect recliner for small apartments where you might lack room. The RecPro Charles 67″ also comes with a proprietary bounce-back fill to give you many days and nights of relaxation. Unlike others, it won't flatten or break down. Its internal components also have the same quality, warranties, and beautiful style.
| Pros | Cons |
| --- | --- |
| Four stylish color options | Cup holders are a bit smaller |
| Suitable for small spaces | |
| Durable faux leather | |
| Center console storage | |
Check out RecPro Charles on Amazon.
Dream HR Series - Octane Seating - Home Stadium Seating - Top Grain Leather - Power Recline - Motorized Headrest - Lighted Cup Holders (Row of 4 Center Loveseat, Black)
MOTORIZED HEADREST & POWER RECLINE: Offering the full range of motor-powered adjustments, recline back to the perfect viewing angle for your body. It's the dependable relaxation solution!
BLUE AMBIENT LED LIGHTS: Set the mood with just the right lighting. LED lighting in the cup holders and under the chair make your movie night something to remember.
HIDDEN ARM STORAGE: Another feature that makes these the preferred power recliner chairs is the incorporation of a hidden storage compartment. Simply lift the arm to stow away your remotes, books,...
BUILT-IN USB PORT: Who knew a recliner could be so high tech? Equipped with a USB port, this chair delivers the ability to charge up your devices while enjoying the show.
PILLOW PERFECT SOFTNESS: Premium pocketed coil construction for lifetime no-sag seating. Kiln-dried hardwood frame. Rich top-grain leather upholstery.
We earn a commission if you make a purchase, at no additional cost to you.
Whether looking for a premium home theater seating option or a way to unwind, Dream HR - Octane Seating has you covered. This recliner chair will not only take your movie-watching experience to the next level but also give you the feeling of being in a real movie theater. Styled for comfort and body wellness, this unit features 3 bolsters to position your head when watching a movie. Its fabric is of the highest quality and comes in rich tones and textures. 
With its durable leather, you can expect it to withstand wear and tear. Compared to other recliners, it has an exclusive Accessory Dock to store all your accessories when you're watching movies. For instance, it has accessories such as LED Flex Light, a swivel tray table, a wine glass holder, a tablet holder, and a dual USB charger. Its footrest is also styled to support your legs without any gaps.
Designed to provide quality and comfort, this recliner is suited for basement settings or home theaters. Boasting a very sophisticated look, Dream HR will also appeal to those with a sense of excellence and grandeur. With proper maintenance, this seat can last a lifetime. If comfort and luxury are your priorities, you can consider buying this chair.
| Pros | Cons |
| --- | --- |
| Offers lumber and head support | Simple design |
| Sleek leather upholstery | Cannot recline flat |
| Different options for seating positions | |
| Power headrest | |
Check out Dream HR - Octane Seating on Amazon.
Pulaski Power Home Theatre Recliner 38.0" L X 39.5" W X 43.0" H Charcoal Grey
One outlet and two USB changing plugs are hidden in arm storage and available at the push of a button for easy charging access. Easily charge your tablet or phone with the USB plug or use the outlet...
Power Recline to infinite positions with the touch of a button. You can sit upright for an intense movie, recline to relax, or lay fully back to take a nap.
Swivel tray can attach to either arm for easy use and stows in arm storage when not in use. Swivel tray is perfect for use with a laptop or tablet when you need to work, or to hold your snacks during...
PREMIUM faux Leather cover is breathable, extremely soft and durable, and easy to clean. Fabric content is 80% polyester and 20% polyurethane.
Chair dimensions - 38.0" L x 39.5" W x 43.0" H . Seat dimensions - 24.41" W x 20.67" D x 20.08" H
We earn a commission if you make a purchase, at no additional cost to you.
If you're looking for an affordable home theater recliner, Pulaski 1985-178-125 Power Home Theater Recliner can be the right choice. As one of the best home theater recliners, it allows you to change positions without hassle. It also has a charging port you can use on any device while watching a movie or a TV show. Alongside its upholstery, it's fitted with cupholders and a swivel tray for your food and snacks.
Since it comes in four different colors, you'll be able to pick the right one for your needs. The faux leather used is breathable; therefore, you won't have to worry about sweat. It feels good to touch while also being quite tough for better comfort. Its material is also durable, sturdy, and easy to clean. Considering all the factors, including features, price, and comfort, this recliner can be an excellent option for your home theater.
| Pros | Cons |
| --- | --- |
| Easy to assemble | The seat is way too soft |
| Can recline to different positions | Rare electrical problems |
| Hidden cup holder for storage of drinks | |
| Soft fabric that's easy to clean | |
| Versatile Swivel tray | |
Check out Pulaski 1985-178-125 Power Home Theater Recliner on Amazon.
Seatcraft Equinox - Home Theater Seating - Top Grain Leather - Power Recline - Powered Headrest and Lumbar Support - Arm Storage - USB Charging - Cup Holders - Single Recliner, Brown
✅ THE FINEST MATERIAL: Painstakingly, hand-selected genuine top grain leather from the top 30% quality of hides, for the finest touch, look, and durability
✅ TOP-IN-CLASS COMFORT: Experience the dream-level of comfort like never before with the powered recline, adjustable powered headrest, adjustable powered lumbar support, and memory function all at...
✅ HOME THEATER SEATING: Enjoy the movie theater experience in your own home with convenient features such as the lighted cup holders and base, hidden in-arm storage compartments, built-in...
✅ SHOP WITH CONFIDENCE: Our furniture is smartly shipped in one reinforced box to ensure safe arrival to your home, Seatcraft has decades of industry-leading innovation and experience in home...
✅ DIMENSIONS: 43" H x 40" D x 38" W, fully reclined 67.5" D, seat depth 22", wall hugger 6" see specification sheet for more details
We earn a commission if you make a purchase, at no additional cost to you.
If you value style, then Seatcraft Equinox Home Theater Seating could be precisely what you are looking for. Designed to complement any room, these electric recliners are brilliant and stunning. Whether you're looking for lumbar support or want to prevent strains and stresses on your body, this seat has everything you need. Like other products from Seatcraft chairs, it has a range of impressive features, including SoundShaker, to give you a whole cinema experience.
In addition, it's fitted with a tray table, base, lighted cup holders, and USB ports to charge your devices. Once you settle down to relax or watch a movie, you'll find everything you need in this home theater recliner. It's also available in black, brown, and striking red.
Although it's a bit costly, it's perfect for users looking for something a little sophisticated. Moreover, it has enough room for three people and storage space in armrests on both sides.
| Pros | Cons |
| --- | --- |
| Made from high-quality leather | It's tricky to assemble |
| Has power options for adjusting positions | The recliner is a bit expensive |
| Fitted with USB ports | |
| Has an intuitive control panel | |
Check out Seatcraft Equinox Home Theater Seating on Amazon.
Valencia Tuscany Home Theater Seating | Premium Top Grain Italian Nappa 11000 Leather, Power Reclining, Power Lumbar Support, Power Headrest (Row of 3, Black)
$3,374.99 ($1,125.00 / Count)
Top of The Premier Series - This Powered Recliner is Valencia Theater Seating's #1 Best Seller.
Top Grain Nappa 11000 Italian Leather is on All Seating Surfaces - Perfect For Adding a Luxurious Look To Your Home Theater Room. Diamond Stitch Leather – Stylish Finish so You Have The Best of...
Features Include: Powered Recline, Power Headrest & Power Lumbar Support So You Can Adjust The Cushions To Fit The Shape of Your Spine, Deep Arm Storage Compartment, LED-Lit Cup Holder & Base...
All Powered Functions and LED On/Off Button Can Be Found on The Chair's Sleek and Concealed Control Panel, Which is Located on The Inside of The Armrest.
Reclining Mechanism - Recline Comfortably while saving space with the wall Hugging Feature so Your Seats Don't Need More Than 5 Inches To Be Away From The Wall.
We earn a commission if you make a purchase, at no additional cost to you.
The Valencia Tuscany home theater recliner is made of 11000 Grade premium leather and covered with a smooth quilted finish to give you a classic feeling. It also features a reclining mechanism that supports its reclining function and motion. Durable, reliable, and comfortable, the chair is designed with superior features and engineered with adequate back pain and discomfort support.
Whether you're looking for luxury or suffering from a painful condition, this can be the right choice for you. Alongside its simple design, it's fitted with a center console that you can use to store snacks and drinks. It also has functional LED lighting to quickly fix a drink or move in and out of the theater. If you are looking for luxury, these chairs are worth trying out.
| Pros | Cons |
| --- | --- |
| Easy to move and assemble | A bit expensive |
| Solid construction | Difficult to move around |
| Very luxurious and comfortable | |
| Quilting creates some airflow | |
Check out Valencia Tuscany home theater on Amazon.
How to Pick the Best Home Theater Recliners: Step by Step
Although it's easy to be attracted by the style and specific features, it's a good idea to know all the features before settling on any chair. Once you know what you're looking for, the process will be easy. These are the key factors to consider when looking for a home theater recliner.
#1: Type 
Knowing whether one is right for you can be confusing with different types of recliners. For instance, they could have different shapes and designs, or recline differently. Currently, the most common types of recliners are regular and wall huggers.
While regular recliners require more space, wall huggers take up much less of it. It's also essential to figure out the kind of seating you are looking for. From solo chairs to the ones separated by console, you have various options to choose from.
#2: Size of The Room
Considering the size of the room is essential since it will determine the type of recliners you can buy. If you have a smaller one, you may require more compact chairs with space-saving features. It would help if you also placed the recliners close to the screen to save space.
#3: Number of Seats
You will also need to know the number of people you intend to invite. Ask yourself whether you'll be inviting friends and family members or watching alone. The worst mistake is to buy a single-seat recliner that will leave your visitors leaning on the chair's arm to watch. If you're unsure of the number, it's best to opt for a more practical option.
#4: Build Quality
Since you're looking for value for your money, checking the build quality is essential. Choose a recliner made of soft fabric and high-quality materials if comfort is your priority. This way, you can rest assured that your recliner won't give in after a few hours of relaxing.
#5: Model
It's also important to choose between electric models and manual recliners. If you plan to buy an electric model, you have to consider where you'll plug it in. Unlike electric models, manual recliners don't need extra functionality; hence, they are very easy to deploy.
Also, some designs can be adjusted in multiple ways. While some models will easily fold out, others require you to manipulate them if you want to change the position.
#6: Upholstery
While all these recliners have some leather, they are different types. With that in mind, you need to choose premium quality natural leather that's strong and durable. If you don't like animal leather, several high-quality options replicate it. You can also select faux leather bonded with gel to resemble natural leather.
#7: Color 
Besides having all the functional features, you'll still want your recliner to look great; this is where the color comes in. Since most options are black or dark gray, you have a few choices if you're looking for a bold color. Among the more subdued, you can find elegant vanilla and a beautiful smoke color.
#8: Dimensions 
Before settling on any recliner, it's essential to consider its dimensions in relation to the size of your place. The idea is to choose something that gives you enough space to recline both in the front and the back. Alongside these features, there are others worth considering. These include:
Center console: Since a center console comes with extra features such as cup holders and armrests, it will really give you the comfort and experience you cannot match. 
Storage: It's also important to consider storage as it gives you a place for gadgets and snacks.
USB ports: Whether you want to power something or charge your devices, having USB ports can be very useful. 
Lighting: Some recliners have lighting under the seats, which can be brilliant and practical. Some lighting is also fitted in the cup holders so you can see where you're putting your drinks. 
SoundShaker: With a sound breaker, you can increase your home theater experience and feel on-screen action via vibration.
What To Know Before Buying the Best Home Theater Recliners
Before buying a home theater recliner, there are some essential things you need to know. For instance, you first need to determine the size of your home theater. The ideal way to do this is to accurately measure the space while envisioning where each piece will go.
It's also best to know how many people will use the seats. You can either get a dual recliner or buy two different high-quality ones. Finally, it's essential to know how to operate, maintain and clean the chairs. Since most of these recliners are made of leather, you can use a vacuum or a soft brush to dust them.
Remember, your home theater recliner won't last long without proper maintenance. Plus, you shouldn't forget to enquire about the type of warranty offered, as this could help you determine the quality of the product.
Using a Home Theater Recliner: What It's Like
Home theater recliners can be the best option if you want comfort or to improve your movie-watching experience. Made of leather, these seats recline, change positions, and come with cup holders, swivel trays, lighting, and other accessories.
So based on your needs, these can be the ideal chairs for those who love watching sports, movies, and TV shows. These chairs can also help you reduce body pain or aches through weight distribution. Thanks to it, they increase blood flow and prevent stiff or swollen joints.
UP Next