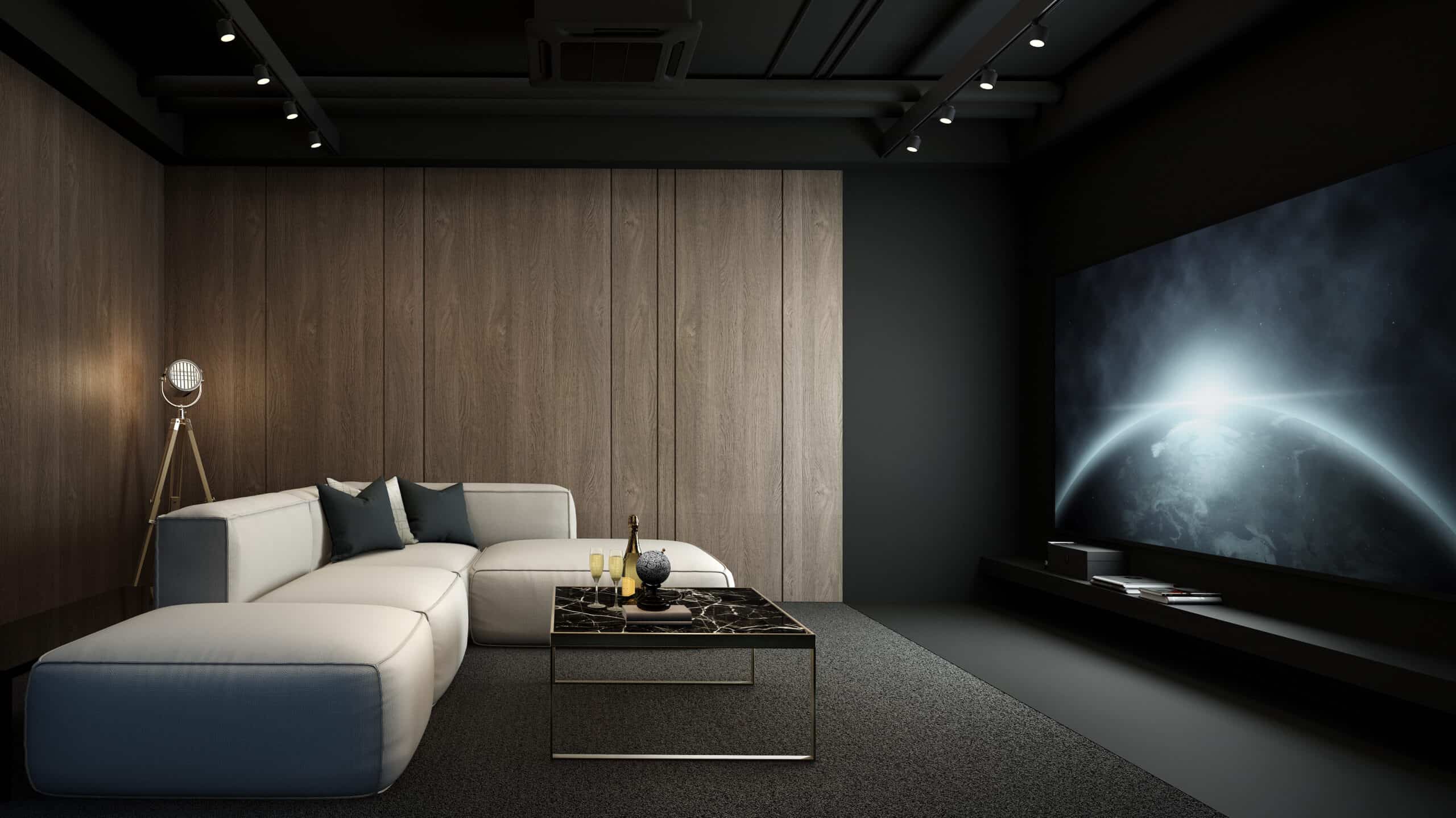 If you're looking to improve the acoustics of your home theater, you should look at ceiling speakers. They can add some quality bass and enhance the sound of your movie or music track. Ceiling speakers are unobtrusive, blend in with the overall decor, provide excellent sound quality, and are easy to install!
Home theater ceiling speakers can improve your home theater experience, but how do you know you're shopping for the right ones? To help you find the best home theater ceiling speakers, we've put together this helpful guide of all the information you need to know before making a buying decision. Read on to learn about each type of speaker, what features you should look out for, and which brands are worth considering in your search!
Here are the five best home theatre ceiling speakers today!
Best Home Theatre Ceiling speaker Overall: Polk Audio RC80i
Polk Audio RC80i 2-way Premium In-Ceiling 8" Round Speakers, Set of 2 Perfect for Damp and Humid Indoor/Outdoor Placement - Bath, Kitchen, Covered Porches (White, Paintable-Grille)
GET SEAMLESS AUDIO QUALITY & POLK'S EXCELLENT SOUND REPRODUCTION with these timbre-matched overhead speakers that elevate the sound quality. ADD TO YOUR EXISTING HOME THEATER SETUP or build your own Polk collection for THE SAME GREAT POLK SOUND EVERYWHERE
EXPERIENCE MORE BALANCED & LIFELIKE SOUND – Features an 8" Dynamic Balance woofer & a 1" aimable tweeter for more depth & detail in your music. Mineral-filled polymer cone & strong composite driver baskets create wider dispersion for EVEN-SOUND COVERAGE
THE RUBBER SEAL DRIVES better response and PREVENTS MOISTURE ACCESS, a key feature for USE IN A BATHROOM, KITCHEN, SAUNA AND COVERED PORCH
OUT OF THE BOX & RECESSED INTO THE CEILING - no mess, no extra assembly - in 3 simple steps QUICKLY & EASILY INSTALL these speakers. Leave the paintable aluminum grilles as is or spray paint to MATCH YOUR EXISTING INTERIOR and virtually make them disappear
Polk's UNWAVERING COMMITMENT, RELIABILITY, AND CRAFTSMANSHIP, has made it one of the most trusted names in home audio speakers and entertainment systems. They bring out the BEST IN TECHNOLOGY, so you can SIT BACK, RELAX AND LISTEN WITH YOUR HEART!
The Polk Audio RC80i is made of sturdy, moisture-resistant material and can be used indoors, in a sauna, or on a porch (but not outdoors). Polk Audio RC80i speakers are our top pick because they provide many advantages in terms of design and sound quality while being much more affordable than higher-end speakers.
The 8-inch woofer provides a solid low end, while the swivel-mounted tweeters are directionally adjustable. Although this ceiling speaker isn't particularly flashy, it serves its purpose at a very reasonable price. The moisture-resistant coating allows for the installation of the RC80i in bathrooms. They produce a warm sound that fills an entire room and are adjustable on a 15-degree swivel mount, making it simple to direct the sound to the desired location. Their white color makes them virtually invisible on a white ceiling, but you can paint the grilles to match your ceiling if it is a different color (although the grilles are not magnetic). They are also sold in pairs.
| Pros! | Cons! |
| --- | --- |
| Moisture resistant | Connection clips instead of cylinders |
| High-quality audio | Non-magnetic grilles |
| Easy setup |   |
| The speakers look sleek and modern. |   |
| Good price range |   |
| Great for movies, music, and gaming |   |
| Adjustable tweeter   |   |
Check out Polk Audio RC80i on Amazon.
Polk Audio 90-RT 3-Way In-Ceiling Speaker - The Vanishing Series | Perfect for Mains, Rear or Side Surrounds | Paintable Wafer-Thin Sheer Grille | Dual Band-Pass Bass Ports for Low Frequencies
Hi-Fi SOUND WITH BROAD COVERAGE & DEEP BASS even at low frequencies. Powered by Dynamic Balance & Polk's Dual band-pass bass ports, the 90-RT In-ceiling speaker comes with a 3.25" Midrange driver, 9" Subwoofer & a 0.75" Dome Tweeter
Designed to offset reflective surfaces with no sound distortions, this 3-way driver array produces BIG, FULL-RANGE PERFORMANCE FROM A DECEPTIVELY SMALL IN-CEILING SPEAKER that protrudes only 0.3" from its surroundings
EASY TO MOUNT AND INSTALL - PERFECT FIT TEMPLATES, a precision flange, (available) pre-construction brackets and the PATENTED ROTATING CAM system ensure secure, vibration-free installation
This in-ceiling loudspeaker VANISHES INTO THE CEILING giving you a clean, clutter-free look, becoming the CENTER STAGE OF ROOM-FILLING SOUND. Paint the wafer-thin sheer grille in any color you want and it EASILY BLENDS INTO YOUR HOME DECOR
Polk's UNWAVERING COMMITMENT, RELIABILITY, AND CRAFTSMANSHIP has made it one of the most trusted names in home audio. Bring out the best in surround sound systems and acoustic excellence, so you can SIT BACK, RELAX AND LISTEN WITH YOUR HEART!
Polk Audio 90-RT is essentially a full-size Polk Audio speaker with a ceiling-mount kit. It can be a whole-house speaker, a surround-sound speaker for a high-powered home theater, or even the main speaker for a system with limited floor space. The Ultra-Sheer grille is paintable and has very small holes, which reduces the visual impact even further.
The Vanishing Series 90-RT boasts a one-of-a-kind 3-way driver array that delivers big, full-range performance from a deceptively small in-ceiling speaker. The 90-RT is ideal for use as stealth mains, rears, and side surrounds in a high-performance home theater or for delivering dynamic sound to zones other than your main stereo listening room.
| Pros! | Cons! |
| --- | --- |
| Great sound quality | Too small of clips for install |
| Easy to install | Installation in a ceiling can be tricky, and the buyer needs to be fully aware of potential pitfalls. |
| Good  price point |   |
| The speaker is a substantial, flat grill. |   |
Check out Polk Audio 90-RT on Amazon.
Sale
6.5'' In-Wall/In-Ceiling Midbass Speakers (Pair) - 2-Way Woofer Speaker System Directable 1" Titanium Dome Tweeter Flush Mount Design w/ 65Hz - 22kHz Frequency Response 250 Watts Peak - Pyle PDIC60
65Hz - 22kHz FREQUENCY RESPONSE: Pyle, 6.5" speaker system has a directable 1" titanium dome tweeter and frequency response. This flush mount speaker is pack with exceptional 4-8 ohm impedance rating and impressive 250 watts power handling capability
2-WAY MOUNT SPEAKER: The pair of 6.5" stereo sound speaker has two ways to install: in-wall or in-ceiling flush mount. It has convenient speaker terminals that allow for quick and hassle-free speaker wire connection at any custom installations
FLUSH MOUNT DESIGN: A pair of flush mount design midbass speaker for simple and easy in-wall / in-ceiling installation. The product includes the cutout dimension at 7 7/8'' in diameter x 2 3/4'' in depth
LOUD AND CLEAR: Pyle in-wall speaker system were carefully combined to reproduce sound clearly with outstanding responsiveness. The Achieve wide-ranged sound performance speakers secure as well as extending the life of the product
ELEGANT AND STRONG: It has an elegant white look perfect for home or indoor ceiling cabinet enclosure wall. It is secure with a bracket that supports 6.39 lbs. speaker in overall dimension at 9" diameter x 2 ¾" depth
The Pyle PDIC60 In-Wall/Ceiling Speakers, designed for wall or ceiling installation, are about as cheap as you can get while still getting a good ceiling speaker. They come as a pair of 6.5-inch speakers, and while you won't get upgrades like magnetic grilles, and the sound isn't as powerful as more expensive speakers, they will still serve as an upgrade over most regular TV speakers. They're also a good choice for a kitchen or other areas of the house. However, we would not recommend these to someone looking for speakers for a high-end home movie theater.
The Pyle's bass isn't bad, but it does distort slightly when you crank the volume up to full blast, so if you want full bass, you should get a separate, inexpensive subwoofer.
| Pros! | Cons! |
| --- | --- |
| They are very affordable. | No magnetic grilles |
| Their sound quality is good for the price. |   |
| Easy to install and set up. |   |
Check out Pyle PDIC60 In-Wall/Ceiling Speakers on Amazon.
Best Home Theatre Ceiling speaker for Sound: Klipsch CDT-5650-C
Sale
This Klipsch CDT-5650-C single speaker is at the higher end of the price range. Yes, it is expensive, but it is not excessively so. It's worth every penny of the additional cost because it is loaded with cutting-edge audio technology and produces a wonderfully textured sound.
The 6.5-inch ceramic and metal woofer offers mature bass that outperforms its size. And if you use two 5650s, you can avoid using an external subwoofer. Additionally, it has a 15-degree range of motion. The Controlled Dispersion Technology used by the 1-inch titanium tweeters, which are horn-loaded, elevates and disperses the music throughout your room.
To further improve directionality, the tweeter is also swivel-mounted. The drivers' adjustability greatly aids in producing a wide soundstage from a single speaker. Attenuation switches can also be used to change the treble and mid-bass. There is no other model with such a feature.
A Klipsch 5650 is built to last and is made from top-notch materials so that you can use it continuously for years. These top-rated ceiling speakers are easy to install, and thanks to their slim design, you can put them in most locations without too much trouble.
| Pros! | Cons! |
| --- | --- |
| Well-designed and easy to install and use. | High price point. |
| The sound quality is excellent, and it has a high performance. | Don't pair well with non-Klipsch speakers   |
| Innovative audio technology. |   |
| Expansive soundstage. |   |
Check out Klipsch CDT-5650-C on Amazon.
Bose Virtually Invisible 791 In-Ceiling Speaker II - White
The best Bose in-ceiling speaker has one 7" woofer and two strategically positioned 1" tweeters
High-quality, full-range performance that most other installed speakers can't match
Exclusive Stereo Everywhere speaker performance covers the room with balanced stereo sound-no drop-offs
A near-bezel-less construction blends elegantly into the room's design; easily paintable grilles
Standard dogleg clamps and magnetically attached grilles make installation fast and easy
Bose is a trusted name when it comes to audio quality, and their Virtually Invisible line of ceiling speakers is no exception. These speakers are designed to be integrated into your home theater system, and they deliver rich, clear sound without taking up too much space. They're also easy to install, so you can get your home theater up and running in no time. In addition, these speakers have an innovative design that makes them blend seamlessly with your ceiling for that invisible effect.
Many people still use Bose 301 and 901 speakers in their home theaters 20 or 50 years after purchasing them due to their exceptional durability and aesthetic appeal. Virtually Invisible ceiling speakers are available to match the unique sound coloration of those old soldiers or to expand a newer Bose home-theater system. The specifications are a little lower than those of similarly priced competitors, but as is always the case with Bose, the ease of use helps to compensate. In this case, its magnetic grille attachments and 4.4-inch total height make all the difference. Overall, the Virtually Invisible line from Bose gets high marks for aesthetics and performance.
| Pros! | Cons! |
| --- | --- |
| Good integration with existing Bose systems | Expensive |
| Space efficient |   |
| They will produce a clear, crisp sound. |   |
Check out Bose Virtually Invisible on Amazon.
How To Pick The Best Home Theater Ceiling Speakers: Step by Step
If you're looking for the best home theater ceiling speakers, there are a few things to consider before you go shopping. They include:
Speaker Size and Depth
Speaker Usage
Sound Quality
Connectivity (Bluetooth/Wifi)
Let's explore each in more detail.
Speaker Size and Depth
Check your ceiling to see if there are any low-hanging beams or other obstructions that need to be taken into account. Some ceilings may not have much space between the ceiling boards and the roof. In some cases, the ceiling may even have an additional layer of insulation.
If you're currently building a house or an addition, talk to the builder or architect to find out the distance between your ceiling boards and your roof or support beams to ensure that you have enough clearance for the speakers you're looking to install.
Some of these ceiling speakers can actually be quite large on the roof, although they appear almost invisible from underneath the ceiling. Before making a purchase, make a note of the product's measurements so you can confirm where placement can be made in your ceiling area.
Speaker Usage
What are you going to use your ceiling speakers for primarily? Are you a fervent movie enthusiast or an avid audiophile? To complement home movie theaters, you can purchase specific sets of ceiling speakers. Then there are speakers that are solely focused on giving you superior audio. Some are adept at both.
Before you begin looking, focus on your criteria and purchase the speakers most suited to your needs. You'll save a ton of time by doing this.
Sound Quality
Sound quality is an important factor when choosing home theater ceiling speakers. You want to ensure that the speaker you choose has high-quality sound and good frequency response. A speaker with poor sound quality will not be able to produce clear, crisp sounds full of bass and treble and will not be able to play music loudly enough to fill your entire room.
If you're only installing one speaker, choose one that can produce stereo sound on its own. Many manufacturers now produce single stereo speakers, significantly improving your listening experience. Most pair speakers are mono, and if you have the space and set them up properly, you will get the best stereo sound quality possible.
Connectivity (Bluetooth/Wifi)
With Bluetooth and wifi functionality being added to many home speakers, you may be wondering how to get Bluetooth technology for your in-ceiling speakers. The time has come to upgrade to wireless home technology, as buyers will likely expect it in the future.
While ceiling speakers do not typically have built-in Bluetooth or wifi functionality, the receiver or amplifier you choose can provide you with this type of wireless connectivity.
Some amplifiers include Bluetooth and wifi capabilities, while others must be paired with a Bluetooth receiver/adapter.
What To Know Before Buying a Home Theater Ceiling Speaker
Before purchasing in-ceiling speakers, there are many things to take into account. For the best purchasing decision and outcomes, carefully plan before selecting these speakers.
When installing in-ceiling speakers, safety should be a top priority. You should buy speaker wires that are made specifically for use in ceilings. These are made to adhere to building and fire codes. Water and humidity can damage indoor speakers, so you can't use them outside. Similarly, if you want to put in-ceiling speakers somewhere that gets very hot or humid, you need to get speakers that can withstand those conditions. A powered subwoofer is necessary if you use in-ceiling speakers for home theater or dedicated music listening. It gives you a warmer, more realistic sound by filling out the low frequencies. Many subwoofers can be hidden behind a couch or table. Subwoofers can be elegantly installed on your wall, floor, or ceiling to save space as well.
Using a Home Theater Ceiling Speaker: What it's Like
If you're looking to add some high-quality sound to your home theater, a ceiling speaker might be the perfect fit. A ceiling speaker is designed to hang from a ceiling in your room and provide the same sound quality as an overhead speaker system.
These speakers are especially great for people with small bedrooms or apartments because they can be placed anywhere in the room without being obtrusive. They are also great for people who don't want wires trailing across their floor or furniture but still want to enjoy their music and movies at home.
Last update on 2022-09-18 / Affiliate links / Images from Amazon Product Advertising API