Key Points:
Graphics cards are mini-computers you install into your computer to handle the graphical processing. They're designed to run as an add-on to your computer build.
The memory bus is the amount of data that can be transferred and processed by the card in one instance. The wider the memory bus, the more data can be processed.
The clock speed of a processing unit is how many times a processor can complete a data processing cycle per second. It's measured in Giga-Hertz (GHz) nowadays.
While the early 2020s signaled a massive crash in the graphics card market, the market has largely recovered, and high-end graphics cards are now freely available once again. With that comes a surge of interest in the graphics card industry and what they produce. Thus, History-Computer has compared and ranked the best GPUs in 2022 for your research and viewing pleasure. The list may surprise you!
Summary
There are many metrics we used to determine the best GPUs in 2022. To understand what makes a high-end graphics card the best of the best, you should first understand the inner mechanisms that make up a graphics card. Graphics cards are mini-computers you install into your computer to handle the graphical processing. Since the graphics processor is dedicated to processing graphics, it's designed to run as an add-on to your computer build. However, some workarounds can process logic using your graphics card, such as those seen in GPU cryptocurrency mining.
Here are the most important metrics you want to look at when choosing a graphics card.
Width of the Memory Bus
One way to measure the speed and relative power of your graphics card is by looking at the size of the cards measured in bits. The memory bus is the amount of data that can be transferred and processed by the card in one instance. The wider the memory bus, the more data can be processed.
Making sure your computer's architecture is compatible with your graphics card's memory bus is essential. 128-bit and 256-bit memory buses used to be the standard, and they are the memory buses with which most motherboards are compatible. However, larger memory buses, up to 4096-bits, are becoming more popular and common amongst graphics card manufacturers trying to push the envelope technologically.
Typically modern graphics cards have larger memory buses. So, you'll want to ensure your architecture is up-to-date to avoid the card being artificially throttled by the computer's interfacing.
Video RAM Size
Graphics cards come loaded with dedicated RAM used solely for processing graphical information. Video RAM, or VRAM, has individual metrics to determine how strong and fast it is. In addition, the amount of VRAM determines how much space your graphics card has to work with when processing multiple graphical states, which can be extremely important for gamers who will be processing massive amounts of graphics and visual conditions that need to be drawn upon to form the different levels, screens, and conditions of the game.
The more VRAM your card comes with, the more data about the graphics it will be able to store and recall while you game. Therefore, VRAM size is essential for competitive game players who need their computers to store and recall real-time game data as they play.
Clock Speed
The clock speed of a processing unit is how many times a processor can complete a data processing cycle per second. It's measured in Giga-Hertz (GHz) nowadays. So 1 GHz represents 1 billion processing cycles per second… that's a lot of data being moved!
Typically, the higher the clock speed, the faster the unit can process data. In the case of graphics cards, the data being processed is the information and states of the graphical information being displayed by programs on your computer.
It's also worth mentioning that clock speed is not a good indicator of a processor's practical speed. While the clock speed is necessary, the practical speed of a processor is a combination of the clock speed and its interfacing speed with other components. So, while getting a unit with a high clock speed is important, it's also vital to ensure that your computer's interfacing won't artificially slow down the processor.
Outputs
Another factor you'll want to consider when choosing a graphics card is what outputs are available to the card. The outputs are how the card interfaces with the monitors to display the data being processed.
Older graphics cards will be outfitted with depreciated outputs, making them incompatible with some newer monitors. Conversely, older monitors may also be incompatible with more recent graphics cards. So, you'll want to be sure you've selected a graphics card compatible with your monitors.
Our Best Choices Condensed
ASUS ROG Strix NVIDIA GeForce RTX 3080 V2 OC Edition Gaming Graphics Card (PCIe 4.0, 10GB GDDR6X, LHR, HDMI 2.1, DisplayPort 1.4a, Axial-tech Fan Design, 2.9-Slot, Super Alloy Power II, GPU Tweak II)
NVIDIA Ampere Streaming Multiprocessors: The building blocks for the world's fastest, most efficient GPU, the all-new Ampere SM brings 2X the FP32 throughput and improved power efficiency.
2nd Generation RT Cores: Experience 2X the throughput of 1st gen RT Cores, plus concurrent RT and shading for a whole new level of ray tracing performance.
3rd Generation Tensor Cores: Get up to 2X the throughput with structural sparsity and advanced AI algorithms such as DLSS. Now with support for up to 8K resolution, these cores deliver a massive boost...
This GeForce RTX 3080 graphics card with LHR (lite hash rate) delivers 43 MH/s ETH hash rate (est.)Avoid using unofficial software
OC edition: Boost clock 1935 MHz (OC mode)/1905 MHz (Gaming mode)
We earn a commission if you make a purchase, at no additional cost to you.
If you're looking for a good GPU but don't want to compete with the scalpers and resellers after the most recent cards like the 40-series, going one series back to the NVIDIA RTX 3080 is an excellent upgrade to your PC without breaking the bank, and that's why we've chosen it as one of our best GPUs in 2022.
The 3080 features NVIDIA Ampere architecture for superior graphics processing speed. It also features 2nd generation ray tracing that uses 80 ray tracing cores, 320 Tensor cores, 12 GB of VRAM, and a 384-bit memory bus width.
The RTX 3080 is a little bit less powerful than the 3090. However, its lower price point makes it an excellent buy for anyone on a budget and looking for the most power they can get for a reasonable price.
Check out NVIDIA RTX 3080 on Amazon.
We earn a commission if you make a purchase, at no additional cost to you.
AMD is well known as an excellent budget component manufacturer, and they made several of the best GPUs in 2022 because it's hard to beat their processors when you don't have a lot of money to throw around. The Radeon RX 6800 XT is an excellent high-end card by AMD.
The 6800 XT is a bit beefier than the RTX 3080, but your mileage will vary based on your other components and how they interface with the card. The best part about this card is its low price tag. It's an excellent way to beef up your graphics without shelling out for one of the higher-end NVIDIA cards.
One major downside of the 6800 XT is its size. The 6800 XT is a 2.5-slot card, meaning if your computer is on the smaller side, you may need to upgrade your case to use this card. In addition, smaller builds won't have the space the card needs to sit during installation, let alone use.
Check out Radeon RX 6800 XT on Amazon.
Best Mid-Range Option: Best Mid-Range Card: NVIDIA RTX 3060
PNY GeForce RTX™ 3060 12GB Verto Dual Fan Graphics Card
NVIDIA Ampere architecture, with 1320MHz core clock and 1777MHz boost clock speeds to help meet the needs of demanding games.
12GB GDDR6 (192-bit) on-board memory, plus 3584 CUDA processing cores and up to 360GB/sec of memory bandwidth provide the memory needed to create striking visual realism.
PCI Express 4.0 interface - Offers compatibility with a range of systems. Also includes DisplayPort 1.4a and HDMI 2.1 outputs for expanded connectivity.
NVIDIA GeForce Experience - Capture and share videos, screenshots, and livestreams with friends. Keep your drivers up to date and optimize your game settings. It's the essential companion to your...
We earn a commission if you make a purchase, at no additional cost to you.
It's hard to have a list of the best GPUs in 2022 without highlighting some excellent mid-range cards. Suppose you're not looking to play the newest games at the highest settings. In that case, looking at a mid-range card that will give your computer a processing boost without investing in a high-end graphics card for workstations and gamers is perfectly reasonable. The Best Mid-Range Card: NVIDIA RTX 3060 is the 30-series mid-range card. In every metric, it will rate closer to the "average" to "slightly above average" range of ratings.
This card is unsuitable for people looking for a significant power boost to their workstations. Still, for the average working-class gamer who doesn't need the prettiest graphics, it's an excellent bump that will give your CPU more space to process logic without breaking the bank.
Check out Best Mid-Range Card: NVIDIA RTX 3060 on Amazon.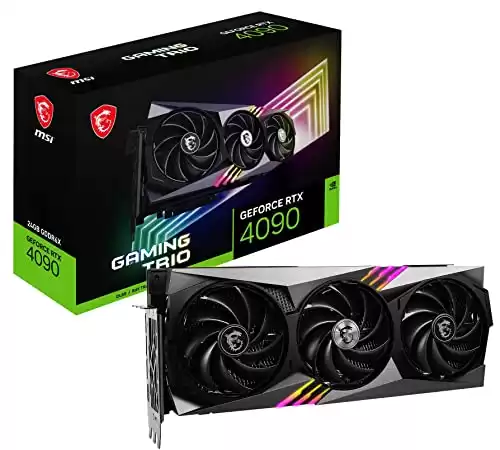 We earn a commission if you make a purchase, at no additional cost to you.
Similarly to mid-range cards, you can't have a list of the best GPUs in 2022 without bringing up the best of the best. We won't go into workstation GPUs even though these are truly the best GPUs in 2022 because they're not designed for consumer use. The NVIDIA RTX 4090 is our choice for the best premium graphics card in 2022. The 40-series is an excellent series of graphics cards that brings a lot of new features and technology to the graphics card game.
The 4090 uses NVIDIA's new Ada Lovelace architecture to bring the most excellent graphics to your home PC. In addition, it features dedicated ray tracing cores for gamers addicted to ray traced games (no hate, they're gorgeous and well worth being addicted to!)
The card also features AI-accelerated graphics, allowing the processor to process graphics faster than ever. This feature takes full advantage of NVIDIA's low-latency Reflex architecture to bring you the smoothest performance no matter your game.
Check out NVIDIA RTX 4090 on Amazon.
We earn a commission if you make a purchase, at no additional cost to you.
If you're looking for an AMD card but don't have the space for the 2.5-slot 6800 XT, the Radeon RX 6750 XT is an excellent choice. Unfortunately, the 6750 XT is a step down from the 6800 XT. Still, it offers a significant power boost to many older PCs without breaking the bank or upgrading your case to accommodate a massive card.
The RTX 6750 XT is a mid-high graphics card. So, you'll be able to play many of the newest games on high graphics settings. But you may experience a bit of a cap with the highest possible settings, as the 6750 XT doesn't have the same power as the 6800 XT.
Check out Radeon RX 6750 XT on Amazon.
How to Choose the Best Graphics Card
The best way to choose a graphics card is to look at benchmarks. Typically, manufacturers will perform a series of benchmarks that they can display. Still, it's important to remember that these are not the same as practical user benchmarks. Benchmarks are an excellent way to determine which card is the best GPU in 2022.
Benchmarking
Benchmarking a graphics card is related to the graphics card itself and the other components in your computer and how they interface and interact with your graphics card. Merely having the newest graphics card alone won't guarantee the highest fidelity graphics and performance. Computers are going to be limited by their oldest parts. So, if your motherboard and CPU are 25 years old, your build is going to be held back by them.
This variance is why looking at user benchmarks is crucial when shopping for your GPU. Manufacturer benchmarks are done in the best possible conditions with brand-new high-end workstations to give the company the ideal numbers to display on their ads. However, practical user benchmarks provide a more realistic idea of how a graphics card will perform under load.
Benchmarking can be done using specific benchmarking software or playing a game and recording your FPS. Before purchasing a graphics card, we recommend checking several benchmark aggregators like UserBenchmark, and Benchmark.UL, and Tom's Hardware. These benchmarks will give you an idea of how your prospective purchase will function and benchmark when used in a non-ideal build.
On your own PC, you can use programs like FRAPS to track your framerate in-game and track resource usage to see whether the games you're playing use more resources than they usually do.
Size
You'll also want to choose your new graphics card based on the size of your computer case. As graphics cards get more powerful, they also become larger and more unwieldy. Computers with smaller issues cannot fit newer graphics cards into their measurements.
People with mini, micro, and mid-sized towers must be cautious when choosing new parts, as these cases tend to be too small for some of the newer internal PC components. Cards like the 6800 XT require more than the typical two PCIe slots. So if your case doesn't have space for a two-slot card, it certainly won't fit a card larger than that.
It's also important to remember that your GPU's output panel needs to extend out through the back of your case. Even if there's enough raw space inside the case, there may not be enough panel outputs on the back of the case to accommodate the GPU.
Interface Compatibility
You'll also want to choose a GPU that is internally compatible with your other components. While newer components tend to be backwards compatible, a GPU plugged into a motherboard with a smaller memory bus than the GPU is capable of running will be artificially bottlenecked by the motherboard.
Additionally, you'll need to ensure that your power supply is rated high enough to be compatible with your GPU. Newer GPUs have immense power draws, and power supplies can and will break and become entirely defunct when presented with components that draw too much power.
What to Know Before Buying a GPU
There are several major considerations you should make before upgrading your GPU. The first major consideration you should look at is whether your current hardware is capable of getting the most out of your new GPU. If you have a lot of older hardware in your computer, the hardware may artificially bottleneck your GPU.
For instance, if your PCIe slots only have a memory bus of 256-bits, you won't be able to take advantage of the expanded memory bus that comes with newer graphics cards. The best GPUs in 2022 typically have beefier specifications than are compatible with older hardware. So if your hardware is too old to take advantage of a new graphics card you might want to hold off until you can upgrade more of your hardware with it.
You'll also want to make sure your peripherals are powerful enough to display the upgraded graphics information. Monitors are only able to refresh the picture–draw a new frame–a limited number of times per second. For instance a 60 Hertz monitor can redraw frames up to 60 times per second. But if you're trying to run games at a higher framerate than that a 60 Hz monitor can't keep up and you won't see the additional frames and smoothness.
What It's Like to Use a GPU
The truth is that unless you're doing graphically intensive tasks like graphic design, digital art, video editing, or gaming, you probably won't notice a difference between having a GPU and not having one. But if you weren't doing something graphically intensive, you probably wouldn't be here in the first place.
Using a graphics card when doing graphically intensive tasks will typically result in smoother performance, less load on your CPU, and buttery smooth graphics. Those performing graphically intensive tasks should invest in a graphics card if it's possible to upgrade your graphics chipset (Mac users will not be able to do this at all.)
Using one of the best GPUs in 2022 will give you an experience you've never had before if you're used to using older hardware. The graphics will be smooth, detailed, and beautiful like you've never seen them before.
Final Thoughts
An updated graphics chipset is an excellent choice for improving your computer's performance under heavy loads. Upgrading your chipset can help bolster your computer's ability to process graphics without straining your other components. Finding the right graphics card for your needs is essential when upgrading your computer. So, do much research on the model you plan to buy and its useful benchmarks to ensure that your computer will run the way you expect it to!
Up Next…