Genshin Impact is now available for the mobile, PC, and console platforms. Many people use the game to benchmark the relative power of their cell phones. However, other interface users can also enjoy the game's beautiful graphics and compelling storyline. If you want to play Genshin Impact on your computer, you'll need enough processing power to enjoy the game.
Let's take a look at the best gaming laptops for playing Genshin Impact:
Best Overall Gaming Laptop for Genshin Impact: GIGABYTE G5 KF
Best Overall
GIGABYTE G6 KF Gaming Laptop
16-inch FHD 1920 x 1200 display
165Hz refresh rate
NVIDIA GeForce RTX 4060 GPU
Intel Core i7-13620H processor
16GB DDR5 RAM
512GB SSD storage
We earn a commission if you make a purchase, at no additional cost to you.
The truth is that Genshin Impact doesn't require as much processing power as it might first seem, making GIGABYTE's G6 KF perfect for it. While the game is undoubtedly gorgeous, it's designed for cross-play between PC, console, and mobile interfaces. Mobile phones are nowhere near as powerful as PCs and consoles, although they're coming closer with each passing day.
So, you'll want to remember that if you don't have heady AAA games on your "to-play" list, you can probably get away with mid-range GPU. The G6 KF comes armed with an RTX 4060 for its GPU and a Core i7-13620H as its CPU. It also has 16GB of DDR5 RAM.
These specifications are perfectly within the needs for playing Genshin Impact. They'll even be adequate for playing other games, including many AAA games, as long as you're not too picky about a minor quality reduction.
However, for Genshin Impact, this laptop meets or exceeds the recommended specifications for playing the game at the highest settings without breaking the bank. Check out the GIGABYTE G6 KF Gaming Laptop on Amazon.
| Pros | Cons |
| --- | --- |
| It's a very affordable model. | The overall power of the PC is a bit low. |
| The components are of modern generations. | |
| You will not struggle to play Genshin Impact on this laptop. | |
Best Budget Gaming Laptop for Genshin Impact: Lenovo IdeaPad Gaming 3
Best Budget Gaming Laptop
Lenovo IdeaPad Gaming 3 Laptop
15.6-inch FHD display with 120Hz refresh rate
AMD Ryzen 5-5600H processor
8GB DDR4 RAM
512GB SSD storage
NVIDIA RTX 3050 Ti GPU
We earn a commission if you make a purchase, at no additional cost to you.
If you don't mind reducing your graphical quality to save some money, Lenovo's IdeaPad Gaming 3 is one of the cheapest gaming laptops that's optimized for playing a game like Genshin Impact. It meets or exceeds most of the technical specifications as expressed by MiHoYo, making it ideal for players looking to dive into the world of Genshin Impact without spending too much money.
The IdeaPad Gaming 3 comes with a Ryzen 5-5600H, one of AMD's premier gaming laptop chips. Like most laptop chips, it's soldered to the motherboard. So, users can't replace this chipset themselves. This laptop also has an RTX 3050 and 8GB of RAM.
The small amount of RAM means that users playing Genshin Impact will probably need to reduce their graphical quality to have smooth animations and low loading times. However, this still meets the minimum specifications for playing Genshin Impact. So, you shouldn't experience too much of an experience drop. Check out the Lenovo IdeaPad Gaming 3 Laptop on Amazon.
| Pros | Cons |
| --- | --- |
| The PC is extremely affordable for a gaming PC. | It only has 8GB of RAM. |
| Its components are fine for playing most modern games on low settings. | The GPU is from last generation rather than the current one. |
Best High-End Gaming Laptop for Genshin Impact: Alienware m18
Best High-End Gaming Laptop
We earn a commission if you make a purchase, at no additional cost to you.
Dell's Alienware sub-company is among the most popular high-end gaming computer manufacturers, and the Alienware m18 is an excellent choice for people who want to play Genshin Impact. This computer is impressive enough in the tech department to handle other AAA games that need more power than a typical consumer PC can provide.
The Alienware m18 gaming laptop uses an AMD Ryzen 9-7845HX and an RTX 4080 to process game data, giving it a competitive edge over low-to-mid-range PCs in sheer computing power. You won't be running out of RAM with this machine's whopping 32GB of RAM as well.
This laptop's technical specifications make Genshin's recommended specs look like small potatoes, as it's made for more power-hungry AAA games with less rigorous optimization needs. However, the extra juice does come at a pretty hefty price tag. The $3,000 price tag might be prohibitively expensive for the average consumer.
For people who have the extra money to throw around, this could be an excellent gaming laptop to help them get into not just Genshin Impact but the wider modern gaming library. Unlike many low-to-mid-range machines, this one won't have issues running modern AAA games and should have at least a good few years of longevity before needing a replacement. Check out the Alienware m18 AMD Gaming Laptop on Amazon.
| Pros | Cons |
| --- | --- |
| This laptop has some of the most powerful components on the modern market. | It is extremely expensive. |
| It has 32GB of RAM. | |
| You will be able to play modern AAA games. | |
Best Mid-Range Gaming Laptop for Genshin Impact: Lenovo 2023 Legion Pro 5
Best Mid-Range Gaming Laptop
We earn a commission if you make a purchase, at no additional cost to you.
If you don't need quite the specifications the Alienware m18 provides but want more power and longevity than a budget machine, Lenovo's 2023 Legion Pro 5 is an excellent option. This laptop is in the mid-to-high-end range, meaning it's on the cusp of being mid vs. high-end, giving it both a competitive price and reasonably powerful specifications.
You'll get an AMD Ryzen 7-7745HX CPU and an RTX 4060 GPU with this laptop. It also comes equipped with a beefy 32GB of RAM, making it excellent for high-end gaming. However, the mid-range GPU might have problems handling some of the more graphically intensive (and poorly optimized) games on the modern market.
This laptop will have excellent longevity in the mid-range sector. You won't have to replace this as soon as the next game comes out like other machines on the market. Its CPU and GPU are both up-to-date and relatively robust. So, you'll get long-term use out of this machine if you invest in it.
However, it's worth noting that mid-range gaming laptops are still pretty pricey. You're paying a premium for the convenience of taking your gaming setup with you everywhere you go. This one comes in at around $1,800, more affordable than the Alienware m18 but nowhere near as affordable as the GIGABYTE G6 KF. Check out the Lenovo 2023 Legion Pro 5 Laptop on Amazon.
| Pros | |
| --- | --- |
| It is half the price of a high-end gaming laptop. | It's still relatively expensive. |
| The GPU is from the latest generation. | |
| It has an updated CPU. | |
Best Gaming Laptop for Genshin Impact with an AMD Radeon GPU: ASUS ROG Zephyrus G14
Best Laptop with an AMD GPU
ASUS ROG Zephyrus G14 (2022)
16GB DDR5 RAM, 1TB

PCIe Gen 4

SSD

AMD Ryzen 9 6900HS processor

AMD Radeon RX 6700S GPU

MUX Switch for Direct GPU Mode (reduces latency and boosts performance by about 9%)

14-inch WQXGA 120Hz ROG Nebula display
We earn a commission if you make a purchase, at no additional cost to you.
ExcaliburPC makes the ASUS ROG Zephyrus G14 an excellent gaming laptop for Genshin Impact players looking to upgrade their setup. This laptop is perfect for people who prefer AMD's Radeon graphics cards to NVIDIA's RTX ones.
This PC comes locked and loaded with an AMD Ryzen 9-6900HS processor and an AMD Radeon RX-6700S GPU. So, it's perfectly equipped to handle modern gaming in addition to Genshin Impact. You won't have any stuttering or lagging graphics with this beast.
Now, this PC does have a slightly smaller form factor than the previous two machines with a 14-inch screen. Some might consider this too small for their liking, but this is a solid mid-range PC. It's significantly less expensive than the previous two computers (though more costly than the first two). So, you'll be sacrificing some screen size to get more powerful processing components.
However, regarding gameplay, this laptop brings it all. While no gaming computer is entirely future-proof, this laptop has longevity since the components are relatively new and on the more powerful end of the spectrum. Check out the ASUS ROG Zephyrus G14 on Amazon.
| Pros | Cons |
| --- | --- |
| This laptop uses a Radeon graphics card. | The screen is only 14 inches diagonally. |
| The components are up-to-date and will have longevity. | |
| It is relatively affordable. | |
How to Pick the Best Gaming Laptop for Genshin Impact
Picking the best laptop for any situation requires a combination of looking at the minimum specifications for your desired tasks and the technical capabilities of the machine you intend to buy. In this case, we'll be looking at the minimum and recommended specs for Genshin Impact and comparing them to the laptops on our list.
Minimum and recommended specifications for desired tasks
CPU
GPU
RAM
Let's examine these factors in detail.
Minimum and Recommended Specifications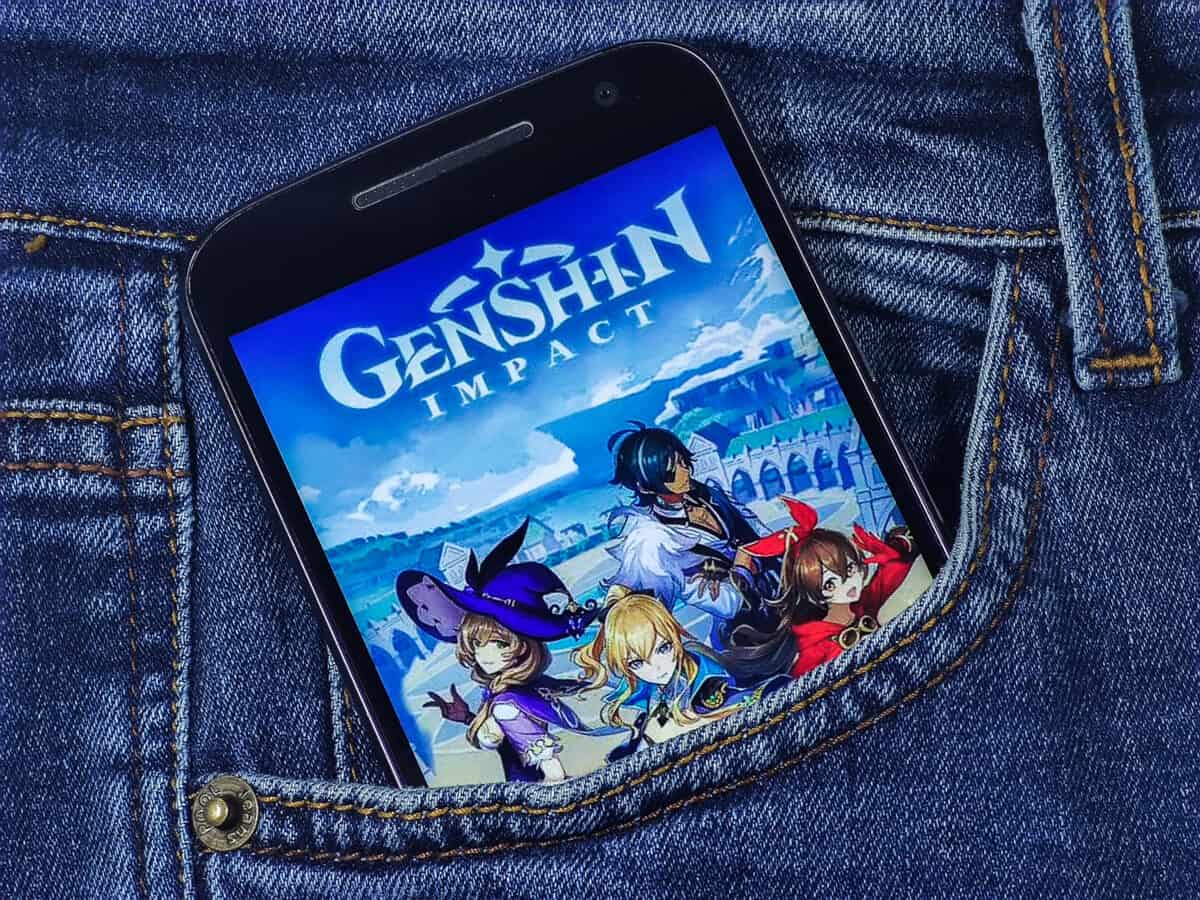 The recommended specifications for the tasks you plan on doing are an excellent place to start looking when deciding what computer to buy. Minimum specifications are the absolute bare minimum required specifications to start the computing process. If you fall below these, the program may refuse even to start. Recommended specs are the minimum required specs to get a "good" experience with the program.
Program developers make their minimum and recommended specifications public, and it shouldn't be hard to find them online. Let's examine Genshin Impact's recommended configurations.
Recommended Specifications
Operating system: Windows 7 SP1 64-bit or higher
CPU: Intel Core i7 equivalent or higher
Memory: 16GB RAM
GPU: NVIDIA GeForce GTX 1060 6GB and higher
DirectX version 11
Storage: 30GB
Now, one notable flaw in these listed specifications is the CPU requirements. The term "i7" could refer to any processor in that line. Typically, developers will list this information as a Gigahertz minimum rather than choosing a processor name. However, MiHoYo has listed that you need at least an i7.
Since the game was released in 2020, we can assume they mean an i7 from that year, which means you need at least a 10th-generation i7 (Ice Lake,) probably at least the Core i7-1065G7. The minimum AMD equivalent CPU would be a Ryzen 5 3500U. So, if you have a processor from before that standard, you may have trouble running Genshin Impact at the highest graphical settings.
Additionally, Genshin Impact requires a discrete graphics card to run at the highest settings. However, its recommended graphics settings are much older than most modern AAA games. So, you may get away with integrated graphics if the chipset is much newer, as modern integrated GPUs are often as powerful or more powerful than the GTX 1060.
Finally, the game needs at least 16GB of RAM and DirectX 11 to run at its highest settings. These are nothing special in the world of modern gaming. Most mid-range gaming PCs will be able to handle at least this much. However, some may still fall below the RAM requirement. So, keep an eye out for sneak 8GB models.
Minimum Specifications
Operating system: Windows 7 SP1 64-bit or higher
Processor: Intel Core i5 or equivalent
Memory: 8GB RAM
Graphics card: NVIDIA GeForce GT 1030 and higher
DirectX version: 11
Storage: 30GB
Genshin's minimum specifications are far more forgiving than most modern games. We can attribute this to its design in multi-platform crossplay between mobile, PC, and console. Since the game has to run concurrently on multiple systems with wildly varying performance capabilities, it must be optimized to run on all while providing the same experience.
Gorgeous cel-shaded graphics and engaging, fast-paced combat hallmark the Genshin experience. These characteristics need to carry over into all platforms for the game to retain a player base. Ultimately, the developers aim to make the experience as uniform over all three platforms as possible. After all, you don't want a specific platform's players to feel like the development team shafted them.
If you don't need the fanciest graphics, you can get away with running Genshin Impact on an Ice Lake i5 with a GT 1030 or equivalent. These specs are pretty low. The overall part composition enables people with older or less powerful machines to play the game, even if they have to lower the graphics a bit.
You ultimately only need 8GB of RAM to get started with the game, according to MiHoYo. While 16GB is recommended, MiHoYo states eight will do just fine. However, again, you'll need to lower your graphics settings; otherwise, you may experience stuttering, lagging, or long loading times.
Machine Technical Specifications
Once you understand the task's technical specifications, in this case, Genshin Impact, you'll need to compare it to the machine's specifications to see if it is adequately powerful for your desired programs. You'll primarily want to check the computer's CPU, GPU, and RAM. Operating systems or DirectX versions are software that can be downloaded and upgraded as long as the PC is compatible.
Central Processing Unit (CPU)
The CPU is the "brain" of the computer. It does all the PC's logical processing and monitors all operations. Since this processor is responsible for many concurrent tasks, it needs to be appropriately robust in a mechanical sense. It must be incredibly potent if the user intends to do processing-heavy tasks like gaming.
Games run millions of equations on a second-by-second basis. Each movement of everything on the screen, from player characters to NPCs to environments, must be determined via logic processing. If your CPU isn't powerful enough, you may have a negative experience with games, especially ones that require more robust processors like modern AAA titles.
Processors are released in generations, with multiple units spanning various expected workloads under one generation. If you want your computer to have longevity, you'll want a CPU from a newer generation and one designed for heavy task loads. Computing tasks are only getting more intensive. So, a newer, more powerful chipset can better accommodate growing loads.
Graphics Processing Unit (GPU)
A discrete graphics processor (GPU) is often considered the significant difference between gaming PCs and standard ones. A standalone graphics processor allows the computer to offload processing visuals onto the GPU instead of having the CPU pull double-duty processing logic and graphics simultaneously.
However, an independent GPU comes with some downsides. First of all, you need space to house the graphics card chassis. It has to be fixed to the motherboard, just like the CPU; otherwise, it can't interface with the rest of the components and just ceases to function.
Like the CPU, the GPU takes on a lot of concurrent calculations to process the appearance of the graphics on your computer. In games, the amount of calculations a graphics card handles concurrently is often measured in teraFLOPS (trillions), and supercomputer processors are reaching quadrillions and higher.
Thus, your graphics processor needs to have an appropriate amount of mechanical power to handle all of those calculations.
Random Access Memory (RAM)
A computer's short-term memory is called RAM. This storage is where the PC stores assets and data that are session-specific. By storing information in the random access memory, the computer can reload it in full without having to process it again. This memory is how your computer knows what's on each window and tab in your computer. It doesn't process the whole window every time you swap windows; it just stores the window's state in the RAM.
Figuring out what you want in RAM is pretty straightforward. More is better. The bigger the number (GB), the more stuff your computer can store and reload. So, you just want the most RAM you can reasonably afford.
What to Know Before Buying a Gaming Laptop for Genshin Impact
The most important thing to remember about buying a gaming laptop is that you'll get what you pay for. More expensive parts do provide a better experience. In the computer world, money can buy happiness. If you invest in better components, you'll have a better immediate experience and you'll be able to use your computer for a longer period of time before the parts become obsolete.
It's also worth mentioning that unless you absolutely must game on the go, PC gaming is much better served on a full-fledged desktop computer. The size constraints of laptop parts make them overall weaker than comparable tower-sized ones. So, if you are only planning on using your laptop's portability for work, it's better to invest in a gaming machine and have a cheap laptop to work on.
Using a Gaming Laptop for Genshin Impact: What It's Like
Realistically, the experience you have is going to be influenced by what you purchase and what you expect from it. If you buy a budget model while expecting a premium experience, you will be disappointed.
Aside from that, you'll find that it's really just like using any other laptop. If you've never gamed on a PC before, you might have a fresh experience with Genshin Impact, especially coming from mobile if that's where you typically play. However, if you've played games on a laptop before, it's not going to be anything new.
The image featured at the top of this post is ©IgorGolovniov/Shutterstock.com.