Key Facts
The best video editors should come with a wide range of features to provide you with the flexibility you need to create a video with effects such as added music clips, and transitions between scenes, for example.
They should ideally provide the support you need to iron out any issues you encounter or even come with tutorials.
They should also provide you with the option to export files in different resolutions and formats.
Every content creator would like a top video editing software, like Adobe Premiere Pro or Final Cut Pro X, for their project. However, as we know the best video editing software can be pretty expensive. If you're starting out or learning to edit your videos, you might not want to splurge yet. This is where free video editing software come in handy. There are lots of options, along with some great tutorials to help you get started with them!
Whether looking for a super simple app to get your feet wet or something advanced for professional effects, video editing programs have you covered. With that in mind, let's look at the best free video editing software to add to your toolkit.
#10: Vimeo Create
Vimeo is a fantastic video editing software that's free to use on both Windows and Mac. It boasts a clean, user-friendly interface that makes it easy to create videos in a variety of formats and styles. With Vimeo, you can upload your videos directly to the web or share them with friends via email, Facebook, or other social networks. Other notable features include video stabilization, a built-in color correction toolset, and custom export settings.
It's very useful for making large-scale videos for your YouTube channel. Because Vimeo is a one-stop shop, you can manage, host, and distribute all of your films from one place.
#9: Windows Video Editor
Windows Video Editor is a free video editing software available for Windows because your system already has one. It has a simple drag-and-drop interface and features a range of tools for manipulating videos.
The first thing you'll notice when using Windows Video Editor is how easy it is to use. All the tools are located in one central area, so there's no need to move around. As a result, beginners can get started with video editing without wasting time learning how things work.
The program comes with all of the basic features you'd expect from an editor. These include trimming, cropping, adding titles, credits, music, filters, and transitions. You can add effects like blur or glow (which can be applied via filters) or give your video more depth by adjusting exposure levels.
#8: Shotcut
Shotcut is a free, open-source video editing software with many of the same features as Adobe Premiere Pro. It has a user-friendly interface, who want to edit videos on their computers quickly. Shotcut supports 4K videos.
You can overlay any clip with one of the remarkable audio and video filter selections in Shotcut. What this does is stabilize shaky footage or to add effects. Shotcut also provides a color grading filter to alter the saturation or color of your unprocessed video footage.
One of Shotcut's best features is its timeline builder. It's almost identical to some of the best premium video editors. You may effortlessly snap clips together, drag and drop clips from your file list onto the timeline. Also, you can make as many audio and video tracks as you need.
Adding and tweaking filters in Shotcut is simple, but remember you can only apply filters to one clip at a time. This can be difficult if you if you're attempting to color-grade a whole project. Color modifications can be saved as a default. However, you must reapply the color filter to each individual clip in your project.
#7: OpenShot
OpenShot is a free, open-source video editor that lets you easily create professional-looking video clips and movies. You can use OpenShot to add titles, transitions, music, and effects to your videos. Plus, you can export them as a video or animated GIF. The interface is simple and easy to navigate. It still offers plenty of customization options for those who want more control over their workflow.
OpenShot is a good choice for small businesses because it is good for clip rotation, snapping, trimming, scaling, and resizing. Real-time preview, audio editing, time mapping, frame stepping, and credit scrolling are also available. Beginners will benefit from the built-in templates, real-time previews, and extensive timeline tools. Intermediate users will appreciate the endless layering options.
Other OpenShot features include the ability to create animated videos with powerful key-frame animation. It also has an infinite number of layers for audio, video, and watermarks, and customizable templates for title cards.
#6: VSDC Free Video Editor
If you want to edit videos on your computer, then VSDC Free Video Editor is the way to go. With this software, you can do everything from trimming videos to adding effects to your videos. You can also add music to your videos and export them in different formats such as MP4, MOV, WMV and ASF, DVD, and more.
The program can handle high-resolution material such as 3D, 4K, and VR 360-degree videos. Motion tracking, live color correction, and post-production effects are all possible with VSDC. It supports VirtualDub plug-ins and can capture video from the screen, record voice, and save multimedia files in a variety of formats, including those pre-configured for publishing on Twitter, Instagram, YouTube, Vimeo, and Facebook.
VSDC allows you to add special effects such as blurring and color correction, Instagram-style filters, and a mask tool for applying effects to a portion of a video. There is also a video stabilizer that can assist get rid of camera shake from footage shot with drones or GoPros, and you can even adjust the output for certain devices. 
#5: DaVinci Resolve
DaVinci Resolve is the software of choice for many professional editors of films, television shows, and commercials because it integrates quality 8K editing, color correction, visual effects, and audio post-production in a single package.
DaVinci Resolve was created by Blackmagic Design, which also produces a popular line of video cameras, so you know it's intended for filmmakers. Despite being free, this is a feature-packed powerhouse that rivals premium tools in terms of versatility and usefulness.
The program is also super powerful—it has all kinds of professional-level features that have made it a favorite among professionals for years. It doesn't matter if you're working on a documentary or just making some personal home videos—with DaVinci Resolve, you can make sure everything looks great by using its built-in tools and filters, which are easy to use but also extremely powerful.
You also receive Fairlight audio processing's outstanding quality for the greatest sound in the market! You receive the same tools that professional colorists, sound engineers, VFX artists, and editors use every day to finish your favorite films and streaming television series with DaVinci Resolve!
#4: VideoPad
VideoPad is a popular video editing software that allows users to create and edit videos. It has been around since 2008 and has been updated over the years while still maintaining its popularity among users. With VideoPad, you may experiment with various video compositions and styles. You have access to user-friendly tools, including 3D video editing and a sound effects library.
VideoPad has an intuitive, drag and drop interface, which makes it easy to work with clips. The program is one of the fastest video stream processors on the market. You can use special effects, overlays, fonts, and transitions to modify your movies. Then, quickly and effortlessly, export your finished movie to YouTube, Facebook, Google Drive, and other mobile devices.
What's more is VideoPad comes with an array of beginner-friendly tools for those trying their hand in video editing. These include effects and transitions to add to your clips or even entire projects, so they look more professional.
Overall, VideoPad is a great choice for anyone looking for a good video editing software for creating professional-looking videos.
#3: Apple iMovie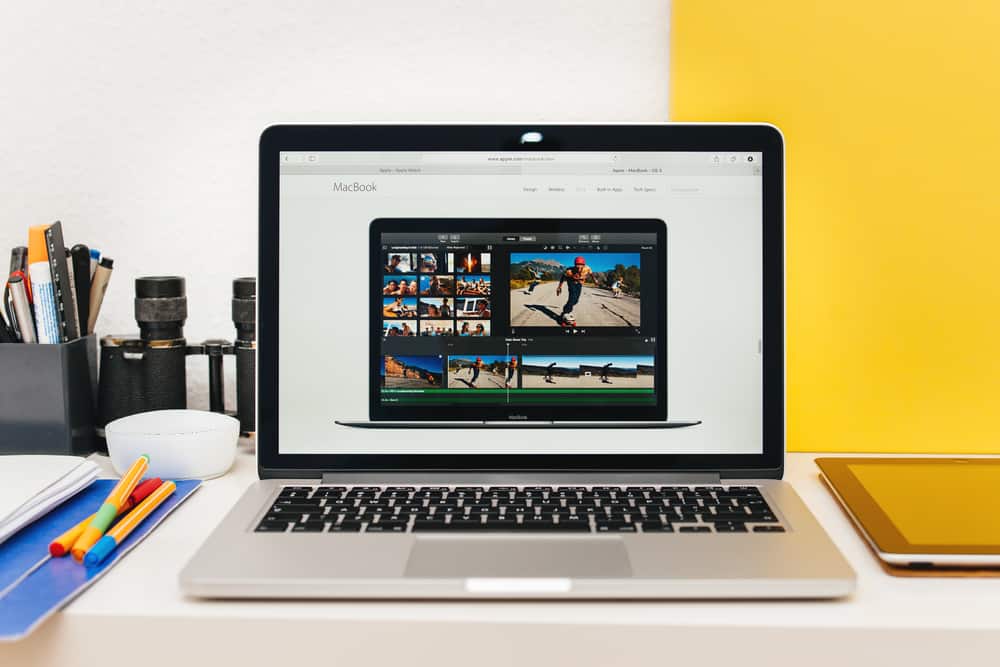 Apple iMovie is a cross-platform video editor software and works flawlessly on Mac, iPhone, and iPad. It has advanced editing features like trimming, mixing, and grading for adding effects to your videos. This tool can also add text overlays, music, or titles to your clips.
iMovie has starter templates that you can use to make amazing videos for YouTube. To get started, explore the theme that interests you from the many available. You can also create custom templates if you want something unique for your project.
The app also has a built-in video composer, allowing you to edit audio tracks from multiple sources simultaneously. You can edit several songs at once while keeping them synchronized with each other perfectly. Your songs will blend in together seamlessly rather than being separate songs in separate tracks before adding them to a movie.
#2: Lightworks
Lightworks is a professional video editing software application developed by LWKS Software Ltd. It's a powerful and flexible editing tool that runs on Windows, macOS, Linux, and other operating systems. The program was initially released in 1989, but it has since been updated to include new features and tools that make video creation fun.
The free tier provides much of the same editing experience as its premium siblings. However, export options are quite limited. Only paying members can use common file formats like AVI, WAV, and MOV and higher resolutions.
With this simple tool, you may edit, add titles, color-correct, modify audio, and perform lots of other tasks. Lightworks has some advanced features for enterprise users too. If aesthetics is important to you, you'll find the UI among the cleanest of freely downloadable video editing programs.
#1: Hitfilm Express
Hitfilm Express is primarily designed for beginners and novice users with little to no video editing experience. It has many pre-installed effects, making it easy to edit your videos. This software is available on both Windows and Mac computer!
On the video editing suite, you'll find nonlinear video editing, advanced compositing and color correction tools, plus advanced 3D effects. It also has an intuitive interface that makes it easy to learn and use. In addition to the basic editing tools, you can easily create compilations, add subtitles, color-correct videos, and trim clips. You can also upload your final project directly to YouTube or Vimeo.
Hitfilm Express 2022.1 provides various new features, including clipping masks, a lasso mask function, and a slew of in-app tutorials. This is on top of other features such as auto stabilizer, motion tracking, a color picker, and a crop & pan tool. Other cool features include lightsaber battles design, 360-degree video editing, and lens distortion correction for action cameras. You may also buy add-on packs for roughly $10 to add even more capability to the application. Or upgrade to the Creator ($6.25/month) or Pro ($10/month) for more options.
How to Choose the Best Free Video Editor
Choosing the best free video editing software for your needs can be tricky. There are tons of different programs out there, but not all of them are created equally. Here's how to choose the best free video editor for your needs:
Editing features: The best video editors have plenty of tools and options for editing your video. You can use them to add music, add transitions between scenes, or even create animated clips. Some are even bundled with audio editing features like noise reduction, auto-tune and pitch correction.
Support: In addition to being free, a good video editor will offer support and help you with issues that arise while you're working on your videos. They may even provide tutorials or walk you through the basics of how to use the software.
Requirements: Many free software packages, as opposed to more powerful discrete graphics cards, technically serve most consumer hardware systems with integrated graphics. If you have a consumer system with integrated graphics, such as a MacBook or a Windows laptop, be sure your machine is powerful enough to run them efficiently.
Export options: The last thing that matters when choosing a free video editor is its ability to export files in different formats and resolutions, including HD 1080p and 4K resolution (2160p). This is especially useful if you plan on uploading your videos on social media platforms like YouTube or Vimeo because it allows people who view your content on those platforms access to higher quality versions than what's found in standard 720p or 1080p resolutions.
Summary of Best Free Video Editing Software
| Rank | Video Editing Software |
| --- | --- |
| 1. | Hitfilm Express |
| 2. | Lightworks |
| 3. | Apple iMovie |
| 4. | VideoPad |
| 5. | DaVinci Resolve |
| 6. | VSDC Free Video Editor |
| 7. | OpenShot |
| 8. | Shotcut |
| 9. | Windows Video Editor |
| 10. | Vimeo Create |
Up Next…
Best Looking Linux Distro: Whether you are interested in the most stylish interface or the opportunity to catch a glimpse of your OS, you'll be able to find the distro that's right for you in this selection. Click here to begin.
The 5 Best Windows Sound Equalizers: Behind every excellent auditory experience is an awesome sound equalizer. Find out the very best which will help you get the most out of that sound card and those speakers.
The 7 Best Photoshop Alternatives: It's considered to be to graphic design, what Google is to the internet. And yet there's also that rather hefty price tag it comes with. These alternatives can provide you with similar features without your having to break the bank