Whether you are riding for exercise, relaxation, or work, the best cycling headphones will let you enjoy music and make great-sounding phone calls.
However, before you jump into any cycling headphone selection, it's important to know there is more than just sound quality as part of any purchase decision. 
No matter why you ride, the best cycling headphones need to be able to withstand a whole lot of sweat, likely a little rain, and not stop you from hearing the outside world. The last thing you want is great music or audio quality at the expense of not hearing cars honking at you as they pass by.
With all this in mind, let's jump right into the 6 best cycling headphones that are available today. 
#1 Best Overall: Shokz OpenRun Pro
#1 Best Overall
SHOKZ OpenRun Pro
Open-ear comfort while staying put throughout a workout and allowing you to road noise
Up to 10 hours of music battery life while a 5-minute charge offers 1.5 hours of use
IP55 water and sweat resistance
Delivers audio directly through your cheekbone
We earn a commission if you make a purchase, at no additional cost to you.
When it comes to the absolute best cycling headphones you can purchase today, the Shokz OpenRun Pro is the best option for most people. 
One of the best reasons to look at the Shockz OpenRun Pro is the open-ear design that helps eliminate any potential fatigue often found with in-ear or over-ear headphones. What also makes the design of the Shokz so great is how well it fits and stays in place while running, cycling, or walking.
Best of all, the design of the Shokz allows for complete awareness of your surroundings, so you can stay safe while still enjoying your favorite tunes. This heightened level of safety from the wraparound titanium frame cannot be overstated, which is one of the reasons why the Shokz is so popular with the cycling crowd.
While its fit is good, the Shokz OpenRun Pro also delivers up to 10 hours of music and phone calls, while adding a 5-minute quick charge for an extra 1.5 hours of juice. Plus, you get IP55 water resistance so you can bike come rain or shine. 
Find the Shokz OpenRun Pro on Amazon.
| Pros | Cons |
| --- | --- |
| Excellent design with truly great comfort | 10 hours of battery life is limited compared to in-ear headphones |
| Keeps you alert to the outside world | |
Best Runner-Up: Aftershokz Aeropex
Best Runner-Up
We earn a commission if you make a purchase, at no additional cost to you.
If, for any reason, the Shockz OpenRun Pro is out of stock, the Aftershokz Aeropex is the absolute next best thing. 
Right away, you can see the similarities between the two headphones with the Aftershokz Aeropex offering a very similar bone conduction design that sits outside the ear. With this current design, the Aeropex can easily qualify as one of the safest headphones around as you should have no issue hearing traffic or other bikers. 
With 8 hours of continuous music, the Aeropex offers more than enough battery life to get you through multiple cycle rides. Plus, you don't sacrifice any battery life when noise-canceling is activated for music or phone calls, which can often happen with other headphone units. Answering phone calls is easily done with the multifunction button that sits on the left ear, which also doubles as a voice assistant button as well.
Add in an IP67 waterproof rating and the Aeropex can withstand sweat and water. It even includes a moisture alert to let you know when to hold off on charging until the headphones are dry. 
Check out the Aftershokz Aeropex on Amazon.
| Pros | Cons |
| --- | --- |
| The multifunction button works great | 8 hours of battery life is on the low end |
| Strong waterproof rating | Shokz OpenRun Pros are slightly more comfortable |
Best Secure Fit: Jaybird Vista 2
Best Secure Fit
Jaybird Vista 2 True Wireless Bluetooth Headphones with Charging Case
Active Noise Cancelation cuts out background noise
Includes 3 sizes of interchangeable ear gels. If the size of the earbud tips do not fit properly, change the earbud tips to ones that fit snugly in your ears to obtain the correct sound quality and call performance.
Surround Sense keeps you connected and aware of your surroundings
Wind-guarded mics monitor ambient noise so you can stay spatially aware without missing a beat
IP68 waterproof, sweatproof, and dustproof, with MIL-STD 810G freeze, shock, and impact resistance
We earn a commission if you make a purchase, at no additional cost to you.
Another hugely popular headphone option with the cycling community, the Jaybird Vista 2 is a terrific earbud for zooming down the road. 
With multiple earbud tips included, the Jaybird Vista 2 stands out from the pack by offering buyers an easy way to find the perfect fit. Changing the earbuds to fit tightly in your ear not only helps with staying in place but also helps reduce outside noise as well.
Once you have chosen the right in-ear tip fit, you can make full use of the 6mm milled drivers, which provide a premium sound that helps give you all the energy you need to complete a ride. While you're riding, the Jaybird's Surround Sense technology helps ensure you can hear the premium sound but also the outside world, so you are alert to other bikers and drivers courtesy of wind-guarded microphones that pick up on ambient noise.
Outside noise or not, you can rest assured you won't have to worry about the elements thanks to IPG68 protection against water, sweat, and dust. Plus, with a MIL-STD 810G rating, the Vista 2's are shock and impact-resistant as well. 
You can look at the Jaybird Vista 2 on Amazon.
| Pros | Cons |
| --- | --- |
| Shock and impact-resistant | Limited to just 3 ear tips to find the right fit |
| Great at blocking outside noise | Requires app to adjust equalizer settings |
Best Value: Soundcore by Anker Life 
Finding the best cycling headphones that offer you a whole lot of features without a steep price tag can be a challenge until you discover the Soundcore by Anker Life Earbuds. 
With the Soundcore by Anker Life earbuds, you have the power of the Anker name with 8mm drivers and triple-layer composite diaphragms that produce a powerful sound. In total, there are 3 custom sound modes you can choose from.
With Signature mode, you have an audio experience that's great for daily listening. Bass Booster mode gives you plenty of pump for a hard ride while Podcast mode sets up the ideal audio experience for listening to your favorite podcasts on the go.
Best of all, you don't have to worry about recharging the Anker headset for a few days courtesy of a 35-hour battery life. This is equal to 9 hours for a single listen and provides another 3 full charges using the compact charging case. You can even spend 10 minutes on a fast charge and get another 1.5 hours of listening while cycling through the included USB-C cable or wirelessly charging the case. 
Check out the Soundcore by Anker Life Earbuds on Amazon.
| Pros | Cons |
| --- | --- |
| Three great modes for different listening experiences | On-ear controls have a learning curve |
| Wireless or wired charging | Fast charge only gets 90 minutes of juice |
Best Design: Bose Frames Tempo
Best Design
Bose Frames Tempo Sports Sunglasses
Polarized lenses are scratch-resistant and shatter-resistant
Bose OpenAudio speakers allow you to clearly hear without blocking surrounding sounds
Finger slide allows you to adjust volume easily
Provides up to 8 hours of continuous media play
Built-in Bluetooth
IPX4 water resistant
We earn a commission if you make a purchase, at no additional cost to you.
While the general rule of thought is that the best cycling headphones are actual headphones, the Bose Frames Tempo would like to enter the chat. 
Instead of earbuds, the Bose Frames Tempo is all about the sunglass look, which helps combine polarized lenses, Bluetooth, and plenty of music for cycling any hour of the day.
Utilizing Bluetooth connectivity, the Bose glasses sync to your smartphone and act as a speaker while you're cycling. You can actually connect to any Bluetooth device, but for bike riders, a smartphone is likely to be your first choice.
As a set of sunglasses, you have a truly open ear design so you can hear both the music and the environment around you with ease. The specifically designed speakers are loud and offer enough bass so there should be zero concerns over whether they can be heard. 
Best of all, they are the most comfortable audio experience you will likely find for cycling. Three different silicone nose pads help you find the right spot even as the glasses themselves are plenty light, while still feeling very durable for standing up to cycling sessions of all types. 
Find the Bose Frames Tempo on Amazon.
| Pros | Cons |
| --- | --- |
| A truly unique way to listen to music while cycling | Sunglasses might not be for everyone |
| Excellent battery life at 8 hours on a single charge | Won't fit every face the same |
Best for Sharing Music: Beats Powerbeats Pro
Best for Sharing Music
Powerbeats Pro Wireless Earbuds
Listening time: 9hrs (earbuds), 24hrs (case)
Features adjustable earhooks for a secure fit no matter what you're doing
Earbuds are sweat resistant
Supports auto pause/play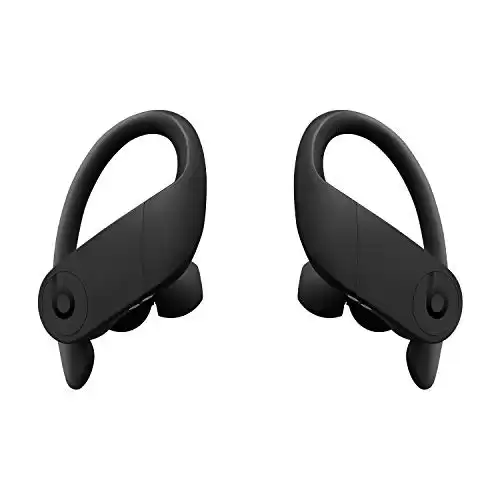 We earn a commission if you make a purchase, at no additional cost to you.
When you need a headphone that works well for phone calls, especially for iPhone users, the Beats Powerbeats Pro is the best option available today. 
Right from the jump the Beats Powerbeats Pro stands out thanks to its built-in Apple H1 headphone chip. With this chip, syncing directly to any Apple device, especially on the iPhone or iPad, is incredibly easy and even more seamless than standard Bluetooth.
One of the major highlights of the Beats is the inclusion of spatial audio, which provides a truly immersive audio experience that feels like you are using surround sound headphones. Even with this functionality turned on, you can get a full 9 hours of battery life on a single charge with the Beats and 24 hours of listening time using the charging case.
What really makes the Beats Powerbeats Pro stand out is the ability to wirelessly share audio, such as songs or music with another Powerbeats Pro user. This means your entire riding group can all sync up to the same music or podcast while riding, as long as everyone has a Beats headphone. 
Take a look at the Beats Powerbeats Pro on Amazon.
| Pros | Cons |
| --- | --- |
| Great surround sound experience | Slightly bulkier than competitors |
| "Hey Siri" voice commands | Works best with iPhone devices |
How to Pick the Best Cycling Headphone: Step-by-Step
When you are looking to pick out your next pair of cycling headphones, there are a few important considerations to factor in before making a purchase.
Durability
Fit
Battery life
Noise Cancellation 
Let's break them down below.
Durability
When you look at a headphone that you can use while cycling, durability can become a critically important factor to consider. You want something that is durable enough to handle all of the sweat and water that come from a hard or even a casual bike ride.
Ideally, you will choose a headphone that offers some level of water and sweat resistance, while also choosing a model that offers a solid piece of hardware. As many earbuds and headphones are available, they are not all built the same, so build quality counts. 
Fit
Just as important as durability is the overall fit, which is going to be really important as you want to find something comfortable that you can wear without complaint while riding. Between the sunglasses, earbuds, and bone-conduction designs you have on this list, there should be something for everyone.
The bone conduction design might be the most comfortable fit since it doesn't actually cover or go in your ear, but it's also the one that feels the most unusual. Ultimately, as you want to concentrate most of your ride, finding a solid fit is going to be a critical piece as you don't want discomfort causing you to lose focus on your ride.
Battery Life
This is less of a concern when compared to either fit or durability, but battery life matters as you don't want to have to worry about recharging headphones every day. The best way forward is to focus on finding an option on this list that not only offers solid battery life on a single charge but also potentially adds extra battery life through a rechargeable case like the Anker headphones do.
Noise Cancellation
This is a really tough consideration as you want the best of both worlds around noise cancelation. Most importantly, you want to be able to focus solely on your music, podcast, or even a phone call while on a cycling ride.
On the other hand, you want to be able to hear what is going on while riding as well as cars or other riders passing by. Because of these two competing interests, you want a headphone that tries to find the right balance between both worlds. For example, the Beats Powerbeats Pro offers a transparency mode that helps block out noise while letting in ambient noise that is in close proximity.
Using a Cycling Headphone: What It's Like
Any headphone, no matter the type of fit you prefer, is going to be really great to use while riding. Even casually bicycling is an activity that requires a lot of energy and music can help keep you going at all times.
No matter what type of music you prefer, a reliable and comfortable pair of headphones is required to make sure you have the right audio quality, solid battery life, and fit that helps you power through those last few miles on your ride.
Cycling headphones are no different than headphones for running, which means they are great for just about any physical activity you can think of that doesn't involve mountain climbing or jumping out of a plane.
The image featured at the top of this post is ©Ground Picture/Shutterstock.com.