Key Points
Connecticut has almost 100% access to 5G, making it a great state for affordable cell phone plans with 5G service.
T-Mobile offers improved 5G coverage and unlimited data for $70 per month, with additional discounts for multiple lines.
Verizon is the best option for users in rural areas, with superior national coverage and a variety of plan options.
Mint Mobile offers affordable plans with upfront payment options, but has restrictions on unlimited data and limited customer support.
Consumer Cellular is a great option for those 50 and over, with plans ranging from $20 to $55 per month and the ability to share data among multiple lines.
Connecticut may not be known for technology, but the state has almost 100% access to 5G. Because of that, many of the best cell phone plans in Connecticut also offer 5G service for fairly cheap. Here are the best cell phone plans to look into if you live in the state.
Just as a note, the plans we've included below are not listed in order. All plans have pros and cons, but you'll need to find the service that works best for you.
#1: T-Mobile
If having a fast network connection and being able to download and upload large amounts of data are your top priorities, you should think about T-Mobile. The Magenta plan offers 5G and has significantly improved an already good network in a gradually growing portion of the country.
Magenta's $70 monthly fee offers unlimited data, including 100 GB of 5G coverage. However, T-Mobile may cause your connection to lag after that. If you decide to have two Magenta lines, the cost is $60, and four lines would cost $35 each.
T-Mobile has been able to offer better 5G coverage because the company has acquired Sprint. This helps them have a significant advantage over competitors like AT&T and Verizon, according to crowdsourced test findings from Opensignal.
Other benefits in T-Mobile's Magenta Max's unlimited package offer international roaming, and you can use it in Canada or Mexico without paying a roaming fee. You'll also get free texting and a free hour of Wi-fi on every flight you take.
#2: AT&T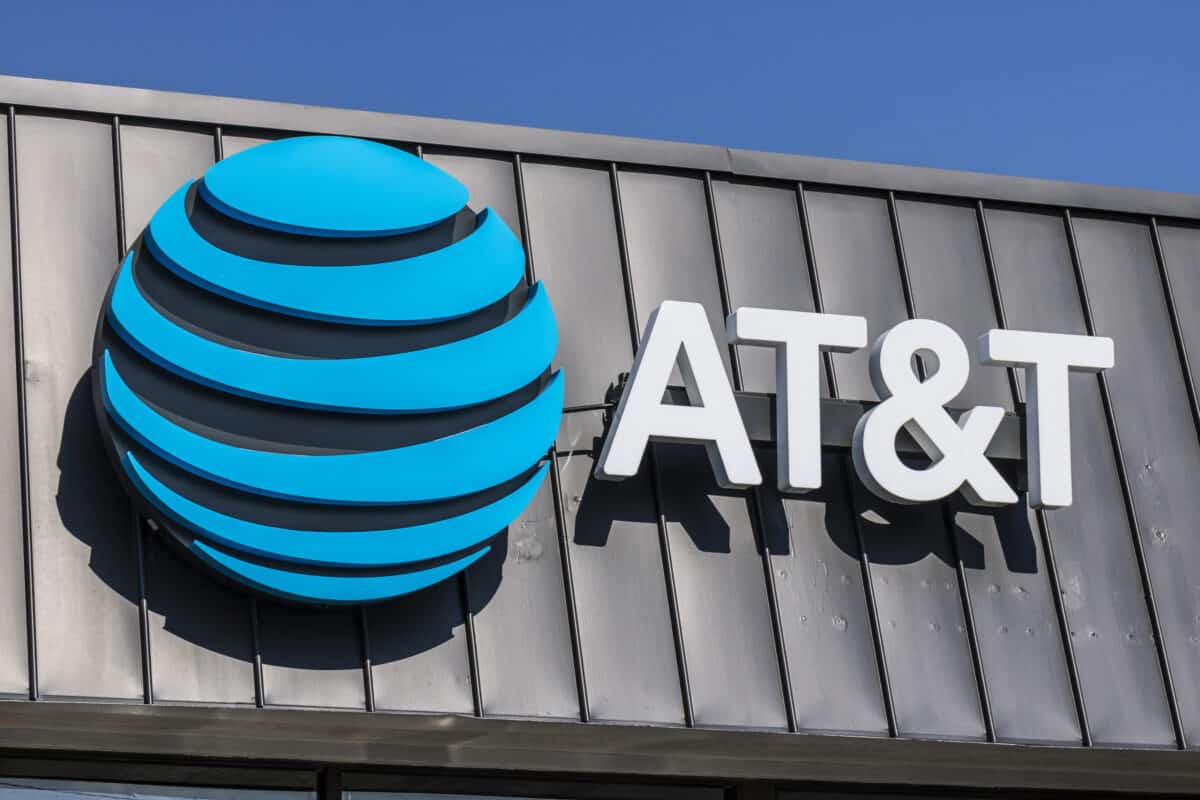 AT&T has solid 4G LTE coverage across Connecticut. But while it outperforms T-Mobile in rural areas, the company's 5G isn't as broad. But that's okay; 4G is still decent.
AT&T has a few unlimited plans, but their most popular is the Unlimited Premium option. This includes features like international calling to over 120 different countries and unlimited talk, text, and data. This plan is $85 a month. However, the cheaper plans are $45 and $65, respectively.
For families, AT&T also provides what they call the Unlimited Your Way family plan, which starts at just $35 per line per month. This allows you a ton of options when choosing a plan in terms of pricing, features, and more. However, be mindful that each line can only make use of the features that are exclusive to their specific plan.
When compared to plans from carriers like T-Mobile and Verizon, AT&T has some nice features, like its international benefits and dependable data speeds. And we like that you can customize your phone plans to fit your needs.
#3: Verizon
Verizon is one of the only phone carriers that works well for users who live in more rural areas. RootMetrics' testing has shown that Verizon's national coverage is superior to that of its main rivals. So, if you're looking for a phone plan that offers a signal no matter where you go, Verizon is your answer.
Also, Verizon offers quite a few different phone plans based on your needs, unlike T-Mobile. First, if you require less data than usual, the company has a 5 GB for $55 plan and a 10 GB for $65 plan.
Both plans also allow you to roll over unused data to the following month. However, to take advantage of these prices, you'll need to set up autopay. Both offer full-speed mobile hotspots, though.
For customers searching for unlimited phone plans, Verizon has less to offer, but they do have a $70 Start Unlimited plan. They also offer an $80 Play More Unlimited plan.
Both plans offer 4K UHD video and 50 GB of priority data. They also come with 25 GB of mobile hotspot for those who need it. If you choose the Play More Unlimited plan, you'll also get a free Apple Arcade or Google Play Pass, or Disney+ with Hulu and ESPN+.
#4: Mint Mobile
Mint Mobile, an MVNO of T-Mobile's LTE and 5G network, comes highly recommended if you want a phone plan with an affordable monthly bill. There are 4 GB, 10 GB, and 15 GB plans, and you can also get unlimited data when you join.
However, you have to pay for these plans upfront for three, six, or twelve months at a time. Keep in mind that the longer your plan is, the less you have to pay.
As far as the plans go, you can get service for as little as $10 a month for the lowest plan, or $30 per month for the unlimited plan. However, there are restrictions on the unlimited plan, which include a 35 GB priority data cap, a 5 GB mobile hotspot usage cap, and a 480p streaming video limit.
However, Mint Mobile has its cons just like any other phone plan. They don't sell phones, so you'll have to bring your own, and it'll need to be unlocked.
Also, customer support is only offered online or over the phone. Additionally, after reaching your data cap, your speed drops unless you upgrade your plan or switch to the unlimited one.
#5: Consumer Cellular
Consumer Cellular is another great phone plan option. While the company mostly serves those 50 and over (due to AARP membership discounts), you can use it no matter your age. They are an MVNO, but they lease from both T-Mobile and AT&T.
Plans for Consumer Cellular include unlimited call and texting time, and the prices range from $20 to $55 per month for plans that go from 1 GB to unlimited data. The Unlimited Talk & Text cell phone plans from Consumer Cellular offer multi-line accounts with up to three lines with unlimited texting and calling. The amount of data that is included differs, though.
If you have multiple phones on your account, you'll all share a data plan. So, remember that when you exceed your monthly data, Consumer Cellular automatically updates your plan. However, you have the option to downgrade at any time.
When you sign up, you'll pay both the first month of service and either a down payment or the entire purchase price of your phone, plus any applicable taxes or fees. If you choose the monthly payment option, you must pay the sales tax on the entire equipment purchase price in addition to the first month's payment.
#6: Cricket
If you decide to use Cricket, your phone will utilize AT&T's towers, since AT&T owns Cricket as an MVNO. This means you'll have access to 5G service and the 5G towers owned by AT&T.
In contrast to AT&T, Cricket's main selling point is its affordable unlimited data plans. There are some significant limitations with the less expensive plans, though. The base unlimited plan — Cricket Core — has a data speed cap of a measly 8 Mbps.
And during times of high traffic, Cricket might also slow down data so that AT&T customers get priority. Your smartphone is also not permitted to function as a mobile hotspot.
Cricket's 2 GB package is $30 per month, its 10 GB plan costs $40 per month, and its Cricket Core unlimited data plan costs $55 per month. On multi-line plans, there are per-line reductions up to a maximum of five lines per plan.
As an example, four lines on the Cricket Core Unlimited plan cost $100, which is less expensive than some other plans. You can upgrade to the Cricket More plan for $60 per line per month or $32 extra per month with the multi-line discount on the same four-line plan. This package comes with a free subscription to HBO Max with ads.
Cell Phone Plan Recommendations
| Plan | Coverage Area | 5G Service | Price |
| --- | --- | --- | --- |
| T-Mobile | 97.67% | Yes | $35+/per line |
| AT&T | 99.95% | Yes | $15+/per line |
| Verizon | 99.76% | Yes | $55+/per line |
| Mint Mobile | 97.67% | Yes | $10+/per line |
| Consumer Cellular | 99.95% | Yes | $20+/per line |
| Cricket | 97.67% | Yes | $25+/per line |
| Plan | Family Plan Options | Unlimited Talk, Text, & Data | Hotspot Available |
| --- | --- | --- | --- |
| T-Mobile | Yes | Yes | Yes |
| AT&T | Yes | Yes | Yes |
| Verizon | Yes | Yes | Yes |
| Mint Mobile | Yes | Yes | Yes |
| Consumer Cellular | No | Yes | Yes |
| Cricket | Yes | Yes | Yes |
Using a coverage map, you should ensure that the coverage is adequate for your location before selecting a new phone plan.
How to Pick the Best Cell Phone Provider
Outside of the cell phone providers we've listed, there are a few things to keep in mind when picking a service.
Data Speeds
Because major networks are deploying 5G, smaller carriers may offer this coverage, too. At the very least, you'll want to be able to access 4G LTE.
Unlimited Talk & Text
No cell phone provider should be providing plans at this time that don't contain unlimited talk and text. Even if you don't use up all of your minutes, texts, or data, limitless makes it simple to keep your bill straightforward.
Price
Although excellent coverage is essential, especially if you work on your phone or need it for certain tasks, not everyone can afford a high cell phone bill. So, know what your budget will be.
If you're planning on bringing your phone to your new carrier, or need a new phone, it's important to choose a carrier that can offer you different options. Depending on your needs, you'll also want to choose a carrier that offers newer smartphones.
The 6 Best Cell Phone Plans in Connecticut: Wrap Up
Luckily, there are many different plans for Connecticut residents to sign up for, and most provide decent service, 5G, and customer support. If you're looking for the best cell phone plans in Connecticut, this list is a great place to start.
The image featured at the top of this post is ©Sean Pavone/Shutterstock.com.