Key Points
Arizona has good mobile phone coverage, with much of it featuring 5G services.
T-Mobile is one of the best mobile phone service providers in Arizona with a 99.70% coverage rate.
Verizon claims to cover 99.71% of Arizona and offers three main plans: Start Unlimited, Do More Unlimited, and Play More Unlimited.
If you're lucky enough to live in Arizona, you'll understand its natural beauty, mountains, and year-round sunny weather. But did you know that Arizona is also a great state for 5G coverage? Here's what you need to know about the best cell phone plans in Arizona.
Arizona residents have their pick when it comes to the best cell phone plans in Arizona. In fact, the following plans that we're discussing aren't your only options, they're just our favorites!
#1: T-Mobile
T-Mobile has a 99.70% coverage rate in Arizona, with much of that also offering 5G. If you're looking to save the most on unlimited services, T-Mobile offers the best options. And all plans include unlimited talk, text, and data, including 5G access.
The two most popular plans are Magenta and Magenta Max. For a single line, the Magenta plan starts at $70, with taxes and fees included. It comes with 5 GB of mobile hotspot usage and 100 GB of premium data each month.
But keep in mind that streaming video can only be at 480p. Upgrade to T-Mobile's Magenta Max, which starts at $85 for one line, to get extra mobile hotspot data and 4K UHD streaming video.
In contrast, both plans include free and limitless 2G roaming in the majority of international locations. And 4G roaming is available in Canada and Mexico. A free basic Netflix membership is also given to accounts with two or more lines of either Magenta plan.
#2: AT&T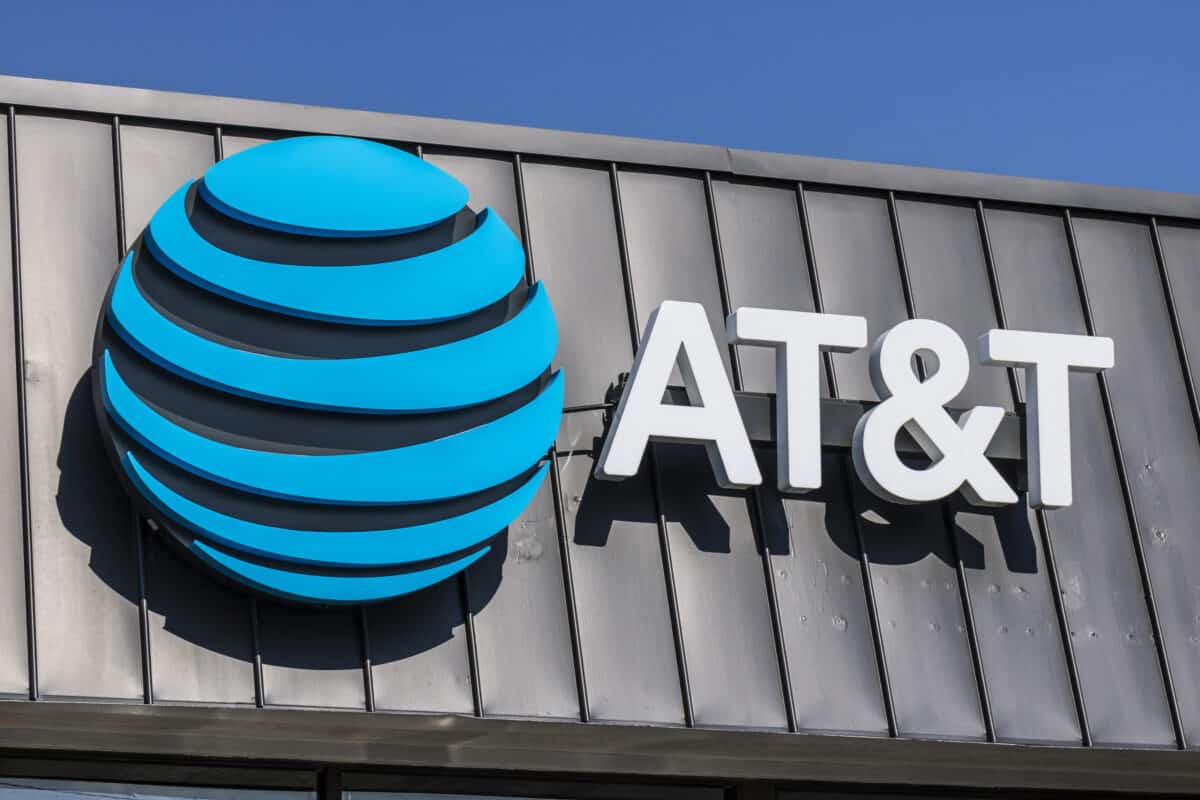 AT&T covers 99.72% of Arizona but seems to cover only around half of the residents with 5G service. So, we're putting it a little lower than T-Mobile. However, it has more cell phone plans, and a few more incentives if that's important to you.
First, every AT&T plan comes with unlimited talk, text, and internet as well as 5G access when available. While AT&T has a way to customize different plans, the main three are their Starter, Extra, and Elite plans.
The Starter plan offers LTE and unlimited talk and text for just $65 a month. However, hotspot access, standard-definition streaming, and 5G aren't included. For that, you can upgrade to the Extra plan, which also includes 50 GB of premium data and 15 GB of hotspots.
High-definition streaming, 100 GB of premium data, and 30 GB of hotspot access per line are all included in the Elite package. And this is the only option that includes a free HBO Max subscription.
The monthly prices per line for each of the unlimited plans range from $65 to $85 for a single user and less when you add more lines, usually around $30 to $45 for four or more users.
#3: Verizon
Verizon claims to cover 99.71% of Arizona. Just like AT&T, the company has many different plans to choose from — including prepaid options and cell phone plans for kids. But we will only be talking about their main three: Start Unlimited, Do More Unlimited, and Play More Unlimited.
The Start Unlimited plan is the least expensive postpaid plan offered by Verizon. It provides unlimited data, but you won't get access to 5G or hotspots. However, you'll get six months of Google Play Pass, Apple Arcade, discovery+, and Disney+ for free. The subscription also comes with unlimited calling, texting, and 4G.
Next up, the Do More Unlimited plan is $90 for one line. The package gives limitless 4G and 5G access where available. In addition to a 50 GB high-speed internet allotment and 25 GB mobile hotspot, you'll get savings for each phone you add to the plan.
For instance, if you had four lines, each would cost $45 a month. You'll also get a free year of Disney+, Hulu, and ESPN+. Play More is similar to the Do More package. But in addition to all that we listed above, you'll also get a free six months of Apple Music, and a free year of Apple Arcade, discovery+, and Google Play Pass.
#4: Mint Mobile
Mint Mobile has the same coverage as T-Mobile since they are an MVNO that piggybacks off the popular cell carrier. However, there are a few differences.
First off, Mint's $30 unlimited internet plan still provides 5G service for a significantly reduced price. However, keep in mind that you won't receive premium service because if there are numerous nearby users also using T-Mobile's data, your speeds will reduce before theirs do.
Despite this, Mint Mobile offers a 40GB data cap to its users, which is approximately equivalent to over 35 hours of streaming video. That's much better than other MVNOs. And if you don't need unlimited everything, you can get a $15 plan that offers 5GB of data and unlimited text and talk.
#5: Boost Mobile
Boost Mobile is another MVNO, and they utilize the same towers as T-Mobile, too. But unlike Mint Mobile, they offer customizable plans and many more phone options that you can purchase from them directly.
Boost Mobile's most popular plan is $25 a month and offers unlimited everything, including data. And you also get unlimited hotspot access. However, this deal is only possible if you set up Autopay.
But they also have a few other cheaper plans, including a 1GB data option for $8.33 a month and a 5GB plan for just $15. No matter which plan you choose, you'll get access to 5G service if it's available in your area.
Boost Mobile does not offer a family plan, so you won't get any discounts when you add more lines. In order to get their "multi-line" plan, you have to sign up for 4 phones and can't mix and match, nor can you add lines after the 4.
So, for family sizes of 2, 3, or 5+, you don't get any extra benefits. Luckily, the prices are already affordable.
#6: Google Fi Wireless
If you're looking for one simple and easy-to-use phone plan, you can give Google Fi a try. They offer an affordable family plan/ individual plan called Simply Unlimited.
You can receive up to six lines with this plan, and each additional line you add to your bundle will cost just $20/month. Free roaming is offered in Canada and Mexico as part of the service too. Any additional lines after the first six will be charged the usual rate of $50 per person.
Since T-Mobile and US Cellular are both partners in Google's mobile network, virtually everywhere is covered, including rural areas. Both Android and iPhone phones can get 5G coverage, so you are welcome to bring your own phone to Google Fi from another carrier.
But Google also offers "designed for Fi" smartphones. However, there are now only a few "designed for Fi" phones available, and at this time Google does not offer iPhones.
This provider offers phone plans with no contract necessary and has 24/7 customer support via phone or live chat on their website.
#7: Visible
A newcomer to the scene, Visible will help you receive the same coverage as you would with Verizon's service. That's because Visible is an MVNO that utilizes Verizon's extensive nationwide network. However, if the Verizon network is crowded, in favor of Verizon customers, you can be given lower priority.
The cost each month for an individual is $30, plus $5 more for Visible+. Additionally, Visible gives a $20 discount if you refer a friend to use their plans. High-speed data is unlimited on the plan, and taxes and fees are included in the cost.
Unlimited hotspot access, unlimited talk and text to Mexico and Canada, and spam protection are all added features available with Visible+. Additionally, there are no contracts and you can cancel at any time with no penalties.
The biggest drawback with Visible is that they don't offer family plans or discounts for more lines. However, this might be a great option for single people.
Cell Phone Plan Recommendations
| Plan | Coverage Area | 5G Service | Price | Family Plan Options | Unlimited Talk, Text, & Data | Hotspot Available |
| --- | --- | --- | --- | --- | --- | --- |
| T-Mobile | 99.70% | Yes | $70+/per line | Yes | Yes | Yes |
| Verizon | 99.71% | Yes | $70+/per line | Yes | Yes | Yes |
| AT&T | 99.72% | Yes | $65+/per line | Yes | Yes | Yes |
| Boost | 99.70% | Yes | $10+/per line | No | Yes | Yes |
| Mint Mobile | 99.70% | Yes | $10+/per line | Yes | Yes | Yes |
| Visible | 97.71% | Yes | $20+/per line | No | Yes | Yes |
| Google Fi | 97.70% | Yes | $60+/per line | Yes | Yes | Yes |
Before you choose the cell phone provider you want to use, be sure to look into their plans and the areas they cover.
How to Pick the Best Cell Phone Provider
When picking a new cell phone provider, there are a few things to keep in mind.
Price
Cell phone plans can range in price significantly, from $10 per month to well over $300 per month. However, keep in mind that cheap cell phone plans may not always offer the best coverage.
The cheapest plans aren't automatically the best, and sometimes they can mean that you're deprioritized and get slower service in busy areas.
Prepaid plans, however, are almost usually less expensive than contract plans. You can also upgrade at any time with them. Plus, if you need to upgrade to a more expensive tier during your next pay period, you can do so easily.
Data Usage
Do you use a lot of data each month or can you get by with 5GB or less bandwidth? Prepaid plans are frequently the greatest cheap cell phone plans with unlimited data. And with a contract, it's possible to get a reasonably priced unlimited plan, but you'll usually need to have more than one line.
Check the settings on your existing phone if you're unsure of how much data you regularly use. You should be able to see how much data you use each month, which will help you determine how much you actually need versus what you can do without.
Taxes and Fees
You may be surprised to know that not all plans you see online are all-inclusive. Some cell phone carriers don't include the taxes and fees until you're signed up. So, make sure that whatever you're seeing monthly is how much you'll actually be paying, fees and all.
The 7 Best Cell Phone Plans in Arizona: Wrap Up
Luckily for Arizona residents, there are many great options for phone plans, and you have your pick of whom you want to work with. But be sure to pick the plan that best fits your needs, and don't be afraid to shop around!