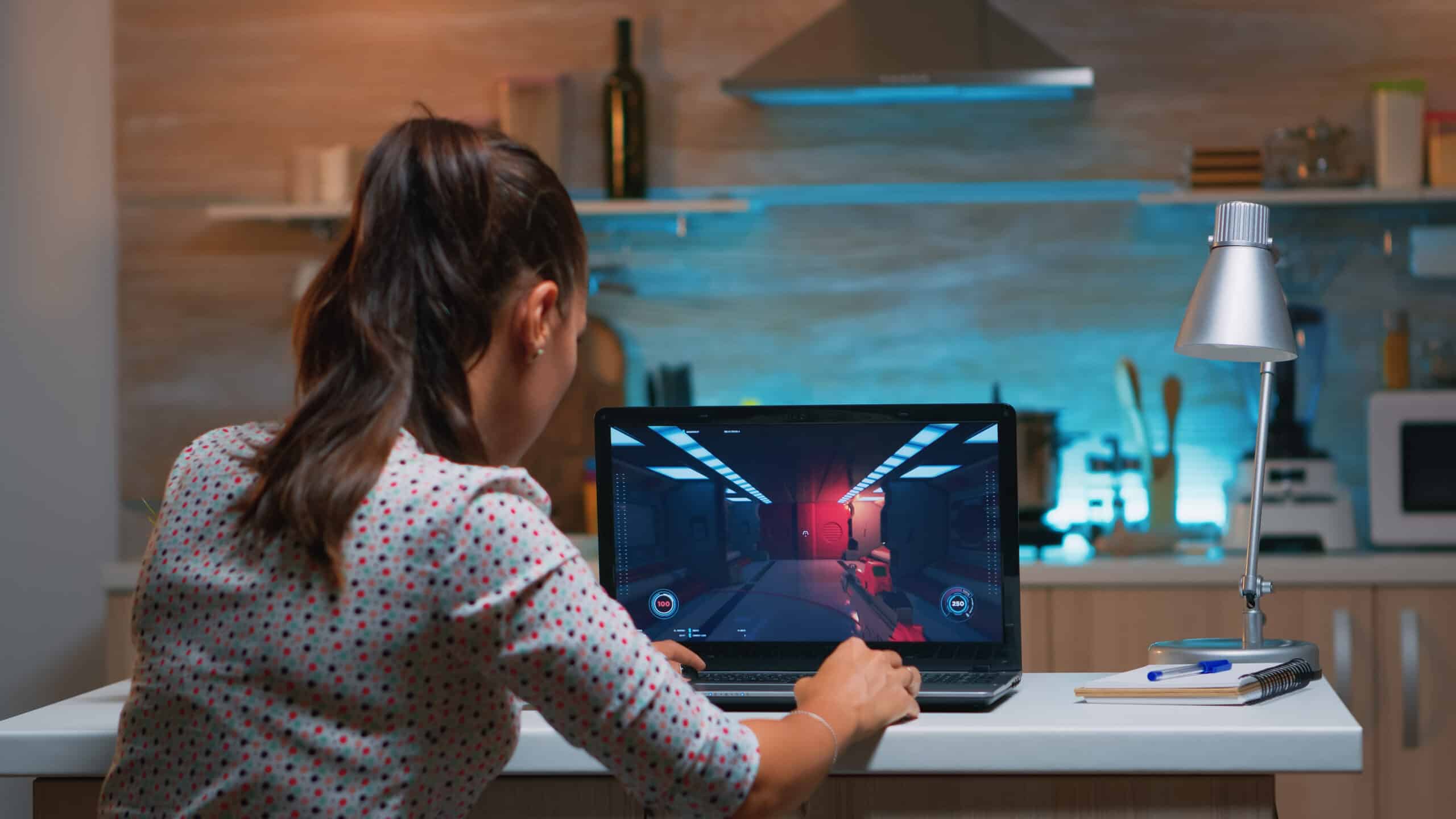 Key Points
When choosing the best gaming laptop, there are several factors to consider, including performance, price, graphics card, and speed, to name a few.
The MSI GF63 was voted the best overall gaming laptop under $800.
Another great option is the Lenovo IdeaPad Gaming 3.
While desktop computers are often the first choice for PC gamers, laptops are equally popular. If you want to take your games with you on the go, a laptop is just plain better. But with some high-end gaming laptops commanding high prices, it can seem like laptop PC gaming requires a vast budget. 
The good news is that this is not the case. You can easily find a laptop that can play all the latest games for a reasonable price. With prices in computer hardware and graphics cards declining, now is the perfect time to scoop up an inexpensive gaming laptop. We've scoured the internet to locate the best-performing, highest-rated gaming laptops under $800.
We've rated the top 5 gaming laptops under $800 in order:
1st Place Gaming Laptop Under $800:
Coming from a reputable manufacturer, the MSI GF63 makes a great budget gaming laptop with its attractive design and backlit keyboard
MSI is famed for its PC components, motherboards, graphics cards, gaming laptops, and peripherals. The GF63 is the latest in a long line of high-performance laptops. Packed with all the hardware you need for an outstanding gaming experience, the MSI GF63 is well-deserving of first place.
This victory is most apparent when considering the graphics power you get for the price. With an Nvidia RTX 3050 Ti graphics card, the GF63 is fairly modest compared to higher-end GPUs like the RTX 3070 or 3080 series. However, with 4GB of graphics memory, you still have plenty of power to compete against more expensive gaming laptops.
The GF63 also stands out by being an extremely lightweight laptop. At around 4 pounds or just under 2kg, this laptop is light enough to take with you anywhere. While you're missing a few options, like a thunderbolt port and an SD card reader, you still get plenty of ports and connectivity features. WiFi 6 and Bluetooth are standard features, as well as a backlit keyboard and an extra spacious touchpad.
As for processing power, the GF63 provides you with a highly-competitive 12th generation Intel Core i5 with up to six cores. With a maximum clock speed of up to 4.50Ghz, this CPU has everything you need to play almost any game out there. You have more RAM than competing laptops, with 16GB of DDR4. Multitasking is satisfactory, and the boot-up speed is lightning-fast thanks to the NVMe SSD. Additionally, the 1TB storage capacity is extremely generous.
. Additionally, coming from one of the most highly regarded names in PC gaming hardware, the GF63 is sure to please the discerning gamer.
Taking up second place is Lenovo IdeaPad Gaming 3, a pick from one of the most reputable brands in the laptop industry, Lenovo.
The IdeaPad has been a best-selling Lenovo laptop for several years now, and the introduction of a gaming model only solidifies the brand as a premier name in PC gaming.
When looking at this laptop, it's important to realize there are three display configurations. The display is available in either a 60hz, 120hz, or 165hz refresh rate. For under $800, you can easily find the 120hz model. No matter which option you pick, the IdeaPad backs it up with solid gaming graphics performance.
While the previous generation of IdeaPad Gaming 3 didn't shatter any benchmarks or garner any praise, the current generation has been vastly improved. Starting with an Nvidia RTX 3050 offers noticeable smoother gameplay than a GTX 1650. With 4GB of video memory, you can enjoy the most popular games available today on either medium or high settings.
One of the real highlights of this laptop is its processor. For this price range, it performs better than comparable AMD CPUs like the Ryzen series. A satisfying 16GB of RAM completes the IdeaPad's ability to play pretty much any game you want. Additionally, you get a 512GB NVMe solid-state drive for storing a massive library of games.
Besides satisfactory specs, you also get all the standard features you would expect on a gaming laptop, such as WiFi 6, Bluetooth, USB Type-C, and HDMI. You can easily connect additional gaming monitors, peripherals, and accessories. Due to the cooling system, the laptop is a little bulky, but this is to be expected on a laptop with a dedicated GPU. The Lenovo IdeaPad Gaming 3 is an excellent choice for a gaming laptop under $800.
Check out the Lenovo IdeaPad Gaming 3 on Amazon.
3rd Place Gaming Laptop Under $800: HP 15 Victus
Made by one of the most longstanding PC companies in the world, the HP 15 Victus is perfectly designed around an affordable gaming experience.
A newcomer on the gaming laptop scene, the Victus by HP has proven itself as a competent gaming laptop. Starting with the GPU, you get a potent Nvidia GTX 1650 with 4GB of video memory. While not quite as powerful as a 3050Ti, this graphics card still packs plenty of punch to handle the latest games on medium to high settings. The display is an average 1920 by 1080 resolution, running at a very pleasing 144hz refresh rate.
The real gem on this laptop is the processor. The 12th generation Intel Core i5 offers competitive performance for this price range, beating out similar AMD CPUs like the Ryzen 7 5800. Coupled with a satisfactory 16GB of RAM, the Victus has everything you need to load up any game you choose.
Additionally, the 1TB storage capacity is generous. Not only do you get a whopping amount of space, but you can also choose to upgrade further if you wish. The preinstalled solid-state drive will be enough for most gamers, especially considering the lightning-fast NVMe interface.
Besides the essentials, you get plenty of additional features like solid battery life, a well-made thermal design, and a spacious trackpad and keyboard. Many reports claimed the audio quality from the built-in speakers is substandard, but you can easily plug in a gaming headset to make the most of your experience.
Check out the HP 15 Victus on Amazon.
4th Place Gaming Laptop Under $800: Acer Nitro 5
The Acer Nitro 5 is the latest edition from the company and sports a flashy black and red design with a backlit keyboard and striking aesthetic features.
Acer has been producing the Nitro series of gaming laptops for several years, and at this point, they have genuinely perfected gaming on a budget. With performance to back up its good looks, the Acer Nitro 5 is packed with an Nvidia RTX 3050 graphics card. Coupled with a 144hz IPS display, this laptop's graphics and image quality are highly competitive for the price range. You'll be able to enjoy reasonable frame rates in all of the latest games as long as you don't push the settings too high since you still have some limitations.
With a 10th-generation Intel Core i5, it's not as new as some of the other picks on our list, but the processor still won't hold you back. Although the Nitro 5 only includes 8GB of DDR4 by default, the bottom panel easily comes off, allowing you to upgrade the RAM. Additionally, the preinstalled 256GB solid-state drive is sufficient for most gamers, but it can also be upgraded if you find yourself running low on space.
As for portability and connections, the Acer Nitro 5 offers all the standards. While it is a little bulky, the Nitro still weighs less than 5 pounds, so it can still be carted around for mobile gaming sessions. Connectivity is fairly standard, with built-in WiFi 6 and Bluetooth included. Overall, the Acer Nitro is a solid pick for the price range.
Check out the Acer Nitro 5 on Amazon.
5th Place Gaming Laptop Under $800: Asus TUF F15
While Asus is usually a premier name for gaming laptops, the Asus TUF F15 takes up last place due to a few questionable design choices.
This makes it feel less like a premium gaming experience and more fitting for the price range. Luckily, this model can also be found for lower prices than some of our other picks, making it a tempting deal if you are on a strict budget.
For graphics, you get an Nvidia GTX 1650, which is performant enough to handle all the top games on medium to high settings. You won't get crisp framerates like a higher-end graphics card, but the gameplay is still highly enjoyable and playable. Together with a 10th-generation Intel Core i5 processor, the Asus TUF F15 brings a modest gaming experience.
The shining quality of this laptop is its upgradeable components. If you are unhappy with the preinstalled 8GB of DDR4 RAM and 512GB solid-state drive, you can open the bottom panel and install an additional drive and more RAM. With such an intuitive design, this system is very serviceable and makes for a great future-proof laptop.
Check out the Asus TUF F15 on Amazon.
How To Pick The Best Gaming Laptop Under $800: Step By Step
Finding a gaming laptop on a budget doesn't have to be difficult. In fact, with so many tempting deals on the market today, the choices are abundant. But how do you know which ones are better than others and how to pick the right one for you?
Generally speaking, there are a few key areas to consider when deciding on the perfect gaming laptop:
Graphics card
Display quality
Processor
Ram capacity
Storage capacity
Let's examine each one in more detail.
Graphics Card
If you're using your laptop for gaming, you'll want to ensure it has a capable graphics card. With the price of GPUs on the downhill recently, you can actually find a competitive graphics card in the sub $800 laptop. The question is—which card to look for?
While you won't be seeing any RTX 3090s in this price range, you can still expect a decent GPU for your money. For entry-level gaming, an Nvidia GTX 1650 makes a solid choice of mobile GPU. If you want even smoother gameplay, you can pick a laptop with an RTX 3050 or even 3050Ti, depending on your budget. 
Display Quality
To create the most immersive gaming experience, laptop displays have evolved to the point of being on par with desktop monitors. However, most of the cutting-edge display technology is only present on the costliest laptops. While you can't expect a record-breaking performance, getting a gaming laptop with a vibrant and pleasing display is still possible. 
A few key things to note when looking for the best display are the refresh rate, resolution, and color accuracy. Higher refresh rates make for a more pleasant viewing experience, but you want to ensure that the system has an equally powerful processor and graphics card to back it up.
Processor
A processor is equally as crucial as a graphics card. In fact, certain games rely more on the CPU to do all the heavy calculations than the GPU. Either way, the processor plays a key role in gaming performance. You don't want a machine with a weak processor to bottleneck your experience.
With a budget of roughly $800, you can easily find an 11th or 12th-generation Intel Core i5 or a 10th-generation Intel Core i7. AMD Ryzen processors are also adequate for gaming in this price range, although you may find slim pickings for newer Zen3 chips.
RAM Capacity
RAM is vital for gaming. Most of the latest games demand require at least 4GB of RAM, with some asking for 8GB or more. While older games have lower RAM requirements, you still want to pay special attention to RAM capacity, so you are not limited.
Fortunately, RAM is affordable, and almost every gaming laptop under $800 will offer a sufficient amount. Additionally, having an upgradeable RAM is critical. If your system can't be upgraded, it's not future-proof and ready to take on new games.
Storage Capacity
A good gaming laptop is nothing if you don't have space to store your games. Fortunately, solid-state storage is fairly inexpensive. You can easily find laptops with high-capacity drives to compete with pricier machines. One thing to look out for is whether your storage is upgradeable. This will ensure you can keep adding space over time if you run out.
Many games have demanding storage requirements. Titles like Grand Theft Auto V and Red Dead Redemption 2 will consume nearly 100GB of space on their own. If you plan to install a vast library of games, get a laptop with at least a 512GB or higher solid-state drive. 
What it's Like to Use: Gaming Laptop Under $800
Gaming on a budget always comes with a few sacrifices. However, while you might not be able to game on the highest settings, you can still get plenty of enjoyment from a less costly system. Most games available today can be played with highly comparable frame rates, depending on your specific configuration and titles.
With most demanding AAA titles, you will have to make some tradeoffs, such as lowering the resolution to 1080p or turning off graphics enhancements. Resource hogs like Cyberpunk 2077 and Microsoft Flight Simulator are some of the least playable titles on cheaper laptops since the weaker GPUs are just not up to the task.
Newer titles may struggle, whereas older games with lower requirements will play beautifully. If you mainly enjoy classic titles, you'll notice very little difference between a more expensive laptop and a laptop for under $800. Games like Borderlands 3, Far Cry New Dawn, and Grand Theft Auto V all run on high settings, albeit at lower frame rates.
What To Know Before Buying a Gaming Laptop Under $800
Before buying a gaming laptop for under $800, you should have a few topics in mind. It's a good to have a reasonable idea of the games you want to play. So, decide on the first few games to play on your new system and make sure your laptop meets the performance requirements.
Whereas the finest gaming laptops will come from reputable brands like MSI, Asus, Lenovo, and HP, some are not so well-known. Additionally, buying a refurbished laptop from or a laptop without a warranty is a gamble. Know where your laptop comes from and ensure you get a warranty before you buy one.
Another concern is the type of operating system you're planning to use on your new gaming laptop. While this isn't a critical factor for some, it can define your whole gaming experience. If you are penny-pinching and find a laptop preinstalled with Windows 10, think twice. You want to ensure you're not buying a much older laptop. A safe bet is to stick with a Windows 11 system as most likely newer. Linux is also popular with advanced users, but you must ensure you pick a good distro for gaming.
NEXT UP…
Last update on 2023-05-24 / Affiliate links / Images from Amazon Product Advertising API