Over the past few years, headphones have gained popularity in our daily activities. We wear them when working out, traveling, listening to music, and even sleeping. This shows just how beneficial headphones are and how having great noise-canceling headphones is essential.
High-quality headphones can get you into the mood for a run or a workout, help you sleep if you have insomnia, or even prevent you from being bored on a lengthy flight. However, selecting a quality pair of headphones is not a simple undertaking.
There are numerous headphones on the market, each designed for a particular purpose. To assist you in selecting the most suited headphones for your needs, we have compiled a list of the top six best Bose noise-canceling headphones.
Best Design
Bose Noise Canceling Headphones 700
11 levels of active noise canceling
Beamforming Microphone system adapts to noisy and windy environments
Lightweight stainless steel headband and tilted earcups

Up to 20 hours of wireless battery life on a single charge
We earn a commission if you make a purchase, at no additional cost to you.
The Bose Noise Canceling Headphones 700 are an all-rounder featuring good performance, stellar noise-canceling technology, and travel-friendly capabilities. If you need compact headphones that you can use daily, then the Bose 700 headphones are the right choice.
However, these headphones may be expensive when compared to their alternatives. Still, their pros beat their cons, particularly with their ability to cancel all the ambient noise in 10 different settings, giving you the best music experience over their 20-hour battery life.
Bose 700 can be used in wired mode, which still features Ambient Noise Cancelation (ANC). The wired mode has proven helpful when flying as it enables you to connect to the entertainment system of a flight. For easy storage, you can fold the headphones to a smaller size.
What's more, you can use the Bose Music App to connect to several streaming platforms like Apple Music and Spotify. You can also use voice command controls on these headphones, removing the need for buttons. The Conversation Mode is also useful as it pauses your music when on a phone call and resumes after the call.  
Specifications
| | |
| --- | --- |
| Noise Cancelation  | Available  |
| Bluetooth Range | 30 feet |
| Battery Life  | 20 Hrs |
| Headphone Design | Over-ear |
| Weight | 289g |
| Additional features  | Active Noise Cancelation (ANC), Voice Commands, Custom Equalizer, Adjustable ANC, Conversation Mode |
Check out Bose Noise Canceling Headphones 700 on Amazon.
Bose QuietComfort Noise Cancelling Earbuds-Bluetooth Wireless Earphones, Triple Black
Noise cancelling earbuds – Engineered with the world-class noise cancelling. Bose controllable noise cancellation and full Transparency Mode allow you to eliminate distractions, let your...
High-fidelity audio – An exclusive acoustic architecture brings your music, podcasts, and videos to life, while Volume-optimized Active EQ keeps the sound crisp and balanced at any level.
Comfortable wireless earbuds – Three sizes of StayHear Max eartips are included for a secure fit. Crafted from soft silicone, they provide passive noise blocking with total comfort.
Simple touch controls – It's as easy as tap, swipe, or press. Control your noise cancellation settings, pause, play, and volume right from the side of the earbud itself. Enable it all in the...
Noise-rejecting microphones – Tiny microphones work together to focus on your voice, filtering out surrounding noises for fewer distractions during phone calls.
We earn a commission if you make a purchase, at no additional cost to you.
The key takeaway of the Bose QuietComfort Earbuds (In-Ear Headphones) is their noise-cancelation. Namely, they feature Ambient Noise Cancelation, which ensures that their users can listen to music or watch movies without interruptions. 
The earbuds also feature some excellent sound quality. Although they may not have the best bass compared to top-tier headphones like the Bose 700, their sound quality is one of the best in its category.
They also come with several ear tips of different sizes, which can be replaced occasionally. This adds to the comfort that the in-ear headphones offer. 
The only downside of owning them is their battery life, which lasts about 6-hours. However, the charging pod can offer two more charges, giving a cumulative charging life of 18 hours. You should, therefore, always make sure you charge them before embarking on a long journey. 
Specifications 
| | |
| --- | --- |
| Form Factor | In-Ear |
| Bluetooth Range | 30 feet |
| Battery Life | Earbuds – 6 hours Charging Case – 12 hours |
| Weight | 8.5g |
| Noise Cancelation | Available |
| Other Additional Features  | Wireless Charging, Features Changeable Eartips |
Check out Bose QuietComfort Earbuds (In-Ear Headphones) on Amazon.
Best Noise Cancelling/ Versatile
Bose QuietComfort Earbuds II
Bluetooth 5.3 capability

Come with a Bose Fit Kit (includes 3 pairs of ear tips and 3 pairs of stability bands)

Up to 6 hours of battery life

IPX4 water-resistance rating
We earn a commission if you make a purchase, at no additional cost to you.
After the huge success of their predecessors, Bose QuietComfort Earbuds II (In-Ear Headphones) come with even more superior specifications. Thanks to the new stability bands, they are slightly smaller and more comfortable to have on for longer periods.
This new design also has a simple wireless touch interface, allowing you to control the noise canceling levels and adjust the volume without touching your phone. The Bose QuietComfort Earbuds II have a six-hour battery life, which is great for in-ear headphones of their size.
They come with eighteen hours of battery life before you need to find a charging port. The case can fully charge the device in just one hour. If you don't want to wait for an entire hour, you can use the quick charge feature to receive two hours of playtime for only twenty minutes of charging time.
The advanced 5.3 Bluetooth technology provides a stable and continuous connection within a thirty-foot radius. You can be sure that with the QuietComfort Earbuds II's sophisticated noise cancellation technology, you will enjoy your favorite music without any distracting background noises.
And if you are a major fan of comfort, the convenient Fit Kit included with these earphones will come in handy. It includes three pairs of ear tips of varied sizes and three stability bands to keep you comfortable all day.
| | |
| --- | --- |
| Battery Life  | 6 hours  |
| Headphone Design  | In-ear |
| Weight  | 6.24g |
| Bluetooth Range  | 30 feet |
| Noise Cancelation | Available  |
| Additional Features  | Active Noise Cancellation, Extremely Lightweight, Volume-optimized Active EQ, |
Chech out Bose QuietComfort Earbuds II (In-Ear Headphones) on Amazon.
#1 Best Overall
Bose QuietComfort 45
Excellent and comfortable design
High-fidelity audio
Active noise cancelation
Get up to 22 hours of battery life
We earn a commission if you make a purchase, at no additional cost to you.
When talking about the best Bose sound-canceling headphones, the list is not complete without the Bose QuietComfort 45. These headphones come with high-technology noise canceling, which works hand in hand with the excellent sound quality it offers.
The build quality is also good and comfortable when worn, making them perfect for long journeys. The headphones additionally have an in-built microphone which makes phone calls possible.
The Ambient Aware Mode feature adds to the luxury feel, allowing you to hear what's happening in your surroundings. You can do this by simply pressing a button. To sum up, Bose QuietComfort 45 headphones come with a battery life of 25 hours, which is perfect for traveling enthusiasts.
The controls are also easy to use. Although these headphones don't quite match their top-spec brother, the Bose 700, they have cutting-edge technologies which are worth mentioning. These also justify the headphones' current price point. 
Specifications
| | |
| --- | --- |
| Build Design  | Over-Ear |
| Battery Life  | 25 hours  |
| Bluetooth Range  | 30 feet |
| Noise Cancelation | Available  |
| Additional Features  | Ambient Aware Mode, Sleek Comfortable Traveler-friendly design, Noise-Canceling technology, and Proper Sound quality |
| Weight  | 238g |
Check out Bose QuietComfort 45 on Amazon.
Best Travel
Bose Noise Cancelling Headphones 700 UC
Perfect for the home office, cubicle, open office
Adaptive 4-microphone system for clear calls
Bose app to personalize your environment
11 levels of notice cancellation
Easily switch between audio sources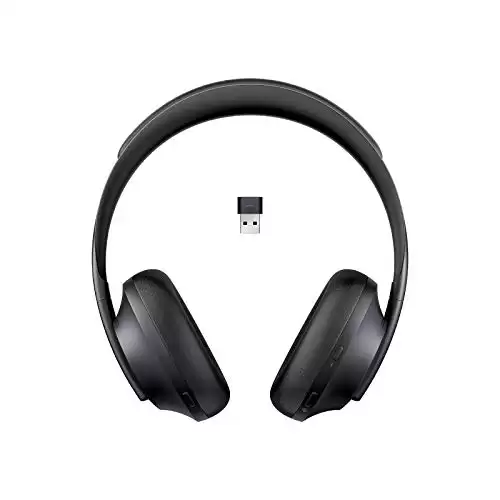 We earn a commission if you make a purchase, at no additional cost to you.
The Bose 700 series has made significant strides in noise cancelation technology, and the Bose Noise Canceling Headphones 700 UC are superior to their predecessors in this regard.
They offer eleven levels of noise cancelation, giving you complete control over the surrounding background noises. This makes them ideal for listening to music or making calls in a crowded environment, an open office, or while riding the train.
The 700 UC also offer twenty hours of playback before recharge, which is adequate for the average user. For full recharge, it takes around 2.5 hours on standard charging, and around one hour on quick charging mode. For a few additional bucks, you can get the Bose charging case and simply charge the headphones whenever you are on the road.
In addition, the Bose 700 UC headphones have innovatively decreased the number of buttons by including a touch-sensitive surface. Swiping back and forth on the earcups is now all that is required to pause, play, or stop sound.
Using the Bose Music application, you can seamlessly switch connections across multiple devices. The 700 UC also include a travel case and two USB cables that can be used for standard or computer-based charging. Moreover, once you've turned on the headphones, a soothing melodious voice will inform you of the battery percentage.
| | |
| --- | --- |
| Battery Life  | 20 hours  |
| Headphone Design  | Over-ear |
| Weight  | 250g |
| Bluetooth Range  | 33 feet |
| Noise Cancelation | Available  |
| Additional Features  | Powerful Noise Cancellation Technology, Amazing Battery Life, Traveler-friendly Design |
Check out Bose Noise Canceling Headphones 700 UC on Amazon.
Bose Quietcontrol 30 Wireless Headphones, Noise Cancelling - Black
Breakthrough technology lets you control your own level of noise cancellation throughout your day
Bluetooth and NFC pairing so you can connect to your devices wirelessly. Bluetooth range: 10 m
Noise rejecting dual microphone system helps reduce the noise around you to deliver clearer calls
Lightweight neckband design conforms to your body for all day comfort and wear ability
Lithium ion battery lets you enjoy up to 10 hours of wireless listening per charge
We earn a commission if you make a purchase, at no additional cost to you.
Are you a runner looking for a slightly different headphone option that lets you control your own level of noise cancellation throughout your day? Better get yourself the Bose QuietControl 30.
These headphones feature top-tier noise-canceling technology and admirable sound quality. They also have a neckband design that ensures that they are secure as you engage in vigorous activity. They are also extremely comfortable to wear.
The battery life offered by Bose QuietControl 30 is top-notch for its design. They come with 10 hours of battery life, all on a single charge. These might be for you if you are looking for slightly different workout headphones. 
Specifications
| | |
| --- | --- |
| Headphone Design | In-ear  |
| Battery Life  | 10 hours  |
| Bluetooth Range  | 33 feet |
| Weight  | 22.7g |
| Noise Cancelation  | Available  |
| Additional Features  | Secure Neckband, Good Noise Cancelation, Commendable Battery Life  |
Check out Bose QuietControl 30 on Amazon.
How to Pick the Best Bose Noise-Canceling Headphones: Step by Step
To pick the best noise-canceling headphones, there are many factors to consider. The factors differ depending on your design preference and the intended purpose of the headphones. Here are some of the factors to consider when picking the best headphones:
Battery life,
Use,
On-ear, in-ear, or over-ear,
Wired or Wireless,
Noise cancelation,
Open- or closed-back.
Let's look at each one in more detail.
Battery Life
Most headphones are wireless, and you must consider their battery life before you buy them. If you intend to use your headphones as you travel, you need a pair with commendable battery life.
Most travelers are on the road for around 8 – 20 hours, so your headphones should be able to handle that time all in one charge. However, most headphones with long battery life are bulky and cannot be used when engaging in sporting activities. 
Lightweight headphones with slightly lower battery life are good enough if you need some headphones for use in the gym or when going for a run. A pair of headphones with around 6-8 hours of battery life will be enough. 
Intended Use
Headphones come in different sizes and designs, each used for different purposes. Before you choose your headphones, you need to figure out what you are using them for.
If you need headphones for traveling, buy a pair with long battery life, good sound quality, and a comfortable design. For workout fanatics, your primary concern is the design. Choose headphones that are lightweight and portable. 
On-ear, In-ear, or Over-ear
Headphone designs can be generally categorized as over-ear, on-ear, or in-ear headphones. Different headphone designs are helpful for different settings and functions. 
Over-ear headphones cover the whole ear and usually block out all ambient noise, allowing the user to listen to music. If you need to lock out every sound and enjoy high-quality music, over-ear headphones are your go-to. They are commonly used when traveling or when indoors. 
On-ear headphones don't cover your whole ear. They use the pressure between them and your ear to stay in place. On-ear headphones tend to allow ambient sound and cable between each ear.
They are portable and easy to carry around but do not feature the high-quality sound you can find in over-ear headphones. Additionally, they are uncomfortable to wear for long periods as the pressure hurts your ears. 
In-ear headphones, commonly known as earphones, are the smallest and are fitted into the ear canal. In-ear headphones are perfect for vigorous activity, such as working out, as they are primarily portable, with some being sweat- and splash-resistant. However, the cons of having in-ear headphones include short battery life, lack of a secure fit, and slipperiness. 
Wired or Wireless
Wired headphones connect to your device using a cable, while wireless ones use Bluetooth. However, wireless headphones can be further categorized as wireless and truly wireless headphones. 
Wireless headphones feature a cable connecting the earbuds. On the other hand, truly wireless headphones feature no cable between the earbuds. 
Noise Cancelation
The headphones you buy can either cancel out all the noise or enable you to feel some ambiance. Depending on how you use your headphones, you can choose a pair that features noise cancelation. Noise-canceling headphones are perfect for use when traveling. For office or home use, a noise-canceling headset will not be suitable. 
Open- or Closed-Back
Over-ear headphones can either be open-back or closed-back. Open-back headphones have ventilation that allows airflow between the ear and the headphones. They also allow the people around you to hear a little of your music.
Hence, they are not recommended for office use or when traveling, unless the people around you don't mind. Closed-back headphones feature no ventilation between your ears, and the structure doesn't allow people around you to hear what you are playing. Most even feature noise cancelation, taking you to another world as you listen to music. 
What to Know Before Buying the Best Bose Noise-Canceling Headphones
When contemplating the purchase of Bose headphones, there are a few things you need to keep in mind to avoid wasting money on headphones you will not use. Here are a few examples:
Type: You should know precisely which of the three available headphone types (over-ear, on-ear, or in-ear) you wish to purchase. The type you buy depends on the intended use. 
Sensitivity: When purchasing headphones, sensitivity should be one of your primary considerations. Premium headphones should have a sensitivity greater than 85dB/mW. Typical headphones have 110 dB/mW.
Frequency response: Your headphones' frequency response determines whether the sound quality is bassy or trebly, with high frequency being on the bass side and low frequency on the treble side. Your choice will depend on your preference.
Comfort features and design: Before selecting a pair of headphones, you must try them on and confirm that they are comfortable to wear. Various headphone designs offer varying degrees of comfort.
Cable coating: If you are buying wired headphones, you need to consider the type of cable coating that they have. Avoid buying headphones with rubber-coated cables, as they are prone to tangling.
Using the Best Bose Noise-Canceling Headphones: What It's Like
If you want to elevate your listening experience to a higher level, the Bose noise-canceling headphones described above are precisely what you need. One of the most rewarding sensations you will ever experience is listening to your favorite music while filtering out other sounds and distractions, such as traffic and unnecessary noise.
When using Bose headphones with noise-cancellation technology, background noise simply vanishes, resulting in the best possible experience. Bose's noise-canceling headphones include cutting-edge technology that prioritizes the elimination of background noise. It does so without compromising the wearer's comfort or ability to enjoy an immersive audio experience.