So you're ready to start investing but don't know where to begin. Between new terms and acronyms, there are likely to be lots of questions for anyone who wants to learn about various investing methods. Luckily, books are available by some of the best and brightest names in the investing world to help guide you.
The same is true even if you consider yourself a seasoned investor as there are books that will take your existing knowledge to the next level. As many books as there are for beginners, there is an equal number for anyone who considers themselves an experienced investor.
While none of these books will guarantee you can retire shortly after reading, they will, hopefully, put you on the right path toward creating your own financial future.
After weeks of reading here is our list of the best books about investing:
We earn a commission if you make a purchase, at no additional cost to you.
Don't let the fact that The Intelligent Investor was written in 1949 fool you as it's widely considered the best book about investing regardless of its age. Written by legendary investor and mentor of Warren Buffet, Benjamin Graham discusses his philosophy of "value investing".
Graham's vision is that investors should stop trying to make huge returns in a short window and instead focus on long-term gains. The additional emphasis on not taking any unreasonable risks still holds true some 70+ years later.
The revised version of the book includes footnotes with each chapter to account for market activity since 1972. Warren Buffet has also collaborated on the book's new introduction on what he calls "the best book on investing ever written".
Check out The Intelligent Investor on Amazon.
We earn a commission if you make a purchase, at no additional cost to you.
A book that lives up to its name, The Only Investment Guide You'll Ever Need is perfect for anyone looking to start investing. As an introductory book, author Andrew Tobias does a great job of explaining the basics of savings, investments, and how to prepare for retirement. Written in the 1970s and recently updated in 2016, all of Tobias' original advice still rings true today.
With the author's witty writing style, complicated topics for beginners become increasingly engaging. Readers will come away with an understanding there is no way to get rich quickly and to not spend more than you make. Most important for beginners is to never expect to achieve higher returns from the stock market than the market average.
Check out The Only Investment Guide You'll Ever Need on Amazon.
The stock market is undoubtedly one of the fastest ways to both make and lose money. That's the gist of The Little Book of Common Sense Investing by John C. Bogle. First published in 2007 and recently updated, Bogle explains his investment strategy in precise detail. More specifically, Bogle advises his readers that index funds are the best investment strategy.
Bogle writes without any technical jargon that might confuse beginners so it's just all about diversifying your portfolio and keeping your expenses low.
Bogle's history as a founder of the Vanguard Group gives him all the street cred he needs to speak with authority. Warren Buffet has spoken highly of the strategy and said that Bogle is one of the most important American investors of modern time.
Check out The Little Book of Common Sense Investing on Amazon.
We earn a commission if you make a purchase, at no additional cost to you.
When people think of the term "investing", they mostly relate it to the stock market. However, real estate investing has grown exponentially over the past few decades and if done right, can show big returns. The Book on Rental Property Investing by Brandon Turner is the best book for beginners and experienced investors to learn all about real estate and rental property investments.
Turner does a great job talking about why so many people fail at this investing method and then gives you four strategies to succeed. He highlights how to navigate competitive markets and how to do so without doing any work to a property.
This book will make sure you are asking all of the right questions to help create the cash flow you want for your future.
Check out The Book on Rental Property Investing on Amazon.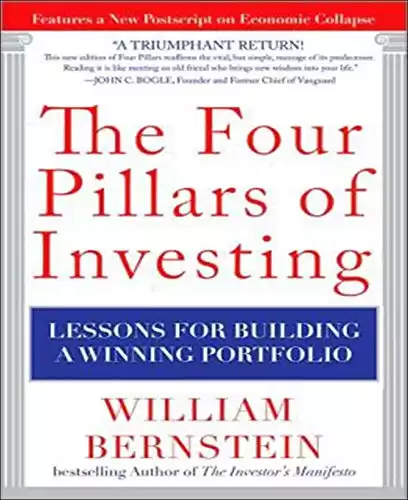 We earn a commission if you make a purchase, at no additional cost to you.
Skip hiring a financial advisor and learn more about investing with the best book about building a portfolio. The Four Pillars of Investing will teach you everything you need to know about properly allocating your assets thanks to its four-pillar methodology. Author William Bernstein has ensured that each pillar is good for investors of all skill levels so anyone can master it.
Readers will come away with an intimate understanding of the relationship between risk and reward, the history of the market, the psychology of the market, and whether it's wise to take advice from investment salespeople.
It won't get any easier than in Bernstein's book to fully explore each of these four critical investing elements down.
Check out The Four Pillars of Investing on Amazon.
We earn a commission if you make a purchase, at no additional cost to you.
Part motivational classic, part guide on how to grow your wealth, Think and Grow Rich is one of the most classic investing books of all time. First published in 1937 and refreshed in 2005, author Napoleon Hill tells the stories of modern success stories such as Bill Gates, Dave Thomas, and Mary Kay Ash. Instead of advocating for putting all of your money in the stock market, Hill advocates for investing in yourself.
Peeling back the layers of each chapter uncovers the secret that you alone are responsible for your own future. Manifesting how you want to live and how to be successful are solely controlled by your actions.
The stories of Gates and Thomas are proof that investments don't always come in the form of stock and dividends but sheer determination to succeed.
Check out Think and Grow Rich on Amazon.
We earn a commission if you make a purchase, at no additional cost to you.
No author would hide that there is no single secret to always beating the stock market but Joel Greenblatt comes close. In his book, The Little Book That Beats the Market, Greenblatt explains how to beat the market by 7% each year. His focus on buying above-average companies at below-market prices has shown to be incredibly successful.
By breaking down stock market math in a middle school-type way so that anyone can understand and follow and the author does so with humor.
Greenblatt further explains how a step-by-step journey can lead to long-term gains regardless of whether the market rises or falls. Written for his children back in 2007, Greenblatt's New York Times bestseller holds true twelve years after its first printing.
Check out The Little Book That Beats the Market on Amazon.
We earn a commission if you make a purchase, at no additional cost to you.
Written with the millennial in mind, The Financial Diet by Chelsea Fagan is the best book about investing for first and second-time job holders. For those between the age of 20 and 30, there's a good chance you're just graduating college or holding your first job and your income is as high as it's ever been. With that comes challenges such as making budgets and saving.
The Financial Diet is the best read on personal finance for anyone who has never really thought about personal finance. That's what makes this book so great for millennials. Each chapter helps take its readers through how to build a solid financial foundation so you can start investing and building long-term wealth.
Check out The Financial Diet on Amazon.
We earn a commission if you make a purchase, at no additional cost to you.
Few investment books have the glory of reaching classic status but The Richest Man in Babylon by George S. Clason has done it. This former best-seller was the culmination of numerous informational pamphlets Clason started writing in 1926 about achieving financial success. In his book which would combine all of the pamphlets into one, Clason would go on to formulate "seven cures" for financial prosperity.
The first "cure" is to save 10% of what you earn over time. Focusing on accumulation over time, Clason's writings emphasize taking your savings and holding off until you find the right investment. The book further emphasizes carefully using your savings for investment and to hold back a portion for a rainy day fund.
Check out The Richest Man in Babylon on Amazon.
We earn a commission if you make a purchase, at no additional cost to you.
What might not seem like the best book about investing actually turns out to be one of the greats. Investing for Dummies is far more than its title thanks to author Eric Tyson. Advocating for a slow and steady approach toward investing, Tyson makes sure you understand market lingo and can talk about the subject matter comfortably.
A wide range of topics are covered like how to open a brokerage account, choosing the right brokerage firm, why you should invest in real estate all the way to diversifying a portfolio. Tyson reminds you throughout the book that these skills can be learned by anyone and offers plenty of real-world examples to validate his investing theories.
Check out Investing for Dummies on Amazon.
What to Know Before Buying a Book about Investing
Before you buy any book on investing, you'll want to consider two main things. The first is keeping an eye on the publishing date. While many of the books listed here have been updated to account for more modern learning, there are still some books like The Richest Man in Babylon that emphasize teachings approaching 100 years old.
While many of the investment lessons in all of these books still ring true today, some use language that might not be as relevant today as it was when written making it more difficult to understand for beginners.
The other main consideration is your skill level with investing. If you consider yourself a novice or beginner, starting with Investing for Dummies is a good place to start. Breaking down investing terms and lingo will give you the background and understanding you need to graduate to the more advanced books on this list. From here, you can graduate to more advanced books that go deeper into an investment strategy.
The image featured at the top of this post is ©NosorogUA/Shutterstock.com.