Key Points
Before choosing the best arcade fight stick, there are several factors to consider, including size, compatibility, and connection type, among others.
The Mad Catz Ego was voted the best overall arcade fight stick.
If budget is a concern, the Qanba Drone Joystick may be for you.
From the standup arcade games of the past all the way to the gaming present, arcade fight sticks have been a staple of gaming. For anyone who is dedicated to the fighting game genre, picking up one of these incredible options is the best move, so you have all of the right gameplay mechanics available.
As playable as they are, it's hard to ignore how arcade sticks live in a category all their own. They may be bulkier and heavier than the now traditional controller, but yet they still have a purpose that cannot be matched by anything else.
Without further delay, let's take a look at the best arcade fighting sticks you can buy today.
Mad Catz The Authentic EGO Arcade Fight Stick for PS4, Xbox One, Nintendo Switch and PC (Windows Direct and X-Input)
Arcade fighting stick with genuine arcade feel - ideal for fighting games
Tournament-grade Sanwa Denshi components (joystick and action buttons) for unrivalled accuracy and timing
The EGO Arcade Stick is ideal for PC or console gaming and is compatible with the PS4, Xbox One, Nintendo Switch and PC (Windows Direct and X-input)
The ball-top 8-way joystick makes fighting a breeze and can be easily configured to replicate the left or right thumbstick or D-pad on a traditional controller
8 customizable action buttons in Vewlix layout - can be used as standard action buttons on traditional controller (A-B-X-Y, R1, R2, L1, L2); 2 additional buttons (L3/R3) to program as you choose for...
We earn a commission if you make a purchase, at no additional cost to you.
Choosing the best overall arcade fighting stick in a genre full of excellent options is a major challenge. The Mad Catz Ego stands out above the rest thanks to its deep platform compatibility, fantastic build quality, and a price tag that won't make you look twice.
The unit is compatible with the PS4, Xbox One, Nintendo Switch, and PC through Windows Direct and X-Input. However, there is a catch for Xbox Series S/X and PlayStation 5 as support for the newest console generation requires their existing controllers to be plugged into the Mad Catz. It's a small if somewhat annoying hurdle but that one that is hopefully going to be resolved with full compatibility in the future.
Compatibility aside, it's hard to ignore the strength of the Mad Catz's build quality plus its mod-friendly design. You can swap everything from its internal components all the way to the top panel decal, which is something to be excited about. And, while it can't be swapped, both the 8-way joystick and buttons can be reprogrammed or reconfigured to find the best fit for you.
At just under $200, it's the arcade fight stick you want if you want to get more serious with your gameplay or start thinking about the tournament route.
Pick up the Mad Catz Ego on Amazon here.
The MAYFLASH Arcade Stick F500 Elite is one of those rare arcade fighting sticks that feels like it should cost so much more.
Between its solid build quality, customizable hardware, and deep platform compatibility, it's worth every penny of the price tag.
A major selling point for the F500 Elite is that it works with all major consoles including but not limited to the PS4, Xbox One, Sega Mega Drive Mini, Sega Genesis Mini, and NEOGEO mini.
No matter which console you use, you'll be throwing hadoukens in no time thanks to the octagonal gate that's included right out of the box. Between the nine highly responsive buttons, four-way joystick, and metal panel that houses all of the components, the F500 Elite's outstanding build quality feels like it's going to last longer than the Energizer Bunny.
At under $150, the F500 Elite is very much a premium purchase and is better suited for those looking to be more competitive with their gaming.
Grab your MAYFLASH Arcade Fighting Stick F500 Elite on Amazon here.
Retro Design with Modern Features
8Bitdo Arcade Stick for Switch & Windows
Wired USB-C, Bluetooth, and 2.4G connectivity
Compatible with Nintendo Switch and Windows PCs
Moddable arcade stick
Two dedicated macro buttons
1000mAh rechargeable battery
We earn a commission if you make a purchase, at no additional cost to you.
When the time has come for you to discover your first arcade stick, the 8Bitdo Arcade Stick is easily the best choice around.
It might be the retro look and feel that first grabs your attention, but once you start using the 8Bitdo, you discover it's the whole package.
Compatible with the Nintendo Switch and Windows, the 8Bitdo offers a number of strong features for its price point. Included out of the box are a dynamic button layout, the ability to swap button functions, turbo functionality, and two dedicated macro buttons (P1/P2).
Connecting to your console or PC is easily done via Bluetooth, 2.4Ghz, or wired USB-C. But, before you start playing, know that the 8Bitdo is incredibly customizable so you can swap out the default non-Sanwa parts with Sanwa parts to increase the playing experience significantly.
With an $89 price tag, the 8Bitdo is the ideal price point for anyone looking to game casually and pick up an arcade fighting stick on an impulse purchase.
Take home the 8Bitdo Arcade Stick today from Amazon here.
We earn a commission if you make a purchase, at no additional cost to you.
This fan favorite is an immediate home run for PlayStation fans looking for something built and ready to go for their favorite Sony console. Compatible with the PlayStation 3, 4, and most games on the PS5, not only is the Qanba Drone Joystick officially licensed by Sony but you can still mod it after your purchase with Sanwa parts and customize it to your heart's content.
One standout feature is the tournament lock switch, which prevents any Qanba user from accidentally hitting a button and receiving a tournament disqualification. The rest of the buttons are spaced exactly as you would find in a Japanese arcade so the gameplay experience is very authentic.
Lightweight, the included 7.5-foot cable makes it easy to play away from the television and then hide the cable in the storage compartment inside the Qanba's honeycomb frame. There's even a comfortable space to rest your wrists so you can play for hours.
The best part of the Qanba may be its $80 price point. For PlayStation users looking to go more premium, the MAYFLASH Arcade Stick F500 Elite is the next best thing.
Pick up the Qanba Drone Joystick from Amazon here.
As of July 19, 2023, this product is currently unavailable on Amazon. Please check back later.
We earn a commission if you make a purchase, at no additional cost to you.
HORI is no amateur company when it comes to making controllers as they manufacture some of the best third-party gaming products on the market. Officially licensed by Microsoft, the HORI Fighting Stick Alpha is compatible with the Xbox Series X/X and Windows 10.
Xbox compatibility is quickly identifiable from the Xbox button at the very top of the fighting stick where you can easily switch between four different custom profiles on the fly. To customize these profiles, you can use the companion HORI app and personalize the button layout as frequently as you want.
A key lock mode is one of the best, if often overlooked, aspects of the fighting stick to help avoid any errant button presses while you're immersed in gameplay. Should you ever need to replace a button, maintenance couldn't be any easier as the HORI opens right up so you can replace or customize the buttons with ease.
As Xbox users have less expensive options with the Mad Catz Ego, the HORI Fighting Stick Alpha is for Xbox owners looking to go pro, or at least play competitively. Even if it's against friends, at $200, you will want to be serious about your arcade fighting stick future.
Grab the HORI Fighting Stick Alpha today on Amazon here.
We earn a commission if you make a purchase, at no additional cost to you.
Like the Xbox and PlayStation, the Nintendo Switch is home to an officially licensed arcade stick. The Hori Fighting Stick Mini is compatible with just about every arcade and fighting game on the Nintendo Switch and that's a pretty deep library of titles to choose from.
Right away you'll find plenty to like with capture, home, minus, and plus buttons that mirrors the Joy-Con hardware so you can duplicate every console function. When resting on your lap, the HORI is not only lightweight, but it also offers a non-slip surface underneath so you won't have to fight gravity while playing.
For its impulse level cost, the HORI comes complete with an 8-button layout and micro-switch-sized joystick all while being easy to take on the go. As a wired controller, you don't ever need to worry about batteries either so that's all the more positive in favor of the HORI for all Switch owners who are big fighting game genre fans.
The lowest price arcade fighting stick on this list is perfect at $50. Nintendo Switch owners don't need anything more and paying twice as much won't bring any more features.
Find the HORI Fighting Stick Mini on Amazon here.
Best High-End: hitBOX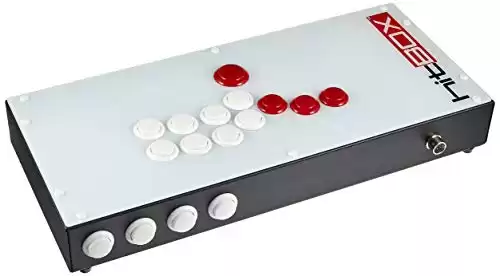 We earn a commission if you make a purchase, at no additional cost to you.
It's impossible to look at the hitBOX without scratching your head and asking, "how does this work?" Is it an arcade stick or something else entirely? The answer is yes to both.
Designed to put less stress on your elbows and hands, the hitBOX has no joystick and instead opts for a WASD (think keyboard). In this control scheme, your left-hand fingers use the top three red buttons to move left, right, and down, and then the lowest red button is worked by the thumb and triggers "up."
This layout won't be for everyone but, if you take the time to learn, the precision is absolutely there. The hitBOX uses 100% authentic Sanwa buttons which only adds to the desire to try the controller if only to experiment with the layout.
The hitBOX is compatible with the PlayStation and PC games so it's console agnostic which is great news for its high-end price tag. Priced at over $400, this is the definite option for high-end gamers looking for something unique.
Grab the hitBOX on Amazon here.
How to Pick the Best Arcade Fight Stick: A Step-by-Step Guide
When looking at the best fighting stick, there are a few main considerations to evaluate before making a purchase:
Compatibility
Size
Modding
Connection type
Joystick and buttons
Compatibility
This one is pretty straightforward but be sure to confirm the arcade fight stick you want to purchase is compatible with your platform of choice. For the most part, you have options that work with just the Nintendo Switch, just the PlayStation, and then those that work with both Xbox and PC, so it's important to know which one is right for your console of choice.
Size
Unlike the Dual Sense or Xbox controllers, arcade fight sticks can be fairly large, or at least large(r) compared to the traditional console controller. Looking at size and weight is important to know how comfortable you will be during long game sessions, while competing in a tournament, etc. Evaluating whether an arcade fight stick is lap-friendly or requires a table in front of you is definitely an important buying factor.
Modding
Many arcade fight stick buyers look at the options with one main factor in mind, whether they can be modded or not. A good number of the arcade sticks on the market are moddable and that's true of the list here. Upgrading to Sanwa parts, the leading manufacturer of quality fight stick components is a big plus for any fight stick. That's especially true if you need to replace parts like a joystick as they wear down over time.
Connection Type
In the arcade fight stick space, you have two competing options: wired or wireless sticks. For the wired, they likely use a USB cable to connect to a console or computer. The length of the cable plays a factor as it needs to be long enough to reach between yourself and your console.
Wireless arcade fight sticks rely heavily on 2.4GHz connections or Bluetooth and let you play comfortably from a longer distance. However, they can also run through batteries faster so that's a factor as you may need to charge while in the middle of gameplay.
Joystick and Buttons
Generally speaking, joysticks come in two different form factors: ball tops and teardrops. Many U.S. arcade gaming fans will be familiar with teardrops from their days playing games at their local arcade and this design is best for you if you want a full-hand grip for the best level of control.
Alternatively, you can choose to go with the ball top layout and place your hand over the joystick with your palm on top for a five-finger grip. If you can try them both, that's the best path, but thinking through which one works best for you is a big purchasing factor.
As you want a reliable joystick, you want solid quality buttons that feel not only like they will hold up over time but don't interfere with gameplay. You want quick reaction time and that usually comes from the likes of Sanwa or Hayabusa.
Using Arcade Fight Sticks: What It's Like
Using these arcade fight sticks not only took us back to our days of learning every Scorpion movie in the original Mortal Kombat, but they are just fun to play. This controller format provides a deeper and more immersive experience but you will want to look at the right one for your needs.
For PlayStation users, there is a whole suite of options you can choose from that are compatible as far back as the PlayStation 3. People who enjoy Injustice, Mortal Kombat, or Street Fighter on the PlayStation console will be best served to look at Qanba Drone Joystick as a great way to utilize hardware that's already hooked into the PlayStation ecosystem. That means no fooling around with button layouts or controls and you can get right into gameplay.
The same goes for the Hori Fighting Stick Alpha for Xbox and the Hori Fighting Stick Mini for the Nintendo Switch. Each of these is just right for their respective consoles and people who want to start off in this genre will be best served to pick one of these up as they're plug-and-play thanks to official licensing.
Final Thoughts
As is always the case, at the end of the day, there can only be one best arcade fight stick. In a very competitive category, the Mad Catz Ego stands out. Between its deep platform compatibility, Sanwa components, and ball-top joystick, it stands above the competition.
NEXT UP…
The image featured at the top of this post is ©iStock.com/gcammino.