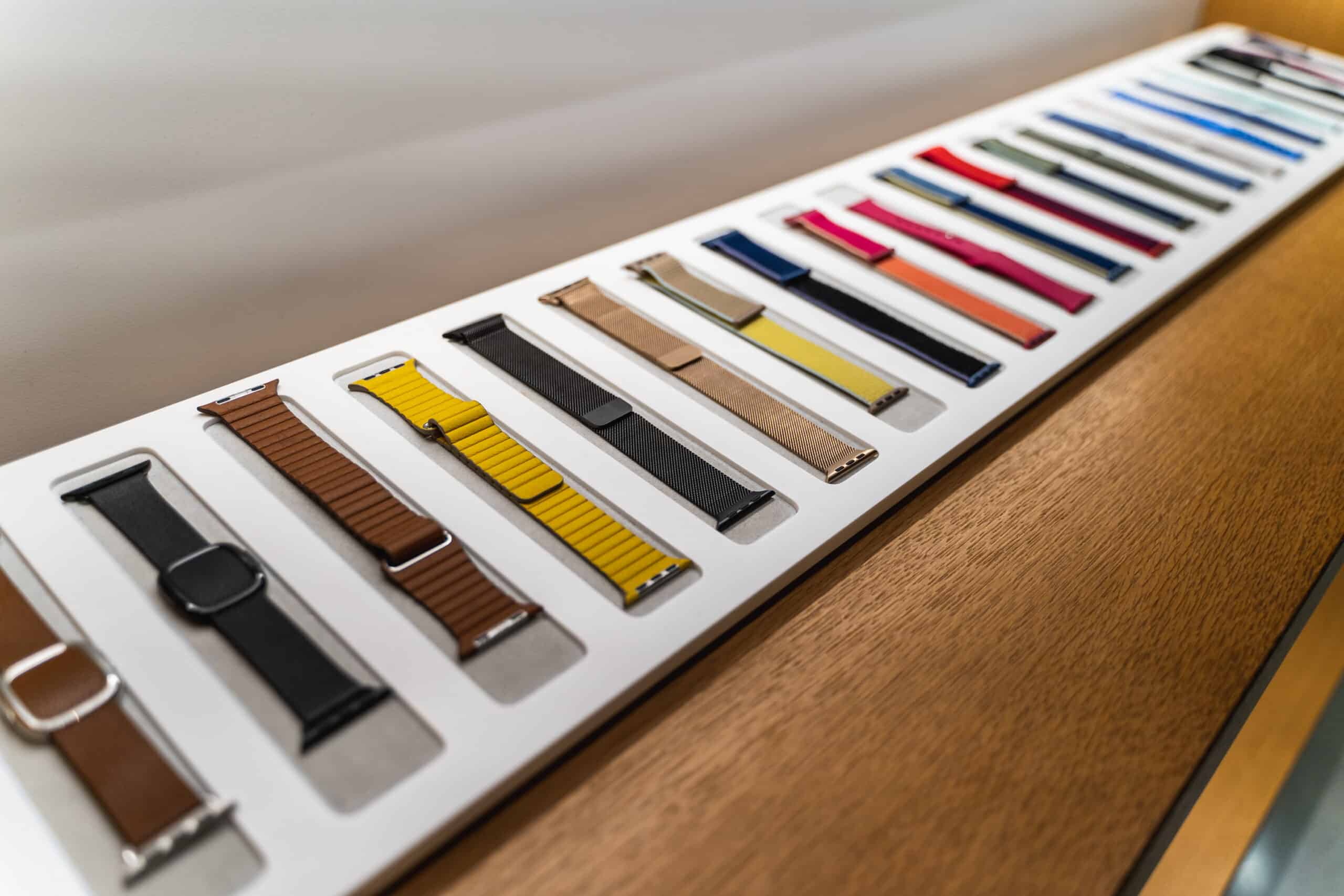 The Apple Watch is a game-changer in the wearable tech industry. While it is undeniably great, there are some aspects of its design that can be played around with — and band selection is one of them. So, if you're looking to spruce up your Apple Watch band collection, there are several different types of bands you can choose from.
Whether you're looking for something simple and understated or flashy and eye-catching, you can find an Apple Watch band that fits your needs right here! After a week of sleuthing, we are happy to recommend the following Apple Watch bands for every wrist type, as well as some tips to help you make an informed decision.
Solo Loop Compatible With Apple Watch Band for 38mm 40mm 41mm 42mm 44mm 45mm iWatch Series 7 5 6 4 3 2 1 SE, Stretchable Design, Silicone Swimproof Weatproof Watch Band (42mm/44mm/45mm-8, Grey)
Stretchable design easy to slip on and off your wrist
No clasps, buckles, or overlapping parts, so it's ultracomfortable to wear
Being available in a wide range of colors means it's also easy to find one that matches your style
Ultra-comfortable in every way, you'll need to make sure you buy the right size for your wrist, but it covers all the bases throughout the day, including being sweat and swim proof
This all makes it a great choice for pretty much any situation, so if you only want to buy one Watch band for your apple watch, you won't go wrong with the our Solo Loop
Apple is known for its sleek and minimalistic design, so it's no surprise that it has a few different bands to suit the needs of all types of people. If you like to stay active, the best band for you would be the Apple Watch Solo Loop because it is made with a durable Silicone rubber strap. The material is water-resistant and long-lasting, making it perfect for any tough workout or outdoor activity. This band is compatible with Series 4, Series 6, Series 5, Series 7, Series 3, and SE.
Because it is so incredibly comfortable in every way, the Apple Solo Loop has earned a reputation as the greatest all-around Apple Watch strap. It comes in a variety of colors and is composed of liquid silicone rubber, which gives it a special, elastic quality. You just slip it on your wrist. Make sure the size you choose fits your wrist properly, though.
The look is simple and classic, but it adds a sleek accent to any outfit. You'll love how lightweight this band is—you won't even notice it's there until you need to strap it on your wrist! The Apple Watch band is also sweat- and water-resistant.
Check out Apple Watch Solo Loop on Amazon.
Carterjett Compatible Apple Watch Band 45mm 44mm 42mm Silicone Tire Tread Sport iWatch Bands Replacement Straps Stainless Steel Adapters, Classic Buckle Series 8 7 6 5 4 3 2 1 Nike, 45 44 42 S/M Black
Perfect for sports and outdoors; Engineered to be extra sturdy and withstand the most athletic lifestyles. Lightweight, flexible and very comfortable, these soft silicone straps have evaporative channels on the back, allowing air to circulate; Rugged and waterproof, easy to clean and perfect for fitness tracking
Superior adapters and buckle clasp for greater security; Carterjett adapters have no screws and are permanently attached to the wristbands (unlike others). no tools required, no loose or lost screws, no spring bars popping out! no worrying about the safety of your Apple Watch
Size matters! Available in multiple lengths; Our durable black s/m fits men and women with 5.8- 7.3" wrists. This size compares to the small / medium Apple Sport band (if you wear the longer strap, choose m/l instead). Compatible with 45mm Apple Watch Sport Nike+ Edition 2015- 2022 Series 8, Series 7, Series 6, Series 5, Series 4, Series 3, Series 2, Series 1
100% Satisfaction guarantee; Carterjett offers high quality iWatch accessories, usa based customer service with quick response times and hassle free returns and exchanges; Contact us if there's a problem and we'll fix it!
Great value in a uinque design; Carterjett replacement bands are available in many custom colors. Look sexy and fashionable whether you're in the urban jungle, or the real jungle! What are you waiting for? Add to Cart now!
If you're looking for a durable band that still looks good, then the Carterjett Tire Tread Apple Watch Band is the way to go. This band is made from soft silicone that's comfortable to wear and resistant to sweat, stains, and water. The soft silicone has evaporative channels on the back, allowing air to circulate.
It also has a textured finish that makes it easier to grip, as well as a buckle clasp that is easy to close with one hand. The band comes in multiple colors and sizes, enough for you to choose your favorite.
Carterjett adapters do not require screws and are firmly fastened to wristbands (unlike others). No tools are required, there are no loose or misplaced screws, and no spring bars pop out! So, no need to be concerned about the safety of your Apple Watch.
Check out Carterjett Tire Tread Apple Watch Band on Amazon.
Nomad Modern Band for Apple Watch 44mm/42mm | Rustic Brown Horween Leather | Black Hardware
Develops Character: Made with Rustic Brown Horween leather, from the USA, that develops a patina with time and takes on a look totally unique to your case.
Modern Design: Each strap is made with true craftsmanship, utilizing best in class materials and state of the art manufacturing techniques to create a strap that is unique
Custom Hardware: Each strap is fitted with our custom designed, metal injection molded (MIM) buckle and lugs. High tolerance fit and sharp details are created with this industry leading marine grade 316 stainless steel
Compatible: Works with all previous versions of Apple Watch, including Apple Watch series 5
The Nomad Modern Strap is a great option for those who want to go with a more classic look. It has a curved design, so it fits comfortably around your wrist. It also features a nice texture on the underside.
In addition, the buckles and the adaptor that connects to the Apple Watch are made of stainless steel. The band also has an adjustable clasp that makes it easy to switch between different-sized wrists without worrying whether the strap will fit your arm.
Like other Nomad leather products, the Modern Band will patina or change color due to oxidation over time. That isn't always a bad thing. In reality, some people may enjoy achieving a one-of-a-kind appearance. But it's crucial to know ahead of time so you're not surprised if the material looks different after a bit of usage. The band is available in brown and black leather, with black or silver hardware.
Check out Nomad Modern Strap on Amazon.
Marge Plus Compatible with Apple Watch Band Series SE 8 7 6 5 4 3 2 1 45mm 41mm 44mm 40mm 42mm 38mm, Genuine Leather Replacement Band for iWatch, Leather Apple Watch Strap for Women & Men, Brown
Compatible Models: Compatible with Apple Watch SE/ Series 7(41mm) / Series 6/ Series 5/ Series 4 (40mm) / Series 3 / Series 2 / Series 1 / (38mm).
Fit Size: Fits 6.3"-7.9" (160mm-200mm) wrist, it can be men's or women's, comfortable touch feeling on your wrist, simple but attractive, look fantastic and giving a nice professional look on any occasion.
Superior Quality: 100% Genuine Leather Band – Premium soft top genuine leather with fashionable craftsmanship, New stylish design, comes with stainless steel polished silver-coloured Classic buckle, anti-slip & sweat-absorbent.
Easy Match: Sweet colors, simple but attractive, look fantastic and giving a nice professional look on any occasion. It can be used for any age, man or woman, It compliments the stainless steel face well and gives the watch a more casual look to wear with T-shirt etc.
Warm Tips The Real Color of this item may be slightly different from the pictures shown on the website caused by many factors. Such as brightness of your monitor and light brightness. And because of the natural variability of the Crazy Horse leather used in this band, the color may vary somewhat. However the style, quality and the everything else are all the same.
Marge Plus Genuine Leather is made from genuine leather and features a smooth surface that's easy to clean and looks great when paired with any Apple Watch model. The band is available in many colors and sizes, so you can find something that fits your wrist perfectly!
The Marge Plus Genuine Leather band is the best option for people with smaller wrists. It's made from genuine top-grain soft natural leather. This band also offers a host of useful features, including a quick-release buckle for keeping your Apple Watch securely in place, and a soft lining that's perfect for all-day comfort.
The top-grain leather makes this band incredibly durable, but it also stands out from the crowd for another reason. Namely, it comes in 13 different colors and various sizes to suit your wrist. So, if you want a high-quality leather watchband at an affordable price, this is the one!
Check out Marge Plus Genuine Leather on Amazon.
Apple Watch Band - Milanese Loop (40mm) - Space Black
A modern interpretation of a design developed in Milan at the end of the 19th century. Woven on specialized Italian machines, the smooth stainless steel mesh wraps fluidly around your wrist.
And because it's fully magnetic, the Milanese Loop is infinitely adjustable, ensuring a perfect fit.
An additional physical vapor deposition (PVD) layer gives the graphite stainless steel its distinctive finish.
Band fits 130–180mm wrists and are compatible with 38mm and 40mm Apple Watch Models
The Apple Milanese Loop is the best metal band for every wrist type. It fits on most wrists, and it's made of a soft metal that won't scratch or dig into your skin. The loop also allows you to adjust the band size with a latch, so it'll fit snugly around your wrist.
Despite being around for a while, the Apple Milanese Loop is still regarded as a modern design classic. The stainless steel mesh, which comes in a variety of shiny colors, gives the Apple Watch a more fashionable appearance than the basic sports bands that come with the box.
Overall, it looks good on most wrist sizes and sizes, is comfortable to wear, and is made of stainless steel, so it will last longer than many other bands. The loop design also ensures that the watch band stays in place. On top of that, it's magnetic, so you can adjust its size or remove it without much effort. And because it's one seamless piece, there are no joints or lugs on your skin that could cause discomfort.
Check out Apple Milanese Loop on Amazon.
It could be challenging to keep your Apple Watch safe. That's when a protective strap with a case, like the Spigen Rugged Armor Pro, comes in handy, protecting your watch from scratches and other damage. Because of the higher bezels, the screen should remain undamaged even if you drop your Apple Watch.
It also won't restrict how you use your device. The speakers, digital crown, and side button of the smartwatch are precisely placed on the Spigen Rugged Armor Pro. However, only the 44mm and 45mm Apple Watch sizes are compatible with this band, which means individuals who own smaller Apple Watch models (such as the Apple Watch 3) cannot use the same protective strap choice.
Check out Spigen Rugged Armor Pro on Amazon.
How to Pick the Best Apple Watch Band: Step by Step
Apple Watch bands are a fantastic way to customize your Apple Watch to your taste and preference. They come in a wide variety of materials, styles, and colors. So, when choosing an apple watch band, it is important to think about the following factors:
Fit,
Material,
Style,
Price.
Let's explore each in more detail.
Fit
Your watch should fit snugly on your wrist without being too tight or too loose. If it's too loose, it can slip down your arm. If the band is too tight or rubbing against your skin, it could cause irritation or discomfort. The best way to test this is by trying several different bands on.
Material
The material of your Apple Watch band will affect how long it lasts and how well it protects your watch from scratches and other damage over time. Most bands come in leather or silicone (which will stretch over time), but some are made with injected nylon or ballistic nylon materials that provide better durability and protection for your watch than leather.
While leather can be very sturdy and durable when it comes to resisting wear-and-tear damage, it also tends to attract scuffs and stains easily. This isn't necessarily a bad thing — just something worth keeping in mind when deciding which type of band to buy! Stainless steel is generally more durable than plastic, while rubber straps are more comfortable than leather bands but may wear out faster if worn frequently.
Style
While functionality is important, it's also important to consider what style of watch band you want to wear. Some people like a bolder look, and some prefer a more subtle one. A classic leather strap will work best if you have a more formal outfit or aren't concerned about having a unique look. However, if you're looking for something more trendy or fun, then nylon bands might be better suited for you.
Price
How often do you plan on wearing your watch, and what type of activity will it be used for? If you are not too active, opting for something less expensive may be more appropriate. On the other hand, if you work out every day and need something durable to keep up with your lifestyle, then going with a pricier option may make more sense.
What to Know Before Buying the Best Apple Watch Bands
Picking the right band for your wrist type is essential. You don't want to wear a watch band that's too tight and cuts off circulation, but you also don't want one that's too loose and falls off. So, before you buy a new watch band, make sure you've decided on your style.
Do you want something sportier? More formal? Or do you want something more casual? It is also important to remember that Apple Watch bands are not the same thing as an iPhone case. They are meant to be worn on your wrist, so they must be lightweight, comfortable, and durable enough to withstand daily wear.
Using The Best Apple Watch Bands: What It's Like
The best Apple Watch bands are those that suit your personal style and preferences. Depending on your wrist type, you may need to make some adjustments to the band. If you have a thick wrist with a large arm circumference, for example, then opt for one of the larger sizes available.
Those who prefer a more snug-fitting band should also go for one of the smaller sizes available. There are many varieties of colors, designs, materials, and thicknesses from which to choose when looking for the best Apple Watch bands.
Keep in mind the qualities that matter most to you before purchasing. Whether you're looking for a band that's cute and girly or one that's sporty and masculine, there are tons of options out there.
Last update on 2022-12-01 / Affiliate links / Images from Amazon Product Advertising API