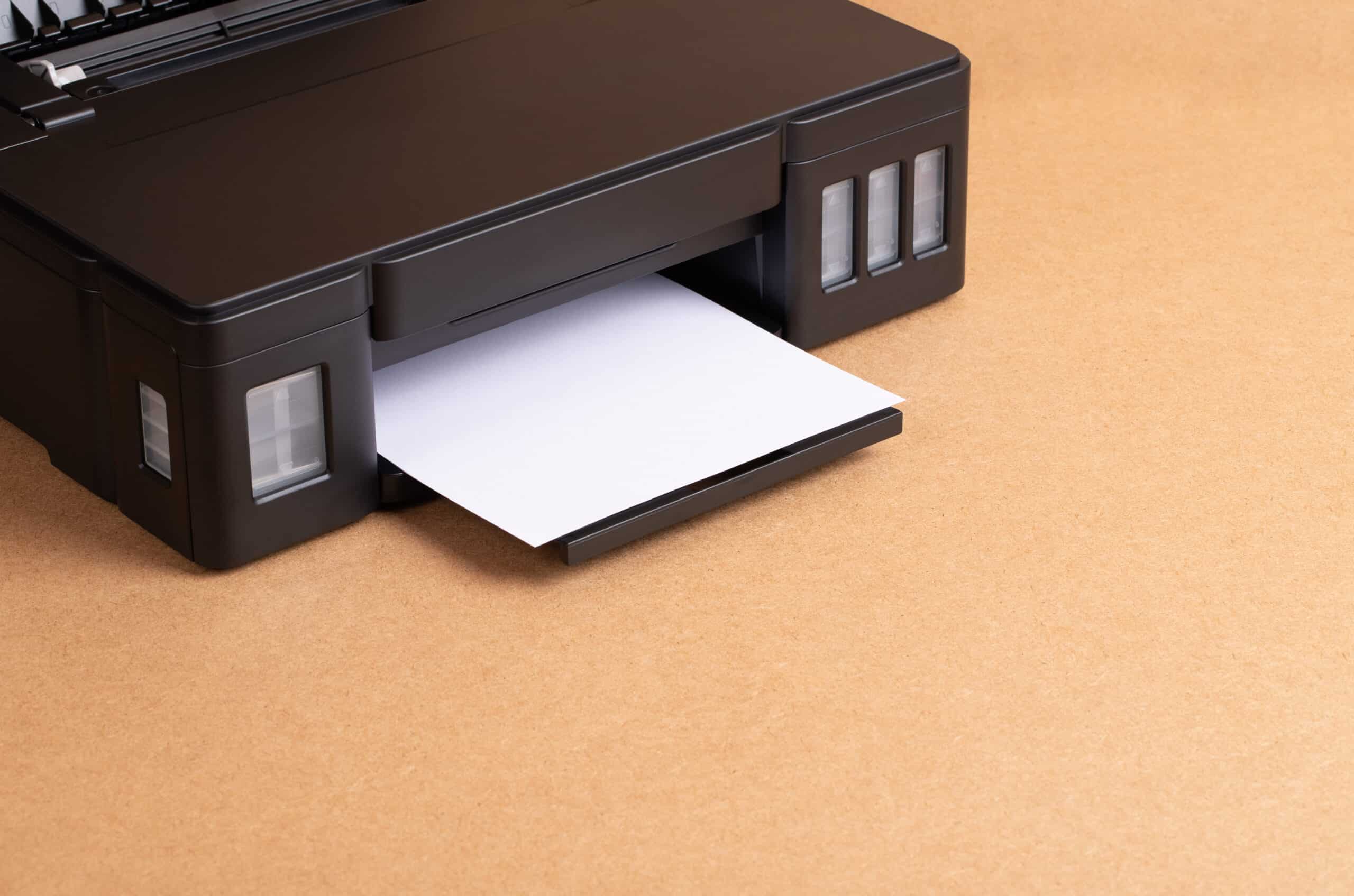 Wireless printers are becoming more popular nowadays, especially in homes and offices. They provide the convenience of not having to be tied down with a cumbersome corded setup, and they have the ability to connect to your wireless network. The best all-in-one wireless printer can be quite helpful in printing, copying, and scanning your documents.
However, there are many factors to consider when looking for an all-in-one printer, such as cost, print speed, and quality, just to name a few. If you're looking to add wireless capabilities to your home office, whether to save on costs or keep the work area more organized, here's a review of the best all-in-one wireless printer that can help you find one that fits your needs perfectly.
Brother INKvestmentTank Inkjet Printer, MFC-J995DW XL, Extended Print, Color All-in-One Printer, Mobile Printing Duplex Printing, Upto 2-Years Ink-in-Box
Upto 2-years of ink in-box: Using the MFCJ995DWXL cartridges provided, get exceptional savings and uninterrupted printing for upto two-years
Inkvestment tank system: Reengineered cartridges hold more ink delivering uninterrupted printing with no need to purchase ink for upto 1 Year
Eliminate ink replacement guesswork: Brother intelligent Page Gauge; lets you know the amount of ink you've used and the amount remaining
Mobile device printing: Desktop and mobile device wireless printing using AirPrint, Google Cloud Print, Brother iPrint&Scan and Wi-Fi Direct
For use with brother genuine inks: LC3033: LC3033BK, LC3033C, LC3033M, LC3033Y, LC3035: LC3035BK, LC3035C, LC3035M, LC3035Y
We earn a commission if you make a purchase, at no additional cost to you.
The Brother INKvestment MFC-J995DW is one of the best all-in-one wireless printers on the market. It has a sleek design and a reasonable price tag, making it one of the best options for those looking to buy a wireless printer without spending too much money.
The printer has it all. It has got wireless connectivity so that you can print from the comfort of your home or office, it's easy to use and install, it prints fast (and in black and white), and it even comes with a free phone app.
With its high-capacity ink cartridges, this model offers a number of small office features at a very affordable cost per page. It is one of the greatest all-in-one printers we've encountered for inexpensive ink since, according to the manufacturer, the INKvestment cartridges that arrive in the box might last up to a year.
The machine also comes with a USB cable and software, allowing you to print from your computer or phone without any problems at all. You can even print directly from your mobile device using Wi-Fi connectivity.
The printer uses an inkjet technology that produces clear text and high-quality photos even when using fade-resistant black ink cartridges (which are included). It's also compatible with Apple AirPrint and Google Cloud Print services, so you can use it with any device running iOS or Android operating systems.
Check out Brother INKvestment MFC-J995DW on Amazon.
Best Ink Saving All-In-One Wireless Printer: Epson EcoTank ET-4760
Epson EcoTank ET-4760 Wireless Color All-in-One Cartridge-Free Supertank Printer with Scanner, Copier, Fax, ADF and Ethernet - White
Epson strongly recommends the use of Genuine Epson inks for a quality printing experience. Non Epson inks and inks not formulated for your specific printer may cause damage that is not covered by the...
Epson EcoTank is the Selling Supertank Printer
You can save up to 90 percent with replacement ink bottles vs. ink cartridges (1) — that's about 1 cent per color ISO page vs. about 20 cents with cartridges (1)
You get up to 2 years of ink — in the box and with each replacement ink set (2); replacement set includes enough ink to print up to 7,500 pages black/6,000 color (3)
Less waste with Cartridge-Free Printing — one set of replacement bottles equivalent to about 80 individual cartridges (4); means fewer trips to the store
We earn a commission if you make a purchase, at no additional cost to you.
The Epson EcoTank ET-4760 is an incredible all-in-one printer that's perfect for home use. It has a great design, tons of ink-saving features, and it's super easy to use. Due to its mix of reliable performance, a wide range of features, and exceptionally low ink costs, the Epson EcoTank ET-7460 is a fantastic option for busy offices.
This printer can be used in home and office environments, so it's perfect for the environmentally conscious person who wants to do their part in reducing the amount of waste produced by printing.
The Epson EcoTank ET-4760 also has an auto-duplex function that allows you to print on both sides of the paper without switching out paper trays. You only need to set it once. This feature saves time and energy when printing documents that require different amounts of space on each side (like brochures).
Check out Epson EcoTank ET-4760 on Amazon.
Brother MFC-J1205W INKvestment-Tank Wireless Multi-Function Color Inkjet Printer with Up to 1-Year in Box,white
NO INK REPLACEMENT FOR UP TO 1-YEAR(1): Experience truly uninterrupted printing, exceptional savings and super convenience with up to 1-year of ink using only the four cartridges provided in-box....
PUT THE POWER OF PRINTING AT YOUR FINGERTIPS: The simple to use Brother Mobile Connect App delivers easy onscreen menu navigation for printing, copying, scanning and printer management from your...
USE BROTHER GENUINE INK: Engineered to work with INKvestment Tank inkjet printers, a full range of INKvestment Tank cartridges is available that deliver high quality prints and reliable page yields:...
BROTHER REVOLUTIONARY INKVESTMENT TANK SYSTEM: Brother INKvestment Tank printers feature reengineered ink cartridges that hold more ink than traditional cartridges and deliver a continuous ink supply...
ELIMINATE INK REPLACEMENT GUESSWORK: Print with confidence using the Brother Page Gauge, a visual, numerical way to know the amount of ink used and the amount of ink remaining to help take the...
We earn a commission if you make a purchase, at no additional cost to you.
The Brother MFC-J1205W is a great choice if you're looking for an all-in-one printer that's cheap and easy to use. It also has a great reputation for its reliability and durability, which makes it one of the best options on the market.
The printer uses Brother's patented INKvestment Tank ink system, a cross between supertank and high-yield cartridges printers, to achieve high page yields at a low cost per print.
The Brother MFC-J1205W also has a flatbed scanner with hinges that rise slightly to scan bigger items, and it has simple access to potential ink cartridges and paper jams. You can print confidently by utilizing the Brother Page Gauge, which provides a visual, numerical representation of the amount of ink used and the amount of ink remaining, removing the guesswork about when to replenish ink.
Wireless, Wireless Direct, and USB connectivity are all available. Unfortunately, there is no automated document feeder, and the overall print speed is unsatisfactory. Although it takes decent-looking photographs with passably accurate colors, there is noticeable grain and banding in lighter areas.
However, if you're looking for an affordable printer with wireless printing and scanning capabilities, then the Brother MFC-J1205W might be your best option.
Check out Brother MFC-J1205W on Amazon.
Epson® Workforce® Pro WF-4820 Wireless Color Inkjet All-In-One Printer
High-speed printing — PrecisionCore Heat-Free Technology delivers high-speed, high-volume printing with 25 black/12 color ISO ppm and fast first-page-out.
High-precision printing — accurate dot placement and DURABrite Ultra instant-dry pigment inks for professional-quality prints.
High-volume reliability for heavy workloads — innovative heat-free technology designed for reliability and reduced downtime.
Easy to use — 4.3" color touchscreen for quick navigation and control, plus all-new Epson Smart Panel App (1) for enhanced connectivity and productivity from your mobile device.
Designed for productivity — auto 2-sided printing and 1-sided, 35-page ADF streamline workflow.
We earn a commission if you make a purchase, at no additional cost to you.
The Epson WorkForce WF-4820 is a good choice for those who want a compact printer that can print, scan, and fax. This printer is also lightweight and has good build quality. It offers high-quality printing at speeds of up to 25 pages per minute in black and white. It has Wi-Fi, which means you can connect it directly to your phone or tablet and print from them.
The Epson WorkForce Pro WF-4820 is reasonably priced for its capabilities, including a comparably quick print speed, fax, automated document feeder, two-sided printing and scanning, and a huge 4.3-inch touchscreen display. The disadvantage of this device is that it requires ink cartridges, which are less cost-effective than ink tanks, especially for high-volume printing.
However, one advantage of this device is its compact footprint. It is small enough to fit on a tabletop or desk. The WF-4820 can also print vibrant prints from digital photos on premium photo paper. In addition, the scanner's resolution is 1,200 x 2,400 dpi, which is higher than most printers in this price range.
Check out Epson WorkForce WF-4820 on Amazon.
HP OfficeJet Pro 7740 Wide Format All-in-One Printer with Wireless Printing, Works with Alexa (G5J38A)
Main functions of this all-in-one wide-format printer: copy, scan, fax, wide-format printing up to 11x17 inches, wireless printing, AirPrint, 2-sided duplex printing, color touchscreen, automatic...
The power of your printer in the palm of your hand: The HP Smart app allows you to easily set up your printer, scan from your smartphone, order toner, and print from the cloud—such as iCloud,...
Up to 50% less cost per page than color lasers with fast print speeds up to 22 pages per minute black; support high-volume office printing with a paper input capacity of up to 500 sheets with two...
Print, scan, and copy in standout color on a variety of paper sizes from letter to 11x17 inches; tap and swipe the color touchscreen, easily manage print, scan, copy, and fax jobs directly at the...
Use Original HP 952 & HP 952XL ink cartridges for great result print after print; original HP ink prints up to 2x the pages as refilled cartridges
We earn a commission if you make a purchase, at no additional cost to you.
The HP OfficeJet Pro 7740 is a wide format printer that can print up to 11″x17″. This printer is incredibly easy to use and has all the features you could want in a small office or home office. The HP OfficeJet Pro 7740 has wireless printing, so you can print from an iPad or any other mobile device without worrying about cables getting in the way.
The HP OfficeJet Pro 7740 also has a built-in scanner, which is great for scanning documents that need to be sent out quickly. It also scans documents at up to 1,200 x 1,200 dpi resolution,
The 2.7-inch color touchscreen makes controlling the printer's features simple. It also offers faxing, which is not often available on all-in-one devices at this price. If you have stacks of documents to scan, the 35-sheet automatic document feeder offers two-sided (single pass) scanning.
This model includes Wi-Fi, wired ethernet connection, and wireless printing using Apple AirPrint and Google Cloud Print. Because this printer uses a dual-ink cartridge technology, the cost-per-page will be higher than with a supertank printer.
Check out HP OfficeJet Pro 7740 on Amazon.
How To Pick The Best All-in-One Wireless Printer: Step-By-Step
There are many good choices out there when it comes to choosing the best wireless printer for your home. While some of these devices have a lot of features, others are more basic and compact.
When looking for the best all-in-one wireless printer, it's important to consider what you need your printer to do and how you'll be using it. Here are some of the most important factors you should consider when shopping around:
Size,
Inkjet vs. laser,
Printing speed,
Printing quality,
Price.
Now let's explore each one in more detail.
Size
Printers come in two sizes: small and large. You'll need to buy a smaller model if you want a printer that's small enough to fit in a desk drawer. By contrast, if you want something that can handle large quantities of paper and print in color, you'll need to look for a larger model.
Inkjet vs. laser
One of the most important decisions you must make when choosing an all-in-one printer is whether it should be an inkjet or a laser printer. This decision will significantly impact the overall quality of your printouts and the amount of time it will take to complete everyday tasks like printing documents and photos.
Inkjet printers use liquid ink, making them easy to clean and maintain. This, in turn, makes them so popular. However, these printers also tend to produce low-quality printouts due to their limited color options, so they're not ideal if you need a lot of color accuracy or vibrant text that pops off the page.
Laser printers use toner instead of liquid ink, which produces higher-quality prints with fewer errors but comes at a cost—they're more complicated than their inkjet counterparts and require regular maintenance to keep them running smoothly.
Printing speed
You should also consider the printing speed when choosing your new wireless printer. Some models can produce copies at speeds of up to 20 pages per minute while others can only produce up to 15 pages per minute. If you need something fast, look for one with high printing speeds.
Printing quality
The better your printer's print quality, the more likely you'll be able to print out high-quality photographs or documents. If you're printing photos, your printer needs to have good color reproduction and sharp text.
Check the printer specifications for a higher "dots per inch" figure if you value quality above quantity. The best dpi should be at least 300 dpi for most printers and 600 or even 1,200 dpi for photo printers.
Price
Price is a big factor to consider when picking the best all-in-one printer. While some printers are cheaper than others, you should remember that it's often not worth cutting corners on quality when it comes to your printer.
If a cheap printer breaks down soon after purchase or is likely to fail, you may want to spend more money on a more reliable model. A printer that costs $150 may be perfect for someone with a tight budget, while someone with a bit more money to spend may want to invest in an expensive one that provides much higher-quality prints.
Duplex Printing
Duplex printing is a feature that allows you to print on both sides of the page. This is often useful in printing business cards, letters, and other documents with text on both sides.
It can save you time because it eliminates the need to turn pages over and print on the other side manually. It also means you can save paper by printing only what you need. However, this function can also slow down a printer's print speed.
What To Know Before Buying the Best All-In-One Wireless Printer
Before buying a printer, it's best to know your needs. Do you need the printer for professional use? Do you have many people in your house who need to print at once? How often do you print? What size paper do you typically use?
Once you've answered these questions, finding the perfect printer for your home or office will be easier. If you're an artist looking for high-quality photo printing capabilities, the Brother INKvestment MFC-J995DW is worth considering.
If you want something with lots of different features, such as printing from mobile devices and scanning directly to cloud storage services like Google Drive, consider the HP OfficeJet Pro 7740.
Using the Best All-In-One Wireless Printer: What It's Like
All-in-one printers come with everything you need to print, scan, fax, and copy in one device. This particular model also offers a wide variety of printing options, including black and white prints and color prints. You'll also be able to print photos and documents via this printer, making it an even more versatile choice than other models on the market today.
The best all-in-one wireless printer is ideal for home printing needs as it provides fast speeds and quality prints. In addition, it is compatible with several devices, including smartphones, tablets, and computers.