Key Points
Our choice for the #1 Best Overall 3D Printer is the Original Prusa i3 MK3S+.
There is a wide range of 3D printers designed to fit any need and budget!
With a 3D printer, you can take an idea in your head and turn it into something real!
When picking out a 3D printer, you should consider the price, what material it works with, its print method, and, most importantly, the build volume.
In recent years, 3D printers have surged in popularity while dropping in price. With the increased demand also comes a wave of competition, with more and more companies wanting to enter the market.
The problem for buyers is that it is very difficult to pick the best. So, we will take a look at the five best 3D printers for both professional users and hobbyists.
Most 3D printers use a spool of filament to build layers of an object, while others rely on liquid resin. Similarly, many 3D printers on the market target hobbyists, but there are also a lot of machines designed for commercial applications.
In addition to these differences, there is also a dramatic difference in quality and features that you must carefully consider. To make your life easier, we've gathered the best options right here:
#1 Best Overall 3D Printer: Original Prusa i3 MK3S+
Best Overall
Original Prusa i3 MK3S+
Upgraded with a new SuperPINDA probe for improved first-layer calibration

High-quality Misumi bearings

Automatic Mesh Bed Leveling, filament sensor, power loss recovery
We earn a commission if you make a purchase, at no additional cost to you.
After many years on the market, the Original Prusa i3 MK3S+ is still the best overall 3D printer you can buy. Although the latest MK3S+ came out back in 2020, it was only a slight revision of the original i3 design that debuted over a decade ago.
During that time, Prusa made numerous hardware revisions as they worked on the perfect 3D printer. On the surface, the Prusa i3 looks like many other 3D printers on the market. Most notable is the upper support structure, with a power supply mounted on the side.
In fact, it loosely resembles the Ender 3. However, it uses very high-quality parts and German craftsmanship to deliver the absolute best 3D printing experience.
One of the biggest differences between the Prusa i3 and cheaper alternatives are the dual Z-axis motors. Additionally, the 3D printer comes with sensors to auto-level and detect when the filament has run out.
Prusa also makes a wide range of accessories for their printers, including a mechanism to swap filaments in the middle of prints, and even full enclosures. The company's marketing has always emphasized the reliability of its printers.
Prusa believes in their product so much that they actually use a farm of i3 printers to make its parts. This is a major consideration, as many cheaper options require a lot of tinkering. However, this comes at a cost, with a starting price of $750. You should also check out the newly released MK4 from Prusa, which has new features, like a color screen.
| Pros | Cons |
| --- | --- |
| It's one of the most reliable 3D printers for hobbyists. | It's quite expensive. |
| It's packed with features that make it easy to use, | A newer model has recently come out. |
Check out the Original Prusa i3 MK3S+ on Amazon.
Best Budget 3D Printer: Creality Ender 3
Best Budget Option
Ender 3 3D Printer
Resume Printing Function
Easy and Quick Assembly
Advanced Extruder Technology
Safety Protected Power Supply
We earn a commission if you make a purchase, at no additional cost to you.
The best budget 3D printer is the Creality Ender 3. A lot of 3D printers have come and gone over the years, but much like the Prusa i3, the Ender 3's popularity remains strong.
The original Ender 3 came out in 2018, and five years later, the base model remains largely unchanged. What set the Ender 3 apart was its low price point and ease of use.
The included features are not very impressive today, but budget printers in 2018 were few and far between. Cheap 3D printers at the time often didn't come with heated beds. Additionally, power supplies regularly failed, and the frames were not rigid. The Ender 3 improved on what it needed to while still staying as simple as possible.
The base model comes with a monochrome screen and a glued-on mat. The mainboard, on some variations, is very loud. Finally, the filament goes through an indirect drive feed which relies on a Bowden tube. Unlike higher-end models, you will also need to manually adjust the bed with springs underneath.
Despite a number of downsides, the Ender 3 is still the best printer under $200. It can also print a wide range of materials like PLA and ABS on its 8.66″ x 8.66″ x 9.84″ bed.
If you have a little more money to spend, then you will at least want to upgrade to auto bed leveling and a glass bed. The good thing about the Ender 3 is that you can always upgrade parts later. But don't forget to consider the Ender V2 and Neo.
| Pros | Cons |
| --- | --- |
| It's one of the cheapest options. | It has a very basic design that leaves out some features. |
| It has plenty of upgrade options. | It requires a fair bit of tinkering to keep everything working. |
Check out the Creality Ender 3 on Amazon today.
Best for Professional Users: Ultimaker S5
Best for Professional Users
Ultimaker S5 3D Printer
Dual extrusion capability

The heated bed allows for ABS printing

Print Core system enables the simple swapping of hot ends
We earn a commission if you make a purchase, at no additional cost to you.
The Ultimaker S5 is the best 3D printer for businesses and professional users. The printers covered so far target average consumers, but do not meet the demands of commercial users.
There is growing demand from businesses for 3D printers thanks to their ability to prototype models in real-time. The problem is that smaller consumer printers just cannot keep up with this high usage.
Professional 3D printer users need a combination of speed, accuracy, and reliability. All the while, they are not nearly as concerned with the price tag.
This is where the S5 comes in, as it works very similarly to the other printers but uses better components. It also looks like a finished product, unlike the Ender 3 and Prusa i3, which are just basic frames.
The S5 is fully enclosed, which is great for keeping in the potentially harmful byproducts of the melting filament. Speaking of filament, it does work with common types such as ABS, PLA, CPE, TPU, and PVA.
The back of the machine holds two spools, each having a dedicated low filament detector. There are two extruders to print with two different materials at once.
Unlike other professional 3D printers, the S5 is still pretty compact, and it can even fit on an office desk. It also has a large build volume for a desktop printer at 11.8″ tall x 13″ x 9.4″.
The bed also has auto-leveling, and the color touch screen is very intuitive. While S5 comes in at almost $7,000, it delivers a premium and cohesive experience from computer to design to physical model.
| Pros | Cons |
| --- | --- |
| It's fully enclosed. | It's the most expensive option. |
| The interface is easy to learn and use. | It offers a relatively small build volume for the price. |
Take a look at the Ultimaker S5 on Amazon today.
Best for Larger Prints: Elegoo Neptune 3 Max
If you need a big 3D printer, then the Elegoo Neptune 3 Max is the best choice for large prints. Elegoo is gaining a lot of traction in the 3D printer market with its growing product line of affordable printers.
More so, Elegoo also packs in a lot of features for the price, and the Neptune 3 Max is one of the largest options for a budget 3D printer. The downside is that prints will take a really long time to complete.
Because of the way 3D printers work, prices for large-format models quickly get very expensive. The reason for this is that they require longer lead screws and extrusions.
In addition to the component costs, shipping these larger models is very high, and that is assuming you must assemble it yourself. Fortunately, there are some affordable options, like the Neptune 3 Max, that start in the $500 range.
For years now, 3D prints have been limited to small build surfaces. But small printers still let you make a lot of stuff, and larger builds take insane amounts of time.
But if you want to move past gluing multiple small pieces together, then the Neptune 3 Max's 16.5″ x 16.5″ x 19.7″ volume is perfect. It even comes with a lot of good features like a color display, filament sensor, and direct-drive head.
Most people who purchase a large format printer also own a smaller printer to do more detailed work. The Neptune 3 Max does a really good job with details, but it really shines with large prints.
The most common use is for cosplay pieces like helmets and shields. Best of all, the price is staggeringly lower than a comparable Creality model, which actually costs more than double the price.
| Pros | Cons |
| --- | --- |
| The massive build area is great for cosplay parts. | It's one of the newer options on the market. |
| The price is very low for a large-format printer. | It uses basic Cartesian frame from small printers. |
Check out the Elegoo Neptune 3 Max on Amazon.
Best 3D Resin Printer: ANYCUBIC Photon Mono 2
Best 3D Resin Printer
ANYCUBIC Photon Mono 2
Uses a 6.6-inch monochrome LCD screen with a resolution of 4096 x 2560

Anycubic LighTurbo matrix provides a more stable and uniform parallel light source

Adopts laser engraved platform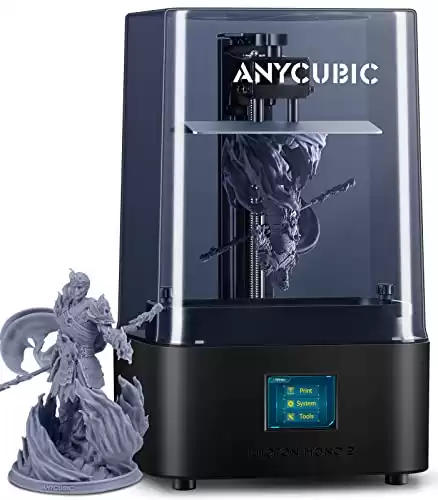 We earn a commission if you make a purchase, at no additional cost to you.
The best printer for 3D resin printing is the ANYCUBIC Photon Mono 2. All of the 3D printers covered so far have been FDM, meaning they use different types of heated filament.
The filament gets extruded onto a heated bed one layer at a time. A resin, or SLA printer, uses light to flash a liquid resin into a solid piece of plastic one layer at a time.
The process is much faster and more accurate than FDM, but it has some drawbacks. The build surface on most resin printers is small compared to FDM printers.
Additionally, the resins are not only messy, but they also require special handling and safe storage of chemicals. Finally, prints require proper cleaning once they are complete to remove the resin.
Resin printers were once very expensive and far beyond the reach of hobbyists. But, in recent years, more affordable machines like the Photon Mono 2 have hit the market.
It has a print size of 7.87″ x 8.58″ x 4.84″, making it good for small pieces and prototypes. There are also smaller models, but you probably don't want to go any smaller than this model.
While you can save money with a smaller print size, the Mono 2 still comes with a price tag in line with large-format FDM printers. The nice thing about the Mono 2 is that it uses linear rails and comes with an easy-to-use interface.
You will need to buy resin, and you can even get a bundle with a curing box. The printer requires a spliced file and, once complete, the model will need to cure and be washed.
| Pros | Cons |
| --- | --- |
| It produces very nice prints. | Prints require proper handling and cleaning. |
| It's much faster than FDM printers. | It has a very small build volume. |
Take a look at the ANYCUBIC Photon Mono 2 on Amazon today.
How to Pick the Best 3D Printer: Step by Step
When buying a 3D printer, there are four main considerations for most buyers:
Build Volume
Print Method
Price
Compatible Materials
Let's review each of these criteria in more detail.
Build Volume
The first consideration should be the printer's build volume. This is the total usable area, meaning it dictates the maximum sized object you can make.
This is different than the total bed size because the bed is larger than the build volume. Make sure that the build volume is large enough for any prints you intend to make.
Print Method
Next is the print method, which you have two main options for. First is FDM, which is the cheapest and most common. This method uses spools of plastic that feed through a hot end that deposits the extruded plastic in layers.
The other is resin printing, which uses light to hard liquid into a plastic model. Resin printers provide more detail, but FDM is better for large models.
Price
The price of a 3D printer is a major factor because they go from a couple of hundred dollars into the thousands. The more features that a printer includes, the higher the cost.
Additionally, fully-built printers cost more than ones that require assembly. However, the build volume is one of the biggest factors when it comes to pricing.
Compatible Materials
Lastly, you need to consider the type of material that you intend to print with. The most common plastics to print with are PLA and ABS, but there is a myriad of other options.
Different printers have varying heat capabilities that determine what materials you can use. Each plastic type has unique strengths and weaknesses, so you may end up using different plastics for certain print jobs.
What to Know Before Buying a 3D Printer
As you've seen, there are many different options for 3D printers. The biggest thing that you must understand before buying a 3D printer is the difference between entry-level models and professional ones.
Hobbyist machines like the Ender 3 and even the Prusa i3 are great learning tools that you will undoubtedly benefit from. However, they do require a fair bit of tinkering to keep them working. Particularly in the case of cheap 3D printers, parts often break, and they require regular maintenance.
Therefore, businesses that place a high value on time should opt for a professional 3D printer. Not only will these provide a better experience, but you will also get customer service and warranties that do not come with hobbyist machines.
Using a 3D Printer: What it's Like
As noted, 3D printers are excellent learning tools, and they are also great for prototyping. However, there is often a misconception that all you have to do is press a button, and the object will magically appear.
Unfortunately, that is not the case, as you will first need some knowledge of 3D design with a program like Fusion 360. Once you have a model, you need to wait for it to print. Some large prints can take over a day, so you will need a lot of patience.
With printing time that long, there is also an increased chance that the print will fail. But even once it is complete, there are still post-processing steps to consider, like moving supports. While that may seem like a lot, the finished product is well worth the effort.
Summary Table
| Rank | 3D Printer | Best For |
| --- | --- | --- |
| #1 | Original Prusa i3 MK3S+ | Best Overall 3D Printer |
| #2 | Ender 3 | Best Budget 3D Printer |
| #3 | Ultimaker S5 | Best for Professional Users |
| #4 | Elegoo Neptune 3 Max | Best for Larger Prints |
| #5 | ANYCUBIC Photon Mono 2 | Best 3D Resin Printer |
The image featured at the top of this post is ©stockddvideo/Shutterstock.com.