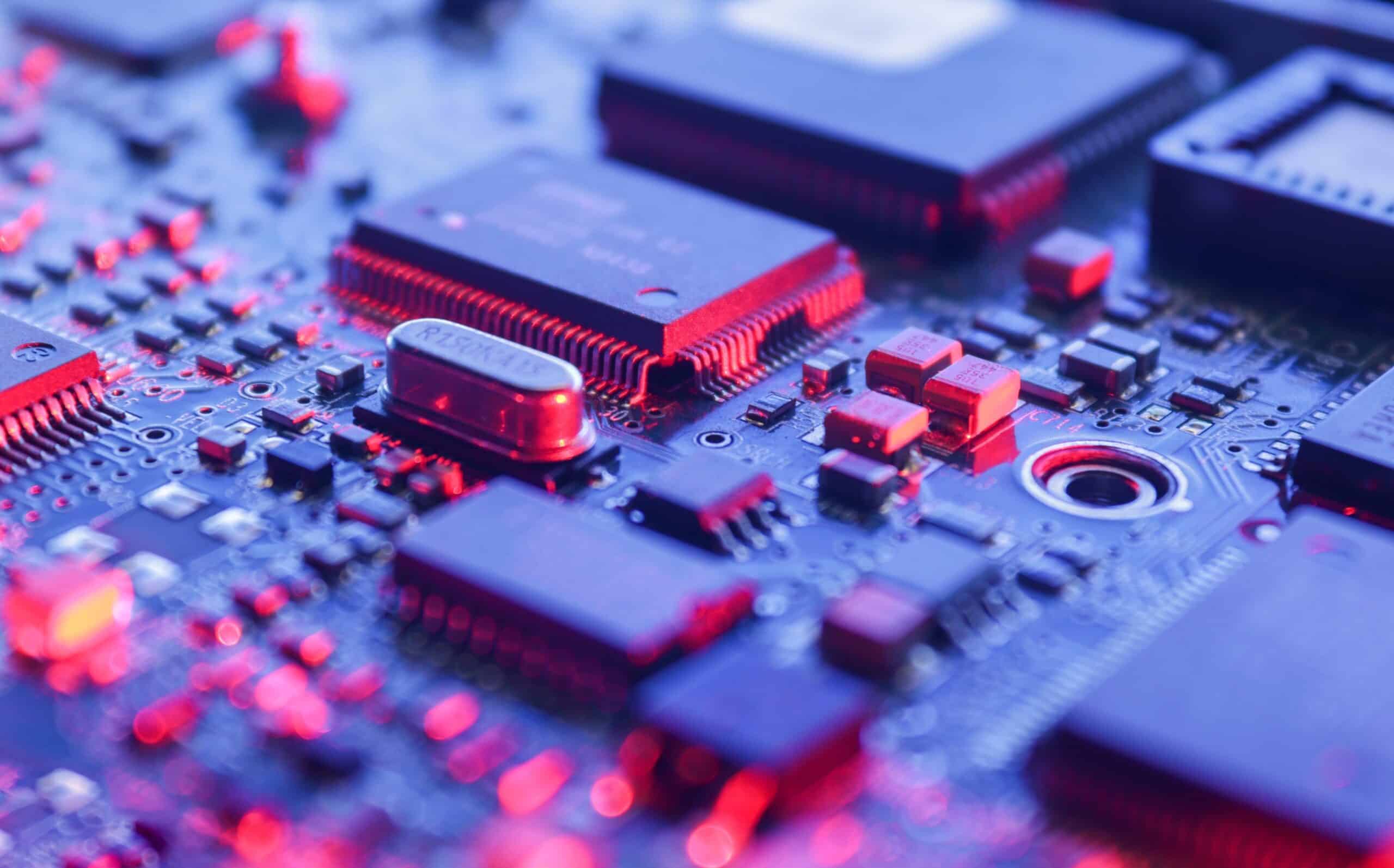 The MSI B550 is one of the most popular motherboards among gamers for building a gaming-ready PC. In contrast, there is the AMD X570, a slightly more advanced motherboard with more features, but that is not as popular as the B550, hence the common B550 vs. X570 comparison.
Since there are many differences, choosing between these two motherboards isn't just a matter of budget. Rather, these motherboards suit different purposes, so what matters most is what kind of gaming PC you want to build.
In the following comparison test, you'll learn the most important differences and facts about the two motherboards, but also which one we think is better.
B550 vs. X570: Side by Side Comparison
| | MSI B550 | AMD X570 |
| --- | --- | --- |
| Compatibility | Supports Ryzen 2nd and 3rd Gen CPUs | Supports Ryzen 3rd Gen and above CPUs |
| Dual GPU Support | Yes, PCIE 3.0 | Yes, PCIE 4.0 |
| Cooling | No | Integrated cooling fan |
| VRMs | Less | More |
| Price Point | Cheaper | More expensive |
Our Pick
We earn a commission if you make a purchase, at no additional cost to you.
B550 vs. X570: What's the Difference?
The key differences are in the features these two motherboards offer, but also in the way they can help you build your gaming rig. Below, we'll go over all the important features you should look for before making your decision.
Compatibility
The biggest difference between B550 and X570 motherboards is compatibility. Although these motherboards offer similar specifications, they're designed for different processor types. The B550 does not support Gen 1 and Gen 2 Ryzen processors, but does support 3000+ series Ryzen processors. At the time of writing, the B550 is even compatible with Ryzen 5000 series processors, but that's probably as far as its support will go.
The difficulty is that the B550 doesn't support some 3000 series processors when they're running on the Zen 2 architecture. This is something to keep in mind if you're trying to combine the B550 motherboard with a slightly older CPU.
In contrast, the X570 is compatible with both older and newer CPUs, including Gen 1 and Gen 2 Ryzen CPUs, but note that it only supports Gen 2 processors that don't have Radeon graphics. So while the X570 offers much better CPU compatibility and is a much better choice, the B550 will outlast the X570 in the long run as it'll also support newer CPU series.
Overclocking and Performance
The X570 is a much more robust motherboard with much better cooling and power delivery. As a result, the X570 offers better overclocking capabilities and can be pushed much further than the B550. It's as if AMD built the X570 to let you get the most out of your CPU and other components through overclocking.
The B550 also supports overclocking but doesn't offer the same level of stability as the X570 due VRMs. So if you're looking to build a gaming PC and definitely plan on overclocking, choose the X570. In terms of performance, the X570 outperforms the B550 with better overclocking capabilities.
However, there are also many high-performance B550 motherboard models. So if you don't plan on overclocking but still want a decent motherboard, the B550 is still a good choice for a fairly decent gaming PC. This is one of the reasons why the B550 is much more popular with average gaming builds. Not only is it more affordable, but it can almost keep up with the X570 in performance.
Dual GPU and PCIE 4.0 Support
Dual-GPU support provides better graphics performance capabilities that are underutilized in average gaming computer builds. Both motherboards have dual-GPU support for Nvidia SLI and AMD Crossfire. However, the B550 only offers this support in the high-end models, which drives up the price of your board since you won't find this feature in the mid-range models.
The X570 is a more expensive motherboard, but in return, you get dual-GPU support without having to worry about which model you choose. Considering that PCIE support plays a big role in choosing your motherboard, another big difference is that the X570 supports PCIE 4.0, while the B550 only relies on PCIE 3.0. GPU. The X570 offers better compatibility and features, but is more expensive, while the B550 is a good fit if you're not interested in a dual-GPU setup.
Power Stability
VRM stands for Voltage Regulation Modules and is a part of the motherboard. The more VRMs a motherboard has, the better it can keep the power stable. AMD equipped the X570 with many more VRMs, which means it offers better control over power delivery. It can thus power all components efficiently. This is especially important if you're building powerful gaming rigs.
Even though the B550 has fewer VRMs, that's not much of an issue if you're building an entry-level or mid-range gaming system PC. However, if you're building a high-end gaming system PC, we recommend paying attention to the VRMs and choosing a more efficient power supply, as you'll be spending a lot more money on other components as well. With more VRMs in a high-end gaming rig, your gaming PC can more efficiently and stably deliver power to the CPUs that need it for stable operation.
Therefore, the X570 is a much better option as far as VRMs and power stability go, but it's not a necessity for every gamer out there. Many will be fine with the B550, but it all depends on what kind of gaming rig you're building.
Cooling and Price
Cooling is closely related to overclocking capabilities and power output. This means that the X570 has much better cooling (built-in cooling) as it gives users much better overclocking capabilities and distributes power to components far more efficiently. It's important to note that built-in cooling isn't standard and you won't find it in all motherboards, but it's a necessity for high-end gaming PC builds.
However, the B550 doesn't have integrated cooling as it has a much lower power consumption of around 6W. Meanwhile, the X570 can consume up to 15W and therefore requires a fan integrated into the motherboard. Even though the B550 doesn't come with such a fan, this isn't necessarily a drawback, as it's a feature that isn't very common but could be much needed. It all depends on what kind of gaming PC you want to build.
Concerning price, the X570 is much more expensive than the B550 motherboard. However, you also have to consider the value the X570 offers for the higher price. To clarify, premium options and much better features to go with high-end gaming PC builds. However, the B550 is a much more affordable motherboard with decent and versatile features that are more than adequate for mid-range gaming PC builds. And of course, not only is the budget for the motherboard important, but the budget for your overall gaming PC will also influence your choice.
Budget Pick
MSI B550-A PRO Motherboard
PCIe 4.0
Supports AMD's 3rd generation Ryzen CPU's
7W/mk rated thermal pad heatsink
Dual-channel DDR4 supported
We earn a commission if you make a purchase, at no additional cost to you.
B550 VS. X570: Must-Known Facts
The X570 is much more compatible than the B550 as far as supporting older generation processors, while the B550 has extended support for newer processors
The X570 offers much better overclocking capabilities and performance traceable to more VRMs and special cooling integration
Both motherboards support a dual-GPU setup, but the X570 supports PCIE 4.0 while the B550 relies on PCIE 3.0
The X570 is much more expensive than the B550
B550 vs. X570: Which Chipset is Better?
Technically, the X570 is a much better chipset than the B550. It offers more features and is geared to support high-end gaming PC builds. Even though it's much more expensive, the price is definitely justified, especially since you need a motherboard of this type for a high-end build.
In contrast, most gamers who want to build a mid-range or slightly better PC gaming system will be fine with the B550 motherboard. The B550 is much more affordable and versatile. Even though it lacks some features, these features shouldn't matter for mid-range gaming PCs.
Therefore, the X570 chipset is much better, but it may not be the best choice for everyone and we still consider the B550 an excellent choice for a slightly different gaming PC build.
PCIe 4.0
WiFi 6 (802.11Ax)
AMD's AM4 socket
Detailed thermal design for optimal cooling

Buy Now on Amazon

We earn a commission if you make a purchase, at no additional cost to you.

03/03/2023 11:35 am GMT

PCIe 4.0
Supports AMD's 3rd generation Ryzen CPU's
7W/mk rated thermal pad heatsink
Dual-channel DDR4 supported

Buy Now on Amazon

We earn a commission if you make a purchase, at no additional cost to you.

03/03/2023 11:36 am GMT