Most TV service providers have expensive packages with unreliable connections. However, you might want to exclude AT&T TV (currently DIRECT TV STREAM) and DirecTV. They have a well-outlined channel lineup, affordable packages, and good connections in most areas. However, often you will have to choose one over the other. The question is, which one is worth going for?
Here is a quick outline of how they compare.
AT&T TV vs. DIRECTV: Side-By-Side Comparison
| Specs | AT&T TV | DIRECTV |
| --- | --- | --- |
| What It Is | Live Streaming Internet TV Service | Digital Satellite-TV Service |
| Launched | March 2, 2020 | June 17, 1994 |
| Channel Plan | 65-150+ | 165-340+ |
| Price Range (Per Month) | $74.99–$154.99 | $64.99–$154.99 |
| Support Devices | Compatible gadgets like Roku, Android, Apple Tv, or iOS | Television satellite box, Genie Box |
| HD Screen Resolution | 720p (Live Streaming option)1080p (On Demand option) | 4k Maximum |
AT&T TV vs. DIRECTV: What's the Difference?
Now let's dig deeper into their differences.
Channel Plans
AT&T TV offers four main channel plans, Entertainment, Choice, Ultimate, and Premier, giving its customers access to Live TV, local, sports, family, general entertainment, and news channels. The entry-level (Entertainment) plan provides 65+ channels, including Animal Planet, BBC America, Fox Sports, A & E, CSPAN, and CSPAN 2, to mention a few. The Choice plan has 90+ channels, including AWE, ESPNU, Cheddar, Cooking Channel, and BTN.
Then there is the Ultimate package, which has more than 130 channels, plus AHC, BBC World News, BET Her, Discovery Family, and Logo channels, which are not part of the Entertainment and Choice plans. The Premier package completes the AT&T TV channel plans with 150+ channels in addition to Starz, Showtime, Cinemax, and HBO.
DIRECTV also has four-channel plans similar to AT&T TV, but with a wider selection of channels. The Entertainment package opens the plans with 165+ channels, including BBC HD America, BET, Bloomberg Television, CNBC, and Cartoon Network. The Choice package is the second with 200+ channels besides CGTN, CNBC World, Comedy TV, ESPNU, and Fuse channels.
Next is the ultimate plan, the third on the list, with 270+ TV channels, including FYI, i24, Logo, and BBC World News. Then finally, is the Premier plan, with 340+ channels, including the Action Max, Cinemax, More Max, and HBO Family channels.
It's worth noting that the channel lineup for both services increases as you move from the entry-level (Entertainment package) to the top-level (Premier package).
Pricing
The number of TV channels you access on each plan and how much you pay varies depending on your choice of provider, in this case, AT&T TV and DIRECTV.
AT&T TV is one of the cheapest services in the industry. Its no-contract packages range from $69.99 to $139.99 per month, while the 2-year contract plan packages range from $59.99 to $129.00 a month. On the contrary, DIRECTV offers only two-year contract plan packages ranging from $64.99 to $154.99 monthly. See the table below.
| | AT&T TV | DIRECTV |
| --- | --- | --- |
| Plans | No contract or 2-year contract | 2-year contract |
| 1. Entertainment | $69.99/mo. or $59.99/mo. | $64.99/mo. |
| 2. Choice | $84.99/mo. or $64.99/mo. | $84.99/mo. |
| 3. Ultimate | $94.99/mo. or $79.99/mo. | $109.99/mo. |
| 4. Premier | $139.99/mo. or $129.99/mo. | $154.99/mo. |
Sports fans on DIRECTV will pay extra fees to access 40+ action-packed channels available on the DIRECTV SPORTS PACK Network. The rate ranges from $3.99 to $13.99 monthly, depending on the viewer's location and the number of RSNs available. However, the cord-cutter can opt for AT&T TV, which carries multi-regional sports channels at no extra fee.
It is important to note that AT&T TV is not available to new customers but only to those who had subscribed for the services before it changed to DIRECTV STREAM. This means new customers can only subscribe to the DIRECT STREAM, which has slightly more channels.
Equipment and Installation
What's appealing about AT&T TV is that it offers consumers a streaming device at an affordable rate compared to DIRECTV. The device costs $5 per month, paid within two years or an upfront payment of $120. It is easy to install, meaning no need to hire a professional installation service.
All you need is to plug your box into the HDMI port of your TV and follow the guidelines on the instruction menu. In addition to your favorite live channel, you can access Google Play store apps like Netflix using the AT&T TV device. It is also teamed with Google Assistant, enabling you to take control of your TV experience using voice commands.
AT&T TV doesn't limit you to certain ISPs. You can use it with any internet provider available in your location with at least 8 Mbps download speed. Not to mention, it works on a wide range of Android and iOS products as well as Chromecast devices, ROKU, Fire TV, and Apple TV.
As for DIRECTV, you may consider booking an appointment with the company's local dealers for a professional installation. It comes with a satellite dish, a remote, a receiver, an activation card, an HDMI cable, and a Genie box (one of the most preferred DVRs on the market). The satellite dish should be installed away from obstructions. Otherwise, you will experience poor or no reception.
What's appealing is that DIRECTV offers free DRV and installation services and does not charge monthly fees. But remember, if you want to access the service from multiple devices, you will need a receiver for each gadget, which will cost you an extra $7/mo. for every additional receiver. The DIRECTV equipment supports a maximum of eight TV receivers per account.
Coverage
AT&T TV is available nationwide. Like Hulu and YouTube TV, it streams through the internet. Thus, you can access its services anywhere in the country; you only need reliable internet connectivity. It lets you deactivate background data or stop downloads when streaming Live or sports channels.
With DIRECTV, you can stream anywhere, at home, in your RV, or on a flight. You only need the DIRECTV system, a well-functioning receiver, a subscription to your preferred package, and reliable satellite TV coverage.
Remember, your location and choice of TV package will determine what channels you will receive from either AT&T TV or DIRECTV.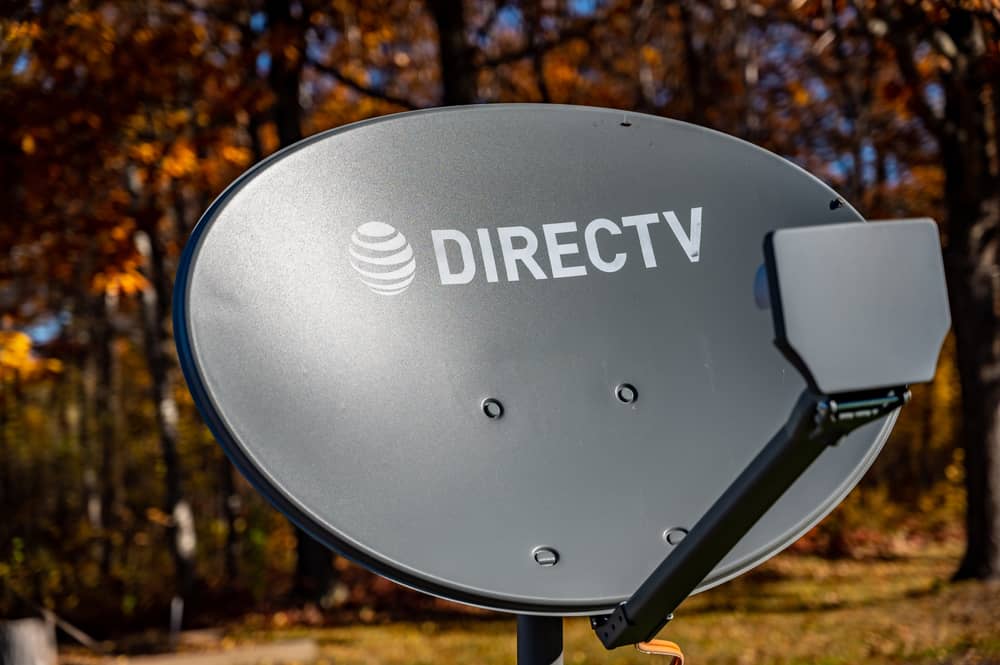 DVR Recording
You can record your favorite shows or music on both AT&T TV and DIRECTV.
AT&T TV Customers enrolled for the no-contract packages get 20-hour cloud DVR storage each month at no extra fees. There is also the option of the 500-hour package, which comes with unlimited cloud storage at an additional cost of $10/mo. However, the recordings automatically expire after 90 days.
On the other hand, DIRECTV customers using the Genie DVR get 1TB HD storage of up to 200 hours on the TV plan of their choice. But, they can choose other options like the Hopper 3 (Dish DVR) and pay an extra $10/mo. for up to 500 hours of storage.
AT&T TV vs. DIRECTV: 6 Must-Know Facts
Besides TV services, AT&T TV offers cloud DVR recording and on-demand video services.
DIRECTV supports in-flight television services.
DIRECTV premium plan has over 340 channels, whereas AT&T TV has 150+ channels
AT&T TV is the current DIRECTV STREAM.
You can use AT&T TV with any internet provider.
You can bundle both DIRECTV and AT&T TV with the AT&T internet plan of your choice.
AT&T TV vs. DIRECTV: Which One Is Better? Which One Should You Use?
Both TV services grant access to Live TV, local channels, regional and national sports, and news channels on different plans with varying price points.
Whether to pick AT&T TV or DIRECTV will depend on your preference, financial abilities, and the availability and reliability of the specific television provider. That said, if you reside in an area with no satellite signal, then AT&T TV will end up as your only choice in this case.
However, where the two services are available, choose DIRECTV if you're a sports fan or a binge-watcher looking forward to accessing a greater variety of channels. But you should expect to cough up extra fees than you will pay for similar plans under AT&T TV.
The image featured at the top of this post is ©Stock-Asso/Shutterstock.com.