When in the market for an internet provider, it is well worth it to take time and evaluate all the viable options. The process can be intimidating, but it will help you find the best fit for your needs. This article compares two of the best ISPs in the nation: AT&T Internet and Spectrum.
AT&T is the world's third-largest ISP serving over 53 million households across 21 states; Spectrum is the world's second-largest cable provider and the fifth-best ISP globally, with over 32 million subscribers across 41 states.
That said, if you are shopping for home internet and these two ISPs are your top options, keep reading to help determine which is the perfect fit for you.
AT&T Internet vs. Spectrum: Side-By-Side Comparison
| Feature | AT&T Internet | Spectrum |
| --- | --- | --- |
| Parent Company | AT&T Communications | Charter Communications |
| Internet type | Fiber, Fixed Wireless, and DSL | Cable |
| Monthly Pricing | $55 – $180 | $49.99 – $89.99 |
| Speed | 25 Mbps – 5,000 Mbps | 300 Mbps – 1, 000 Mbps |
| Data Cap | No (fiber), 350GB Data Cap on Fixed Wireless plans | No |
| Contract | No | No |
| Customer Rating | 4.3 | 3.9 |
| Website | www.att.com/internet/ | www.spectrum.com  |
AT&T Internet vs. Spectrum: What's the Difference?
Internet Connection Type
If you sign up for AT&T's home internet service, you can access AT&T fiber, DSL, or fixed-wireless plans. Unlike DSL and fixed wireless connections, fiber connections provide symmetrical internet speeds, meaning download and upload speeds are the same. AT&T fiber also delivers faster internet speeds, with its fastest plan offering up to 5,000Mbps.  Therefore, if your home is fiber-ready, you would be better off with AT&T's fiber plan than a DSL or fixed wireless internet plan. 
AT&T's DSL connections enjoy a wider coverage than the fiber and fixed wireless connections, but speeds won't get higher than 100Mbps. Nevertheless, it would be good enough if your home is only serviceable for AT&T DSL. Fixed wireless is the slowest, with speeds of up to 25Mbps. It is intended for customers with no access to AT&T fiber and DSL internet plans. 
On the other hand, Spectrum provides its internet through a hybrid fiber-coaxial network, which is more reliable and has better download speeds than DSL, Satellite, and fixed wireless connections. It delivers speeds of up to 1Gbps, quite higher than what you get from AT&T's DSL and fixed wireless internet plans.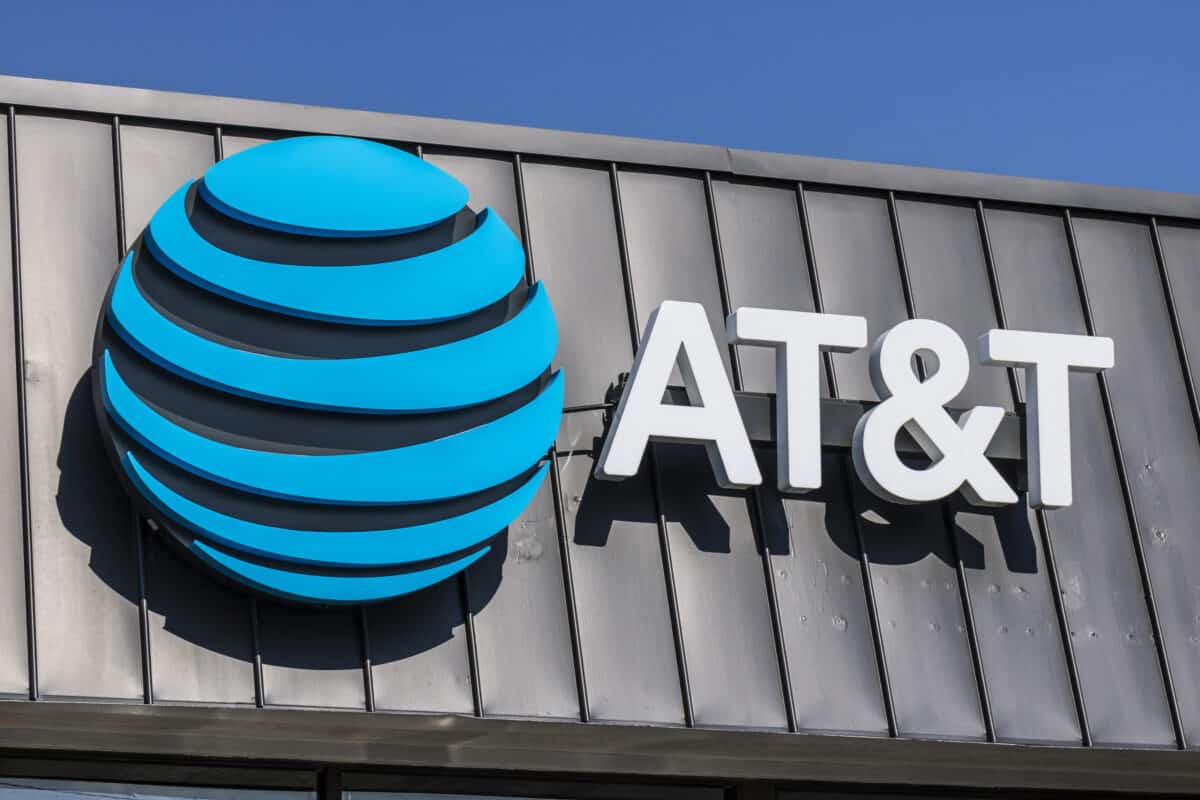 Internet Plans, Speed, and Pricing
AT&T provides contract-free internet plans, with the cheapest package starting at $55/mo. Compared to Spectrum, it has more plan options, though at slightly higher monthly rates. 
Let's dive into the details!
AT&T Fiber Plans (No Data Cap)
| Plans | Pricing | Download& Upload Speed |
| --- | --- | --- |
| Internet 300 | $55/mo.  | 300 Mbps |
| Internet 500 | $65/mo. | 500 Mbps |
| Internet 1000 | $80/mo.  | 1 Gbps |
| Internet 2000 | $110/mo. | 2 Gbps |
| Internet 5000 | $180/mo. | 5 Gbps |
Plans
Connects
Best For
Internet 300
10 devices
Streaming videos
Gaming
Sharing large files
Internet 500
11 devices
Binge viewing
Online gaming
Sharing large files
Internet 1000
12 devices
Power users
Professional gamers
Internet 2000
12+ devices
Streaming
Gaming
Working
Video chatting
Internet 5000
12+ devices
Streaming
Gaming
Working
Video chatting
AT&T Fixed Wireless (Comes with 350 GB Data Cap and Overage Charges)
| Bundled Wireless Service | |
| --- | --- |
| Pricing | $59.99/mo. |
| Download Speed | 25 Mbps |
| Connects | Multiple devices |
| Best For | Users in rural areas with limited internet options |
AT&T DSL Plans
| Plan | Pricing | Download  Speed |
| --- | --- | --- |
| Internet 25 | $55/mo. | 25 Mbps |
| Internet 50 | $55/mo. | 50 Mbps |
| Internet 100 | $55/mo. | 100 Mbps |
Plan
Connects
Best For
Internet 25
2-3 devices
Photos & video sharing
Gaming 
Low Streaming
Internet 50
5-7 devices
Photos & video sharing
Gaming 
Moderate streamers
Internet 100
Up to 10 devices
Photos & video sharing
Gaming
Sharing large files
High streaming
Note that your internet speeds from DSL and fixed wireless plans depend on your location.
Spectrum Plans (No Data Cap)
Spectrum has three contract-free internet options. The cheapest plan starts at $49.99/mo. Spectrum's internet prices are consistent across the board and are bound to increase after every 12 months. Below is an outline of Spectrum's Internet Plans.
| Internet Package | Starting Price-First 12 months | Download Speeds |
| --- | --- | --- |
| Spectrum Internet Standard | $49.99/mo. | 300 Mbps |
| Spectrum Internet Ultra | $69.99/mo. | 500 Mbps |
| Spectrum Internet Gig | $89.99/mo. | Up to 1 Gbps |
Internet Package
Upload Speed
Best For
Spectrum Internet Standard
10 Mbps
Live Streaming, Remote working
Browsing
Spectrum Internet Ultra
20 Mbps
Telecommuting
Gaming
Surfing
Spectrum Internet Gig
35 Mbps
Professional gaming
Sharing large files
Streaming
Telecommuting
Spectrum Internet subscribers are likely to experience slower speeds during peak use hours.
AT&T Internet and Spectrum seem to duel for the lead in fast internet connections in their respective coverage areas. However, at the time of this writing, AT&T takes the crown for being the fastest. Unlike Spectrum, which offers a maximum speed of 1000Mbps, AT&T delivers speeds of up to 5Gbps on its fiber internet (5GIG plan). Nevertheless, Spectrum promises more consistent internet speeds than AT&T. 
Installation and Equipment
AT&T and Spectrum offer both self-installation and professional installation services. Thus, you can get a professional to set up your AT&T Internet and fork over $99.00 for the services or do it yourself at no cost. It's easy to set up your AT&T internet equipment, but only if your home is wired for the internet service you are getting. Alternatively, you will need a professional installation.
AT&T does not charge for the AT&T fiber equipment (i.e., modem, gateway, or router), but you will pay a monthly equipment fee of $10 on other internet plans.
On the other hand, Spectrum charges an activation fee of $24.99 for self-installation — quite unbelievable! If you get a technician to set up the internet, you will pay a $59.99 Pro Installation fee and $49.99 for the Wi-Fi Pod installation. You will also incur equipment fees of $5/mo. for a Wi-Fi router and $3/mo. for every Wi-Fi Pod unit connected.
Instead, you can buy your own equipment and get rid of the monthly charges, but be ready to spend over $500 on Spectrum's approved router.
Extra Costs (Cancellation and Late Fees)
Remember, if you opt for an AT&T contract plan, you subject yourself to early termination fees. The charges are calculated at a rate of $15/mo. Thus, you may end up paying $360 if you cancel your two-year contract in the first month, because the fee is based on the time left in your contract. You also risk paying a late fee of up to $9.00 if you fail to pay your account in full on the due date.
On the other hand, Spectrum's internet subscribers do not have to commit to any agreement, which means they are not subjected to ETF (early termination fees). However, missing the payment dates may attract late fees of about $8.95, though the rates may be low or high depending on where you live.
Availability
Spectrum and AT&T rank among the top internet service providers nationwide, but Spectrum has a wider availability in terms of coverage. AT&T is working to grow its fiber coverage which is now available mainly in urban and suburban areas. But Texas, Florida, and California have the greatest coverage. That means subscribers in these States enjoy better connections and faster speeds than those in the other regions.  
Spectrum has broad coverage in the northeastern regions, with Wisconsin, New York, Maine, North Carolina, and Ohio enjoying better internet connections. If you want to know whether Spectrum or AT&T's internet services are available in your area, visit the provider's website and plug in your address. You will get to see all the internet plans available.
Deals and Promotions
Once in a while, AT&T and Spectrum extend offers to their customers. You, too, can enjoy these offers after subscribing to your preferred internet services. Often, AT&T will offer free streaming subscriptions and reward cards on fiber plans. It seems like a strategy to get many new subscribers on the fiber plans, considering that the company aims to double its fiber footprint by 2025. Spectrum offers a one-month money-return assurance and rewards the Double and Triple Play bundles subscribers with a buyout program.
Contracts
As mentioned above, you do not require an annual contract to purchase AT&T or Spectrum internet. However, to qualify for AT&T deals and promotions, you will require to sign up for a one or two years contract. This subjects you to EFT (Early Cancellation Fees). Conversely, no contract is needed to access Spectrum's discounts; you only need to be an existing customer.
AT&T Internet vs. Spectrum: Pros and Cons
| AT&T Pros | Cons |
| --- | --- |
| Broadly available, especially in major metro areas | Limited coverage in the rural areas |
| Manageable monthly costs | High installation fees |
| Excellent customer service | A 350 GB monthly data cap on the fixed wireless connection |
| Numerous plans | |
| Fast internet speeds | |
| Unlimited data | |
| Great deals and promotions | |
| Spectrum Pros | Cons |
| --- | --- |
| Unlimited data | Self-install fee |
| Free Out-Of-Home WiFi network | Extra monthly charges for WiFi service |
| Affordable internet plans | Few discounts and promotions for the existing subscribers |
| Consistency, dependable speeds on all plans | |
| Free security suite | |
AT&T Internet vs. Spectrum: 5 Must-Know Facts
AT&T Internet is among the fastest internet providers; it offers speeds of up to 5,000Mbps.
AT&T Internet is available in 21 states, while Spectrum serves 41 states.
Spectrum offers Spectrum Voice, Spectrum Mobile, Spectrum TV, and Spectrum internet.
Spectrum internet plans have free antivirus.
The entry AT&T internet plan offers a fixed wireless option.
AT&T Internet vs. Spectrum: Which One Is Better? Which One Should You Use?
Several elements come into play when choosing an ISP, and the biggest deciding factor is internet availability. However, in a scenario where AT&T and Spectrum internet connections are available in your location, you will need to evaluate the speed, pricing, and cost, among other factors.
If speed is your determining factor, purchase AT&T internet, but only if AT&T Fiber is available at your place of residence. Otherwise, you may need to consider other fiber internet services available to you.
However, if you want to balance performance and cost, opt for Spectrum's cable internet. It may not be as fast as AT&T's fiber internet, but it delivers powerful internet and enjoys consistent speeds. 
Anyhow, whether you settle for AT&T internet or Spectrum, ensure you choose a plan that works for you, depending on what is available in your area. However, if Spectrum and AT&T are unavailable in your location or offer slow speeds, you may consider your other potential providers.