AT&T and Comcast are America's biggest ISPs. It's almost a certainty that one or other of these internet behemoths will be able to hook you up to the high-speed internet your household needs. AT&T has great fiber coverage and Comcast is cable, but which of the two will be right for your home?
In this article, we look at AT&T and Comcast to figure out how they stack up. Read on for all the speeds, plans, and prices you need to know to select the best ISP for your home.
Comcast vs. Spectrum: A Side-by-Side Comparison
AT&T Fiber
Comcast
What is it?
Full fiber internet service provider (ISP)
Cable and fiber internet service provider (ISP)
Primary Use
Broadband internet access
Broadband internet access
Initial Release
2014
2010
Influential Developers
John T. Stankey (CEO)
William Kennard
Thaddeus Arroyo (Chief Strategy and Development)
Jeremy Legg (CTO)
Dave Brown (CEO of Xfinity)
Dana Strong (Xfinity Consumer Services President)
Matthew Strauss (Xfinity Services)
Max Uplink Speed
Up to 5 Gbps
Up to 6 Gbps
Max Downlink Speed
Up to 5 Gbps
Up to 6 Gbps
Contract?
No
Yes, for some plans
Throttling?
No
No
Data Limits?
No
Yes, 1.2 TB cap
Monthly Subscription
Between $55 and $180
Between $65 and $300
Additional Fees
$99 installation fee, $10 monthly gateway hire fee
$100 installation fee, $14 monthly gateway hire fee
Equipment Provided
Wi-Fi 6 router and Optical Network Terminal (ONT)
Wi-Fi 6E gateway/hub
Locations Available
21 states in the U.S.
40 states in the U.S.
AT&T: Everything You Need to Know
AT&T, Inc. is the world's largest telecommunications company, with revenue in the billions annually. This multinational telecommunications holding company, based in Dallas, Texas held the monopoly on telephone services in the U.S. throughout the 20th century and is currently the third-largest cellphone company in the country.
AT&T was founded as the American District Telegraph Company in 1878. It then became a subsidiary of the Bell Telephone Company (Southwestern Bell) founded by Alexander Graham Bell in 1877. In 1995, following an antitrust lawsuit, the company was rebranded as AT&T Corp.
AT&T has grown through a variety of mergers and acquisitions, most notably the acquisition of Cingular Wireless in 2006 and becoming the controlling shareholder of Time Warner in 2016. It also owns Warner Bros. Discovery.
AT&T's key telecommunication services include:
Cellular and landline phone services
DSL internet
Dedicated internet
IoT services
VoIP
Web conferencing
What is AT&T Fiber?
AT&T Fiber is the high-speed fiber internet service from America's number one ISP, with a consistent 5 Gbps headline maximum speed. AT&T Fiber Internet uses the latest fiber optic networking technology to deliver super-fast connectivity to your property. Fiber optic cable is completely different from the coaxial cable technology provided by cable companies. Instead, thin strands of glass conduct your data at speeds that eclipse cable and DSL.
AT&T is a leading provider of next-generation access (NGA) technology Fiber To The Property (FTTP), a last-mile networking solution that uses optical fiber rather than cable. This is part of a major nationwide transition to networks that are partially or totally fiber-based. Fiber optic broadband internet delivered enhanced speed and quality of service (QoS) when compared to cable. It has a high bit rate and capacity, making it suitable for high-throughput applications.
Optical fiber cables in the network are made from superfine glass strands that are thinner than a single strand of human hair. These flexible and transparent fibers have almost flawless clarity. Light is transmitted down the length of the optical fiber at wavelengths between 850 and 1550 nm, carrying information that is encoded using a range of modulation techniques.
AT&T offers symmetrical fiber internet speeds ranging between 300 Mbps and 5 Gbps. The upload and download speeds are symmetrical which makes this an ideal ISP for VoIP phones, telecommunication, or virtualization, which require decent upload speeds.
AT&T Fiber is currently only available in the following 21 states:
Alabama
Arkansas
California
Illinois
Indiana
Florida
Georgia
Kansas
Kentucky
Louisiana
Michigan
Nevada
North Carolina
Mississippi
Missouri
Ohio
Oklahoma
South Carolina
Tennessee
Texas
Wisconsin.
However, the rollout of AT&T is accelerating across the country and fiber will likely reach your neighborhood soon. If AT&T fiber is not available, you can still take advantage of AT&T's nationwide high-speed DSL internet that comes straight through your phoneline!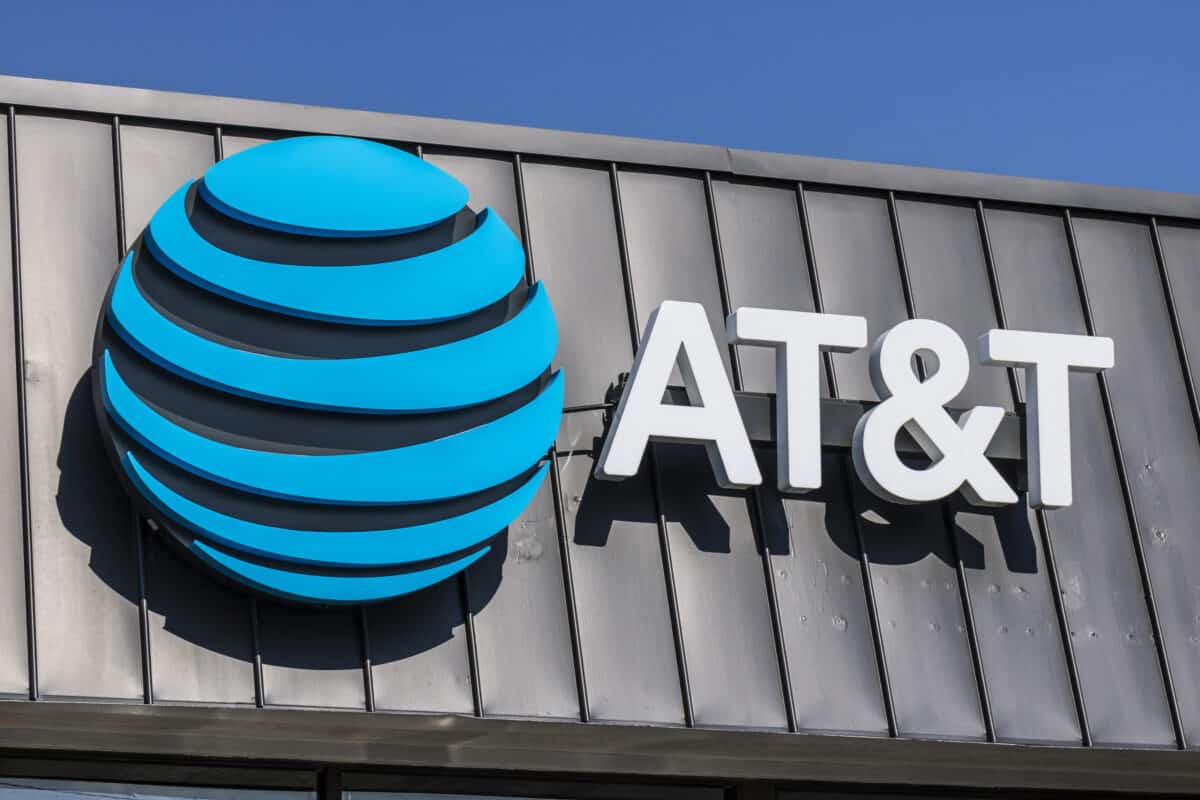 AT&T Price Plans for Fiber Internet
AT&T has uniform pricing across the U.S. A third of customers nationwide can access the fiber packages right now, with the remainder having DSL and wireless internet availability.
Below are the fiber plans.
AT&T Fiber Internet 300
Download speed: 300 Mbps
Upload speed: 300 Mbps
Price: $55 per month
AT&T Fiber Internet 500
Download speed: 500 Mbps
Upload speed: 500 Mbps
Price: $65 per month
AT&T Fiber Internet 1000
Download speed: 940 Mbps
Upload speed: 880 Mbps
Price: $80 per month
AT&T Fiber Internet 2000
Download speed: 2 Gbps
Upload speed: 2 Gbps
Price: $110 per month
AT&T Fiber Internet 5000
Download speed: 5 Gbps
Upload speed: 2 Gbps
Price: $180 per month
AT&T has no equipment fees, data caps, or price rises for its fiber packages. There are no contracts but you will need to pay a $99 installation fee.
AT&T Fiber Equipment for Home Internet
AT&T installs Optical Network Terminal (ONT) in the homes of customers. The ONT is connected to the incoming optical fiber cable and converts the transmitted lightwaves into an electrical signal and vice versa for fast internet connectivity. The ONT is usually located in your closet, garage, or utility room, or on the outside of your property in a dedicated enclosure. Once installed the INT should never be removed, even if you change provider.
AT&T also supplies Wi-Fi routers to distribute internet connectivity throughout your property. You can choose from Wi-Fi 5 and Wi-Fi 6 routers. The latest router from AT&T is the All-Fi gateway that can be used with AT&T smart wireless extenders throughout your home. All equipment comes with a mandatory $10 per month equipment hire fee included in your monthly bill.
What is Comcast?
Comcast is the largest ISP in America with coverage that spans most of the country. It provides cable broadband internet with speeds and service plans that vary according to your location. Comcast's internet services are delivered under the Xfinity brand name since 2019.
It is a popular choice for home internet due to the visibility of the Xfinity brand and its speed and reliability. Comcast previously was known for low customer satisfaction rates, but service quality and customer service have improved in recent years.
Comcast is a global telecommunications and media company that is second only to AT&T for its size and revenue. Its cable internet subsidiary, Xfinity, provides Comcast's home and business internet services across 40 states. Xfinity provides customers with:
Home telephone
Public Wi-Fi hotspots
Broadband internet
Virtual mobile networking
Xfinity is the number one home broadband provider in the U.S. with more than 31 million active subscribers. Xfinity Internet is predominantly cable-based but fiber broadband internet has been introduced in 48 cities and metropolitan areas.
Comcast has internet speeds that range between 75 Mbps and 6 Gbps. Download and upload speeds are mostly asymmetrical, which shouldn't affect activities like streaming or browsing but may interfere with upload-heavy uses like VoIP or telecommuting. If you need symmetrical speeds, Comcast's fiber plans are the best option.
Comcast Price Plans for Internet Services
Comcast Xfinity has many price plans that vary with speed and your location in the country. The published prices are promotional prices for new customers which rise after 12 consecutive months of use.
The same plan can have a $20 to $30 difference in price depending on your location in the U.S. Comcast also has contract periods of up to 2 years on certain plans and there is a 1.2 TB monthly data cap applied to all plans. As an example, we've provided the Xfinity plans for the northeast:
Performance Starter
Download speed: 75 Mbps
Upload speed: 10 Mbps
Price: $65 per month
Performance
Download speed: 200 Mbps
Upload speed: 10 Mbps
Price: $84 per month
Performance Pro
Download speed: 400 Mbps
Upload speed: 10 Mbps
Price: $30 per month initially rising to $92 after contract renewal
Contract: 1 year
Blast!
Download speed: 800 Mbps
Upload speed: 20 Mbps
Price: $60 per month initially rising to $97 after contract renewal
Extreme Pro
Download speed: 1 Gbps
Upload speed: 20 Mbps
Price: $70 per month initially rising to $102 after contract renewal
Gigabit Plus
Download speed: 1.2 Gbps
Upload speed: 35 Mbps
Price: $80 per month initially rising to $107 after contract renewal
Gigabit Pro
Download speed: 6 Gbps
Upload speed: 6 Gbps
Price: $300 per month
Contract: 2 years
Additional charges you can expect include:
$100 installation fee
$14 optional monthly router charge
$10 late payment fees
$6 reconnection fee
Comcast's plans include unlimited access to over 8,000,000 Xfinity public Wi-Fi hotspots across the country.
For a $14 monthly hire charge, you can use Comcast's range of modems and routers to get great Wi-Fi coverage throughout your home. Xfinity xFi gateways deliver Wi-Fi 5 or the latest Wi-Fi 6E coverage along with range extenders and a voice-based personal assistant. The gateways include multiple Ethernet ports for LAN home networking.
What's the Difference Between AT&T and Comcast?
AT&T and Comcast are both big hitters but there is a big difference between the fiber service of AT&T and the regular cable connectivity of Comcast. If you have AT&T fiber coverage in your area, there are the major differences between AT&T and Comcast Xfinity:
Consistent speeds: AT&T's fiber service has a high quality of service and great customer satisfaction. Speeds are consistently high with little variability or downtime. This is because AT&T fiber connectivity is 100% fiber with no coax, unlike Xfinity which has a hybrid coax fiber (HFC) network for its fiber delivery.
Symmetrical upload and download speeds: AT&T stands out with symmetrical upload and download speeds that can support even the most demanding network applications. AT&T is unique because you can rely on upload and download symmetry, even at its lower price plans.
Simple inclusive price plan: AT&T has simple pricing that stays consistent across the whole country. All plans are contract-free with unlimited data and inclusive equipment hire charges. Prices also stay flat after your first 12 months.
Similarities and Differences
Similarities
AT&T and Comcast are America's two largest telecommunications and mass media companies.
Both companies provide broadband fiber internet services to U.S. residents.
Neither AT&T nor Comcast uses throttling on their home internet plans.
AT&T and Comcast provide customers with hired WI-Fi routers for internet coverage throughout a property.
Both companies offer fiber internet, with symmetrical upload and download speeds for their fastest plan.
New AT&T and Comcast customers are incentivized with payment of any early termination fees to transfer a customer's home internet service.
The fiber service from AT&T ad Comcast is not available nationwide. Check availability in your area.
Differences
AT&T Fiber is a full-fiber service that delivers internet connectivity over an end-to-end fiber network. Comcast provides cable and fiber-based broadband internet using a hybrid fiber coax (HFC) network.
AT&T Fiber offers faster speeds for the price compared to Comcast.
Comcast offers seven price plans, but AT&T has only five.
Comcast offers maximum residential fiber internet speeds of 6 Gbps while AT&T's maximum fiber internet speed is 5 Gbps.
Comcast has a 1.2TB data cap on its monthly plans.
Comcast is available in 40 states, and AT&T Fiber is only available in 21 states.
AT&T Fiber requires the installation of a special Optical Network Terminal, while Comcast internet uses a standard cable terminal.
Comcast has a $14 equipment hire fee, while AT&T has a $10 monthly charge.
Comcast has installation costs of $100 versus AT&T's fee of $99.
Comcast Pro cable and fiber packages have 12 and 24-month contracts while AT&T has no contracts.
Is AT&T Fiber Better Than Comcast?
AT&T Fiber provides a great opportunity to benefit from fiber connectivity in your home at competitive prices. Residents in the 21 states where AT&T Fiber is available can benefit from multi-gigabit fiber for less cost than equivalent plans from Comcast.
AT&T's CEO, John T. Stankey, has made fiber network infrastructure a priority, and the fiber connectivity you'll benefit from is fiber through and through, unlike Comcast's hybrid network that uses fiber and coaxes. This means that AT&T customers can benefit from high service quality and maximum bandwidth due to this latest technology.
A major benefit of AT&T Fiber compared to Comcast is the simplicity of its pricing. Comcast not only has many plans but also varies prices by location in the country. AT&T keeps things simple with just five plans that have no contracts, data caps, or additional charges, wherever you are in the country.
Comcast vs. Spectrum: 6 Must-Know Facts
In January 2023 at the Citi 2023 Communications, Media, and Entertainment Conference, AT&T CFO Pascal Desroches reiterated the company's commitment to fiber for its long-term growth.
AT&T broke ground on its new fiber network in the city of Amarillo in December 2022. The network is expected to deliver fiber connectivity to 22,000 households and businesses in the city.
AT&T has partnered with Blackrock to become a wholesale fiber network provider.
Xfinity customers are entitled to a free Flex 4K streaming box and a remote to stream free content.
In late 2022, Comcast partnered with young people from the Boys and Girls Club of America to deliver digital skills training sessions for senior citizens in Detroit. Comcast runs Digital Navigators program to help people build confidence online.
Comcast customers face significant price rises in the coming months including an increase in equipment hire charges to $15 per month.
Final Thoughts
AT&T and Comcast are both upgrading their networks to fiber, but AT&T is much more assertive with a rollout that is 100% fiber. This takes time, limiting coverage to just 21 states so far. If you are fortunate to have AT&T Fiber in your neighborhood, the simple pricing, consistency, quality of service, and phenomenal symmetrical speeds make this home internet a great buy.
The image featured at the top of this post is ©metamorworks/Shutterstock.com.