Key Points
MSI is known as the motherboard company of choice for gaming and performance.
When it comes to raw performance, MSI typically has the edge over ASUS, but the difference is minimal.
ASUS motherboards pack more features and remain affordable, while MSI's offerings may lack support for additional hardware.
Both MSI and ASUS provide firmware support for their motherboards, but ASUS has the edge with its AI Suite and EZ Update software for easy maintenance.
ASUS offers a longer warranty period of up to five years.
Which company makes better motherboards: ASUS or MSI? Both have a long history of developing PC hardware. MSI has been known as the motherboard company of choice when it comes to gaming and performance.
While ASUS's name doesn't have the same gravitas in the gaming sphere, it makes well-designed motherboards that suit a variety of purposes. Building your next PC usually means you're looking at motherboards. Before you buy, make sure you read this guide to see which one wins.
ASUS vs. MSI Motherboards: Side-by-Side Comparison
| | ASUS Motherboards | MSI Motherboards |
| --- | --- | --- |
| Sockets Supported | Intel and AMD | Intel and AMD |
| Known for | Solid performance and affordable pricing | Great performance geared towards PC gaming |
| Design Philosophy | Clean and understated lines | More gamer-oriented with RGB support and bolder designs |
| Software Support | ASUS AI Suite III | MSI Command Center |
| Pricing | Mid-range pricing | Higher pricing generally |
| Warranty | A five-year warranty for any purchased motherboard | A three-year warranty is the standard offered |
| Product Lines Available | ROG, TUF, and PRIME are among some of the offered models | MEG, MPG, and Pro Series are among the more popular offerings from MSI |
In all honesty, you could be perfectly served by either of these companies when choosing a motherboard. It comes down more to the features you want out of a motherboard.
ASUS vs. MSI Motherboards: What's the Difference?
Now that the broader overview of these two companies has been handled, it is time for a deeper dive into some of the more popular models to see how these companies directly compare.
Performance
Our Pick
We earn a commission if you make a purchase, at no additional cost to you.
When it comes down to raw performance, MSI typically has the edge. This could come down to a few differing factors. The distance between the PCI-E lanes and the proximity of the traces on a motherboard can lead to better results.
Both the MSI MEG X570 Unify and ASUS ROG Strix X570-E are geared towards gaming. They support the same socket and have shockingly similar feature sets.
When it comes to gaming performance, when using the same CPU, RAM, and GPU, the ASUS came out ahead. However, this is a minimal edge in performance. Really, your choice of components beyond the motherboard is going to have a bigger impact on the overall performance of your desktop.
Features
ASUS motherboards seem to pack more features while still remaining fairly affordable. This is where you really start to see a divergence between these two brands. Now, features in this instance will refer to the likes of connectivity, support for additional hardware, and other additions.
When looking at the likes of the MSI MPG X570 Gaming Plus and the ASUS ROG Strix B550-F, you can see a fair divergence between the two. On paper, the MPG X570 should have the edge. However, it supports an older version of HDMI and has zero DisplayPort outputs.
You also have considerably more room on the B550-F for overclocking both your RAM and your CPU. Overclocking certainly isn't for the faint of heart, but gamers looking to eke out every last ounce of performance might find MSI's offering lacking.
Firmware Support
Our Pick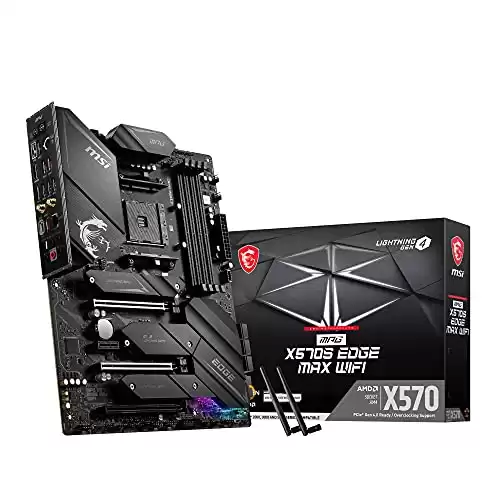 We earn a commission if you make a purchase, at no additional cost to you.
Motherboards are prone to the same sorts of bugs and glitches you'll find with any piece of computer hardware. These issues are typically addressed in the form of BIOS and chipset updates. MSI and ASUS both routinely support products from their respective lines.
As such, you're not really going to be left in a lurch when it comes to choosing a motherboard. You'll get at least two to three years of support for a given motherboard, which is fantastic if you're sticking with the likes of an AM4 socket.
AMD has stuck with the same CPU socket for years, meaning upgrading your CPU is as easy as swapping it out on the motherboard. Usually, you'll need some form of BIOS update so the motherboard can actually see the CPU. Intel sockets aren't afforded the same luxury; you're likely going to be upgrading the motherboard while upgrading the CPU.
Software Support
The BIOS of a motherboard isn't the only way to maintain a degree of control over your computer's operation. Typically, motherboard manufacturers will have the means to control the likes of RGB lighting, fans, and other accessories with the bundled software.
ASUS gets another edge here, as both the ASUS AI Suite and EZ Update make maintaining your motherboard a cinch. AI Suite handles the likes of controlling the motherboard, while EZ Update takes some of the guesswork out of keeping your BIOS up to date.
MSI's Command Center is usable but doesn't offer quite as much granular control. That said, it is perfectly serviceable and gives access to the key functions of your motherboard.
Warranty
The final point of contention with these two manufacturers comes down to warranty support. You want your purchase to have a degree of protection, especially in the event of unforeseen manufacturer defects.
MSI has a solid warranty, offering up to three years of coverage for a given motherboard. This is limited coverage, meant only for handling the likes of defects. It's decent, especially if you're more prone to upgrading PC components frequently.
ASUS has a longer warranty period for the same sort of coverage. You can expect up to five years of limited warranty support on any given motherboard. This is a huge amount of time for a motherboard, especially if you're more keen to wait on upgrading components.
As such, ASUS has the edge yet again in this comparison.
ASUS vs. MSI Motherboards: 6 Must-Know Facts
MSI has a slew of motherboards aimed expressly at providing top performance for gaming.
MSI will typically forego adding more ports to a motherboard's built-in chipset.
MSI's pricing structure tends to aim more for the high-end market.
ASUS typically manufactures motherboards for all use cases.
ASUS isn't shy about adding ports and the latest tech, like HDMI 2.1, to its motherboards.
ASUS's pricing structure targets mid-range to high-end pricing, but there are cheaper boards available.
ASUS vs. MSI Motherboards: Which One Is Better? Which One Should You Choose?
So, which of these manufacturers is the winner? ASUS honestly takes this competition and runs with it. You're getting high-grade motherboards with a slew of modern features. The pricing is competitive and you can readily get components to fit Intel and AMD CPUs.
MSI is still a great choice, and certainly won't do you any wrong for your next build. However, when looking at comparable motherboards, you're losing out on vital features like additional ports, modern HDMI support, and more PCI-E lanes.
As such, you'll want to research motherboards quite extensively before choosing one for your next build. You very well may end up with an ASUS to tie your whole rig together.
The image featured at the top of this post is ©Zoomik/Shutterstock.com.