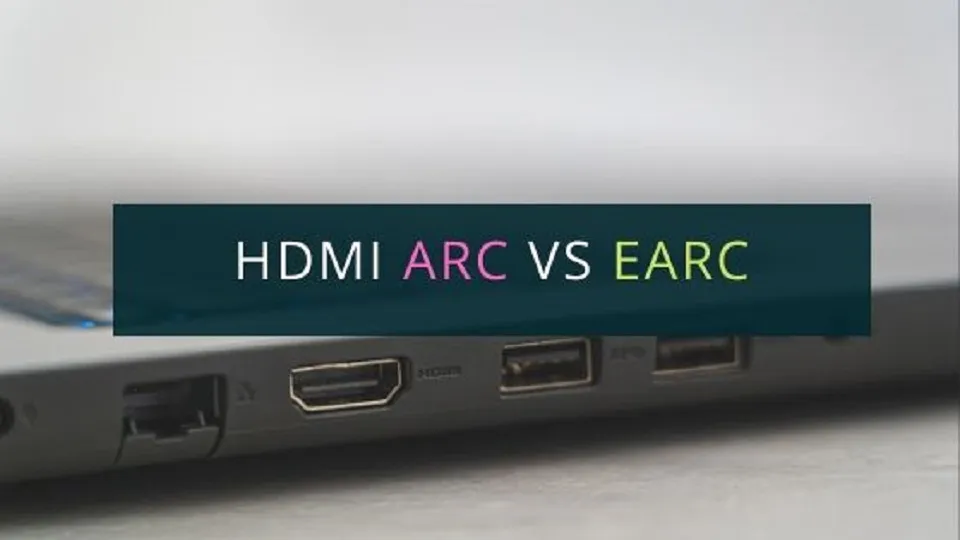 Key Points
HDMI cables are used to connect TV to an audio device, and both ARC & eARC serve the purpose.
Although they are essentially the same, the quality of output differs from one HDMI cable from the other.
As you would see here, expert conclusion is the eARC cables are capable of higher quality output and better sound quality.
ARC and eARC are great HDMI cables widely used for optimal sound transmission from your TV to an Audio-video receiver or a sound bar. ARC and eARC play the same role as Optical and coaxial audio/video cables, but they are much more advanced. HDMI ARC and HDMI eARC are considered the best for transferring HD signals because they use only one line to send and receive audio channels.
However, you should be cautious when choosing the best HDMI cable. This is because not all HDMI cables have enough bandwidth to carry high-quality video and audio. Therefore, you must purchase certified cables such as high-speed HDMI cables with Ethernet or Ultra-High-Speed HDMI Cables because they support eARC features. It is also crucial you understand whether ARC and eARC are similar or have some differences. Here is all you should know.
ARC vs eARC: Side-by-Side Comparison
| Feature | ARC | eARC |
| --- | --- | --- |
| What it is: | It's one of the main features of HDMI version 1.4 | It's an enhanced version of ARC and it was introduced as a feature on HDMI version 2.1 |
| Primary Use:  | Audio | Audio |
| Name: | Audio Return Channel | Enhanced Audio Return Channel |
| Conceived: | May 28, 2009 | November 28, 2017 |
| Transmitted audio channels: | Compressed 5.1 | Compressed 5.1, uncompressed 5.1, uncompressed 7.1 |
| Type of Cable used: | HDMI | HDMI |
| High Bitrate format support (Dolby Atmos, DTS:X): | NO | YES |
| Customer Electronic Control (CEC) support: | YES | YES |
| Data transferred/second:  | ~1 Mbits/second | 37 Mbits/second |
| Technologies Influenced: | Digital TVs, soundbars, and Audio Video receiver | Digital TVs, soundbars, and Audio Video receiver |
Summary of ARC vs eARC
ARC: The Complete History
ARC is an acronym for Audio Return Channel, introduced as a significant feature on HDMI 1.4 on 28 May 2009. ARC was presented with other exceptional HDMI 1.4 features such as 4K support that displays videos beyond 1080p, HDMI Ethernet Channel, a speed booster, 3D support, and HDMI Micro Connector. Therefore, users enjoy the benefits of ARC with other significant specifications introduced on HDMI 1.4.
In-Stat had estimated a sale of about 394 million HDMI devices by the end of 2009 and that all Smart TVs would have been installed with at least one HDMI input. Since the release of HDMI 1.4, modern television has been designed with ARC inputs.
HDMI ARC designers created HDMI Ethernet to support ARC in speedy data transfer. HEAC (HDMI Ethernet and Audio Return Channel) utilized two channels from the connector, which are HEAC+ and HEAC-. Therefore, if only ARC transmission is required, only HEAC+ is used, leading to fast audio/video data transfer. Also, the speed is boosted over the pairs of lines because HEC and ARC are separately transmitted as a differential signal and common mode component, respectively. This means the functions are divided; ARC is designed as an audio link that transfers data to and from the TV, while HEC consolidates video, audio, and data streams into a single HDMI cable. 
HDMI ARC can send and receive signals simultaneously, which means it can solely transfer data to and from the soundbar or video receiver. Therefore, you only require a single HDMI ARC cable connecting your television to the soundbar or AV receiver. You might have HDMI cables connected to your soundbar or AV receiver from other devices such as the Xbox One, Fire TV, or Apple TV. These devices send audio and video signals to your soundbar or AV receiver, and the video signals are sent to your TV by the HDMI ARC cable. Typically, Smart TVs cannot send audio signals from streaming services like Netflix to the AV receivers or soundbars. Fortunately, ARC is designed to reverse the audio signals back to the soundbar or AV receiver. 
You can connect the other devices directly to your TV or AV receiver/soundbar because both have multiple HDMI inputs. However, we recommended firstly connecting the external devices to your soundbar, then using an HDMI ARC cable, connecting your soundbar to the TV. This setup is convenient because the audio/video signals are sent directly to the soundbar eliminating the need for data compression.
ARC is supported by HDMI Consumer Electronics Control (HDMI CEC) which allows you to control all external devices such as Blu-ray players using one remote control. You can command over 15 devices connected through HDMI cables. To enable this function, you need to enable HDMI CEC on your TV. 
Most digital TVs have the HDMI ARC input; however, you may have a receiver without HDMI support. In this case, you can use an HDMI converter that matches the input option on your device. HDMI converter is used as an alternative for transmitting video and audio signals from your HDMI-supported TV to a receiver that doesn't support HDMI and vice versa. 
| Cons! | Pros! |
| --- | --- |
| It is easy to set up HDMI ARC on your TV and soundbars/AV receivers | It doesn't support object-based audio formats such as Dolby Atmos and DTS: X. |
| Only one cable is used in audio signal transmission | ARC is not backward compatible |
| Supports the Customer Electronic Control (CEC) | Its bandwidth can only transfer compressed data |
| Designed together with a high-speed bidirectional data communication link (HEC) | It can only support Compressed 5.1 channels of audio |
| HDMI ARC cables are durable compared to optical and Coaxial cables | |
| Supported in many digital television | |
| HDMI converters can be used on HDMI-unsupported devices. | |
eARC: Used in Much More Than Data Transfer
Although ARC and eARC share some similarities, eARC is more advanced. eARC stands for Enhanced Audio Return Channel and was introduced as a critical feature in the latest HDMI 2.1 specifications on November 28, 2017. The feature is designed to focus more on quality, speed, and data transfer. 
eARC has an improved bandwidth compared to ARC. Unlike ARC, which can only transmit Compressed 5.1 channels of audio, eARC is limitless and can send any Uncompressed or lossless audio codec. Therefore, if you are using a 7.1.4 channel soundbar system, eARC will be able to transmit all its sound signals. 
eARC does support high bitrate formats such as Dolby Atmos and DTS:X, which interpret sounds as 3D objects. The object-based audio formats enable soundtracks according to listener location; therefore, eARC can evenly transmit high-quality audio in the hall. Because eARC supports Dolby Atmos and DTS:X, it is widely used in movie theaters and Cinemas.  
eARC is much faster than ARC because of its higher bandwidth. It can carry audio signals at a speed of 37 Mbits/seconds. eARC, among other HDMI 2.1 specifications, was developed as Ultra High-Speed features and was referred to as 48G before its release. All the Ultra-High-Speed Cables are backward compatible, which means eARC can be supported by only ARC-compatible TVs. eARC is also advantageous because you can enjoy higher resolutions such as 4k 120 Hz and 8k 120 Hz while getting total audio channels on your sound bar or AV receiver. 
eARC Pros:
It is backward compatible
eARC supports object-based audio formats such as Dolby Atmos and DTS: X.
It has a higher bandwidth
It is faster than ARC
Compatible with many devices
It is supported in much of modern television
It can transfer uncompressed data
It can support compressed and uncompressed 5.1 and also uncompressed 7.1 channels of audio
It is among the latest features of HDMI
ARC vs eARC: Which One Is Better? Which One Should You Use?
EARC is an advanced version of ARC, making it a better choice to use. One of the significant differences is that eARC has more speed that goes up to 37 Mbits/second than ARC's ~1 Mbits/second. Therefore, if you want a fast HDMI, the weight lies on eARC. eARC also has a higher bandwidth allowing more transfer of audio channels, and the sound signals are of high quality compared to that of ARC. 
A big boost on HDMI eARC is its compatibility with object-based audio formats, enabling it to be used on Dolby Atmos and DTS: X. Furthermore, using an HDMI eARC cable is advantageous because it has an ARC fallback. This means you can connect eARC to any device that doesn't support it but has support for ARC. 
Next Up…