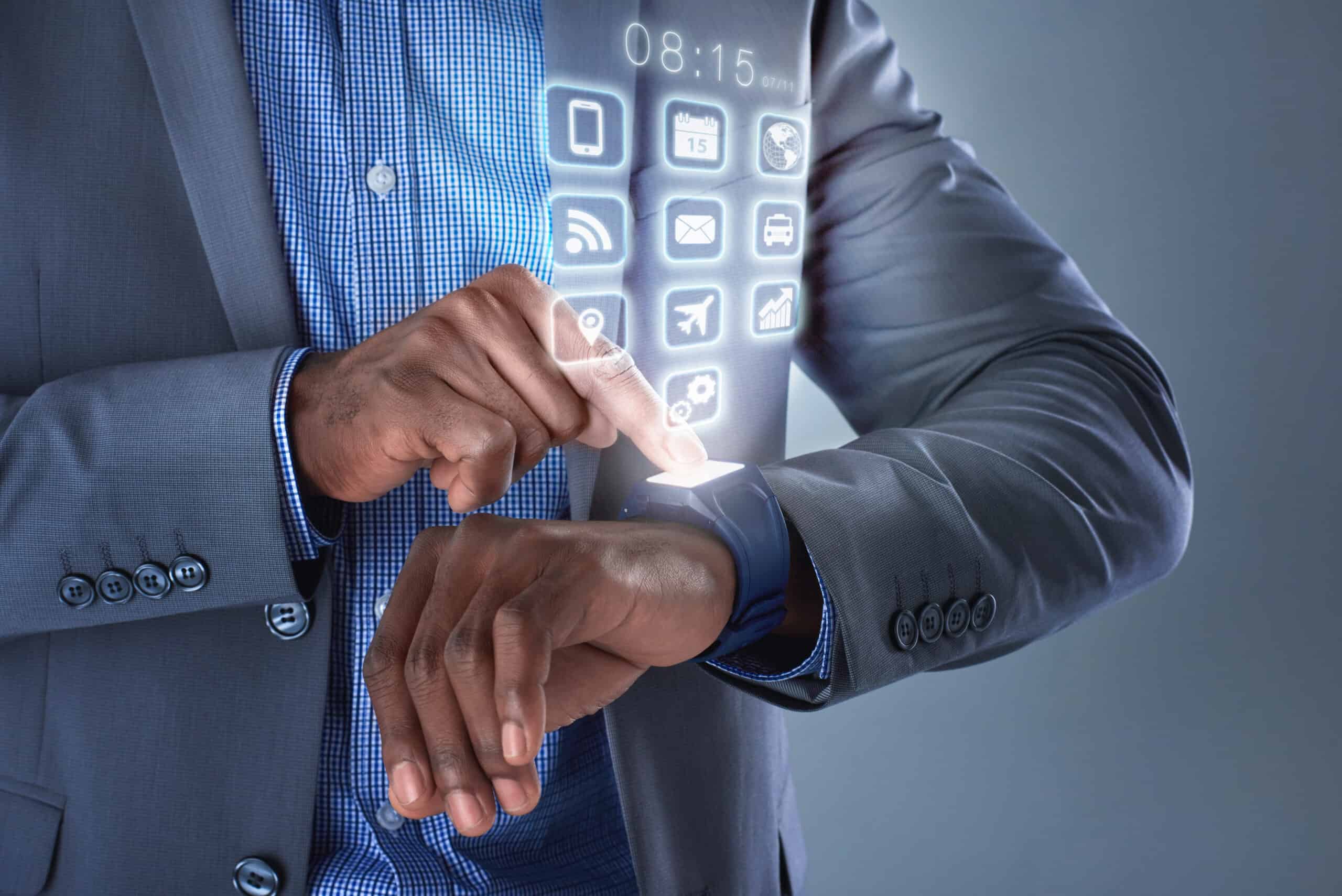 Do you intend to purchase a new smartwatch? Are you curious how the recently unveiled Apple Watch vs Samsung Watch compare? Apple and Samsung are two of the most prominent brands when it comes to producing unique smartwatches.
The Samsung Watch and Apple Watch Series 8 should be at the top of your list if you're currently looking to purchase a smartwatch. These two smartwatches are the latest release from both brands and they are both made to sync easily with your smartphone so you can manage notifications, listen to music, track your workouts, and more.
Even though it is entertaining to contrast the specifications of the two smartwatch brands, most people will choose the one that works with their current mobile device. Especially since Galaxy Watches work better with Android phones while the most recently released Apple Watches work better with iPhones. 
Keep reading if you would like to get an in-depth comparison of Apple Watch vs Samsung Watch. Ready to go? Let's get started!
Apple Watch vs Samsung Watch: Side-By-Side Comparison
| | Apple Watch | Samsung Watch |
| --- | --- | --- |
| 1st Release Date | April 24, 2015 | August 24, 2018 |
| Products | Series 1 and Series 2, Series 3, Series 4, Series 5, Series 6 and SE Series 7, Series 8 and SE Ultra | Galaxy Watch, Galaxy Watch Active, Galaxy Watch Active 2, Galaxy Watch 3, Galaxy Watch 4 & 4 Classic Galaxy, Watch 5 & 5 Pro |
| Features | Fitness monitoring, health-related features, wireless connection, and integration with iOS and other Apple goods and services | Varieties of features connected to health, fitness, and fashion |
| Operating System | watchOS | Tizen, Wear OS  |
| Developer | Apple Inc. | Samsung Electronics |
| Total Market Share (2022) | 36.1 percent  | 10.1 percent |
| Country of Origin | United States of America | South Korea |
Apple Watch vs Samsung Watch: What's the Difference?
It can be challenging to choose between the Apple Watch vs Samsung Watch, as both provide largely comparable features. Here are some crucial factors to think about when looking to get a new smartwatch.
Durability
Advanced Health and Fitness Features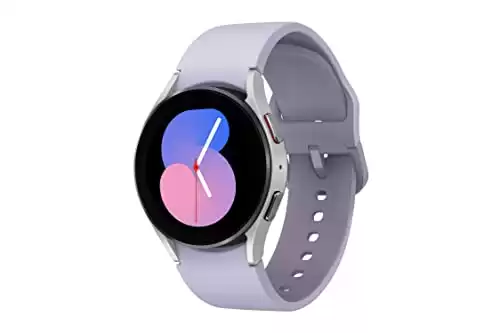 We earn a commission if you make a purchase, at no additional cost to you.
Both watches are constructed from sturdy materials with high levels of durability. Both the Samsung Galaxy Watch 5 and the 5 Pro have screens made of sapphire glass, which is a durable material. In addition, a front crystal display that resists cracking is available on the Apple Watches. Both are sturdy and may be submerged in water without risk.
Health Features 
Both smartwatches are capable of assisting you in your quest for fitness or better health. They contain ECGs, heart rate monitoring, blood-oxygen monitoring, sleep tracking, and exercise tracking.
The two watches also include skin temperature tracking thanks to the release of the Apple Watch 8. While some of the health capabilities of the watch, such as ECG, require a Samsung phone to function, others are compatible with any modern Android phone. 
Our Premium Pick
Samsung Galaxy Watch 5 Pro 45mm
An advanced tracker that monitors sleep and wellness throughout the day.

Tracks your daily workout activities from running and hiking to swimming.
Amazing battery life for prolonged use outdoors.
Built to last with a titanium case and Sapphire Crystal glass.
We earn a commission if you make a purchase, at no additional cost to you.
If you enjoy running or other outdoor exercises, you should probably look at the more expensive models. For outdoor explorers, both the Apple Watch Ultra and the Samsung Galaxy 5 Pro provide improved GPS navigation, durability, and safety features.
Battery Life 
There is a clear winner in this particular category. According to Apple, the Apple Watch 8 has a battery life of 18 hours under normal conditions. By contrast, the battery life of the Samsung Galaxy Watch 5 is up to 50 hours. 
With a larger battery and a longer battery life, Samsung Watches offer more usage time between charges. The battery life of the Apple Watch Ultra is superior to that of the Apple Watch 8, but it still falls short of that of the Samsung Galaxy Watch 5. 
Obviously, battery life may vary depending on your usage patterns, but the Samsung Galaxy Watch 5 is the superior option if you want to go longer between charges. 
Accessories Availability
Accessories are another thing to think about. There are fewer third-party accessories available for the Samsung Galaxy Watches because it was announced only recently, on August 10th.
That ought to change as soon as producers catch up and start releasing new bands, as well as Watch 5 and Watch 5 Pro accessories. There is a large selection of previous Apple Watch accessories available that work with the current Apple Watch models.
Compatibility 
For the majority of shoppers, the decision will come down to your phone and the operating system you are most accustomed to. Apple Watch 8 customers will like how easily it syncs with the iPhone 14 and other Apple products.
Apple Watches are not the best option for Android users because they cannot sync with Android phones. On the other hand, Samsung watches sync seamlessly with Android devices. 
Design
The form of the two brand's smartwatches is where the most obvious distinction lies. Most Galaxy Watches are shaped like a traditional watch, with a round, circular design. On the other hand, Apple's smartwatch has a square-like shape with rounded sides. 
Furthermore, the two smartwatches have several color options. The Classic version of the Samsung Watch is available in black and silver, while the Galaxy Watch is available in black, green, silver, pink, and gold. Apple Watches are available in red, green, and blue among other colors. 
Price
A price comparison between Apple Watch vs Samsung Watch is crucial. Compared to the Apple Watch 8, the Galaxy Watch 5 is less expensive. For many individuals, the most important deciding factor when deciding on new technology is price.
Over the years, most of Samsung's watches have been cheaper than Apple's watches. However, this doesn't mean that Samsung's Watches are of lesser quality. Far from it! 
Retail prices for Apple's whole product range start at $199 (USD), although stores frequently run promotions on Apple Watches, providing double-digit and triple-digit discounts on all models.
On the other hand, Samsung's watches can cost as much as $500, with prices starting at less than $100. Their prices are all quite competitive as a result of their large product collection. 
Key Products
Best Everyday Use for Apple Users
Apple Watch Series 8 [GPS 41mm] Smart Watch
Advanced new features including Crash and Fall Detection.
Track your health with an ECG, heart rate monitor, and SpO2 sensor.
Sweatproof and resistant to dust with IP6X certification.
Up to 18 hours of battery life or 36 hours via low power mode. 
We earn a commission if you make a purchase, at no additional cost to you.
Apple Watch's first significant new hardware product was released in September 2014. It had three essential components: a precise and programmable watch, a private means of connection and communication, and an all-encompassing health and fitness companion.
Since then, it has changed into the Apple wearable of today, which is focused on health and fitness. Some of their recent releases include Apple Watch Series 8, and Apple Watch Series 7 amongst others. 
The highlight of the Samsung Watches is a software update that combines Wear OS capabilities with the appearance and feel of Samsung's current Tizen platform. It boasts great battery life, good fitness functions, and a cozy style.
The Galaxy Watch 5 is a compelling iteration of Samsung's top smartwatch formula, despite a few compatibility concerns that may annoy some potential customers. Some of their recent releases include Samsung Galaxy Watch 5 and Samsung Galaxy Watch 5 Pro, among others. 
Several things set Apple Watches apart from Samsung watches. The most prevalent ones are their durability, battery life, design, compatibility, performance, price range, availability of accessories, and usefulness of their products.
Apple Watch: Overview
After being introduced in April 2015, the Apple Watch swiftly gained popularity, selling over 4 million units in the second quarter of fiscal 2015. It is anticipated that more than 100 million people will own an Apple Watch by the end of 2020.
Every September, Apple releases a new model of the Apple Watch with enhanced internal components and exclusions, each designated by Apple as a "Series". Apple Watches can connect to Wi-Fi networks for some data-dependent operations, such as basic communications and audio streaming.
Apple Watches generally work in combination with the user's iPhone for tasks like customizing the watch and synchronizing data with iPhone apps. After the initial setup, LTE-equipped versions can connect to a mobile network for calling, texting, and data usage for mobile apps.
Samsung Watch: Overview
The South Korean giant Samsung, perhaps best known for its Galaxy line of smartphones, now produces smartwatches. In the beginning, Samsung continued to refer to its wearables as "Gear." But after announcing the first Galaxy Watch in 2017, Samsung dropped the Gear moniker in favor of Galaxy Watches. 
Every Samsung Galaxy Watch model's hardware and software are produced by Samsung. The original Galaxy smartwatch, dubbed the Galaxy Gear, was powered by Google's Android Wear software. After some time, Samsung stopped using Android Wear and switched to its operating system known as Tizen.
Overall, Samsung Galaxy Watches are complete smartwatches with a range of applications. They monitor your daily activity and fitness, send notifications to your smartphone, have interchangeable watch faces, and many more awesome features. 
Apple Watch vs Samsung Watch: 5 Must-Know Facts
Both the Apple Watch and the Samsung Galaxy Watch allow you to use Bluetooth headphones to listen to music while working out, with or without your phone.
Compared to the Apple Watch, the Samsung Watch is thicker, making it more likely to get stuck in sleeve cuffs. 
In contrast to the Apple Watch, which can only be used with an iPhone, the Samsung Watch works with both iOS and Android. 
The Apple Watch and Samsung Watch have quite different faces, with the former having a square display and the latter a circular one. 
There are many features on both the Apple Watch and the Samsung Watch that allow you to monitor your vital signs.
Apple Watch vs Samsung Watch: Which One Is Best?
So, which is the best: Apple Watch vs Samsung Watch? The Apple Watch 8 is a fantastic second screen for iPhone users and has a ton of impressive features. But, with a superior Wear OS-based operating system and superior battery life, the Samsung Galaxy Watch 5 is a more impressive improvement than its predecessors. 
Both watches offer good performance and reliable fitness features. Although you'll have to shell out a bit more money for it, the Apple Watch 8 features a more upscale appearance. When you weigh the advantages and disadvantages, they are rather close.
Even though this may seem very obvious, the Apple Watch 8 is a suitable wristwatch option if you already own an iPhone. The Galaxy Watch 5 is also the best option for Samsung phone users. 
While both have problems working with non-branded phones, the Galaxy Watch 5 performs better when it comes to Android smartphone operability. As a result, even though the Apple Watch 8 is probably the superior smartwatch, it is safe to say that the Galaxy Watch 5 is the better option for most people.
Up Next…
Interested in any other riveting comparisons? Read some of our favorite articles in this category, below: