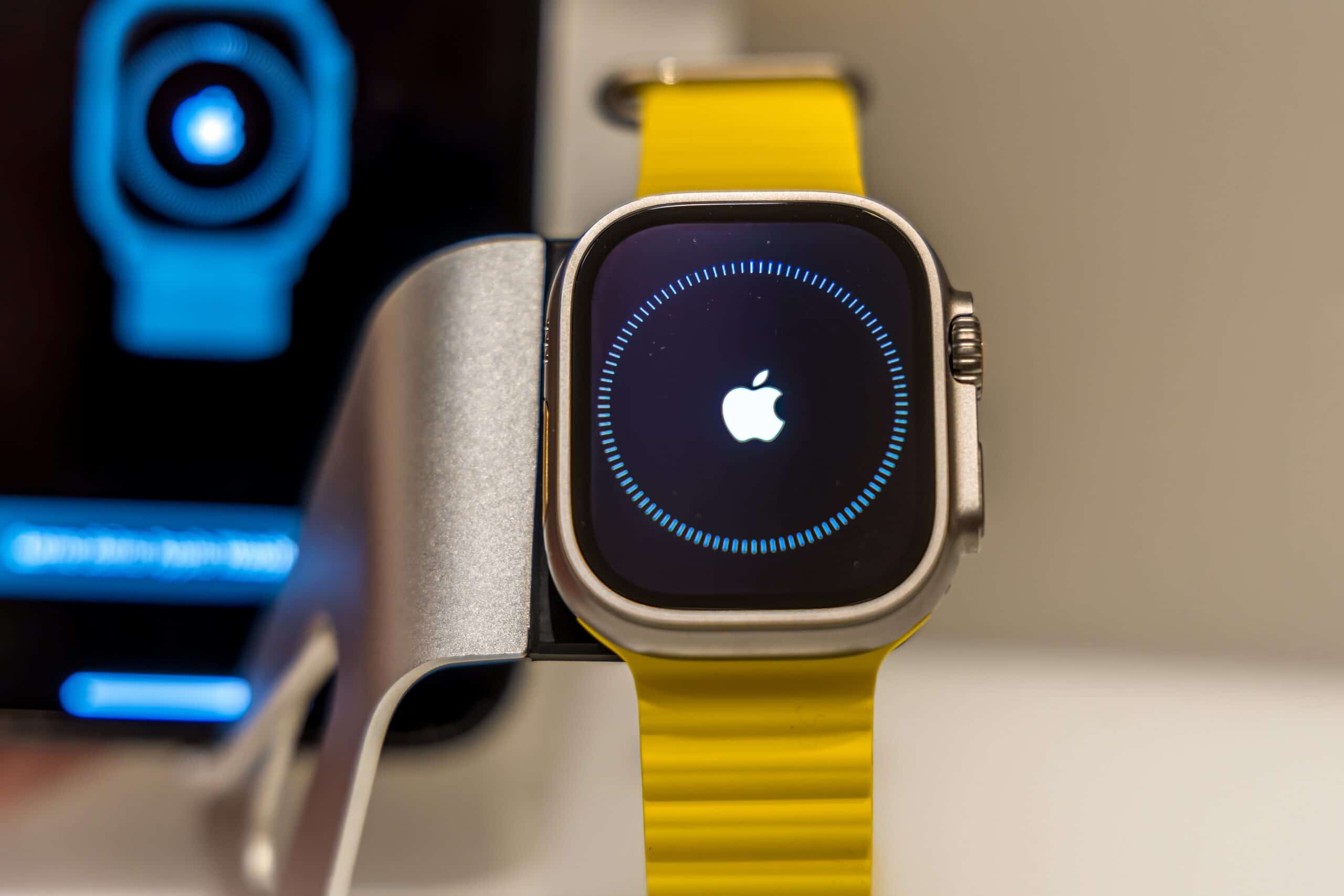 If you're searching for the top smartwatch in the market, you may have questioned how Apple Watch Ultra vs. Garmin Enduro1 compare. Both are feature-packed, high-performance watches, but which one is right for you? A closer look at each model will give you an in-depth understanding of its features, design, and battery life to help you make an informed decision.
The Apple Watch Ultra is a top-tier GPS watch with various advanced features to meet the demands of serious athletes and adventurers. It offers the latest GPS technology, integrating L1 and L5 GPS into a new antenna design for greater range and power efficiency. This allows for more accurate distance, pace, route calculations, and accuracy in various tracking metrics. Ultra's slim and light design makes it comfortable to wear throughout your workout or adventure.
The Garmin Enduro 1 is tailored for trail runners and ultra-marathons and comes with a full suite of advanced GPS features to help you stay on track. It utilizes a long-lasting solar battery life to ensure you'll never run out of power while on the trails or on an extended journey. With its intelligent training features, robust navigation capabilities, and fitness insights, the Garmin Enduro is a great choice for those who want reliable GPS guidance during outdoor adventures. So read this blog for a comprehensive comparison between Apple Watch Ultra vs. Garmin Enduro1 to make the best choice.
Apple Watch Ultra Vs. Garmin Enduro 1: Side-By-Side Comparison
| | Apple Watch Ultra | Garmin Enduro 1 |
| --- | --- | --- |
| Launch | 2022 | 2021 |
| Charging Type  | Wireless  | Garmin proprietary plug charger |
| Resolution  | 502 x 410 pixels | 280 x 280 pixels |
| Weight | 61.3 g (2.15 oz) | Steel: 71 g (case only: 65 g)Titanium: 61 g (case only: 55 g) |
| Display size | 1.92 inches | 1.4" (35.56 mm) diameter |
| Internal Memory | 32GB | 64 MB |
| Battery Capacity  | Li-Ion 542 mAh-non-removable | Solar charging- assuming use in 50,000 lux conditions |
| Color  | Titanium  | coated Titanium |
| Sensors | Accelerometer | Accelerometer |
| Price  | Price range starts at $ 779.99  | The standard price is $799.99 |
| Operating System | watchOS 9.0 | Android & iOS |
Apple Watch Ultra vs. Garmin Enduro 1: Key Differences?
Garmin Enduro 1 and Apple Watch Ultra are top sports and fitness tracking contenders. Although both offer great performance and features, there are differences in design, display, performance, charging method, and battery life.
Design
One notable difference between the Apple Watch Ultra and Garmin Enduro1 is their case material. The Apple Watch Ultra features a titanium frame with a sapphire crystal front, ceramic/sapphire crystal back, and a 49mm titanium case. On the other hand, the Enduro is crafted from either stainless steel, or Diamond-Like Carbon (DLC) coated Titanium. The Enduro is designed to withstand the toughest of race conditions, featuring either stainless steel or a DLC-coated titanium bezel, which is light and scratch-proof.
In addition to the different case materials, the two watches also feature other bands. The Apple Watch Ultra comes with a stylish sport loop band, while the Enduro is equipped with an elastic, adjustable, and durable super-light sport loop band. Finally, the Apple Watch Ultra boasts of its flat sapphire crystal feature, which is the biggest and brightest display ever on an Apple Watch, while the Enduro is equipped with a single sheet of Gorilla Glass.
Performance
Switching to performance, Apple Watch Ultra and the Garmin Enduro 1 have their unique advantages. The Apple Watch Ultra has an S8 SiP with a 64-bit dual-core processor, while the Garmin Enduro 1 has an ultra-efficient processor.
Ultra's faster processor helps you multitask and navigate your watch quickly and easily. Additionally, it can run apps quickly and efficiently, ensuring that your watch functions smoothly. The Garmin Enduro 1's efficient processor allows for longer battery life and increased battery savings. Plus, it's optimized for outdoor activities, such as hiking and running, providing more accurate tracking. The Apple Watch Ultra vs. Garmin Enduro1 offers powerful processors suitable for different needs. Depending on how you plan to use your watch, either of these options will provide great performance.
Battery Life
Garmin Enduro 1 has an impressive battery life, lasting up to 80 hours in GPS mode and 300 hours in its full battery mode. It can go for 65 days when you set your watch in its smartwatch mode with solar charging, which is perfect for extended use and outdoor activities where charging is inaccessible. Conversely, the Apple Watch Ultra's battery life is considerably shorter at 36 hours under optimal conditions, making it more fitting for everyday tasks where regular charging is available.
Display 
A few major differences exist between the Apple Watch Ultra and Garmin Enduro 1. The Enduro 1 features an always-on 1.4″ sunlight-optimized display with a transflective memory-in-pixel (MIP) technology that is sunlight-visible, making it easier to view even when on the go. On the other hand, the Apple Watch Ultra features a Retina LTPO OLED display with a peak of 2000 nits. It is protected by sapphire crystal glass and has an always-on display feature. The Apple Watch Ultra has a slightly larger screen size than the Enduro 1.
Charging Method
Both devices use different chargers. The Garmin Enduro 1 uses a proprietary plug charger specifically designed for the device, while Apple Watch Ultra comes with an Apple watch magnetic fast charger to USB-C Cable. This can be plugged into a power adapter — usually sold separately. In addition, customers can also purchase a  MagSafe Duo Charger separately. Overall, charging either of these devices is pretty simple. You connect the charging cable to the power adapter and plug it into a power outlet.
Sale
Apple Watch Ultra Vs. Garmin Enduro 1: 5 Must-Know Facts
Garmin Enduro 1 watch is equipped with MTB Dynamics. This records all ride-related information with mountain biking metrics and specialized grit. It also keeps the flow measurements that determine the difficulty of the trail and the smoothness of your descent, then calculates a score for you to beat in the next ride.
The Garmin Enduro 1 also includes Recovery Advisor, which lets you know how long to rest before another big effort after each workout.
The Garmin Enduro 1 has a solar-charged battery for maximum power efficiency.
The Apple Watch Ultra offers up to 2000 nits and has a built-in Action button in international orange. This makes it easy to read and locate underwater. It can be tailored to commence Workouts automatically, mark locations, and set Compass Waypoints.
The Apple Watch Ultra is durable and the most advanced model. It boasts improved GPS, a larger 49mm casing, and an enhanced display. Besides, it has an extended battery life of up to 36 hours.
Apple Watch Ultra Vs. Garmin Enduro 1: Which One Is Better? Which One Should You Use?
The Apple Watch Ultra and Garmin Enduro 1 are two of the best smartwatches in terms of performance and design. With their sleek designs, powerful features, and advanced sensors, both watches can keep track of your fitness goals. They also provide you with detailed stats and data about your daily activities. But which one is better? Which one should you use?
Ultra is thinner and lighter than the Garmin Enduro 1. It features an aluminum finish and a crystal-clear retina display, making it look more stylish. On the other hand, the Garmin Enduro 1 has a rugged design and comes with a protective case made of reinforced rubber.
If features are the most important thing to you, then the Apple Watch Ultra is the way to go. It has a heart rate sensor, GPS tracking, activity tracking, and other features like water resistance and fall detection. The Garmin Enduro 1 tracks heart rate and activity but lack fall detection and water resistance features.
Apple Watch Ultra offers more customization options than the Garmin Enduro 1. You can choose from a range of watch faces, straps, and bands to customize your watch according to your style. The Garmin Enduro 1 only has a few customization options. The strap materials only come as ultra light-weight elastic nylon hook and loop.
Enduro 1 is a longer battery life and is pretty good, but we have to give it to Apple Watch Ultra because of its superior performance, design, and impressive features.
Last update on 2023-03-17 / Affiliate links / Images from Amazon Product Advertising API