Key Facts
The Apple Watch Ultra comes with a brighter display compared to other incarnations.
The gadget also comes with three microphones to ensure excellent call quality at all times.
Its battery is capable of lasting 36 hours which can be extended to 60 hours when the watch is switched to Low Power Mode.
Apple Watch has been at the pinnacle of the smartwatch industry since 2015. The brand and its smartwatch offering have dominated the charts and won over both critics and consumers. With the release of the Apple Watch Ultra — the first new Apple Watch model since the debut of the Apple Watch SE in 2020 — the tech giant only solidified this status as the best-in-class smartwatch brand. But what exactly is the Apple Watch Ultra? Is it better than the base Apple Watch or the low-cost Apple Watch SE?
If you're looking for the finer details about the Apple Watch Ultra, you're at the right place. Our detailed guide will walk you through the product's specs, show you the best deals, highlight pros and cons, explain what makes this watch "Ultra", and say who the ideal buyer is. Ultimately, you'll have firm grasp pf the latest Apple smartwatch.
Best Apple Watch Ultra Deals Today
Because the Apple Watch Ultra is so new, you shouldn't expect to see major deals just yet. Nevertheless, keep your eyes peeled. Eventually, the Apple Watch Ultra will go on sale as other Apple Watch models do. With Black Friday, Cyber Monday, and other major annual sales on the horizon, it might not be long before you Apple Watch Ultra prices drop. For now, here's what the Watch is retailing for at Amazon and Best Buy.
Overview: Apple Watch Ultra
Release Date and Price
The Apple Watch Ultra was announced alongside a slew of other buzzworthy Apple products at their special "Far Out" event on September 7th, 2022. In typical Apple fashion, preorders for the newly announced products opened that same day. This meant prospective Apple Watch Ultra owners could place their orders the moment the keynote came to an end. The Apple Watch Ultra officially began shipping on September 23rd of 2022, about two and a half weeks after being announced.
The new Apple Watch Ultra currently retails for $799. While this price is sure to turn heads — it's more than $500 more than the current cheapest Apple Watch model, the Apple Watch SE, which retails for $249 — it no doubt earns the price tag with the sheer number of features and add-ons both inside and out. (More on that soon.) If $799 is too much to rationalize in one fell swoop, then Apple also gives customers the option to finance the watch for $33.29 a month for 24 months.
Different Models
Apple Watch Ultra is a unique product. There's no telling yet when or if Apple will release a second-gen Ultra, as this depends on son sales figures over the first 10-12 weeks or so. However, other Apple Watch models announced at the same special "Far Out" event in early September 2022 are worth mentioning.
Firstly, there's the Apple Watch Series 8, the next in the long line of Apple Watch base models that has been updated every year since launch in 2015. It improves upon the Series 7 in several marginal ways, including a few new sensors for monitoring things such as temperature and health as well as new and improved gyroscopes and accelerometers intended to detect car crashes or falls.
Secondly, the second-generation Apple Watch SE. First debuted in September of 2020 alongside the Series 6, this second-gen SE serves as the low-cost version of the Apple Watch. Just as the first-gen SE borrowed the Series 5 specs in a Series 6 body, the second-gen SE brings together old and new as one. Similarly, it incorporates Series 7 specs in a Series 8 body.
Features
The Ultra debuts a new casing material for the Apple Watch family: Titanium. Secondly, the Ultra also debuts a new size: 49mm. Its display boasts a bright, vibrant flat sapphire front crystal, making the Ultra's display the best ever seen on an Apple Watch. That's not all for the exterior. There's also a new button on the opposite side of the digital crown and Side Button (Action button), which pulls up a menu including Workouts, Backtrack, and more.
Ultra has three microphones for optimal call quality in any conditions. The built-in GPS is more impressive than ever, with dual-frequency positioning from L1 and L5 frequencies. Not to mention improved positioning algorithms to boot. It's also equipped with watchOS 9, which comes with new, more advanced activity metrics, new workouts, new interfaces, and more. We can't forget about the battery. It has 36 hours of normal battery life easily stretches to 60 hours in Low Power Mode.
Apple also hopes for the Ultra to be an essential, potentially life-saving tool for the most extreme of athletes. To support this, they've included new features such as an 86-decibel siren for emergency locating, water resistance up to 100 meters, a water depth gauge, and the aforementioned Crash Detection. The Ultra comes with a multitude of different bands for all terrain types, as well. Whether land, air, or sea, Apple wants the Ultra to be an all-in-one tool that wearers won't want to leave home without.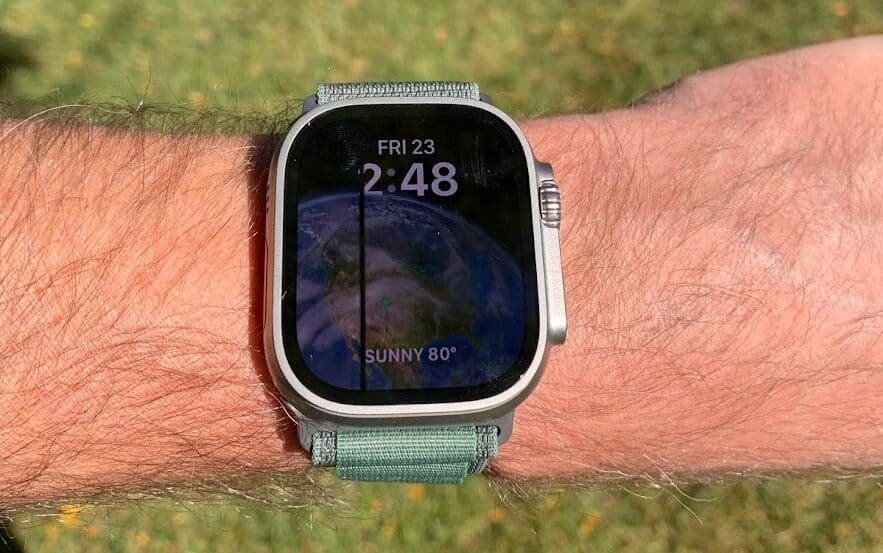 Specifications
| | |
| --- | --- |
| Size | 49 mm x 44 mm x 14.4 mm |
| Weight | 2.15 oz |
| Screen Size | 502 x 410 pixels |
| Battery Life | 36 hours (Up to 60 in Low Power Mode) |
| Charge Time | 90 minutes |
| Operating System | watchOS 9.0 |
| CPU | Dual-core |
| System Chip | Apple S8 |
| Storage | 32 GB |
| Price | $799 |
Apple Watch Ultra Review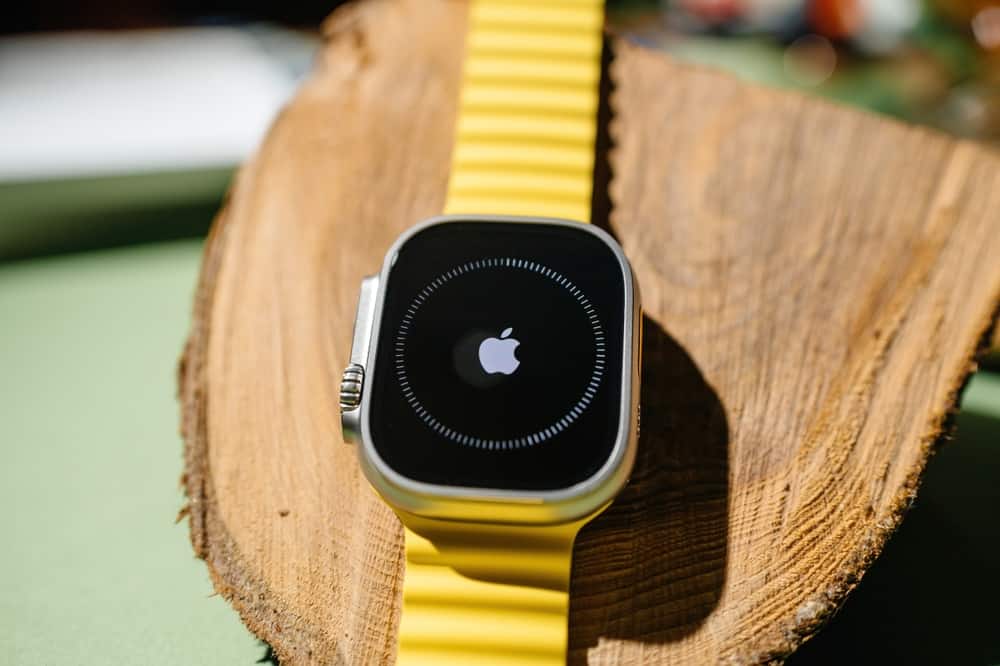 Right off the bat, you notice how much bigger and brighter the watch's display actually is. Same for the battery life, which is noticeably longer than that of the Series 8 and especially the second-gen SE. Call quality is another drastic improvement, even with a fair amount of wind blowing outside. The noise-canceling software combined with the discernibly louder speaker makes for an obviously improved calling experience on the Ultra.
Another feature that delivers on its promise? The emergency siren. At 86 dB — comparable to a power tool or a honking car horn — it packs a serious punch for a wristwatch. There's no doubt that in an emergency situation, the siren would come in handy. Browsing through the features that pull up at the press of the Action button, there's lots of things to explore and do on the Watch. Whether you're a diver, a runner, a climber, or even a triathlete, the Ultra has a suite of useful features for you.
Ultra has down sides too. It's noticeably thicker than other Apple watch model, and a one-size-only device. If you have smaller wrists, the Ultra is going to feel giant on you. Not to mention it's limited to one finish. On the other hand, the Ultra's bigger digital crown may also poke into larger wrists, as its larger gear-shape has pointy nodules that could hurt.
Pros and Cons of the Apple Watch Ultra
Pros
Packed with exciting features
Longer battery life and a brighter, tougher screen
The biggest Apple Watch yet
Equipped with potentially life-saving functions
Cons
Expensive watch
Some features will go unused with casual wear
Only comes in one size, a large 49mm
Compatible with Apple devices only
Apple Watch Ultra: Is It a Buy?
While the Ultra is undoubtedly a top product, it's not suitable for every Apple customer.
Buy It If…
You're an incredibly active and dedicated athlete. Whether a casual swimmer, runner, biker, or hiker, the Ultra has a suite of amazing features and tools to make your life easier on the move. Its hefty price tag more than pays for itself considering how many tools this watch packs in one, handy device. Plus, it just might save your life if the going gets rough or find yourself in an emergency. That's something no price tag could ever properly convey.
Don't Buy It If…
You're simply looking for an Apple-branded smartwatch. The Apple Watch Series 8 and the Apple Watch SE come with lots of similarly useful features at a fraction of the cost. Plus, they also come in a variety of fun colors and size combinations. The Ultra is reserved for only the most "ultra" scenarios — the Series 8 and the second-gen SE are better for everyday users not engaging in outdoor activities. The Series 8 and SE still give you workout routines, health motoring, and activity tracking minus the unnecessary bells and whistles for your lifestyle.
Check out the Apple Watch Ultra on Amazon.
Up Next…
Interested in reading more articles on Apple watches? Click the links below: