Smartwatches are now commonplace as tech becomes more accessible and affordable, but some devices stand out more than others. Two come from the biggest brands in the business – Samsung and Apple. In our Apple Watch Series 8 vs. Galaxy Watch5 Pro review, we're going to look at each company's flagship smartwatch to help you decide which one is the perfect fit.
Apple Watch Series 8 vs. Galaxy Watch5 Pro: Side-by-Side Comparison
| | Apple Watch Series 8 | Galaxy Watch5 Pro |
| --- | --- | --- |
| Manufacturer | Apple | Samsung |
| Released | September 7, 2022 | August 26, 2022 |
| Sizes | 45mm | 41mm, 45mm |
| Display | 1.6-inch 430 x 352, 1.9-inch 484 x 396 | 1.4-inch 450 x 450 |
| Processor | Apple S8 | Exynos W920 |
| Memory | 1GB | 1.5GB |
| Storage | 32GB | 16GB |
| Sensors | SpO2, ECG, Heart Rate, Temp | SpO2, ECG, Heart Rate, Temp |
| Battery | 282mAh, 308mAh | 590mAh |
| Operating System | WatchOS | Wear OS |
| Weight | 32, 38 grams | 46.5 grams |
Apple Watch Series 8 vs. Galaxy Watch5 Pro: What's the Difference?
The Galaxy Watch5 Pro and Apple Watch Series 8 are both premium smartwatches from two of the top manufacturers in the world. While you can find a similar range of features and health-tracking sensors on each wearable, that's where the similarities end.
Style and Design
If you're familiar with the Apple Watch, you'll have no trouble recognizing the company's newest model. Apple has slimmed down and improved its design over the years, but it still has the same vibe and rectangular display.
There are two sizes of the Apple Watch Series 8, the 41mm edition and the larger 45mm model. Samsung's "standard" Watch5 comes in several different sizes, but you can only get the Watch5 Pro in 45mm. It's the heavier of the two smartwatches, as well, at 46.5 grams (compared to the 45mm Series 8 at only 38 grams).
Best for Budgets
Apple Watch Series 8 [GPS 45mm]
Available in 41 mm and 45 mm sizes
Battery lasts up to 18 hours or 36 hours on Low Power Mode
Health features such as the ECG app, heart rate sensors, and blood-oxygen sensors
Crash detection feature
Numerous customization options
We earn a commission if you make a purchase, at no additional cost to you.
Samsung's newest wearable is available in two colors – Black or Grey. Neither is exactly colorful, even if you can swap out bands and watch faces. If you want a watch that provides more options in the style department, you will not be disappointed with the Apple Watch Series 8.
Stainless steel and aluminum are the case materials, each of which comes in several different colors. There are also unique models from Hermès, like the Silver Stainless Steel Attelage Double Tour. The Apple Watch Studio lets you customize the company's new smartwatch, and there are options from Nike and other companies as well.
Display
No matter what you use a smartwatch for; it all starts with the display. It's something that impacts battery life dramatically, but also allows you to pull up information with a twist of a crown or a flick of your finger.
With Apple, there are two display sizes, depending on which model you choose. On the 45mm Apple Watch Series 8, the display is 1.9 inches with a resolution of 396 x 484. The smaller 41mm model has a resolution of 352 x 430. Both have an always-on LTPO Retina OLED display with a peak of 1,000 nits brightness.
Samsung's Super AMOLED display is just as colorful on the Galaxy Watch5 Pro. It's 1.4 inches with a resolution of 450 x 450 due to its round touchscreen display. Both companies' wearables have high-resolution displays with vivid colors, so this one is a toss-up unless you prefer a round watch face to one that's squared.
Performance
You'll notice some similar brands with smartphone and smartwatch components, although wearables don't require nearly as much horsepower. The Samsung Galaxy Watch5 Pro and Apple Watch Series 8 are both snappy and responsive, but there's a notable difference in onboard storage and memory.
Apple's watch is powered by the company's own silicone with the Apple S8, while Samsung uses the Exynos W920 processor. Both are dual-core chips, but Samsung's is backed by 1.5 GB of RAM. The Apple Watch Series 8 only has 1 GB but comes with more internal storage.
Storage is double on the Watch Series 8 at 32 GB compared to only 16 GB on the Watch5 Pro. It's an odd decision by Samsung, considering how closely these watches compare in other areas, and one that can make a difference depending on the apps you use.
Neither smartwatch has a camera or headphone jack, but both allow users to make or take calls through their LTE models or when synced to a handset.
Connectivity options on the Samsung Watch5 Pro include Bluetooth 5.2, dual-band Wi-Fi, NFC, GPS, and common sensors like an accelerometer and barometer. Apple's smartwatch also has dual-band Wi-Fi and the same "basic" connectivity options, but sports Bluetooth 5.3 with Ultra Wideband support.
Features
If you want to track your steps during the day or stay notified without pulling your phone from your pocket, the Watch5 Pro and Watch Series 8 can accomplish that. In fact, these wearables perform most of the same functions, they just handle things in different ways because of their ecosystems.
Best Women's Smartwatch for Android
Samsung Galaxy Watch 5 Pro
An advanced tracker that monitors sleep and wellness throughout the day

Provides body composition data

Manually tracks more than 90 exercises
Amazing battery life for prolonged use outdoors
Built to last with a titanium case and Sapphire Crystal glass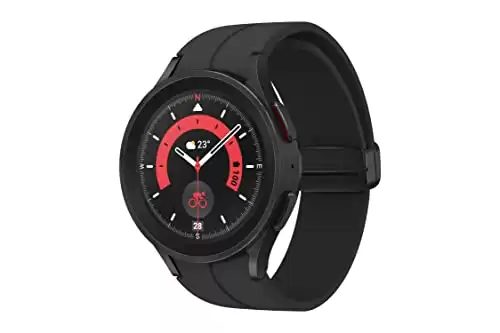 We earn a commission if you make a purchase, at no additional cost to you.
Samsung used their latest health-tracking sensors in the Galaxy Watch5 Pro. That means you can check blood oxygen levels or your heart rate. It has an ECG sensor and a body temperature sensor as well. All these sensors combine to provide users with metrics on their health, but you can also access a variety of apps for their smartwatch.
Access to Google's suite of software is present with Maps, Google Pay, and YouTube Music, along with dozens of popular apps. The Route Workout feature is a nice touch for runners and allows access to GPX files. You can get a similar experience from apps for the Apple Watch Series 8, but from different developers in some cases.
Apple's smartwatch can also take your body temperature and heart rate, or give blood oxygen readings. It has an ECG, as well, bringing it even with the Galaxy Watch5 Pro. Whether you do yoga, enjoy hiking, or swim – the watch has you covered. Apple has some fantastic health and fitness apps, as well, but you'll need to be happy with their ecosystem or own multiple devices.
Operating System
While we only touched on some of the more prominent features of these smartwatches, everything on their platforms is tied to the operating system. For Apple, it's WatchOS, while Samsung recently moved from Tizen to Google's Wear OS.
Do you own an iPhone? If so, you'll want to skip the Galaxy Watch5 Pro and pick up the Apple Watch. Samsung's latest wearables will not work with an iPhone, rendering them essentially useless, unless you own both types of handsets. Older Samsung Galaxy smartwatches will work with iOS, just not their new ones.
As for Apple, you're going to run into the same problems with the Apple Watch Series 8 if you own an Android-powered smartphone. It's an Apple device running their software, so it won't work with their main competitor's smartphone.
Battery Life
Smartwatch manufacturers like to promise all-day battery life, but it's something they have only recently been able to deliver. Apple has optimized the battery life to a degree with each generation of their smartwatch, and the Watch Series 8 is no different.
The 41mm Series 8 has a 282mAh battery, while the larger model has a 308mAh battery inside the casing. Apple claims users will get 18 hours of battery life from the smartwatch, which depends on usage. We found that the watch will get most users through a day at work or on the go without a charge, but overnight apps like sleep tracking can make things tricky.
Samsung's smartwatch has a massive 590mAh battery, which is one reason it outweighs the Apple Watch Series 8. That big battery will provide up to 50 hours of juice, according to Samsung. We didn't put that number to the test, but it has more than enough power to go a few days before you'll need to top it off.
Both smartwatches have quick charging features and wireless charging, but battery life isn't even close between the Apple Watch Series 8 vs. Galaxy Watch5 Pro.
Pricing
When you purchase a smartwatch from Apple or Samsung, you can expect to pay a premium compared to other brands. The Galaxy Watch5 Pro and Series 8 are considered flagship wearables but, as you might suspect, one company's watch is more expensive once you get past the base model.
The entry-level Apple Watch Series 8 is priced at $399 with a sport band or loop and an aluminum case. The stainless steel version with a sports band starts at $699 while the 41mm model with a Milanese loop band can set you back almost $800, or more. Interested in the Hermès edition Apple Watch 8? That's more than the Apple Watch Ultra.
Samsung's wearable only comes in one size, with a price tag of $399. Some models and bands will cost more, but even the most expensive Watch5 Pro we could find with a leather band and LTE was $500. Pricing is competitive between the companies, unless you want something fancier from Apple.
Apple Watch Series 8 vs. Galaxy Watch5 Pro: 5 Must-Know Facts
The aptly named Apple Watch Series 8 is the 8th generation of Apple smartwatches.
Samsung did not release a Classic version of the Galaxy Watch5.
All aluminum-cased Apple Watches had the option of LTE, starting with Series 3.
The Galaxy Watch5 Pro is the second device from Samsung to run Wear OS.
Apple introduced the Apple Watch Ultra alongside the Series 8.
Apple Watch Series 8 and Galaxy Watch 5 Pro: What's new?
Both the Apple Watch Series 8 and the Galaxy Watch 5 Pro have received minor updates since February 2023, including:
Apple Watch Series 8: There is a new feature called Menstrual Cycle Tracking, which allows users to track their menstrual cycle and get insights into their fertility window.
Galaxy Watch5 Pro: There is a new feature called Body Composition, which uses bioelectrical impedance analysis to measure your body fat percentage, muscle mass, and water percentage.
Apple Watch Series 8 and Galaxy Watch 5 Pro: What's next?
Some potential updates we may see for the Apple Watch Series 8 and the Galaxy Watch 5 Pro in the next six to 18 months are:
More storage space: More storage space is possible with improved technology. Both smartwatches may have increased storage space in the future, which is important for users who want to store music, photos, and other files on their smartwatches.
New features and apps: Both Apple and Galaxy are always working towards releasing new features and apps. There is a high possibility that we will see new features and apps in the months ahead.
Improved health tracking: Health is important, and we can expect smartwatches to have new and advanced health tracking features for things like support for body composition, blood pressure, and blood sugar.
Enhanced fitness tracking: Many smartwatch owners like tracking their fitness activities and habits. Because of this, it's highly likely that we'll see more fitness tracking features like more accurate GPS tracking, new sports modes, and better sleep tracking.
Apple Watch Series 8 vs. Galaxy Watch5 Pro: Which One Is Better?
People interested in upgrading from an older wearable to the newest version of the Galaxy Watch 5 Pro or Apple Watch Series 8 will be pleased with their new purchase. Some may feel like they are incremental upgrades, but both watches are the best each company has to offer at this time. They can track your fitness along with the time and have comparable price tags.
The biggest difference for most folks comes down to the ecosystem of each watch. If you already own an iPhone and don't have an Android smartphone, you're fighting an uphill (and expensive) battle picking up an Apple Watch. The same applies to users intrigued by Apple's new wearable that uses an Android smartphone.
When choosing between the Apple Watch Series 8 vs. Galaxy Watch5 Pro, consider the platform before you ever look at styles or specifications.
The image featured at the top of this post is ©AronX/Shutterstock.com.