In so many ways, the Apple Watch is currently unlike any other product on the market. There is nothing comparable for iPhone users, and no equivalent for Android users. The Apple Watch Series 7 is not an exception and has everything that makes a smartwatch worth buying. But what about the new addition to the family, the Apple Watch Ultra?
The truth is that the Apple Watch Ultra is the pinnacle of Apple Watch models for so many users. It is the best smartwatch money can buy, despite being bulky, large, and costlier than any Apple Watch, except the Hermes Edition.
Those not currently on the fitness bandwagon but interested in trying out activities like scuba diving or kayaking will find the Ultra an excellent gadget. Of course, it still cannot compete with Garmin for recovery data geared toward sports enthusiasts, but it is slowly getting there.
But the question is, if you already own an Apple Watch Series 7, does this make any sense to upgrade to Apple Watch Ultra? Are there any real differences between the two? Let's find out now.
Apple Watch Series 7 vs. Apple Watch Ultra: A Side-by-Side Comparison
| | Apple Watch Ultra | Apple Watch Series 7 |
| --- | --- | --- |
| Size | 49mm | 41mm and 45mm |
| Display Brightness | 2,000 nits | 1,000 nits |
| Case Material | Titanium | Titanium, aluminum, stainless steel |
| Water Resistance | 100mm | 50mm |
| Processor | S8 SiP | S7 SiP |
| Dust Resistance | IP6X | IP6X |
| Battery Life | Up to 60 hours | Up to 18 hours |
Apple Watch Series 7 vs. Apple Watch Ultra: What's the Difference?
Display
The display on the Apple Watch Series 7 is larger (45mm), brighter, and more durable than previous models. With the release of the Apple Watch Series 7, Apple debuted a new design for its always-on display, which uses rounded corners to give the impression that it is one piece of glass.
The screen's curvature makes the watch legible from any angle and highlights the UI's side borders. Even though the pour-over effect is not as pronounced as in the promotional videos, the new watch face still looks exciting.
With its big screen, the Apple Watch Series 7 features a full keyboard that can be navigated via taps or swipes. Even while it is approximately as good as the keyboard on any smartwatch, some people may still find it more convenient to dictate texts to Siri.
On the other hand, the Apple Watch Ultra feels even better with its 49mm display size and a resolution of 410 x 502 pixels. It comes with a flat titanium bezel that protects the edges of the sapphire crystal display at the front. It means that the display of your Apple Watch Ultra is less likely to sustain any damage in the event of a collision.
The sleek silver face of the Ultra is graceful and will help you avoid looking like a snob while flaunting your costly sports watch. Instead of selling only the extremely noticeable bands made specifically for this watch, Apple has made sure that you can use current 44mm bands.
The Apple Watch Ultra definitely looks better with its larger size. But, keep in mind that its larger size might turn into a dealbreaker if you have smaller wrists. A smaller wrist means less surface area for the watch's sensors, which means fewer reliable readings.
Design
While the Apple Watch Ultra maintains the same design philosophy, it has been upgraded to be more resistant to damage.
With the Ultra, it is less of a struggle to use the Digital Crown as well as the side button when wearing gloves. It is easier now because they are housed within a raised new ledge.
The Apple Watch Ultra also boasts a brand-new Action button. It is highlighted in a high-contrast International Orange. It can be used to access different features, including Compass Waypoints, Workouts, Shortcuts, Backtrack, and more.
Speaking of design, the Series 7 watch is not bad at all. Apple stuck with the rounded corners and increased the brightness of the screen despite speculation that the new design will include flat edges. It includes a microphone with speakers, allowing you to take calls or utilize Siri without lifting a finger. Apple upgraded the audio capabilities of the Apple Watch Ultra by including a pair of additional speakers.
Colors
With the Series 7, more color options are available, such as Mysterious Midnight, Shimmering Starlight, and Deep Green. The green is probably the most exciting, which mostly seems gray in different lighting conditions, with the occasional green flash.
Moreover, it is also possible to find stainless-steel models in different colors, including silver, graphite, and gold. However, titanium is available in a natural color as well as Space Black.
The Apple Watch Ultra is only available in titanium. It means you will have to stay content with a natural silver tone when you put your money on the Ultra.
Processor
The Watch 7 gets all its power from an S7 SiP. It is an upgrade from the older Watch 6, which had the S6 chip. However, you would not notice a great deal of difference between these processors.
On the other hand, the Apple Watch Ultra is powered by a dual-core 64-bit S8 SiP. With the S8, you gain access to the updated gyroscope, accelerometer, and Bluetooth.
But despite the processor, the Series 7 watch works just fine. Smooth finger swipes or spins of the Digital Crown make for a pleasant experience while paging through apps and menus on the Series 7.
Health and Fitness
The Apple Watch Series 7 focuses on fitness, from the Move Rings to the increased number of exercises. And with the added cycling features, it is evident that Apple aims to make the Watch 7 more appealing to exercise addicts.
That being said, it is still difficult to recommend the Apple Watch to someone with a serious interest in swimming, cycling, running, or comparable activities. Of course, the Apple Watch Series 7 has an optical heart sensor that can record an electrocardiogram and a blood oxygen sensor. It now has cycling recognition and more workout options thanks to the watchOS 8 upgrade.
Still, the Apple Watch Ultra packs a solid punch. It comes with a new temperature sensor to help women monitor reproductive functions including menstruation and ovulation. One sensor is placed on the rear of the watch, closest to the skin, and another is placed directly under the display to eliminate environmental bias.
It is worth mentioning that a fitness watch would fail if it cannot resist dust and sweat properly. When it comes to Apple Watches, the Series 7 is the first to feature an IP6X dust-resistant classification. It is a great choice for bikers and other sports because of its sapphire crystal display, which cannot be scratched. Moreover, its WR50 grade makes it water-resistant to 50 meters.
Interestingly, you just cannot ignore the Apple Watch Ultra because it is even better with various certifications, including MIL-STD-810H certification. It is also water-resistant to up to 100m. So, if you are a fitness enthusiast, you just cannot go wrong with the Ultra.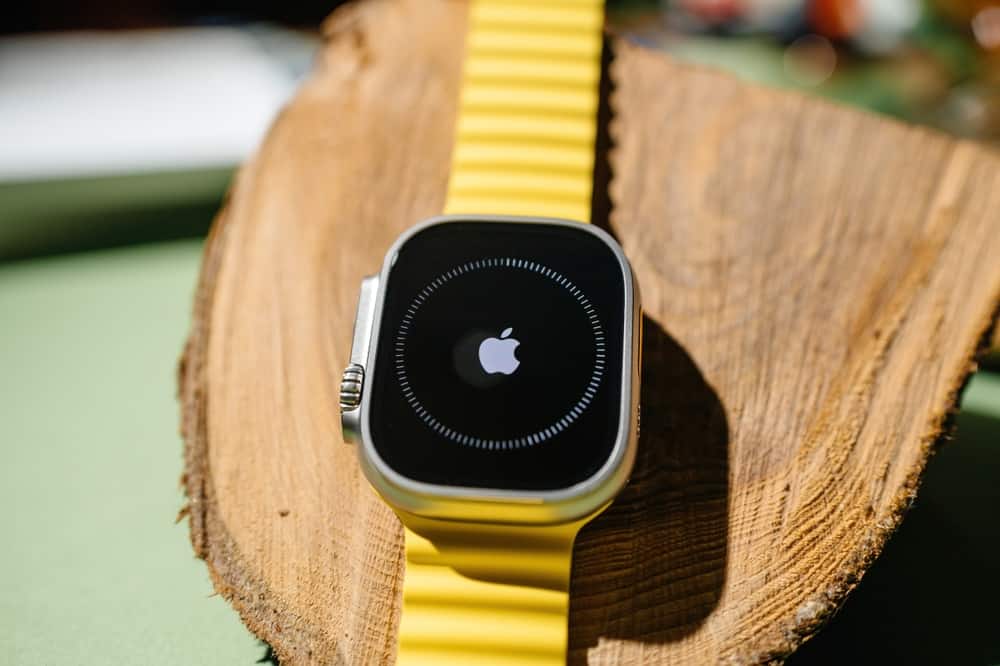 GPS
The Series 7 GPS tracker is a no-frills device that displays your speed, distance covered, time spent running, and heart rate. The impressive thing is that the Apple Watch Series 7 has accuracy comparable to the premium Garmin Forerunner 945.
It is a good GPS device because it comes equipped with a number of GPS sensors, including GLONASS, GPS, QZSS, Galileo, and more. It is because of these sensors that you can get highly accurate readings.
On the other hand, you get the same from the Apple Watch Ultra, along with an L5 sensor for GPS. Unlike the Apple Watch Series 7, which only has L1, the Ultra has L1 and L5. Now, L5 matters because it uses a frequency of 1176.45 MHz. This vastly improves the precision required to locate hikers or guide runners during races.
Battery
The Apple Watch 7 offers up to 18 hours of battery time, which is still quite impressive. The good thing is that it can be charged to 80% in around 45 minutes, thanks to the USB-C magnetic rapid charging cable. It is worth mentioning that activating Low Power Mode on the Apple Watch Series 7 should also allow for 36 hours of use.
The Apple Watch Ultra is even more impressive as far as the battery is concerned. Your battery will not die even if you trek for hours on end, count your sleep, and then do it all over again. The battery life has been significantly increased over the Apple Watch 8 and preceding models. Moreover, there is also a new low-power mode that Apple claims will deliver up to 60 hours of battery life.
Additional Features
Both watches offer some additional features that make them a lot more attractive to fitness enthusiasts. You may appreciate that the Apple Watch Ultra now comes with an emergency feature.
Apple Watch Ultra owners who get lost or hurt in the great outdoors may appreciate the 86-decibel siren that serves as an emergency signal. The trademark sound pattern is made up of two separate patterns that can alternate for hours at a time. The first design conveys an impression of panic, while the second is reminiscent of the internationally renowned SOS design.
Moreover, the Series 7 and Ultra models of the Apple Watch benefit from Ultra-Wideband thanks to the U1 chip. With this, it is now possible to find the accurate location of iPhones, iBeacons, and iPads. It also helps find augmented reality image locations and assists with AirDrop recipient selection.
With both these watches, you can use third-party apps for different activities. For instance, the new Depth app for the Ultra is extremely useful for recreational divers because it offers info about the current depth, time, duration underwater, water temperature, and max depth reached.
5 Must-Know Facts About the Apple Watch Series 7 and Ultra
The Apple Watch Ultra is impressive with its dual-speaker setup and microphones using beamforming technology.
Both the Apple Watch Ultra and Series 7 are available in a storage size of 32GB.
The Ultra comes with a larger and brighter display, capable of achieving 2000-nit brightness.
The Ultra comes with the Portrait Mode for the watch face, which is mainly because it supports WatchOS 8.
Apple Watch Series 7 is water-resistant up to 50m, whereas the Ultra is water-resistant up to 100m.
Where to Buy?
The Apple Watch Ultra and Apple Watch Series 7 are available on Amazon here and here, respectively.
Keep Track of Your Health
We earn a commission if you make a purchase, at no additional cost to you.
Apple Watch Series 7 vs. Apple Watch Ultra: Which One is Better for You?
If this is your first Apple Watch and you are an athlete, you will definitely love the extra features you get in the Apple Watch Ultra. But, if you have been using the Apple Watch Series 7 and are pretty happy with it, there is no real need to upgrade.
However, which one to buy or whether or not to upgrade depends on a combination of price and how often it will be used. That said, finding a better smartwatch than Apple's Ultra Watch is pretty hard. It has a sleek titanium body, an array of useful features, and an exceptionally extended battery life.
The display is bright, large, and simple to see; the digital crown has been upgraded to be more satisfying to spin and click. And luckily, the other buttons are out of the way when you bend your wrist. So, yes, it is true that the Apple Watch Ultra is fantastic, but it is not the right Apple Watch for everyone.
Suppose you have no interest in becoming an adventurous athlete and do not think you ever will. Does that still sound like a decent option? We doubt that! The Apple Watch Series 7 will certainly work if you are not looking to do much more than be a dedicated smartwatch user and appreciate high-quality mechanical watches. You may not like the Ultra if you prefer a more traditional screen design. It is less comfortable to use for swiping and tapping than the curved glass on other Apple Watches.
It means that if you are not a hardcore athlete and can live with slightly less battery time, you can certainly have fun using the cheaper Apple Watch Series 7. Go with the 45mm Series 7 edition and you won't even feel the difference in display size. The good thing is that it has rounded edges that make swiping easier and make the watch look better on smaller wrists.
Although the titanium frame of the Series 7 may not quite match the Ultra's bead-blasted appearance, it is close enough for most users. It is more versatile than the Ultra, and you can dress it up or down to suit any occasion. So, ultimately, it comes down to your personal preferences, how you want to use your Apple Watch, and of course, how much money you are willing to spend.
The Apple Watch Ultra is impressive, but for most people, the older Apple Watch Series 7 is still not out of the race.