Key Points
Apple Vision Pro offers a mixed reality experience with a controller-free design and a stunning micro-OLED display with 23 million pixels.
Valve Index is a more affordable VR headset with a lower display resolution and requires controllers for interaction.
Apple Vision Pro has a significantly higher price tag of $3,499 compared to Valve Index's $999.
The upcoming release of the Apple Vision Pro has many looking back at the best-selling VR headsets of years past. This includes the Valve Index, a moderately successful VR headset released several years back. When comparing the Apple Vision Pro and Valve Index, which headset is more worth your while? Should you hold out for Apple's exciting and expensive new product, or trust an older and more affordable alternative? Let's compare the two and determine which one's best.
Apple Vision Pro vs Valve Index: Side By Side Comparison
| Aspect | Apple Vision Pro | Valve Index |
| --- | --- | --- |
| Product Type | Mixed reality headset | Virtual reality headset |
| Developer | Apple Inc. | Valve |
| Release Date | Early 2024 | June 28th, 2019 |
| Introductory Price | $3,499 | $999 |
| Operating System | visionOS | Windows, Linux |
| Display Type | Micro-OLED | LCD |
| Number of Pixels | Approx. 23 million | Approx. 4.6 million |
| Controllers | None | "Knuckles" Controllers |
| Battery Life | 2 hours or less | 5 hours or less |
Apple Vision Pro vs Valve Index: What's the Difference?
Based on the comparison above, it's evident that the Apple Vision Pro and Valve Index have very little in common with one another. But what part do these factors play in our choice of a winner? Let's explore five of these key differences below.
User Experience
First, the obvious: comparing Apple Vision Pro and Valve Index means comparing mixed reality and virtual reality. These two headsets offer two completely different user experiences. The Vision Pro combines virtual elements with real-world environments. The Valve Index, by comparison, simply offers virtual environments without real-world passthrough. Additionally, the Apple Vision Pro is a controller-free headset. Conversely, the Valve Index requires two controllers. This factors into the user experience almost as much as the difference between mixed and virtual reality.
Price
There's also a significant difference in price to consider here. The Apple Vision Pro will hit shelves with an introductory price of $3,499. The Valve Index, on the other hand, costs just $499 per headset and $279 for a pair of controllers. You can save more by bundling, which gives you more accessories for the Valve Index for a combined lower cost. This makes the Valve Index look even cheaper by comparison.
Release Date
Third, let's weigh the difference in release dates. The Apple Vision Pro won't come out until early 2024, while the Valve Index has been out since June 2019. This makes the Valve Index a much older (and much less advanced) product than the Apple Vision Pro. Until the next generation of the Valve Index comes out, the differing release dates make the Vision Pro look far more state-of-the-art.
Display Type
We can't forget about the difference in display types between the Apple Vision Pro vs Valve Index. The Vision Pro comes with two gorgeous micro-OLED displays offering a combined 23 million pixels in all. On the flip side, the Valve Index offers just 4.6 million pixels across two LCDs. By this metric, the Apple Vision Pro is five times better than the Valve Index.
Battery Life
Lastly, battery life. It's one of the weakest facets of the Apple Vision Pro and one of the strongest of the Valve Index. Apple's mixed reality headset offers two hours of battery or less through an external battery pack attached by a power cord. Users can tether the headset to their Macs or other ports for longer use, but this isn't always the most practical thing. Alternatively, the Valve Index offers five hours of battery for the headset and up to seven hours for the controllers. That's drastically better than the Vision Pro.
Apple Vision Pro vs Valve Index: 5 Must-Know Facts
Though the Valve Index has fewer pixels than the Apple Vision Pro, it does offer a custom pixel layout meant to reduce the "screen-door effect" that plagues so many VR headsets.
The Apple Vision Pro comes with EyeSight, an exterior display feature that tracks the user's eyes through a series of sensors, cameras, and computer vision algorithms.
Valve Index controllers are some of the best in the world of VR. They precisely track individual finger movements, allowing for more natural interactions within VR environments.
Apple has developed a custom chip specifically for the Vision Pro, The R1. This chip powers the Vision Pro's most advanced capabilities, allowing for seamless and responsive AR rendering.
The Valve Index offers a high 120Hz refresh rate, which users can increase to an experimental 144Hz refresh rate. The Apple Vision Pro only offers a 90Hz refresh rate.
The History of Apple Vision Pro
Apple officially announced the Apple Vision Pro on June 5th, 2023. Upon its release in early 2024, this long-rumored spatial computer will seamlessly integrate digital content with the user's physical world. The industry calls this mixed reality. Based on Apple's presentation at the 2023 Worldwide Developers Conference, the Vision Pro features a 3D user interface controlled by the user's eyes, hands, and voice. No controllers are necessary for this headset. Best of all, the device boasts an ultra-HD display with over 23 million pixels across two displays.
Apple CEO Tim Cook says that Vision Pro marks the beginning of a new era for the tech giant. He claims the company's mixed-reality headset will enable new levels of productivity and multitasking with its infinite canvas for apps and support for Magic Keyboard and Magic Trackpad. Beyond this, Vision Pro also offers immersive entertainment experiences. For example, users can transform any space into a personal movie theater with advanced Spatial Audio capabilities. We can reasonably expect some great Vision Pro-exclusive games as well.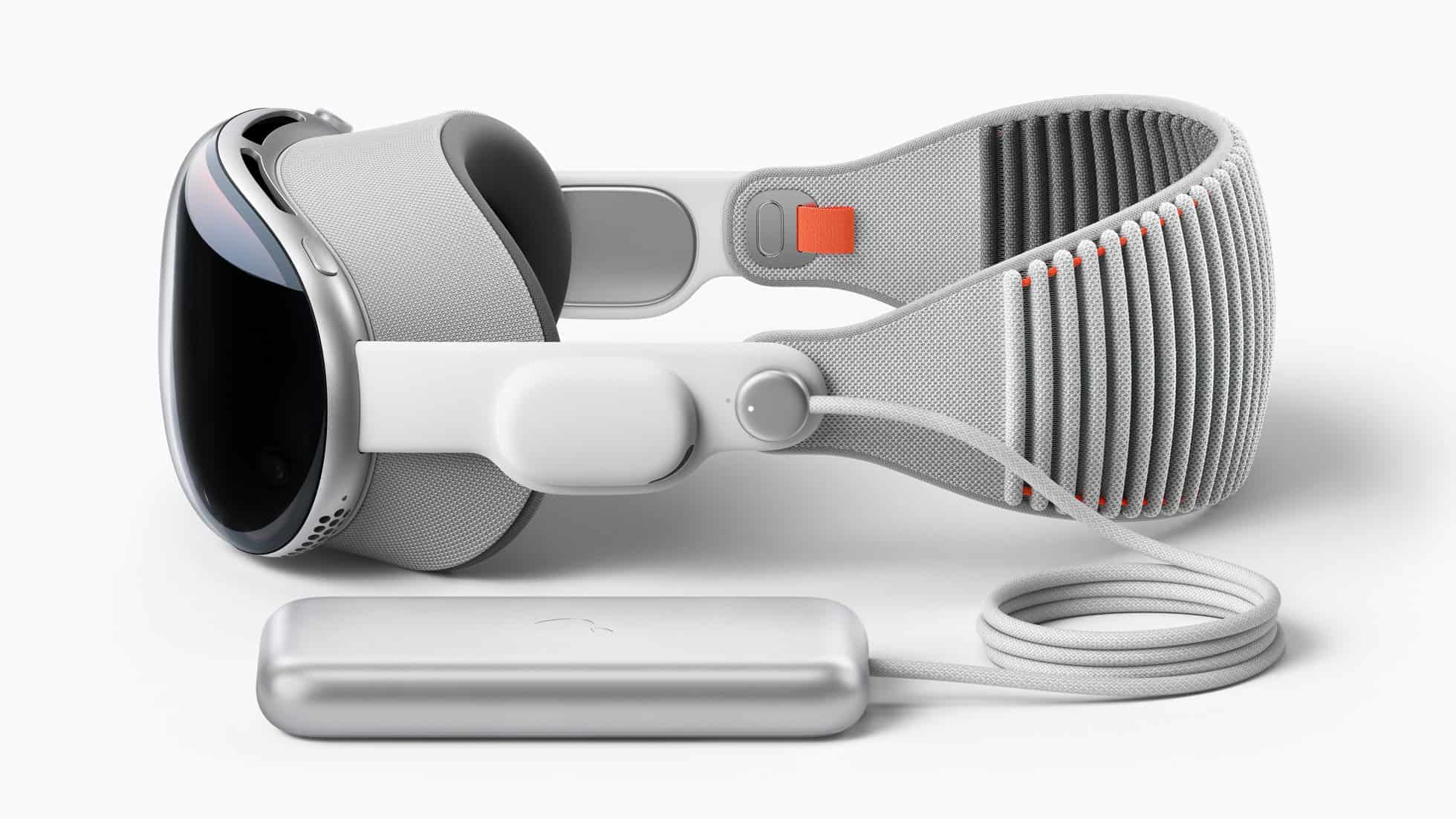 The Apple Vision Pro has a dozen cameras with 3D photo and video capture capabilities. This goes for FaceTime calls, too. Based on Apple's keynote, mixed reality video calls will display FaceTime participants in life-size tiles in front of the user. It's like something straight out of a sci-fi movie. The Vision Pro relies on visionOS, the world's first spatial operating system. Combined with two different Apple silicon chips, Vision Pro supports low-latency mixed reality experiences like no other. All important points to consider in the Apple Vision Pro vs Valve Index debate.
How Valve Index Compares
Valve is best known for its Steam game store and its games Left 4 Dead and Half-Life. However, they also occupy space in the world of VR with the Valve Index. Released in June 2019, the VR headset offers impressive visuals and high-quality audio at a much more affordable price than the Apple Vision Pro's MSRP. Even with the added expense of Valve Index controllers, which add another $279 to the $499 cost of the headset.
Because Valve is a mainstay of the PC gaming industry, it only makes sense that the Index's headset and controllers would be compatible with all Steam VR games. They look great on the Index, too. The headset features two custom LCD panels with a resolution of 1440 x 1600 pixels each. This number falls short of the Apple Vision Pro, but to be fair, the headset will be nearly five years old by the time we see Apple's product hit shelves.
The Valve Index can't offer the same kind of controller-free experience as the Apple Vision Pro, but that's not to disparage its "Knuckles" controllers. These unique controllers strap to a user's hands and track individual finger and hand movements in real time. They also include various buttons, a trackpad, a thumbstick, and a trigger. Plus, their seven-hour battery life ensures you won't face interruptions during use. Though it falls short of the Apple Vision Pro's impressive specs in several key areas, the Valve Index is nonetheless solid as a VR headset.
Everything Included For One Price
Valve Index Full VR Kit
Complete kit with headset, base stations, & controllers
Motion-tracking Index controllers
Room Scale VR
Support for SteamVR
We earn a commission if you make a purchase, at no additional cost to you.
Apple Vision Pro vs Valve Index: Pros and Cons
| Pros of Apple Vision Pro | Cons of Apple Vision Pro |
| --- | --- |
| Micro-OLED display with 23 million pixels | Premium price |
| Reliant on new Apple chips | Not enough to distinguish from other headsets |
| Controller-free user experience | Only offers two hours of battery or less |
| A standalone Apple product | Not coming until 2024 |
| Pros of Valve Index | Cons of Valve Index |
| --- | --- |
| Lower cost than Apple Vision Pro | Been on the market since 2019 |
| Long battery life | Lower display resolution |
| Ideal headset for VR gamers | Pricier than many rival VR headsets |
| Backwards compatible HTC Vive controllers | In need of an upgrade |
Apple Vision Pro vs Valve Index: Which One Wins?
So, looking at the Apple Vision Pro vs Valve Index, can you tell which headset is best? Objectively speaking, it's the Apple Vision Pro all the way. It has a better screen resolution, superior processing power, and a greater mixed reality experience overall. Of course, for those on a budget or too impatient to wait until 2024, the Valve Index isn't a terrible choice either. Nevertheless, Apple Vision Pro wins this showdown by a significant margin.
The image featured at the top of this post is ©Mariia Korneeva/Shutterstock.com.