Key Facts
Apple's Studio Display comes with a 27-inch screen and a 5K resolution.
Its maximum brightness is 600nits and is truly impressive in SDR.
Both its microphone and speakers are of excellent quality.
The Studio Display is Apple's first foray into the consumer display industry. The 2020 release of the Pro Display XDR was well received by the public, but its high cost meant that it was only affordable for professionals only.
The Studio Display is made for the masses as it is significantly cheaper than competing models. Although it is still on the pricier side, the 5K display more than makes up for it.
A Quick Overview
A 27-inch screen with 5K resolution is what you get with Apple's Studio Display. As Apple has introduced Pro Display XDR for professionals, this one is aimed squarely at the general public.
It is designed for usage on Macs, so you can take advantage of its many functions—including the superbly accurate sRGB picture mode—on any macOS gadget. Windows machines can utilize it, but customization options and other functionality are disabled.
Depending on your needs, you can pick a monitor with either a tilt-only stand or a tilt-and-height-adjustable stand. However, if you prefer to install the screen on the wall without removing the stand, a VESA mount adapter is also available. In addition, the nano-texture reflective glass with a matte finish is a possible upgrade over the normal glossy reflective glass.
We earn a commission if you make a purchase, at no additional cost to you.
The Studio Display is comparable to the Pro Display XDR in that it has P3 wide color gamut compatibility and a broad variety of reference modes, both of which are extremely helpful to creative geniuses.
And, of course, you can find many other interesting features and enjoy video calling with its integrated microphone, webcam, and six-speaker sound system. Thanks to its A13 Bionic chip, it also supports Apple's Center Stage feature.
Reasons to Buy
96W Thunderbolt 3 port for quick power delivery
Built-in webcam
High pixel density
Amazing design
Nonotexture glass option
Outstanding speakers
Exceptional brightness
Reasons to Avoid
Missing support for 120Hz refresh rate
No local dimming or HDR support
Quite expensive
Mediocre webcam with no privacy cover
Unavailability of height adjustment feature
No USB-A ports
So, overall, it looks pretty impressive on paper. But, is it truly well worth the investment? Let's find out now.
Is the Design Truly Catchy?
The Apple Studio Display resembles an iMac in design, except for the iMac's bulkier base enclosure. Silver metal construction and Apple branding on the reverse are classic Apple design cues. It is an elegant addition to any professional setting.
Ergonomics
That being said, the ergonomics are below par, especially for the unit with the tilt-only stand. If you would like, you can get one that has a stand that adjusts to your preferred height. But, unfortunately, neither stand is removable, ruling out the option of wall-mounting the screen. Furthermore, neither can be adjusted to place the monitor in portrait orientation.
Base
The upside is that the base of the tilt-adjustable stand is compact, taking up little room, and is flat, allowing you to set anything on it. But, if that does not work for you, you can opt for a different model with a VESA mount adaptor, which is a better choice if you frequently need to make adjustments.
Camera and Mics
The Studio's camera, located in the top bezel, is missing a real shutter for privacy. As well as three microphones, the display incorporates six speakers capable of producing spatial music. Apple claims these mics are studio-grade and will make you happy to record your next demo track in front of your monitor.
Power Cord
As a great finishing touch, the Studio Display has a power cord that is permanently attached and runs through a hole in the back of the stand. There are four Thunderbolt 3 connectors and three USB-C ports on its lower left side (when viewed from behind).
So, other than the stand, everything else looks pretty solid in the design department. Nothing over the top, but still well done!
Can You Trust the Build Quality?
The good thing is that even though the stand is a bit annoying, the build quality is excellent, as always. Both the body and the base are made of rigid aluminum.
After correct attachment to the monitor's bezels, the glass rests flush with the screen. The screen will not budge from its perch on the sturdy stand, even when tilted, which is a good thing.
The stand's base is on the small side in comparison to the size of the screen, but it will not topple over unless you give it a good nudge. Another plus is the quiet operation of the vent at the top.
What's more, the power line is permanently attached to the screen, making it necessary to ship the entire monitor in for repairs in the event of a malfunction.
Is That Display Any Good?
Apple Studio Display - Standard Glass - Tilt- and Height-Adjustable Stand ​​​​​​​
Immersive 27-inch 5K Retina display with 600 nits of brightness, support for one billion colors, and P3 wide color
12MP Ultra Wide camera with Center Stage for more engaging video calls
Studio-quality three-mic array for crystal-clear calls and voice recordings
Six-speaker sound system with Spatial Audio for an unbelievable listening experience
One Thunderbolt 3 port, three USB-C ports
We earn a commission if you make a purchase, at no additional cost to you.
Apple's screens are consistently excellent across its products, and the Studio Display excels at the fundamentals. That being said, anyone who has seen a 27-inch 5K iMac display would instantly recognize this screen, as it is the same.
The Apple Studio Display may look futuristic, but it is actually quite "basic" technologically. There is nothing exceptional about this! Of course, the actual display looks impressive with 5120×2880 pixels/inch.
But, considering its price tag, it is nothing out of the ordinary. This is due to the fact that the display is a conventional IPS panel with a regular white LED backlight. It won't blow your socks off, but at least it avoids common aberrations like bleeding light around the edges.
Is There Anything Awesome about the Brightness?
The maximum brightness (600nits) of Apple's Studio Display is spectacular in SDR. Even in very bright settings, it easily reaches an adequate brightness to combat glare. And while smaller highlights are a bit darker, the difference is negligible.
There is a superb field of view to the side. In spite of the fact that the image appears darker when viewed from the side, you should not have any problems showing it to a colleague or client who is seated directly next to you.
Another upside for those who have to deal with "text" quite aggressively is that the sharpness of the text is top-notch because of the high pixel density and high resolution (5K). Having Windows ClearType enabled on a Windows PC (top image) makes the letters bolder, but it is not required, as the text is already very crisp without it.
Good stuff, right? But, that is about it as, in terms of picture quality, you will notice it to be quite the same as the XDR. The only reference profiles different from those of the XDR are those associated with high dynamic range (HDR).
All reference profiles' white points are within 100K of their targets and they manage to hit their respective gamma curves. However, the curves are not quite as tightly constrained in the shadows.
Really, the only reason to pursue this device for the screen itself is if you are eager for a 5K panel capable of displaying MacOS at pixel-perfect resolution without scaling. Unfortunately, the only other choice for someone seeking a 5K panel is the faulty LG UltraFine, which just does not cut it.
Are Those Speakers Impressive?
First, the good news; both the microphone and the speakers are of high quality. Absolutely fantastic. If you use the Control Center to toggle voice isolation on or off, the three-mic array will allow you to make calls that sound as well as, or better, than they do with any conference mics you may have ever used.
Only if you often record podcasts or stream to an audience will you require a higher-quality setup. The speakers are powerful and bassy, with a max volume of 83dB SPL and a base extension of 79Hz.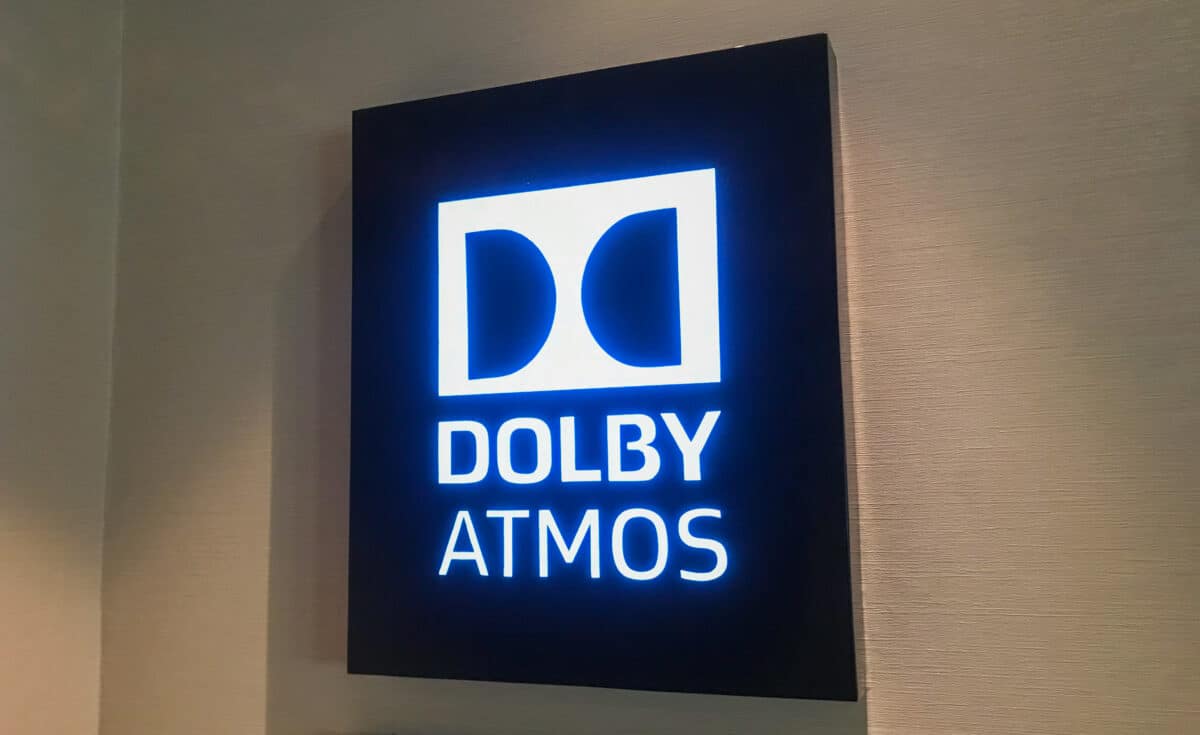 Moreover, this speaker array supports Spatial Audio through Dolby Atmos, allowing for a more immersive listening experience with compatible music and movies. And while you may think spatial audio in music is nothing more than a gimmick, Apple is clearly processing its heart out here.
And you will realize it while playing an Atmos clip that results in some exciting swooshing and crashing. Overall, be prepared to have an outstanding listening experience, as these going to be one of the best-sounding built-in speakers out there.
Is It Easy to Power the Machine?
The Studio Display ships with a high-quality braided Thunderbolt 4 cable with 96W of power delivery. This connection can supply enough juice to fully recharge your 16-inch MacBook Pro when connected to the Studio Display.
While it will not fully charge a smartphone or tablet, it should be plenty to keep your laptop running while working. The display's rear Thunderbolt 4 port uses this cable; three other USB Type-C ports are located nearby. Ports! To put it simply, they are well-liked.
Where Does It Stand In Terms of Compatibility?
Since it is an Apple display, connecting it to a Mac is a breeze. The downside is that the display's settings can only be accessed from a macOS device, thus a Mac or MacBook is required to utilize it.
However, Windows users can still see content on display. But, they will not be able to make any adjustments and will miss out on other features like sRGB mode.
The interesting thing is that even if you are not using the VESA mount adapter version, you can still spin the screen into a vertical orientation, and the macOS interface will adapt accordingly.
What's All the Fuss about the Webcam?
The Apple Studio Display comes equipped with a microphone, speakers, and, of course, a webcam. Many reviews have panned the Studio Display due to its built-in webcam, saying its image is grainy and noisy.
Webcam users are going to have a hard time loving this device for sure. The mic works well, but the video is flat and washed out. Even while Apple claims they made the webcam with creators in mind, it does not seem to be the case here.
It is essentially nothing more than a high-res FaceTime camera that uses the Center Stage software to zoom or pan the image automatically. So, yes, those who spend a lot of time on webcams may not love it, but is it truly that bad?
The webcam is undoubtedly mediocre, but it may not bother you much once you use it more often. In fact, the quality is still better than that of most built-in laptop cameras.
Compared to Other Monitors
When you take the Apple Studio Display as your work monitor, you may want to compare it to the Dell UltraSharp U2720Q, as it falls into the same category.
There are some distinctions between the two, though. Apple's 5K monitor is designed for Mac computers and includes capabilities like a webcam that Dell's offering lacks. In addition to being much brighter, the Apple boasts far more accurate colors, making it ideal for photo editing.
When it comes to flexibility, though, the Dell wins out because of its HDR capability, HDMI connectors, DisplayPort, and superior ergonomics that make it easy to position the screen in the best possible way.
In terms of style, many people compare it to M8 S32BM80 by Samsung, but the two are quite different. Thanks to its wide color gamut and impressive out-of-box accuracy, the Apple 5K monitor is quite tempting for multimedia creators.
As an added bonus, the Apple has superior viewing angles, making it ideal for watching videos and movies with a close friend or family member. The Apple screen gets brighter and handles reflections better when used in a well-lit space.
However, the Samsung boasts a built-in smart platform, making it simple to enjoy your favorite shows and movies, and it also comes with a voice-controlled remote. It also has deeper blacks for usage in low-light settings and supports high dynamic range (HDR), which the Apple TV does not.
Should You Buy the Apple Studio Display or Not?
The truth is that not even the greatest displays on the market include a six-speaker sound system, a 12MP ultrawide camera, a triple-mic array, and an A13 Bionic processor.
The Apple Studio Display manages to cram all of that into a sleek, stunning slab of a screen, metal-centered on a 27-inch, 5K panel and surrounded by a black bezel only about half an inch thick.
That being said, it may not be for everyone, especially because of its price. It is supper expensive for what it is; nothing more than a reasonably good IPS monitor. The 5K resolution is undoubtedly impressive, but it is not something that most artists absolutely need and may not be able to take advantage of.
So, if you want to join that 5K bandwagon and have the money to splurge, go for it. If not, you should probably keep looking elsewhere!
Up Next…
Interested in reading about more products? Click on the links below: