The first-generation Apple AirPods Pro was released in 2016 and was a massive success for Apple. The Apple AirPods Pro (Second-Gen) (released in September 2022) improved on this success with better sound quality, a longer battery life, and many more features.
The AirPods Pro (Second Gen) features a better charging case, improved active noise cancellation, and unique voice commands with Siri. These features have made these earbuds popular among many who want an alternative to wired headphones.
How good are the AirPods Pro (Second-gen)? We'll explore these wireless headphones in detail and look at some of the best deals available. At the end of the post, you'll have a good idea of whether they are worth buying.
Best Apple AirPods Pro Deals Today
Apple AirPods Pro (Second-Gen) Overview
The new Apple AirPods Pro is a second-generation version of the original Apple AirPods. These new earbuds have been redesigned to focus on sound quality, durability, and comfort. 
The AirPods 2nd Gen features an improved design that provides better active noise canceling and more natural sound. They also have better battery life and come with a portable charging case with a larger battery capacity than the previous model.
While they may not be as stylish as other options, they're still more capable of meeting most people's needs. These are a great choice if you're looking for a pair of truly wireless earbuds that work well with your iPhone and iPad.
Release Date and Price
Apple AirPods Pro (Second-Gen) is now available on Apple's website and other major retail stores. The first batch of AirPods was released on September 9, 2022.
The AirPods Pro 2 retails for around $249, and this price point hasn't changed much compared to the previous generation.
Sale
Apple AirPods Pro (2nd Generation) Wireless Earbuds, Up to 2X More Active Noise Cancelling, Adaptive Transparency, Personalized Spatial Audio, MagSafe Charging Case, Bluetooth Headphones for iPhone
RICHER AUDIO EXPERIENCE – The Apple-designed H2 chip pushes advanced audio performance even further, resulting in smarter noise cancellation and more immersive sound. The low-distortion, custom-built driver delivers crisp, clear high notes and deep, rich bass in stunning definition. So every sound is more vivid than ever.
NEXT-LEVEL ACTIVE NOISE CANCELLATION – Up to 2x more Active Noise Cancellation than the previous AirPods Pro for dramatically less noise on your commute, or when you want to focus. Adaptive Transparency lets you comfortably hear the world around you, adjusting for intense noise—like sirens or construction—in real time.
CUSTOMIZABLE FIT – Now with four pairs of silicone tips (XS, S, M, L) to fit a wider range of ears and provide all-day comfort. The tips create an acoustic seal to help keep out noise and secure AirPods Pro in place.
SOUND ALL AROUND – Personalized Spatial Audio surrounds you in sound tuned just for you. It works with dynamic head tracking to immerse you deeper in music and movies.
HIGHER LEVEL OF CONTROL – Now you can swipe the stem to adjust volume. Press it to play and pause music or to answer and end a call, or hold it to switch between Active Noise Cancellation and Adaptive Transparency.
Different Models
The Apple AirPods Pro (Second-Gen) is Apple's latest generation of wireless earbuds. They offer many of the same features as their predecessors but with better sound quality, longer battery life, and a new wireless charging case.
These headphones use Apple's new H2 chip, which promises to improve Bluetooth connectivity and deliver up to two hours more battery life per charge than the first-gen AirPods. There's also a new wireless charging case that charges your AirPods up to five times on a single charge.
Features
The second-generation AirPods Pro has a few key differences from the previous model. 
The first is that they now have an improved charging case. It looks similar to the original AirPods charging case but now has sound alerts to help you locate it. If you lose your case, the new U1 chip in the Apple AirPods Pro 2 allows you to find them with precision. To do so, you can use their 'Find My' service on your smartphone. In addition, the all-new tones also alert you when the battery is low or when pairing is complete. 
With the new Apple AirPods case, you can also wirelessly charge your headphones while they're in the case. Just place it on any Qi-compatible wireless charging pad, table, or desk with a charging mat.
The sound quality has also been improved thanks to an upgraded H2 chip that gives you more bass response and improved audio transparency. The sound quality of the previous generation was not good enough, and many people complained about this issue. Thankfully this problem has been fixed in the new generation of AirPods Pro (Second-Gen).
The main highlight of the Apple AirPods Pro (Second-Gen) is its Active Noise Cancellation (ANC) feature. The company claims the new AirPods offer two times more noise cancellation than the previous models. It uses Apple's chip to eliminate ambient noise and provide an isolated listening experience. This will come in handy when you're commuting, traveling on public transport, or using your headphones at the gym.
Here is what else to expect from the Apple AirPods Pro (second generation):
Brand-new H2 chip
2x more active noise cancellation
Four pairs of silicone tips
Advanced touch controls
Up to 6 hours of listening time
All-new alert tones with the charging case
IPX4 sweat and water-resistant
Siri commands
Specifications
| | |
| --- | --- |
| AirPods Dimensions | Height: 1.22 inches (30.9 mm)Width: 0.86 inches (21.8 mm)Depth: 0.94 inches (24.0 mm) |
| Charging Case Dimensions | Height: 1.78 inches (45.2 mm)Width: 2.39 inches (60.6 mm)Depth: 0.85 inch (21.7 mm) |
| AirPods Weight | 0.19 ounce (5.3 grams) |
| Charging Case Weight | 1.79 ounces (50.8 grams) |
| Battery life | Up to 6 hours of listening time with a single charge Up to 4.5 hours of talk time with a single chargeUp to 30 hours of listening time with the AirPods Pro MagSafe Charging Case |
| Charging time | 5 minutes in the case provides around 1 hour of listening time |
| Bluetooth version | Bluetooth 5.3 |
| Charger type | Wirelessly using a MagSafe charger or with the Lightning connector |
| Active noise cancellation | Yes |
| Touch controls | Yes |
| Waterproof | IPX4 sweat and water-resistant |
Apple AirPods Pro (Second-Gen) Review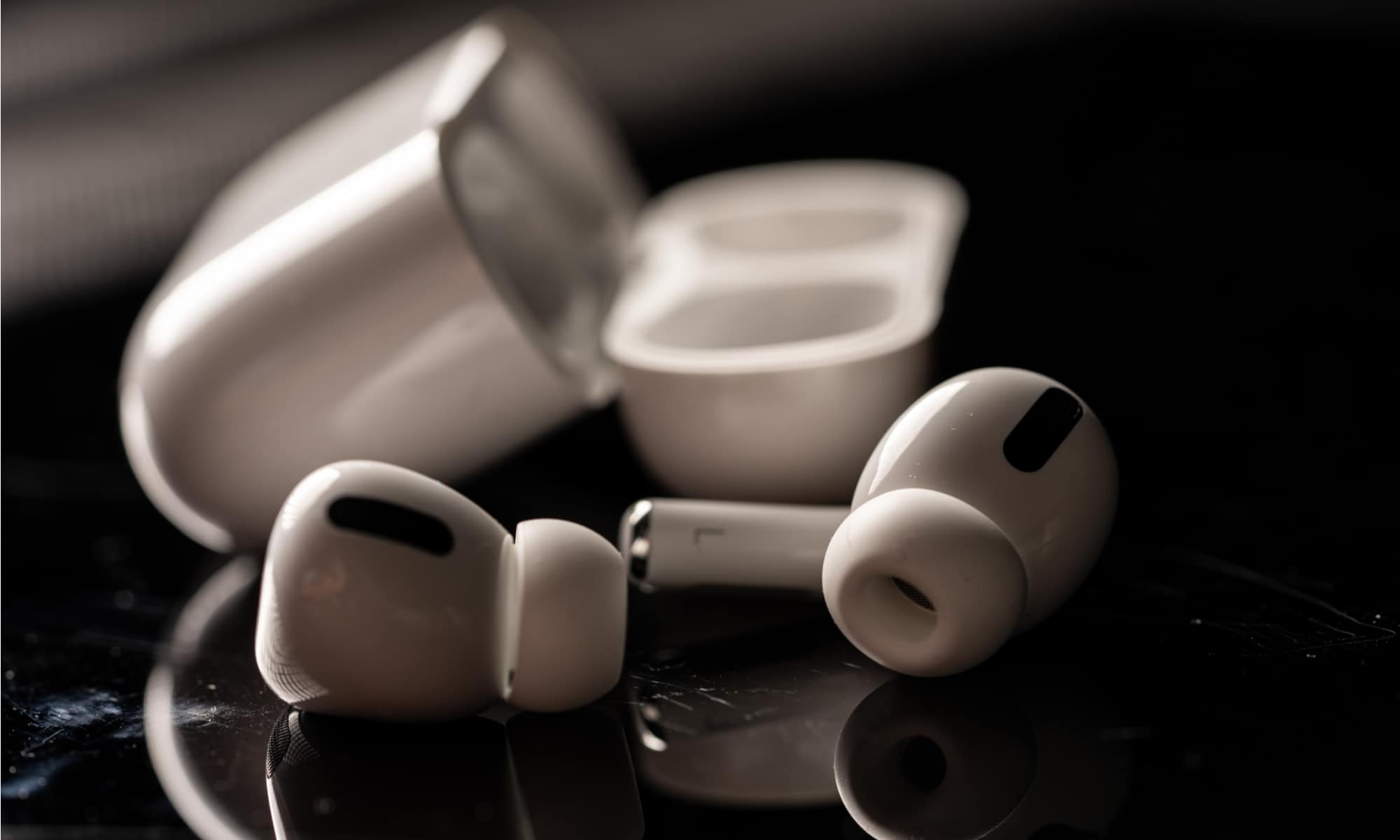 Putting all the specs aside, are these wireless headphones worth it? Should your purchase the Apple AirPods Pro 2? In short, yes! Apple has improved in many ways with this new model.
The first-generation AirPods had a lot of issues with audio quality, but the AirPods 2 addressed many of those problems. The company also says it has optimized the microphone and speaker components for better sound quality and voice calls, making it easier to hear.
Apple claims that the AirPods Pro 2 should last about 6 hours on a single charge, which is impressive. This is much better than the 5 hours provided by the first-generation AirPods. You can get up to 30 hours of listening time with the charger case combined, which would put these wireless headphones on par with most other wireless headphones.
The most significant improvement with the AirPods Pro 2 is active noise cancellation (ANC). ANC blocks out unwanted sounds so you can focus on what matters most. When it works properly, it can make for a fantastic experience as you listen to music or podcasts without outside distractions.
Apple AirPods Pro (Second-Gen) Pros and Cons
| Pros | Cons |
| --- | --- |
| Improved noise cancellation  | Still uses the lightning connector |
| Better volume controls than the previous version | The design hasn't changed much |
| Improved sound quality and bass | No significant software changes |
| Improved battery life | |
Apple AirPods Pro (Second-Gen): Is It a Buy?
Apple AirPods Pro 2 are still the most popular wireless earbuds on the market. The new model is a little more comfortable than its predecessors, with a tighter fit and better stability. Better controls and longer battery life are welcome attributes.
But they are also expensive. If you've already splurged on them in the past and would like to see what else is out there, better alternatives exist, and might be just as good.
Buy It if…
You are already in the Apple ecosystem. The AirPods are made to work exclusively with Apple products. Connecting this device with other Apple products is seamless, and using this device with other Apple products has never been easier.
You're looking for a great deal. The price hasn't changed much from the original version, but the new model delivers better sound quality and noise-cancellation technology. 
You love Apple. Some people love Apple, and some don't. Whatever stance you take, there's no denying that the AirPods have a unique design and fantastic sound quality.
Don't Buy It if…
You're looking for the best audio quality. Better-sounding wireless earbuds are on the market, and some are even cheaper.
You're waiting for the AirPods Pro 3rd generation. If you're not impressed with the same old design, it's worth holding off until Apple releases new AirPods.
Check out the Apple AirPods Pro (Second-Gen) on Amazon.
Last update on 2022-12-02 / Affiliate links / Images from Amazon Product Advertising API