Anycubic and Elegoo are the best-known brands in the resin printing world. The former has launched various resin printers over the years, including LCD and DLP models. The latter is mostly known for its LCD printers. But aside from technology, is Anycubic worth the higher premium? To find it out, see how the Anycubic Photon D2 vs. Elegoo Saturn 2 compare.
Anycubic Photon D2 vs. Elegoo Saturn 2: Side-by-Side Comparison
The Photon D2 is one of the most sought-after printers in Anycubic's 2022 lineup. The desktop-sized printer crams lots of upgrades under its hood, including a super-short exposure time and a generous build volume.
Yet, some details seem off, such as the resolution that would've been top-notch years ago but is outdated today, and the very low power consumption that simply makes it underpowered.
Elegoo Saturn 2 is technically the third model in the brand's Saturn line. Similar to Photon D2, it was released in 2022 and quickly earned the title of the best mid-sized resin 3D printer from All3DP.
What makes an LCD printer better than a DLP one? Check out this brief comparison between Anycubic Photon D2 vs. Elegoo Saturn 2 to find it out.
| | Anycubic Photon D2 | Elegoo Saturn 2 |
| --- | --- | --- |
| Best for | Miniatures, jewelry, rapid prototyping | Larger parts printed at high resolution |
| Year | 2022 | 2022 |
| Technology | DLP | LCD |
| Resolution | 2K | 8K |
| Build volume | 165mm x 131mm x 73mm | 219mm x 123mm x 250mm |
| Size | Small | Medium |
| Exposure time | Up to 2.5 seconds/layer | Up to 3 seconds/layer |
| Printing speed | Approx. 50mm/hour | Approx. 50mm/hour |
| Screen lifespan | 20,000 hours | 2,000 hours |
| Price | $829.99 | $664.99 |
Anycubic Photon D2 vs. Elegoo Saturn 2: What's the Difference?
In resin 3D printing, DLP printers are typically considered the best. They are also more expensive than LCD printers and their print quality drops for larger prints. However, 4K and even 8K DLP printers are now a reality, enabling these machines to enhance the quality of their prints. This doesn't seem to be the case for Anycubic Photon D2, though.
Meanwhile, Elegoo has managed to surprise the masses with its Saturn 2. An upgrade of Saturn S released in December 2021, Saturn 2 grows to a mid-sized printer that brings the highest resolution to date at a more-than-competitive price tag. So, is DLP still worth it?  
Technology
As a pioneer in the resin 3D printing world, Anycubic has set trends and expectations for years. Nobody expected a recent model to pack outdated technology. Yet, Anycubic did exactly that, fitting a 2K projector with the voxels arranged in a standard 2560 x 1440 display into its newest Photon D2.
To make up for it, the company crammed a maximum density of 498 PPI, which allegedly brings the printer's accuracy in line with the likes of 8K LCD printers.
Our Pick
ANYCUBIC Photon D2
DLP projector that has a lifespan of 20,000 hours

Printing volume reaches 130.5mm x 73.4mm x165 mm/5.13 in x 2.88 in x 6.49 in

Double light uniformity algorithm

Printer power: 15W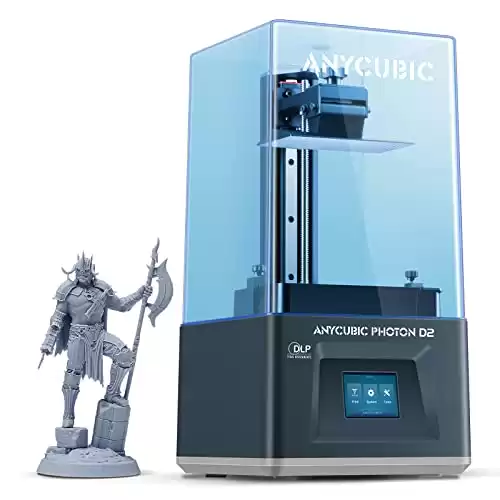 We earn a commission if you make a purchase, at no additional cost to you.
In truth, it can keep up with some 8K LCD printers, but not with all — and the Elegoo Saturn 2 is one of those that manage to surpass the DLP technology despite being an LCD. This printer features a 10-inch 8K LCD panel that provides a substantial boost to the level of detail and accuracy.
In detail, the Saturn 2 has a whopping XY accuracy of 28.5 microns. Meanwhile, the Photon D2 disappoints with an XY accuracy of 51 microns. While it can compete with lower-end 8K LCD printers, the lower level of accuracy of the Photon D2 is no match for the Saturn 2.
Build Volume
Resin 3D printers are much more expensive than their FDM counterparts. Affordable consumer units are typically desktop-sized. They feature build surfaces suitable for miniatures and small parts but not for mid-sized or larger items. At least until the Elegoo Saturn 2.
The new Saturn features a build volume of 219mm x 123mm x 250mm, which is still about half the size of an FDM printer's build plate, but significantly larger than Anycubic's 165mm x 131mm x 73mm build volume.
While the Photon D2 remains trapped in the range of jewelry, collectibles, and small dental parts, the Saturn 2 takes a leap into the world of mid-sized prototypes and larger consumer items.
Combined with its ultimate resolution, the Saturn 2 delivers both size and detail in a package that can easily silence the Photon D2. In fact, with this printer, Elegoo is a rival for the Photon Mono X 6K rather than the Photon D2.
Giving credit where credit is due, though, the Photon D2 also comes with a reasonable build volume compared to previous versions. Overall, Anycubic tries to bring DLP printing more in line with user needs and demands.
Special Features
Anycubic Photon D2 may disappoint with the low resolution, but this doesn't mean the printer doesn't bring any upgrades to the older model. Perhaps the greatest improvement is the anti-aliasing algorithm developed to reduce layer lines, getting rid of the annoying staircase effect seen in low-resolution printers.
The result is a smoother surface that follows the object's natural curves. Combined with the uniform light emittance at 92 percent, the Photon D2 manages to achieve excellent print quality and reduced post-processing — a huge advantage for anyone creating jewelry, miniatures, or intricate decorative objects.
Our Pick
ELEGOO Saturn 2
10-inch 8K mono LCD screen with an HD resolution of 7680 x 4320

Cure time of 1-3s per layer

Build volume of 219 x123 x 250 mm³/ 8.62 x 4.84 x 9.84 in³

Fresnel collimating light source

Filtration system with an activated carbon filter (absorbs most of the resin odor)
We earn a commission if you make a purchase, at no additional cost to you.
Surprisingly, the Saturn 2 has the same 92 percent light uniformity emittance achieved by an array of 64 LEDs. A Fresnel lens disperses the light beam from the LEDs, distributing it uniformly across the entire panel. Combined, these technologies reduce some of the printing defects associated with LCD 3D printers.
A highlight, compared to Anycubic, is the carbon filter system that comes as standard on the Saturn 2. The USB-powered air filter and acrylic hood can cut down some of the offensive odors that come with resins and reduce the level of toxic fumes in the room.
You still have to keep the environment ventilated, but won't have to worry about extra costs. The Photon D2 doesn't come with an air filtration system, although you can buy one separately. To make up for it, Anycubic improved the build surface on the Photon D2, fitting a laser-engraved plate on the machine.
This surface improves adhesion, but it can also make the print more difficult to remove when it's done. Elegoo Saturn 2 uses a build surface similar to Saturn S but includes dual linear rails designed to increase stability when printing larger models.
Screen Lifespan
Despite its technology, Anycubic Photon D2 brings no real advantage over the Elegoo Saturn 2, except for the screen lifespan. This printer promises up to 20,000 hours of printing, a huge difference compared to the 2,000 hours expected from the Saturn 2. However, the projector is still more annoying to replace than an LCD screen, so this round might actually be a tie.
Price
Price-wise, the Anycubic Photon D2 is cheaper than the Saturn 2, but the difference is so subtle that it doesn't give the D2 a real advantage. Currently, the Photon D2 is priced at around $829.99, but with Amazon Prime, it costs $599.99. Without discounts, Elegoo Saturn 2 costs around $665.
At first glance, you might find it ridiculous to spend more on an LCD printer, but the truth is that Elegoo brings more upgrades compared to the Photon D2. Considering the difference in build surface and resolution, investing in the Saturn 2 might be worth it.
Anycubic Photon D2 vs. Elegoo Saturn 2: 5 Must-Known Facts
Anycubic Photon D2 is a DLP 3D printer developed for printing small parts, accessories, and decorative objects.
Elegoo Saturn 2 is a mid-sized LCD 3D printer suitable for printing miniatures, small parts, accessories, and mid-sized medical or dental devices.
Due to technology differences, the Photon D2 produces similar results to Elegoo Saturn 2. However, it is overpriced for what it offers.
Photon D2's main advantage is the outstanding lifespan of the projector, expected to last over 20,000 hours.
Saturn 2's main advantages are the larger build volume and 8K resolution display.
Anycubic Photon D2 vs. Elegoo Saturn 2: Which One Is Better? Which One Should You Choose?
Finding the best resin printer comes down to your needs. If you mostly print miniatures and want to save a buck, the Anycubic Photon D2 might be the right choice. Sure, the price difference between it and the Saturn 2 isn't jaw-dropping, but it's still something. Combined with an outstanding screen lifespan and almost 8K printing quality, the unit is worth it.
Elegoo Saturn 2, however, is definitely the best bet if you want more versatility. A larger build surface allows you to print more items and try out new limits. It also features 8K resolution and comes with an air filtration system. In the end, the choice is yours — you can't go wrong with either option.
DLP projector that has a lifespan of 20,000 hours

Printing volume reaches 130.5mm x 73.4mm x165 mm/5.13 in x 2.88 in x 6.49 in

Double light uniformity algorithm

Printer power: 15W

Buy Now on Amazon

We earn a commission if you make a purchase, at no additional cost to you.

03/13/2023 09:51 am GMT

10-inch 8K mono LCD screen with an HD resolution of 7680 x 4320

Cure time of 1-3s per layer

Build volume of 219 x123 x 250 mm³/ 8.62 x 4.84 x 9.84 in³

Fresnel collimating light source

Filtration system with an activated carbon filter (absorbs most of the resin odor)

Buy Now on Amazon

We earn a commission if you make a purchase, at no additional cost to you.

03/13/2023 09:42 am GMT