Key Points
Anker and Belkin are leading brands in the tech accessory industry, both offering a diverse range of products.
Anker produces products such as portable chargers, headphones, and projectors, while Belkin specializes in cables, adapters, and smart home products.
Both brands prioritize durability and offer warranties for many of their products.
When we think about leading brands in the realm of tech accessories, Anker and Belkin quickly come to mind. Both of these brands have carved a niche for themselves. From offering an array of products such as chargers to cables, headphones, and more. They have both gained loyal customer bases over the years, with fans swearing to their quality and innovation. Beyond this, it's crucial to assess the real-world performance of each brand and the value of their offerings. This article will dive deep into the core differences between Anker and Belkin products. We will shed light on the strengths and weaknesses of both to help guide your decision on which to opt for.
Anker vs. Belkin: Side-by-Side Comparison
| Aspect | Anker | Belkin |
| --- | --- | --- |
| Founded | 2011 | 1983 |
| Headquarters | Shenzen, China | Playa Vista, California, US |
| Primary Products | Charging accessories, speakers, cables | Charging solutions, cables, mobile accessories |
| Notable Innovations | PowerIQ charging technology | Boost Charge series |
| Product Warranty | 18 months on average | Varies by product, up to 2 years |
| Price Point | Moderate | Slightly higher |
| Product Diversity | Broader range | Focused primarily on connectivity solutions |
| Product Compatibility | Universal compatibility with most devices | Optimized for Apple, but also universally compatible |
| R&D Initiatives | Continuous investment in improving charging technology | Focus on innovating connectivity solutions and integrating with emerging tech |
| Safety and Certifications | MultiProtect safety system in chargers | Safety certifications for surge protectors, MFi certification for Apple accessories |
| Customer Reviews | Generally positive, known for durability | Positive, especially for design and innovation |
Meeting Assistant
We earn a commission if you make a purchase, at no additional cost to you.
Anker vs. Belkin: What's the Difference?
Anker and Belkin are two of the most popular consumer brands when it comes to consumer electronics. Discover the key differences between these two tech giants and decide which one is better for you by reading this guide.
Company Background and Philosophy
Anker and Belkin, both giants in the tech accessory industry, approach the market with differing philosophies. Anker, established in 2011, began its journey with a focus on charging technology and power solutions. Its ethos has always been about empowering people through technology.
Belkin has been around since 1983 and focuses primarily on connectivity. Their mission often revolves around creating products that help people realize the power of technology, ultimately aiming to make their lives better.
Diversity of Product Lines
Efficient Charging
Anker PowerCore+ 26800mAh
The 45W USB-C port plus two 15W USB ports means you can charge more than one device at a time.
26,800mAH battery allows you to charge a laptop, a phone, and a tablet in the same amount of time
The included wall charger allows you to recharge your PowerCore in less than 3.5 hours
18-month warranty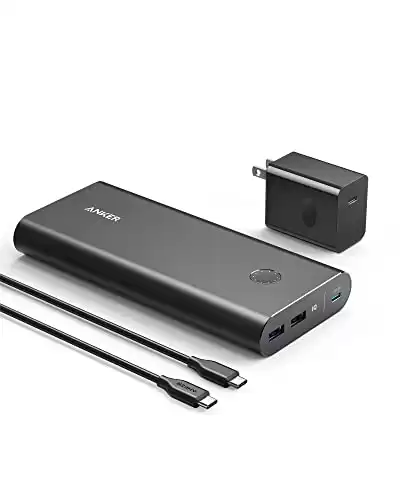 We earn a commission if you make a purchase, at no additional cost to you.
One of Anker's main strengths is its vast and diverse product range. From the start, Anker has continuously expanded its catalogue. Arguably, their flagship products, Anker's portable chargers, have been lauded for their efficiency and durability. Their PowerCore series, for instance, offers rapid charging and long battery life.
Venturing into audio, Anker's Soundcore series offers quality sound at a relatively affordable price point. These headphones often incorporate features like noise cancellation and long battery life. The Nebula range from Anker showcases its innovation in visual technology. These portable projectors are suitable for both personal and professional use.
While not as diverse as Anker, Belkin's specialization allows them to delve deeper into specific tech areas. Belkin is renowned for its cables, adapters, and more. Products such as the BOOST↑CHARGE series emphasize fast and safe charging. With the WeMo series, Belkin has ventured into the smart home market, offering products that seamlessly integrate with other devices, enhancing home automation and control.
Compatible with All of Your Lightning Devices
Belkin BoostCharge Nylon Braided USB C to Lightning Cable
6.6ft/2M long Apple Certified cable
18W power delivery
Charge iPhone 8 or newer from 0–50% in 30 minutes when paired with an 18W power adapter
Fast Charging for iPhone 13 and 14,
Compatible with all Lightning devices including iPad and Airpods
We earn a commission if you make a purchase, at no additional cost to you.
Innovation and Technology
Both brands are synonymous with innovation, but they apply it differently based on their product focus. With technologies like PowerIQ and VoltageBoost, Anker ensures that devices charge rapidly and safely. Anker's dedication to research has led them to produce some of the most efficient charging devices in the market.
True to their connectivity roots, Belkin's innovations often revolve around ensuring seamless integration of devices. The WeMo smart plugs, for example, can be easily controlled via smartphones, ensuring that home automation is accessible to everyone.
Quality and Durability
Competition is rife in the tech industry. However, both of these brands have managed to carve a niche by ensuring their products are highly durable and of high quality. Many have vouched for the longevity of Anker's products. Their portable chargers, in particular, are built to withstand regular wear and tear, making them perfect for frequent travelers and heavy users.
The premium build of Belkin's products, especially their connectivity solutions, speaks volumes about their commitment to quality. Products like their routers and smart plugs are designed not just for functionality, but also for durability.
Customer Service and Warranty
Beyond the product itself, after-sales service plays a significant role in brand loyalty. Known for its 18-month warranty on many products, Anker ensures that any hiccups customers face get addressed promptly. They've earned a reputation for their responsive customer service.
Belkin's products often come with a warranty that ensures customers feel secure in their investments. The company also provides dedicated support, ensuring that any issues are resolved in a timely manner.
Price Points and Affordability
Both brands offer a variety of price points across their products; however, there are some distinctions. Anker offers items that cater to both budget-conscious consumers and those looking for more premium options. This is thanks to their far broad product line. The brand's versatility means there's something for everyone.
Given its focus on specialized products, some of Belkin's offerings might be on the pricier side. However, many deem the investment worthwhile for the quality and innovation they bring to the table.
Collaborations and Partnerships
Another defining facet in the comparison of these two tech giants is their alliances and collaborations with other technology players. While both have ties within the tech world, Belkin's prominent collaboration with Apple on certain products stands out. These co-developed accessories tend to be optimized for Apple's ecosystem, granting users a streamlined experience.
Anker, although not known for its large-scale collaborations, has strategically partnered with certain brands to enhance specific product features. Such alliances ensure that Anker's products remain cutting edge and compatible with a wide array of devices.
Environmental Initiatives and Sustainability
Consumers are increasingly concerned about the environmental impact of the products they purchase in the world of today. Recognizing this trend, both Anker and Belkin have started emphasizing sustainability. Anker's commitment to the environment can be seen in its eco-friendly packaging and products designed for longer lifespans, thus reducing electronic waste.
Belkin, too, is conscious of its ecological footprint. The company's initiatives include developing energy-efficient products, using recyclable materials, and reducing wasteful packaging. Their endeavor to blend innovation with eco-consciousness showcases their commitment to a sustainable future.
Safe Charging
Belkin 3-in-1 Wireless Charger
Compatible with Qi-enabled Apple iPhones with charging speeds up to 7.5W
Integrated LED lights indicate the charging status
Comes with a 2-year limited warranty
We earn a commission if you make a purchase, at no additional cost to you.
Anker vs. Belkin: 5 Must-Know Facts
Anker products, especially their cables, are often lauded for their resilience and longevity.
Belkin has bagged several awards over the years for their innovative designs and functionalities, particularly in the realm of wireless charging.
Anker, being a direct-to-consumer brand, usually offers a more competitive price point compared to Belkin.
Anker provides a broader spectrum of tech products, whereas Belkin narrows down to more specialized connectivity solutions.
Both brands offer commendable customer service, but Anker often goes the extra mile with extended warranties and no-questions-asked returns.
Anker vs. Belkin: Which One Is Better? Which One Should You Use?
Your choice between Anker and Belkin largely depends on what you're looking for. If you need a diverse range of tech accessories that are durable and reasonably priced, Anker might be your go-to. On the other hand, Belkin stands out for its deep dive into specialized segments like home automation and connectivity solutions. They have consistently showcased their commitment to quality and cutting-edge design.
Moreover, their integration capabilities with other devices might give tech enthusiasts and professionals an edge in a seamlessly connected environment. However, if you're seeking innovative design and top-notch functionality, Belkin would be the preferred choice. This is as long as you don't mind spending a bit more. Remember, the best choice always aligns with your specific needs and budget.
The image featured at the top of this post is ©iStock.com/pavel_balanenko.