When it comes to streaming media players, there are a few major contenders in the market: Android TV and Roku. With more and more people turning to streaming services for their entertainment needs, it's no surprise that these two platforms have become the go-to choices for many viewers. Both streaming devices offer users access to a wide selection of content and apps, but each has unique features and capabilities.
In this guide, we will take a closer look at Android TV and Roku and compare them side-by-side to help you decide which is right for you. We'll discuss the differences in design, user interface, content and apps, remote control options, and pricing so you can make an informed decision.
Android TV vs. Roku: Side-by-Side Comparison
| | Android TV | Roku |
| --- | --- | --- |
| What it is | Android TV is a version of the Android operating system designed for use on television sets and streaming devices. It allows users to access a variety of streaming services, as well as games and other apps. | Roku is a streaming platform and device that allows users to access a wide variety of streaming services, including Netflix, Hulu, and Amazon Prime Video. |
| Maximum storage space | 8GB | 4GB |
| Channels | More than 600 | About 2,000 |
| Operating system | Android | Roku OS |
| Remote features | Google Assistant-enabled remote | Roku Voice Remote |
| Top video quality | 4K UHD, 60 fps | 4K UHD, 60 fps |
| Video format | Dolby Vision, HDR10/10+ | Dolby Vision, HDR10/10+, HLG |
| Google assistant? | Yes | Yes |
| Alexa compatibility? | No | Yes |
Android TV vs. Roku: What's the Difference?
Android TV and Roku are among the top contenders in streaming devices. While both of these services offer great features, they do have some significant differences that you should be aware of. In this section, we'll look at the differences between them.
User Interface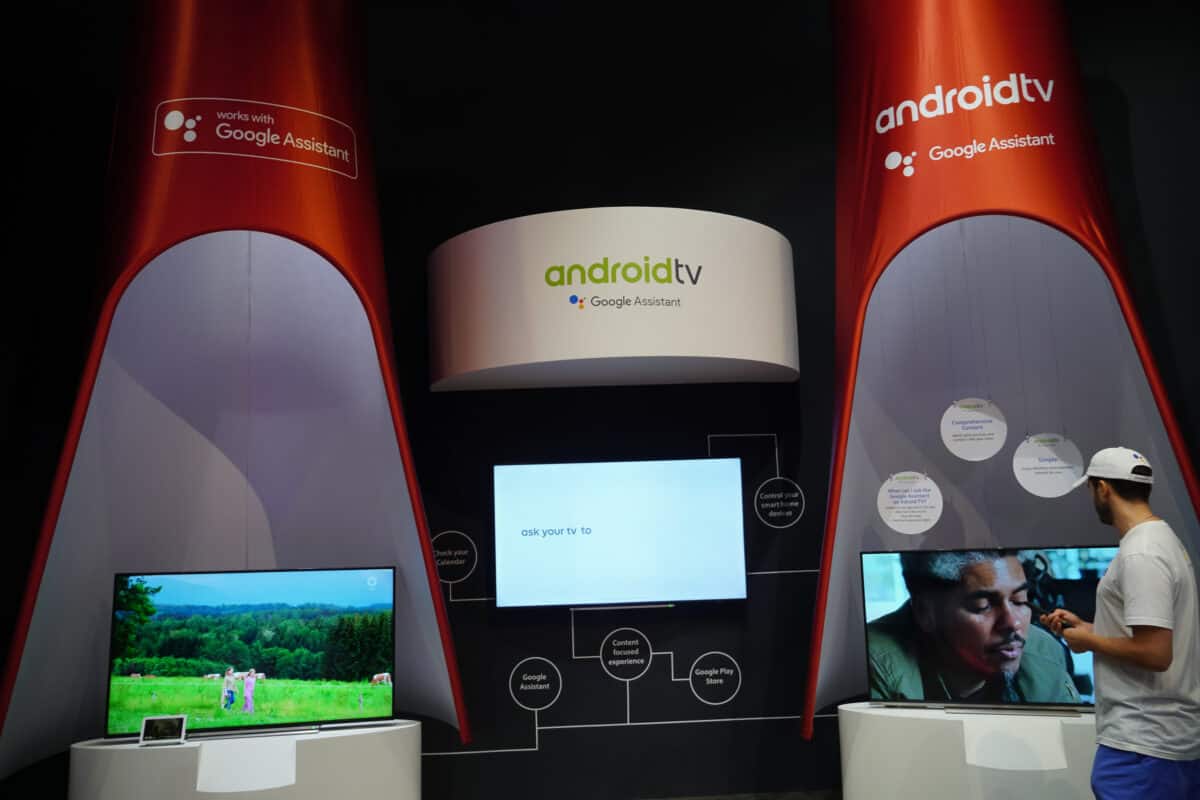 Roku has a more user-friendly interface than Android TV, with menus that are easy to navigate and a range of apps that can be accessed quickly and easily. On the Android TV platform, users can expect a clean and intuitive experience that closely resembles the user experience of their Android devices.
This includes the familiar Android home screen layout with large icons for easy access to apps and content. The experience also includes voice search capabilities, Google Assistant integration, and content recommendations tailored to your viewing habits.
On the other hand, Roku offers a more traditional approach, with its home screen featuring options such as My Feed, Movies, TV Shows, News & Weather, and more. This setup lets you quickly jump into any type of content you want to watch. It also offers the Roku Voice Remote, which provides users with a convenient way to search for content with their voice.
Overall Android TV has a more modern look and feel. It also offers a range of customization options, allowing you to create a personalized home screen. Roku has a more traditional look and feel, but it's not as customizable as Android TV.  
Content
Both Android TV and Roku offer a wide range of streaming content, including movies, TV shows, sports, and more. However, Android TV also offers access to Google Play Store apps, while Roku does not. Roku offers users access to its proprietary streaming platform, The Roku Channel.
The Roku Channel has a library of free movies and TV shows that can be streamed without a subscription. It also has access to other streaming services like Netflix, Hulu, Amazon Prime Video, and more. Ultimately, the type of content you're looking for will determine which platform is best for you.
Voice Control
When it comes to voice control, Android TV offers a much more comprehensive experience than Roku. Every Android TV box and television comes with a voice remote that allows you to talk to the Google Assistant, while Roku requires an additional purchase of their Enhanced Voice Remote to take advantage of voice search.
Furthermore, the Google Assistant on Android TV provides users with a full-fledged Google Assistant experience, allowing them to control smart home devices, find out about the weather, look at upcoming calendar appointments, and more. This is far superior to Roku's built-in voice controls, making it the preferred choice for those looking for an advanced voice control experience.
Bluetooth Connectivity
Both Android TV and Roku offer Bluetooth connectivity, which lets you connect wireless headphones or speakers to your device so you can listen to music while watching movies or playing games. On Android TV, all devices provide support for Bluetooth. This means you can easily pair any smart device with Android TV using Bluetooth.
On the other hand, not all Roku devices offer Bluetooth compatibility. If you're considering buying a Roku device, make sure to double-check that the device you're buying offers Bluetooth compatibility. Without Bluetooth, you won't be able to pair any other smart devices with your Roku TV.
For those who plan on using their streaming device to pair with multiple devices and gadgets, Android TV is the better choice. However, if Bluetooth compatibility isn't an issue for you, then either option could be a great fit.
Screencasting
Android TV allows you to mirror the screen of your Android phone or tablet to your TV. This means you can watch movies, view photos, and play games from your device on the big screen. You can also use Google Home to stream content from your compatible devices, like phones and tablets.
With Roku, you can cast content from iOS devices. Overall, both services offer excellent screencasting capabilities. However, Android TV's support for Google Cast makes connecting and mirroring content from different devices easier.
Additional Features
When comparing Android TV and Roku, there are several additional features that can be considered. Both offer HDMI inputs for connecting external devices, such as a gaming console or Blu-ray player, and both offer the ability to access streaming services from various providers.
However, when it comes to updates, Roku is slightly ahead of Android TV. The Roku operating system is always evolving, allowing frequent updates to bring new features and improvements.
Another key point to consider is the carriage disputes between providers and devices. Carriage disputes can limit the content available to users on certain platforms or devices, so it's important to keep this in mind when deciding which device is right for you. While these disputes can be inconvenient for users, Roku seems to be more prone to them than Android TV.
Android TV vs. Roku: 6 Must-Know Facts
The interface for both platforms is relatively easy to use, though many users find that Roku is more intuitive and user-friendly than Android TV.
Android TV supports a built-in Chromecast, allowing you to cast content from your phone or tablet onto your TV. Roku devices support Airplay on newer models making it ideal for iPhone users.
For added convenience, Android TV can be connected to other devices and services, like Google Assistant and Chromecast. Roku supports home automation and voice commands through Amazon Alexa and Google Assistant.
Android TV offers users access to the Google Play Store and a wide variety of apps and games, while Roku provides access to the Roku Channel store with thousands of streaming services and apps.
Both platforms offer access to all the major streaming services, with Android TV having unrestricted access to the Google Play Store.
Both Android TV and Roku devices have a range of models, with different features and price points to suit different needs and budgets.
Android TV vs. Roku: Which One Is Better? Which One Should You Use?
The decision between Android TV and Roku can be difficult for many users. Both offer robust streaming experiences with access to a wide range of apps, but there are some key differences between the two devices. Android TV has a more powerful processor, allowing it to perform better, particularly when gaming.
It also offers built-in features like Chromecast support and Google Assistant integration. However, Roku's interface is simpler and more intuitive than Android TV's, making it ideal for those who want an easy-to-use device.
Additionally, Roku is usually cheaper than Android TV, making it a better option for budget-conscious users. If you're looking for more customization options, then Android TV might be the better option. However, if you're looking for an easy-to-use platform with plenty of content, Roku could be the right choice.