Key Points
An alumnus of Princeton, Bezos worked at Wall Street, Fitel Company, and D.E Shaw & Co. before leaving to take part in the internet gold rush.
Launched in 1994, the new company began diversifying its inventory pretty early. It also survived the dot.com bubble bust of 2001 and by the fourth quarter was earning $1 billion in revenue.
While its e-reader scheme was a success, its foray into the mobile phone market was not. Amazon's additional business ventures included its acquisition of Whole Foods and MGM.
The History of Amazon: What to know
Amazon is an enormous, internet-based company headquartered in Seattle, Washington. The technology giant is among the Big Five companies in the United States, alongside Apple, Google, Microsoft, and Meta (Facebook).
Even though Amazon initially started as an online marketplace for books, the company has grown to be the most valuable and influential brand globally. Amazon now boasts a multitude of product categories, making it an everything store.
Quick Facts
Year Founded

1994

Founders

Jeffrey Preston Bezos

Industry

E-commerce, Artificial intelligence, Cloud computing, Consumer electronics, Digital distribution, Entertainment, Supermarket

Headquarter

Seattle, Washington, U.S

Key People

Jeff Bezos (executive chairman)

Notable Products

Kindle e-book readers, Fire OS, Amazon Echo, kindle fire tablet, Amazon fire TV

Website

https://www.amazon.com/
Currently, the company focuses on cloud computing, artificial intelligence, e-commerce, digital streaming, Zoox, and autonomous vehicles. Other subsidiaries include the Whole Foods market, Amazon lab 126, Ring, IMDb, Twitch, to mention but a few.
The Founding of Amazon: How it Happened
Jeffrey Preston Bezos in his garage in Bellevue, Washington founded the famous Amazon.com on July 5, 1994. Before quitting employment, Jeff Bezos worked for several companies.
His first job was on Wall Street in the computer science field, which Bezos secured immediately after graduating from Princeton. He then proceeded to work for Fitel Company, his main goal being to build an international trade network for the company.
Later on, Jeff Bezos became the vice president of the Bankers Trust. Finally, he worked for D.E Shaw & Co. in the computer science field and did away with employment.
In 1994, Jeff Bezos decided to participate in the internet gold rush. Through the initiative, he came up with the idea of using the internet to sell books to a mass audience.
Bezos then decided to go for a cross-country drive from New York to Seattle with his then-wife. On the way, he wrote the Amazon business plan and chose to set up the original company in his garage.
The initial name Bezos gave his company was Cadabra. But later on, Jeff overheard a lawyer mispronouncing the name as cadaver. At this point, Bezos chose to change the name of the company to Amazon.com.
Before settling for the name, Bezos took time to go through the dictionary. He chose to settle for a name that started with 'A' because it is at the top of the alphabet's list. Besides, he named his company Amazon after the world's largest river and retained the domain's name as Amazon.com. He planned to make his bookstore the largest in the entire world.
The company was incorporated in the state of Washington, beginning service in July 1995. The initial Web site was text heavy and gray, it wasn't pretty and didn't even have listing book publication dates and other key information. But that didn't concern Madrona Venture Group's Tom Alberg, who invested $100000 in Amazon in 1995.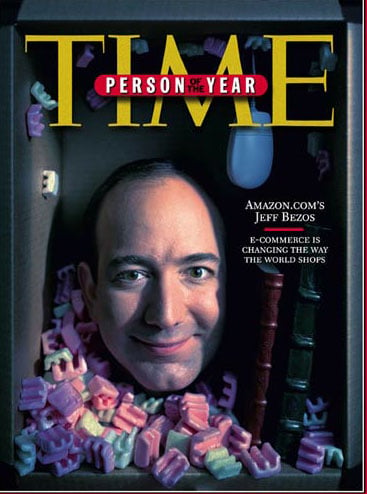 By the fourth month in business, the company was selling more than 100 books a day. Bezos succeeded in creating more than a bookstore, he created an online community. The site was revolutionary early on for allowing average consumers to create online product reviews. It not only drew people who wanted to buy books, but also those who wanted to research them before buying.
Amazon Through the Decades
Amazon has made steady strides over the years. Here is how the company has risen from 1995, a year after it was founded to date:
Phase One: 1995 – 1997
In July 1995, the Amazon Company began to offer services in Washington. Its first website was text-heavy and gray in appearance. It was not that pretty and even lacked book publication dates and other vital information.
But that didn't stop Tom Alberg of Madrona Venture Group from investing in it. In the same year of 1995, the investor placed in Amazon an investment of $100000. The investment saw Amazon grow its sales significantly. After four months in business, the company was selling over 100 books in a day.
Even though Amazon started as an online bookstore, it gradually began including other products and services into its business model. That was through acquisition or development.
The year 1997 saw Amazon add movie videos and music CDs to its website. Many viewed this step as a bold move that would complement the company's broad book collection. Also, in May 1997, amazon.com delivered its first public offering of stock.
And within a short while, Amazon included five more product categories to its cart. The products were toys, video games, electronics, software, and home improvements.
Phase Two: 1998 – 2000
In 1999, Time magazine recognized Amazon's success in making online shopping popular. The magazine further named Jeff Bezos as the person of the year.
During the same year, Amazon made its first attempt to venture into the publishing business. The company purchased a defunct imprint and used it to publish some books. But within a short time, the imprint vanished.
From June 19, 2000, Amazon had its logotype feature a curved arrow that leads from A-Z. The curved arrow had a shape like a smile.
Trusted sources indicate that Amazon did not anticipate profits for 4-5 years. The slow growth saw stockholders complain; because they did not receive the profits, they wanted from their investments. That made many people doubt whether the company would survive in the end.
Phase Three: 2011 – 2015
In 2001, the dot-com bubble busted, destroying many e-companies. Luckily, Amazon survived the tech crash and moved forward, becoming a dominant player in online sales. And in the fourth quarter of 2001, the company made its first profits. The revenues were over $1 billion and proved that Bezos business model was indeed set to succeed.
All the subsequent years saw an increase in revenues, thanks to the international presence and product diversification. For instance, in 2002, the revenues were $3.9 billion, $5.3 billion in 2003, $6.9 billion in 2004, 2005 had $8.5 billion, and 2006 accumulated $10.7 billion.
Amazon launched a remarkable Kindle e-book series reader in 2007. And in 2010, most people opted for eBooks from Amazon rather than physical books. In 2011, the online company engaged in a table business negotiation with the Kindle Fire.
Between 2005 and 2011, Amazon Company advanced to the cloud-computing scene, involving Amazon AWS. It further engaged in crowdsourcing with Amazon Mechanical Turk. Since Amazon was an early player, it dominated the cloud computing area and controlled most of the internet's physical infrastructure.
By 2011, the Amazon Company had acquired 30,000 full-time employees in the United States. Besides, the amazon.com site had over 900 million visitors in the same year. The number of employees rose to 56, 000 in 2012.
In 2014, the technology giant unveiled the fire phone to the public. The purpose of the fire phone was to enable customers to have access to media streaming options. Unfortunately, the venture flopped, making Amazon lose over $170 million. Moreover, the fire phone production was brought to a standstill the succeeding year.
Phase Four: 2016 – 2021
When it came to June 2017, Amazon announced to the public their plans to acquire Whole Foods, a high-class supermarket chain with more than 400 stores. The online company was set to spend $13.4 billion on whole foods.
Media experts say the Whole Foods acquisition was a move to reinforce Amazon's physical holdings and challenge the supremacy of Walmart. On August 23, 2017, the Federal Trade Commission and Whole Foods shareholders approved the business deal. Amazon further announced In September 2017 to position a second headquarters in a metropolitan area. The area of choice needed to have more than a million people.
The company gave cities some time until October 19, 2017, to present their submissions for the project dubbed HQ2. The second headquarters was valued at $5 billion. And in November 2018, Amazon announced plans to open the highly sought-after HQ2 in Long Island City, New York, and Arlington, Virginia. During this time, the company continued expanding its headquarters in Seattle as well. It even built its iconic Amazon Spheres that have become a major landmark in the city's downtown.
With this history, it's clear that Jeff Bezos managed to create a successful online bookstore and a broad online community. Amazon continues to scale heights as it develops new products and inventions to date. The company now serves a wide-ranging customer base across the globe.
Amazon's Important Inventions
On January 22, 2018, the company came up with Amazon Go, a store that incorporates sensors and cameras to detect items taken from the shelf by the customer. Afterward, it automatically charges the Amazon account of the shopper.
With this technology, customers are expected to install an Amazon Go app on their smartphones and link it to an Amazon account. Shoppers scan this Amazon Go app before they enter an Amazon store. The primary goal of the technology is to eliminate checkout lines.
Amazon Acquisitions
Here are some of Amazon's notable acquisitions:
Buys Top-level Domain
Amazon bought the top-level domain for more than $4 million through an auction in 2014.
Secures Whole Foods
On June 15, 2017, Amazon secured whole foods valued at $13.7 billion. It is a supermarket chain with more than 400 stores.
Acquires MGM
In May 2021, Amazon acquired MGM at an estimated value of $9 billion. The move was attributed to MGM's financial instability due to the COVID-19 impact.
The two companies agreed to enter into a merger deal. The deal would see Amazon include the MGM library on its Prime Video catalogue. With that, the studio would continue to function as a label managed by the new parent company.
Amazon Notable Controversies
Successful as it may, Amazon has not been without glitches. The company has had a few court battles here and there. However, Mr. Bezos has been able to deal with these glitches amicably.
Barnes, Noble Takes Amazon to Court
On May 12, 1997, Barnes and Noble took Amazon to court, alleging that Amazon's claims of it being the world's leading bookstore was not valid. Barnes and Noble further noted that Amazon was not a bookstore but a book broker. However, later on, the parties chose to settle the matter out of court.
Walmart Sues Amazon
Walmart also sued Amazon in October 1998, accusing the company of stealing its trade secrets. That was after Amazon hired former Walmart executives. But the parties addressed the matter out of court. Even so, amazon had to set and execute internal restrictions.
Amazon in the News
On May 25, 2023, Amazon was ranked as one of the most trusted brands in four recent polls — the Axios Harris Poll, the Morning Consult Most Trusted Brands list, Boston Consulting Group's Most Innovative Companies report, and the Harvard CAPs Harris Poll.
On April 26, 2023, Amazon suddenly announced it's decision to discontinue Amazon Halo. The service will cease to function from August 1, and users have until then to download any data they wish to save from it. Amazon announced that the decision had been made due to an "uncertain economic environment" and an "increasingly crowded segment".
Up Next…
Interested in finding out more about some of the biggest companies in tech? Read these articles below:
The History of Redbox: It reached its height in 2013, and turned its hand to streaming in 2017, however, faced with plummeting sales it has been forced to make even more changes. What does the future hold for this stalwart?
The Largest 5G Companies in the World, and What They Do: They are at the forefront of the quest to make cloud gaming, augmented reality, and virtual reality, a part of everyday life. Find out who they are, what they do, and how much they earn in terms of revenue.
How Much is Amazon Stock, and Why is it So Expensive? Are you interested in investing in this giant which looms across the Internet and the world? Find out how much its stock costs and why it costs that much.
The image featured at the top of this post is ©iStock.com/AdrianHancu.