Electric vehicles have taken the automobile market by storm, with Tesla cementing its name as a top brand in the sector. While a lot is said about the cars' efficient use of clean energy, culminating in a low carbon footprint and enormous environmental benefits, most prospective buyers are not concerned about the issue. They are more pressed on whether the vehicles perform as well or outperform the traditional gasoline automobiles.
With this in mind, you may want to know how fast a Tesla goes before deciding which one to purchase, or you may be curious to know which is the fastest Tesla model. Either way, you are at the right place. The subsequent parts of this article list the fastest to slowest Tesla models and give more information on their specs.
While most of these models are not faster than the average gasoline vehicles, it is notable that they can go from 0 to 60 mph quicker than them. Thus, the acceleration from 0-60 mph sets the base for our speed measurement between the electric vehicle brands.
Teslas: Side-by-Side Comparison
| Specs | Roadster (II) | Model S Plaid | Cybertruck | Model 3 | Model X | Roadster (I) | Model Y | Semi |
| --- | --- | --- | --- | --- | --- | --- | --- | --- |
| 0-60 mph | 1.9 seconds | 1.99 seconds | 2.9 seconds | 3.1 seconds | 3.8 seconds | 4.6 seconds | 4.8 seconds | 20 seconds |
| Top Speed | 250 mph | 200 mph | 110-130 mph | 162 mph | 155 mph | 125 mph | 135 mph | 65 mph |
| Horsepower | 1,242 hp | 637 hp | 800 hp | 283 hp | 670 hp | 248 hp | 283 hp | 1,000 hp |
| Range | 620 miles | 375-405 miles | 500 miles | 220 miles | 348 miles | 244 miles | 326 miles | 300-500 miles |
| Release Date | Unknown | 2012 | 2023 | 2017 | 2015 | 2008 | 2020 | 2022 |
| Price | $200,000 | $57,400 | $39,000 | $48,440 | $97,000 | $109,000 | $43,190 | $150,000 |
1. Tesla Roadster (Second Generation): 0-60 in 1.9 Seconds
In a concept unveiled in 2017, Tesla seeks to improve the original Roadster's design and performance and reintroduce it to the market as the Tesla Speedster. Although the model hasn't hit the market yet, and its design is still in the works, it promises to supersede its predecessor in all aspects. This way, it will present itself as the fastest Tesla model in the world.
Improvements
The Tesla Speedster improves the first-generation vehicle's design by adding two backseats that were not in the Lotus Elise-inspired design. Similarly, if released as advertised, the Tesla Speedster boasts more driving range and an elevated performance level that edges it over all-electric vehicles.
Supremacy
The second generation Roadster purports to operate on a standard all-wheel drive powered by a double motor system that produces 1,242 hp and offers a range of 620 miles. The vehicle's supremacy is further seen in its 250 mph top speed and a 0-60 mph acceleration time of just 1.9 seconds. These speeds are better than some of the top sport car brands in the world, such as the Porsche Taycan.
It is still uncertain when the Tesla Speedster will hit the market. However, like most luxury sports vehicles, you will have to part with a considerable amount, as it's expected to cost around $200,000. Let's hope it comes with the advertised specs.
Specs
Top speed: Over 250 mph
Acceleration (0 to 60 mph): 1.9 seconds
Range: 620 miles
Horsepower: 1,242 hp
Price: $200,000
2. Tesla Model S Plaid: 0-60 in 1.99 Seconds
The Model S is not only the fastest Tesla model available in the market but also the fastest electric vehicle on earth. Designed as an executive saloon car, the Model S operates in all-wheel drive and has a powerful dual motor that contributes to its speeds and elevates its handling.
The vehicle picks up from 0-60 mph in just 1.99 seconds and has a speed cap of 200 mph. The Tesla Model S is superior to its counterparts in almost all performance aspects, including power and range.
The vehicle's motor produces 637 hp to support its operations, as it can travel about 375-405 miles when fully charged. The only car close to this incredible performance is the Rimac Nevera.
Design Features
As with any fast and powerful vehicle, the Model S has design features that ensure your safety as you push the car to its full potential. Besides the all-wheel drive feature, the vehicle has an adaptive suspension setup that increases your control as you drive.
Notably, Tesla began working on the Model S project as early as 2007 but released the product in 2012. Since then, the team has significantly improved the EV, turning it into the powerful vehicle it is today.
Specs
Top Speed: 200 mph
Acceleration (0 to 60 mph): 1.99 seconds
Range: 375-405 miles.
Horsepower: 637 hp
Price: $57,400
3. Tesla Cybertruck: 0-60 in 2.9 Seconds
The yet-to-be-released Tesla Cybertruck marks the company's ambitious venture into the electric truck market. Although the company has rolled out several new innovative products over the years, none compares to this automobile.
Since its announcement, the Tesla Cybertruck has been the talk of the EV truck world. Surprisingly, the Cybertruck is the third-fastest Tesla model, though it's optimized for load carrying.
The Tesla Cybertruck is unlike any pickup truck ever produced. It has a futuristic design, almost similar to an amphibious vehicle. Instead of the curved edges associated with renowned pickup trucks from veteran companies such as Ford and Chevrolet, the Cybertruck has sharp edges and a huge windshield that gives it a polarizing wedge shape.
Although the Cybertruck has unique design features, it still has standard pickup elements. Like any other truck, the Tesla model has a truck bed, high horsepower, and easy towing capacity to transport cargo.
Futuristic Tires
During the vehicle's unveiling, Tesla announced that the Cybertruck would have futuristic tires and three motors. Their combined power would enable the car to travel as fast as 130 mph and do 0-60 mph in just 2.9 seconds.
These incredible speeds are higher than any EV truck available, making the Cybertruck the fastest if released as announced. Similarly, the vehicle would have an astonishing 500-mile range on a single charge.
While the Tesla CEO constantly shares specifics of the Cybertruck's features, the vehicle's release date and price are uncertain. After Tesla announced the car in 2019, with a $39,000 starting price, the planned release date shifted due to various issues.
Nonetheless, recent events point to the Electric truck's release in 2023. You can preorder the Cybertruck by putting down a refundable $100 deposit on the Tesla website.
Specs
Top Speed: 110 – 130 mph
Acceleration (0 to 60 mph): 2.9 seconds
Range: 500 miles.
Horsepower: 800 hp
Price: $39,000
4. Tesla Model 3: 0-60 in 3.15 Seconds
The Tesla Model 3 is among the smallest and most affordable EVs. The vehicle's plan and design began over a decade before the vehicle's release. And, for sure, Tesla worked to produce an affordable car with a substantial range and performance.
The Tesla Model 3 has proven superior to other saloon cars in its category, including the Toyota bZ3 and Hyundai Ioniq 6. The result was a dual-motor electric vehicle with design features that exceed safety standards. The Model 3 accelerates from 0-60 mph in 3.15 seconds and has a top speed of 162 mph.
The EV's sleek design includes a carbon fiber spoiler and custom tires, improving its stability when charging through the roads. Similarly, the car's dual motor system gives you access to a digital all-wheel function that lets you control the front and rear wheels for enhanced handling and traction control.
Therefore, given its power, the Model 3 can easily traverse various terrains. The Tesla Model 3 hit the market in mid-2017 with a warm reception from electric vehicle enthusiasts. The state-of-the-art automobile was offered at a relatively affordable price and attracted over half a million reservations. The sales are set to improve as Tesla makes design and performance tweaks to the vehicle.
Specs
Top Speed: 162 mph
Acceleration (0 to 60 mph): 3.15 seconds
Range: 220 miles.
Horsepower: 283 hp
Price: $48,440
5. Tesla Model X: 0-60 in 3.8 Seconds
Each electric vehicle produced by Tesla is an improvement over the last, and Tesla's Model X is a testimony of the company's design effort. The Model X is a mid-size luxury crossover vehicle with a posh design.
It has several unique features, including varying tire sizes, a panoramic window, and gull-wing doors – which are meant to increase the vehicle's safety, efficiency, and aesthetics – to add to the vehicle's appeal in the market.
While incorporating new specs into the vehicle's design, Tesla did not compromise on Model X's performance. The automobile has impressive acceleration speed, driving range, and power, balanced by its handling prowess.
Acceleration
For example, it accelerates from 0-60 mph in 3.8 seconds and has a speed capacity of 155 mph. The speed and accelerating speed are partially attributable to the vehicle's dual motor, which produces 670 hp and covers 348 miles on a single charge.
Braking System
Tesla Model X's sleek design and performance are topped off by the vehicle's remarkable handling and braking system, giving drivers full control even at high speeds. It has a sharp, responsive steering system and adaptive suspension on the tires, ensuring a comfortable ride no matter the terrain.
The first Model X was released in 2015 and sold at a starting price of $48,440, which is fair considering the specs you will enjoy with the bargain. Tesla continues manufacturing more versions of the Model X, making slight improvements to enhance its efficiency and performance.
Specs
Top Speed: 155 mph
Acceleration (0 to 60 mph): 3.8 seconds
Range: 348 miles.
Horsepower: 670 hp
Price: $97,000
6. Tesla Roadster (First Generation): 0-60 in 4.6 Seconds
The design and subsequent distribution of the Roadster marked Tesla's entry into the electric vehicle market. The pioneer Tesla model is considered a groundbreaking vehicle, with its Lotus Elise-inspired design and performance features.
As expected of any luxury sports car, the Roadster was exuberantly priced and remains the most expensive Tesla model to have graced the market to date. The original Tesla Roadster was quite powerful for an electric vehicle manufactured at the time.
It could go 244 miles on a single charge, and its motor generated 248 hp and 200 ln-ft, which enabled the car to traverse various terrain. The standard Roadster accelerates from 0 to 60 mph in just 4.6 seconds and can go as fast as 125 mph.
Although these speeds are conventional for any sports car, Tesla continued to improve on the Roadster, with subsequent releases reaching higher speeds. The original Roadster was announced in 2006, but it was not until 2008 that the model made its debut.
The first model sold at $109 000, which may sound high, but it is a reasonable price for an electric sports car. Nonetheless, the Roadster model was short-lived as Tesla halted its production in 2011 after it ran out of Lotus gliders. These were supplied by Lotus Cars as part of an agreement between the two companies.
Specs
Top Speed: 125 mph
Acceleration (0 to 60 mph): 4.6 seconds
Range: 244 miles.
Horsepower: 248 hp
Price: $109,000
7. Tesla Model Y: 0-60 in 4.8 seconds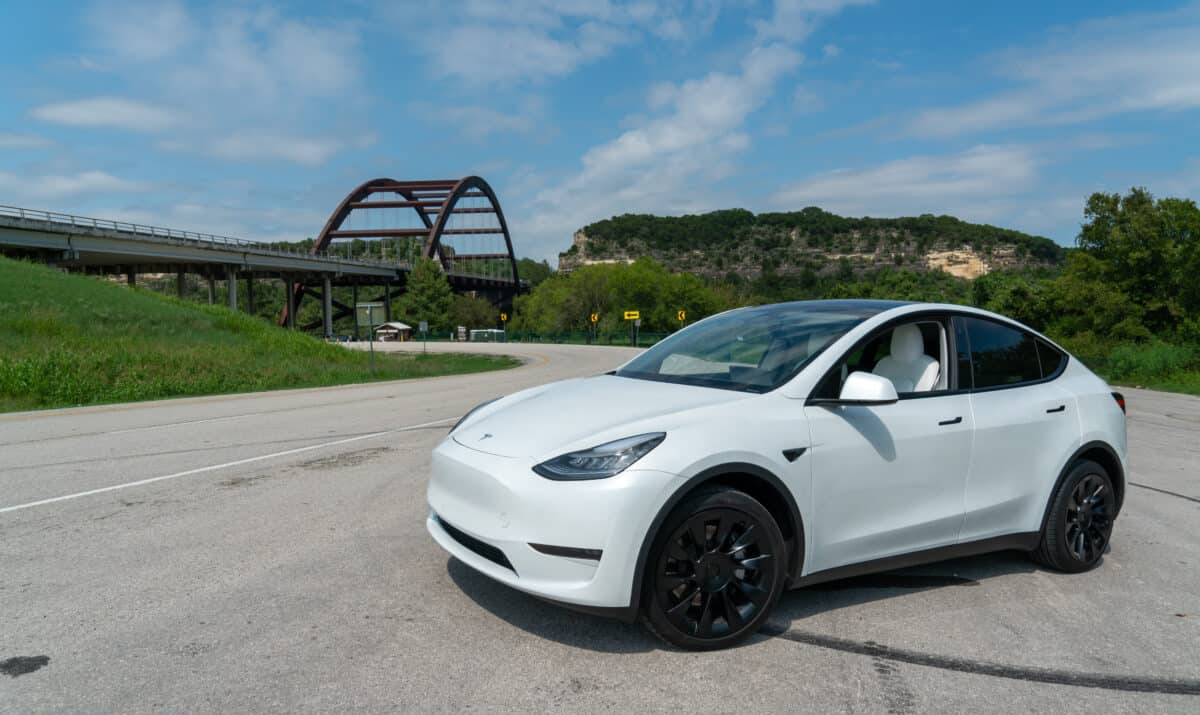 The Tesla Model Y is arguably the most versatile electric vehicle available. It is a compact crossover vehicle with an impressive interior design accommodating seven passengers. The second-row seats are foldable to accommodate luggage.
It also has a liftgate opening to a low trunk floor, making loading and offloading the vehicle relatively straightforward. With these specs, it is no surprise that the Model Y ranks among the top-selling cars worldwide.
Despite these desirable features, the Tesla Model Y isn't the best option if you want a fast vehicle. Compared to other Tesla models, it is relatively slow. The standard Tesla Model Y travels 0-60 mph in 4.8 seconds and has a top speed of 135 mph, making it the slowest Tesla SUV available in the market.
Range
Nonetheless, it makes up for this lack of speed in the range it offers. Once fully charged, the Model Y's next-gen 4680 battery can travel 326 miles before its power depletes.
Independent Electric Motors
The sleek electric vehicle's performance is enhanced by its dual independent electric motors that give the car an all-wheel drive function. Therefore, drivers can digitally control the front and rear wheels' torque, giving them elevated handling and control of the vehicle.
Whether you drive in the rain, snow, or mud, the Tesla Model Y is designed to navigate the terrain. You can use the 255/45R19 or 255/40R20 tires for a safe, smooth ride.
Tesla announced the Model Y in 2019. Production commenced soon after, and the vehicle was on the market by March 2020. With a $43,190 starting price, the car is the most affordable model released by Tesla.
Specs
Top Speed: 135 mph
Acceleration (0 to 60 mph): 4.8 seconds
Range: 326 miles.
Horsepower: 283 hp
Price: $43,190
8. Tesla Semi-Truck: 0-60 in 20 Seconds
Designed to make owning and operating a cargo truck affordable, the Tesla Semi is the slowest automobile manufactured by the electric vehicle company. Of course, you wouldn't expect the enormous cargo truck to compete with other passenger vehicles (in terms of speed and acceleration) designed by the company.
Nonetheless, the Tesla Semi is much faster than contemporary gasoline cargo trucks. It has a top speed of 65 mph and goes from 0 to 60 mph in a record 20 seconds when loaded. Although it seems slow, this is much faster than its fuel-powered competing trucks, which take longer.
Similarly, the Tesla Semi is equipped with three independent motors that combine to give the vehicle a tremendous horsepower of 1,000 hp, which allows it to carry heavy loads. Coupled with the truck's 500-mile range when fully charged, these incredible features make the Tesla Semi the perfect truck to transport cargo over long distances.
Enhanced Safety
The Tesla Semi's outstanding performance is complemented by impressive design features that make the truck appealing and enhances road safety. The truck has a smart design and is fitted with thermonuclear explosion-proof glass that can withstand heavy impact and projectiles.
With an automatic tire inflation system, you do not have to worry about your tires as you drive long distances. These are just a tip of the truck's incredible features.
On the inside, the Tesla Semi has an unconventional setting, providing a central sitting position for the driver. This design gives the driver a clear view of the road, maximizing safety. Clear vision also allows you to drive faster; after all, you have a clear picture of the road.
The Tesla Semi was announced in 2016 and has been in the works for almost a decade as the company strives to perfect its design. After several delays in its release, the powerful silent trailer truck is set for release on 1st December 2022, with the first truck delivered to PepsiCo. Other prospective truck owners may wait longer to enjoy the electric truck's incredible performance.
Specs
Top Speed: 65 mph
Acceleration (0 to 60 mph): 20 seconds
Range: 500 miles.
Horsepower: 1,000 hp
Price: $150,000
Future of Tesla EVs
Looking to the future of Tesla shows a packed release schedule for new electric vehicles, with the Cybertruck, Roadster, and Semi truck all slated to go to market in the next few years. The company has positioned itself as a frontrunner in the EV production industry. Their aggressive manufacturing projects for the next few years highlight their confidence in the future of EV profitability and reliability.
Tesla has steadily been betting on more consumers making the switch to electric vehicles. Their innovation continues to be a source of intrigue as they've recently focused on investing in newer battery technologies as they've continued to expand operations beyond the United States.
Final Thoughts
As we gradually embrace electric vehicles, many people may still be wary about how fast the automobiles go and whether they perform as well as their gasoline competitors on the roads. As evidenced by the various Tesla models, electric vehicles are up to the task.
From the soon-to-be-released trailer truck to the SUV models, Tesla has gone out of its way to incorporate impeccable designs, speed, and efficiency; without compromising safety. Our review of the fastest Tesla models should help you choose your preferred EV.
Up Next