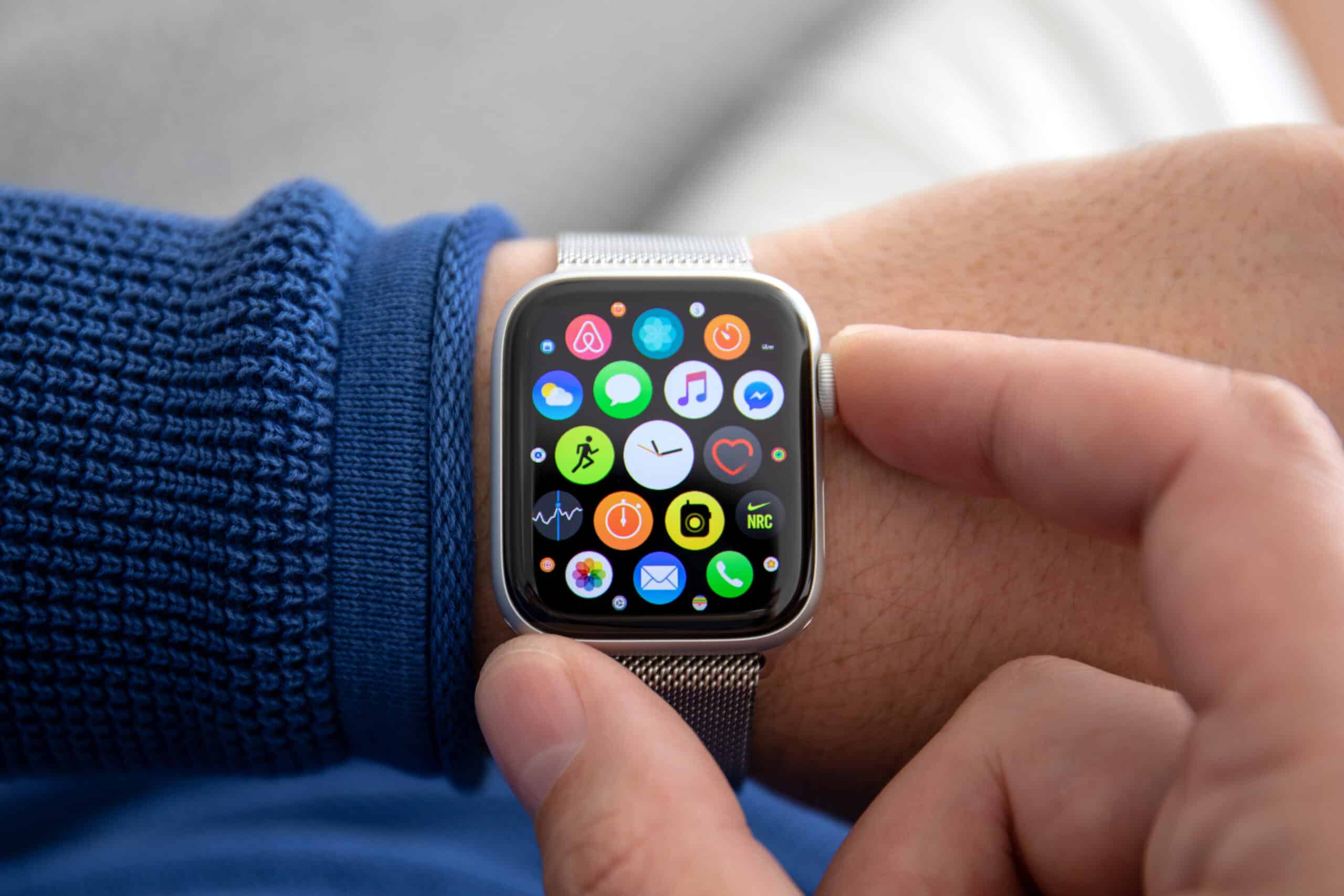 Initially, Apple Watch served as an extension to the iPhone, making it possible to access basic phone features such as emails, calls, and texts on your wrist. Over the years, it has evolved into one of the most reliable smartwatches, especially for the health-conscious. 
If you need to achieve more with the Apple Watch, besides streaming music and the basics, we've put together a highlight of all the health features it can track.
It is worth noting, however, that even though the health information provided by the Watch is invaluable, it cannot take the place of a doctor. 
Let's explore all the health-tracking features the Apple Watch can offer you!
Heart Rate Monitor
The heart rate monitor is one of the oldest health tracking features on the Apple Watch, as it is available in Series 1 watches to all the newer models. Using a sensor at the back of the Watch, it takes your heart rate throughout the day, keeping track of your average walking and resting heart rates.
You can also use the Heart Rate App on the Watch to measure your heart rate when needed. For instance, when using the smartwatch for workout monitoring, it will indicate your heart rate on the screen together with the other stats related to your workout. 
An essential function of heart rate tracking is knowing when your heart has exceeded or fallen below safe limits. According to Apple, the Apple Watch will prompt a notification if the heart rate appears to rise beyond 120 bpm (beats per minute) or falls below 40 bpm within 10 minutes of inactivity. You can adjust these values or turn the notifications off to reduce false alarms. You can also review these notifications on your iPhone. 
Atrial Fibrillation Detection
Atrial fibrillation is a common example of abnormal heart rhythm. Using an in-built optical sensor of pulse waves from the heart, the Apple Watch can catch instances of irregular heart rhythm, though not all.
Even though irregular heartbeats are often harmless, they can be tell-tell signs of future life-threatening conditions such as blood clots, stroke, and heart failure. Therefore, you must check with your doctor if you receive an AFib notification on your Apple Watch. 
The AFib notifications are backed up with records by the Apple ECG app to ensure timely and more informed decisions. Clinical studies showed that the app had 98.5% sensitivity in classifying AFib. Also, it is FDA-cleared for use by individuals aged 22 years and older. 
Depending on the results, the app may prompt you to provide details of related symptoms such as fatigue or dizziness. All these go into the records, which you can import as PDFs and share with your doctor. It is important to note that the results of the ECG can be affected by poor electrical signals or pacemakers.  
Activity Tracking
Activity tracking is one of the standard health features of smartwatches. However, the Apple Watch goes beyond its common alternatives by doing more than counting the steps you take in a day. A Stand Ring feature tracks how often you stand and move around. Notifying you that you have been sitting for a long time with little movement makes you conscious of unhealthy sedentary habits.  
Other rings in the Activity App are Exercise and Move Rings, which are green and red, respectively. The green ring tracks the amount of exercise you do in a day. It, by default, defines exercise as any movement that is more intense than brisk walking and lasts 30 minutes. The Move Ring shows how much you move around by tracking the calories you burn. Unlike the Exercise Ring, you can set the target of calories that you want to burn. 
Workout Tracking
If you take part in regular exercise sessions, the Apple Watch has a dedicated tracker, the Workout Tracking App. It records the duration of the workout, heart rate, pace, and burned calories.
To avoid burnout, the Pace Alert feature uses haptic feedback to tap your wrist when you are going too fast. You can also use it to warn you when you are going too slow, which is very helpful for athletes.  
Other helpful workout metrics are Cadence and Rolling Miles. Cadence indicates the number of steps you have taken per minute during the workout, while the latter compares your speed in your current run with the last one. 
Menstrual Cycle Tracking
Apple joined the Femtech bandwagon by adding the Cycle Tracking feature to the Apple Watch. It tracks the slight temperature changes in women that usually occur after ovulation. After recording information for two menstrual cycles, it can estimate the day of ovulation, making it useful for women trying to conceive or avoid it. 
Even though its primary function is to help predict the next ovulation, it can also help identify an irregular menstrual cycle. Such can symptomize different issues, including the onset of menopause, osteoporosis, and even infertility. 
Noise Detection and Hearing Loss Protection
According to the CDC, you can suffer gradual hearing loss by being around sounds above 70 decibels for a prolonged period. This makes hearing loss due to noise more common than you realize, from construction sites to headsets and earphones. Consequently, the Noise App that came with the watchOS 6 and later software versions is a feature to be grateful for. 
It monitors the ambient noise in your surroundings using the Watch's microphone. You will receive a notification whenever it detects noise above 90 decibels. You can either put on ear protection, reduce the music volume, or move away from the source.
Fall Detection
For older adults and people with limited mobility, the Fall Detection feature that Apple added to the Apple Watch Series 4 and newer releases can be lifesaving. It can also be very helpful for bikers, hikers, and those who participate in activities that may involve fatal falls. 
When you fall, it sounds an alarm and pings a notification inquiring if you are okay. If you do not move or respond to the notification within a minute, it begins a 30-seconds countdown with sounds and vibrations. When the countdown elapses without movement, it calls predesignated emergency contact persons and emergency services. 
Blood Oxygen Sensor
You can use the optical heart sensor on the Apple Watch to measure the amount of oxygen in your blood. By shining red, green, and infrared light into your wrist and measuring the amount of reflected light, it can detect the color of the blood. Generally, dark red blood has less oxygen than bright red blood.
Healthy oxygen saturation is above 95%, but you should consult a doctor if it falls below 92%. Lower oxygen saturation levels can be signs of issues with the circulatory system or the lungs, and early detection can help prevent the development of severe complications.  
Medications and Handwashing 
If you need to keep track of your medications or have a family member who does, then wrist notifications can be convenient. On the Medication App on your Apple Watch, you can enter the details of the medicines or supplements you need. The app will provide timely reminders of when your dose is due.  
Another intuitive feature is handwashing, which encourages you to wash your hands for 20 seconds as recommended by the WHO. You can also set it to notify you if you forget to wash your hands when you arrive at the office or home. 
Stress and Anxiety
This is not a tracking functionality per se, but it is still a helpful health feature in the Apple Watch. The Breath App can help you relax by guiding you through relaxing breathing practices. Add this to the ability to stream music from your wrists, and you have nearly all you need to create a relaxing environment when you feel overwhelmed. 
Sleep Detection 
A good night's sleep reduces the chance of sickness. Additionally, it enhances brain function and concentration. You can use this app to tailor your sleep routine to ensure you are refreshed and well-rested when you wake up. You may also use it to access your sleep history, track changes in your sleeping habits, and determine how much time you spend in REM and deep sleep.
Maximize the Experience and Tech Benefits of Your Apple Watch 
The Apple Watch makes use of a variety of sensors to monitor a number of health-related conditions. Therefore, for the sensors to function properly and provide more accurate results, ensure the Watch feels a little snug but comfortable on your wrist. This is where the right Apple Watch band comes in.
Apple Watch bands fit a wide array of wrist sizes. However, as a rule of thumb, choose 41mm and 45mm sizes for the 38mm and 42mm models, respectively, if you have the 1, 2, and 3 Series Apple Watches. For series 4 and later, the 41mm size and 45mm size for the 40mm and 44mm models, respectively.  
Where to Buy an Apple Watch
You can buy the Apple Watch directly from the Apple store or website, or on Amazon, where you have access to a variety of models, new and older.
Apple Watch SE (2nd Gen) [GPS 40mm] Smart Watch w/Midnight Aluminum Case & Midnight Sport Band - S/M. Fitness & Sleep Tracker, Crash Detection, Heart Rate Monitor, Retina Display, Water Resis...
WHY APPLE WATCH SE — All the essentials to help you monitor your fitness, keep connected, track your health, and stay safe. Now up to 20 percent faster, with features like Crash Detection and...
EASILY CUSTOMIZABLE — Available in a range of sizes and colors, with dozens of bands to choose from and watch faces with complications tailored to whatever you're into.
HEALTH AND SAFETY FEATURES — Get help when you need it with Crash Detection, Fall Detection, and Emergency SOS. Get deep insights into your health, including notifications if you have an irregular...
SIMPLY COMPATIBLE — It works seamlessly with your Apple devices and services. Unlock your Mac automatically. Find your devices with a tap. Pay and send money with Apple Pay. Apple Watch requires an...
SWIMPROOF AND STYLISH — Water resistant to 50 meters. Three finishes. And a redesigned, color-matched back case made with a new production process that reduces its carbon emissions over 80 percent.
We earn a commission if you make a purchase, at no additional cost to you.
We earn a commission if you make a purchase, at no additional cost to you.
Wrap Up
Despite being dubbed "an expensive accessory," Apple Watch is one of the most sought-after smartwatches. It boasts a collection of health-related features. Thus, you may count on it to help you lead a healthier life.