AWD EVs are becoming more common every day. With the booming popularity of electric vehicles has come a boom in production. These days, the EV market seems to have something for everyone: practicality, power, speed, cargo space, off-road capabilities—and more. In other words, EVs can now do everything a gas-powered car can do. This includes offering all-wheel drive.
If you're looking for an electric car and are struggling with where to start, you might have given some thought to what kind of driver you are. What your needs are, what kind of car you like to drive, the most common conditions on the roads you drive, that sort of thing. To that end, if you often find yourself wishing you had better traction and stability on the road, you probably want a car with AWD.
Fortunately, plenty of EV manufacturers offer AWD. Here's an exhaustive list we've put together of every EV with all-wheel drive capabilities currently on the market:
Audi Q4 e-tron
BMW i4
BMW iX and I7
Cadillac Lyriq
Chevrolet Silverado
Ford F-150 Lightning
Ford Mustang Mach-E
Genesis Electrified GV70
GMC Hummer EV
Hyundai Ioniq 5
Hyundai Kona Electric
Jaguar I-Pace
Kia EV6
Lexus RZ
Mercedes EQS
Nissan Ariya
Polestar 2
Porsche Taycan EV
Rivian R1T and R1S
Subaru Solterra
Tesla Model X
Toyota bZ4X
Volkswagen ID.4
Volvo XC40 Recharge
Audi Q4 e-tron
Starting at $71,995
Available as both SUV and Sportback, this Audi EV has much to offer both in terms of luxury and practicality. Thanks to its stable drivetrain, you can hit the roughest of terrains in style. Plus, both cabins offer top-of-the-line comfort and maximize space.
Unfortunately, though, Audi has put so much focus on competitive horsepower and a spacious interior that they've neglected the range somewhat. The SUV edition maxes out at 222 miles, depending on speed and tow.
BMW i4
Starting at $52,995
This all-electric iteration of BMW's 4-series Gran Coupe combines the practicality of hatchbacks with the luxurious appeal of the German company's iconic sedans. When loaded with all-wheel drive, the i4 offers 536 horsepower and reaches 60 mph in 3.3 seconds. The trade-off for this power, though, is a reduction in range, down from 260 miles to 245 miles.
While probably not suitable for long-distance driving, you should expect to have a lot of fun driving this EV on daily rides.
BMW iX
Starting at $85,095
Want to drive an all-electric BMW, but the i4 lacks the space and range you're looking for? No problem! If you're willing to fork over an extra thirty grand, you can get an SUV edition with up to 610 horsepower and 300 miles of range. Plus, you get extra seating and trunk space too. With all that power and extra range and space, the BMW iX kind of feels like you're having your cake and eating it too.
BMW i7
Starting at $120,000
We're about to move on from BMW, promise, but not before mentioning this luxury sedan. Its electric AWD powertrain makes for a smooth ride, and so does the capacious cabin.
Not only that, but with this version, BMW throws in a whole host of additional entertainment goodies inside: digital displays all around, and even a drop-down mobile theater experience for the passengers in the back.
Cadillac Lyriq
Starting at $58,590
Our favorite thing about this all-electric SUV is its beauty—inside and out. Its stylish exterior masterfully blends contemporary trends with a classic look. The grille, for instance, has the look of a Cadillac from thirty years ago, but then it's juxtaposed against LED headlights on each side.
Aesthetics aren't the only thing going for the Lyriq, though. The Cadillac Lyriq manages to deliver AWD while also providing 308 miles per charge, and all options come with DC fast charging abilities. Venture forth in style!
Chevrolet Silverado EV
Starting at $42,000 (est.)
Though it's not available until 2024, we're already way too excited about this beastly all-electric pickup truck. Here's what we know about this monster so far:
First, its dual-electric motors will offer all-wheel drive and up to 664 horsepower. Relatedly, the Silverado EV will be able to tow up to 10,000 pounds and carry up to 1300 lbs of equipment in its expandable cab. Plus, you get 400 miles of range—though who knows how that will be impacted by whatever you're carrying. Fortunately, on a fast-charge you can gain back 100 miles of range in just ten minutes.
Ford F-150 Lightning
Starting at $61,869
Unlike the Chevy pickup we just discussed, the Ford electric pickup is already on the market, and has already proven itself as a viable all-electric AWD truck. The F-150 Lightning's main advantage appears to be just how identical it is to its gas-powered sibling. And by identical, we mean in terms of both look and performance.
Depending on what you tow, though, you might get more "range" in a gas-powered F-150 than with an all-electric battery. When weighed down with a heavy haul, the F-150 Lightning falls far short of its typical 230-320 miles of range. To be fair, though, this reduction in fuel efficiency happens in gas-powered engines, too, but perhaps not as dramatically—at least in this instance.
Ford Mustang Mach-E
Starting at $44,795
"Hold on…am I seeing that right?? An all-electric Mustang?" That's right. For some long-time Mustang enthusiasts, this just might be game over—especially at that quite reasonable asking price. Don't get too excited, though. While this AWD EV has extremely satisfying handling and acceleration on par with the Tesla, it doesn't pack quite the same punch as its gas-powered ancestors.
Nonetheless, you can get a lot out of the Mach-E. If you prefer infotainment and other gadgets, you can opt for the Premium model, which has an extended suite of tech. Or, if you're really looking for optimized performance, you can get the aptly-named GT Performance model, which goes 0 to 60 in 3.7 seconds. As well, the 300-mile range, while not show-stopping these days, is compelling.
We recommend the Mach-E for die-hard Mustang fans in search of an EV with power and agility.
Genesis Electrified GV70
Starting at $67,550
This is another one of those AWD EVs with a gas-powered sibling. The Genesis GV70 has the same luxurious design as the gas-powered SUV, just without the carbon-emitting engine. Beyond aesthetics, the Genesis EV's primary advantage is the incredible horsepower and acceleration delivered by its AWD powertrain.
A sprawling, comfy cabin doesn't hurt either. In terms of interior, we should also mention that the infotainment system is compatible with Apple and Android—which isn't necessarily a guarantee in a lot of EVs.
As far as range goes, keep in mind that it's an SUV, so it will be limited. Nevertheless, 236 miles is pretty good, and its fast-charging capabilities compensate somewhat for the lack of range.
GMC Hummer EV
Starting at $110,295
GMC hit the snooze button on the Hummer for many years. Now, it has made a perhaps surprising return as an all-electric, freakishly powerful offroad machine. Its huge body—available in either pickup truck or, by next year, SUV form—runs on a 1000 horsepower AWD powertrain. And even with all that heft, it still somehow manages to dash from 0 to 60 in 3.3 seconds. More impressive still, it manages to pull off an estimated 329 miles of range (without towing).
While it's an absolute joy to take on off-road adventures, the Electric Hummer's cabin does leave something to be desired. The interior trim appears low quality for the asking price, and the tech system lacks the intuitiveness and functionality that people have come to expect out of AWD EVs. If what you're really after, though, is an all-electric monster of a vehicle, we can't imagine you'd do much better than this chonker.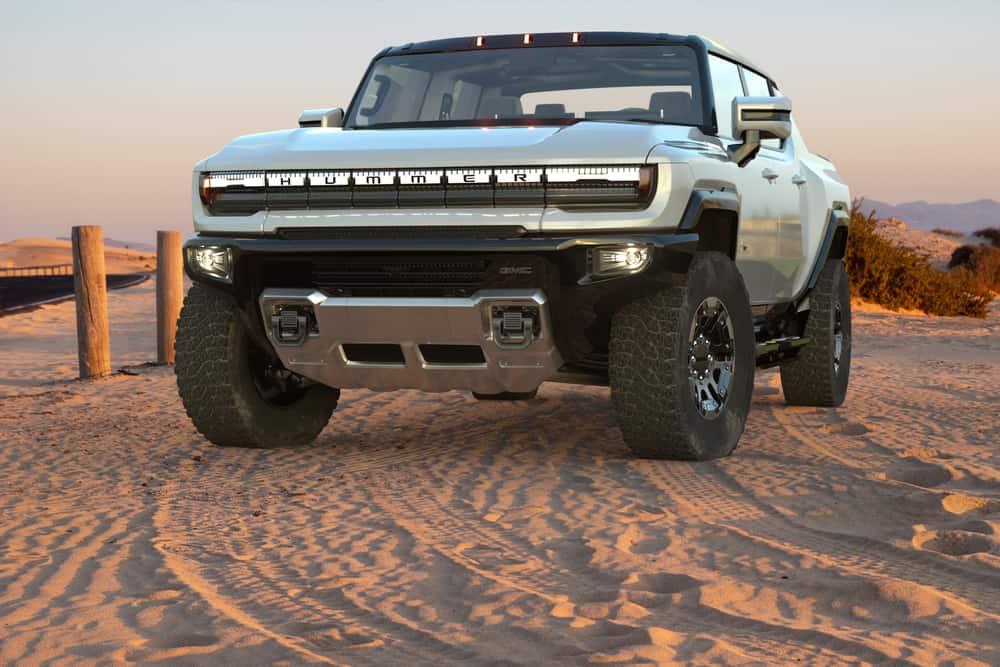 Hyundai Ioniq 5
Starting at $42,785
Within the mid-level EV space, the Hyundai Ioniq has really become the one to beat. Looks-wise, it's an SUV that's compact enough that you could almost mistake it for a hatchback, and it has that appealing combination of both retro and futuristic vibes that it almost looks like the 1980s trying to depict the 2030s.
Beyond aesthetics, the best part of the Hyundai Ioniq 5 just has got to be the car's unique alchemy of practicality and performance. If you get the enhanced edition, you're giving yourself the biggest range of any electric car under $60,000: 303 miles. And if you opt for the all-wheel drive version, you get 320 horsepower, extra traction, and stability, as well as a boost in speed—0 to 60 in 4.5 seconds, as opposed to 7.4.
Jaguar I-Pace
Starting at $72,575
Packaged as an all-electric performance SUV, this luxury Jag delivers much more in style than in substance. Its distinct exterior borrows from the classic 20th-century hoods and grilles of Jaguar sedans while also speaking to the design preferences of AWD EVs in the 2020s.
When hitting the road, you'll surely enjoy the nimble handling and punchy acceleration, but also wish you had more range or at least faster charge times. But perhaps the competitive suite of technological features—which include Apple CarPlay and Android Auto—will distract you from the sub-par battery performance.
Kia EV6
Starting at $50,025
This high-performing, practical, and relatively economical SUV offers many of the same benefits as the Hyundai Ioniq 5. It's hard to pick a clear winner between the two, since both offer slightly different things. The Kia EV6's sleek exterior, for instance, is appealing in its own right, and might attract some drivers more than the Ioniq 5.
Depending on the trim you choose, you can also get higher horsepower with the Kia—up to 576. The AWD edition also packs quite the punch (0 to 60 in 3.2 seconds) and delivers up to 310 miles of range.
Though the cabin is comfy and quiet, don't expect to be blown away by the tech. If that's a non-negotiable for you, the Hyundai Ioniq 5 might be the right fit.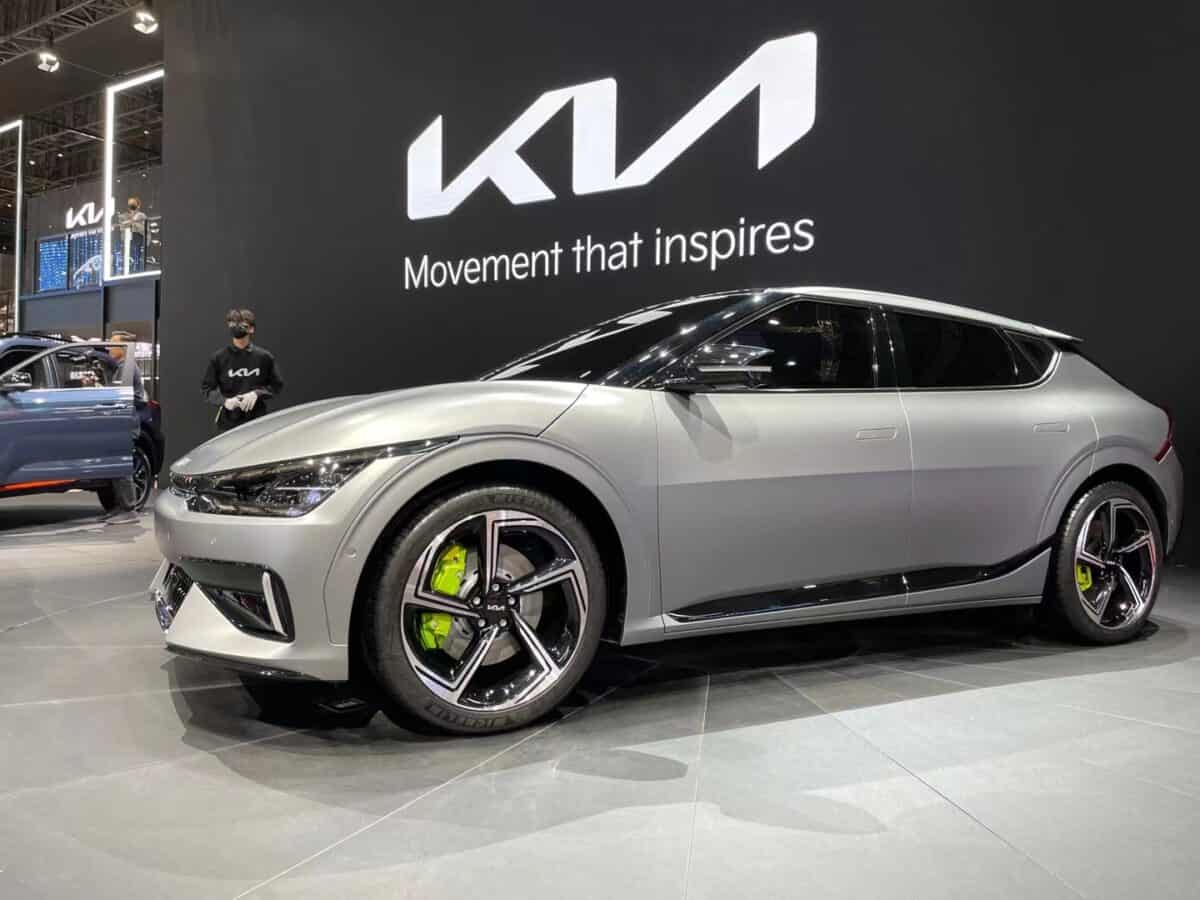 Lexus RZ
Starting at $59,650
Luxury on the inside and out, this SUV marks Lexus' entry into the EV market. Its Direct4 standard AWD powertrain packs a lot of horsepower and throws a punch when accelerating. The interior is also far more luxurious than its competitors, and even has a larger 14-inch infotainment display.
These advantages aside, though, the Lexus RZ sort of falls behind on other performance metrics. Its handling is not quite as intuitive, and other brands offer longer range and quicker charge at similar or lower price points.
Mercedes-Benz EQS
Starting at $105,550
Other luxury sedans on our list have often faltered when it comes to technological specs. Not so with the Mercedes-Benz EQS. In fact, the massive touchscreen, fingerprint scanning, six USB-C ports, and incredible audio are arguably the most impressive features of this EV equivalent to the Mercedes S-class. Plus, the exterior is as gorgeous as any of the gas-powered Mercedes we've all grown accustomed to.
Here's the kicker: it's a less-than-inspiring drive. It feels sluggish to respond, and the brake pedal is awkward—never a good thing in any car. It does, however, offer an above-average range. Competitive range, coupled with best-in-class tech and a luxurious cabin, might be enough to forgive the subpar driving on long trips.
Nissan Ariya
Starting at $44,525
With all the celebrity endorsements thrown behind this car, you've got to ask if all that hype is justified. Well, the Nissan Ariya is certainly an improvement over its predecessor, the Leaf. It tops out at a little over 300 miles in range, and its revamped infotainment and driver-assistance features put its tech on par with brands like the Tesla Model Y and Hyundai Kona.
Yet although the Ariya is marketed heavily as being an exciting ride, you will probably be underwhelmed by the lackluster acceleration and steering that's just a tad less responsive compared to similarly priced AWD EVs. Plus, we need to mention the design: some will find it too bulky, while others will find it sharp and appealing.
Polestar 2
Starting at $55,000 (est.)
When the 2024 model debuts, the Polestar 2 will come standard with all-wheel drive. Sold as a hatchback, the base trim will deliver 421 horsepower, while the Performance Pack will come with 450 horsepower. Either edition is claimed to reach 270 miles of range, giving it a leg up on the Tesla Model 3.
While its range and expansive infotainment system may rival that of the Tesla, it's difficult to know what else might make the more expensive Polestar superior to its main competition. That said, it could come down to some drivers appreciating the Polestar's more conventional steering wheel as well as the exterior's chiseled look.
Porsche Taycan EV
Starting at $88,150
Apart from the asking price, there's little to find at fault with this sporty-looking, luxury electric sedan from the esteemed German maker. With this all-electric speedster, the joy of driving is the top priority—and it's mighty successful in this regard. Depending on the trim you choose, the Taycan's all-wheel-drive powertrain delivers either 402 or 750 horsepower.
Yes, the range is limited to 246 miles, but its 800-volt architecture makes super-fast charging a definite possibility. And anyways, the point of the Porsche is fun—not practicality.
Rivian R1T/R1S
Starting at $79,800
This startup hasn't been making AWD EVs for long, but as an all-electric car manufacturer, it's already starting to compete with establishment figures like Ford, and the EV giant, Tesla. Available as either a pickup truck or an SUV, the Rivian really shines when equipped with the Quad-Motor, which gives you incredible traction and control in rugged conditions.
What's more, the Rivian is also super quick. Hitting 0 to 60 in 3.1 seconds, it sure gives the Ford Lightning a run for its money. Plus, the interior is quite comfortable and spacious—especially if you opt for the 3-row SUV version (R1S).
Subaru Solterra
Starting at $46,220
A favorite among hippies—and at a price that hippies maybe could afford—this standard AWD hatchback is Subaru's promise to deliver on everything people have come to love about the gas-powered Subaru, just without the carbon.
For some longtime Subaru fans, the fact that it's the first all-electric Subaru might be the only convincing that one needs. If that alone doesn't sway you, though, keep in mind that the EV market doesn't currently have any compact non-luxury SUVs available at this price point. It also handles especially well in offroad conditions—which is something that a lot of AWD EVs in this class will promise, but fail to deliver.
Tesla Model X
Starting at $101,380
Here's an electric SUV with plenty of power, speed, and name recognition. Even the dual-motor base option boasts 670 horsepower, but the quad-motor Plaid edition gives you a jaw-dropping 1020 horsepower. Though you might assume a huge trade-off in range, you'd be mistaken. The Model X provides up to 348 miles of range on the open road.
The power and acceleration behind this car cannot be denied, but it seems like Tesla neglected just about everything else that goes into a great modern EV. For one, the quality of the interior doesn't speak to the price tag. And neither does the bare-bones infotainment system. For comparable performance, you might get more bang for your buck from the BMW iX or Rivian R1S.
Toyota bZ4X
Starting at $43,335
This all-electric non-luxury compact SUV boasts virtually the same qualities as the standard AWD Subaru Solterra. How so? Well, it turns out the Subaru Solterra and Toyota bZ4X were co-developed, and so they follow a pretty identical schema. It does have a slightly cheaper starting price, but that's only because it offers a front-wheel drive model. We're not here to talk about FWD, though, so all we can say is this: if you're having a hard time deciding between the two, maybe flip a coin?
Volkswagen ID.4
Starting at $40,290
Another compact SUV with AWD capabilities, the Volkswagen ID.4 emphasizes practicality and comfort over all else. It's not as fun to drive as either AWD EVs we've showcased here, but it does offer more cabin space than the others, and fast-charging capabilities come standard.
If what you really need is plenty of trunk space, with the option to seat 5 people reasonably comfortably, you might consider putting this one at the top of your wish list.
Volvo XC40 Recharge
Starting at $50,000 (est.)
Volvo is poised to move into the electric SUV space in 2024 with this boxy-yet-futuristic-looking eye-catcher. Taking a look under the hood, we find that its AWD powertrain provides 402 horsepower and up to 293 miles of range.
Inside the cabin, drivers will find plenty of convenient storage solutions, as Volvo seeks to maximize the utilitarian aspect of its XC40 EV.
With responsive steering, punchy acceleration, good storage space, and only falling behind a little bit in terms of range compared to other AWD EVs, the Volvo Recharge could very well be worth the wait.
The image featured at the top of this post is ©Toyota.