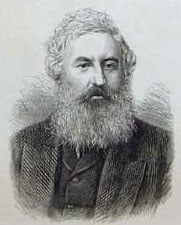 Who was Alfred Smee?
Alfred Smee (1818-1877) was an English senior surgeon who studied at Kings College, London, and later worked in St Bartholomew's Hospital and became a Fellow of the Royal Society. He also worked at the Royal General Dispensary, and the Bank of England, throughout his career. 
Smee also published a series of pioneering books on the topic of electro-biology. He studied the human brain and intended to create an artificial model of reasoning to emulate how the human brain processes thoughts and reasoning.
Quick Facts
Full Name

Alfred Smee

Awards

Gold Isis Medal from Society of Arts

Children

Alfred Hutchison Smee, Elizabeth Mary Smee, Unknown daughter

Nationality

English

Place of Birth

Camberwell, London, England

Fields of Expertise

Medicine
Biology
Horticulture
Chemistry
Metallurgy

Institutions

Fellowship of the Royal Society, Fellowship of the Royal Colleges of Surgeons, Bank of England, Royal General Dispensary

Contributions

Elements of Electro-Biology (1849)   The Process of Thought Adapted to Words and Language (1851)
He was a man of many talents, and when he worked at the Bank of England helped to create a new long-lasting writing ink suitable for banknotes. He also helped to create the precise printing method for cheques and banknotes to prevent damage or splitting. 
He is also supposedly the first person to spot the Great Comet of 1861 in the northern hemisphere on 29 June 1861. 
Later in his life, he was an avid horticulturist and maintained an extensive garden upon which he published works describing his cultivation of various plants. 
Early Life
Alfred Smee was born on June 18, 1818, in Camberwell, England. His father was William Smee, the accountant-general for the Bank of England. He went to school in St. Pauls, London, a prestigious private school. Not much else is known about his early years prior to medical school.
Career
Medical Career
Smee studied at Kings College, London and became a member of the Royal College of Surgeons of England in 1840. He worked as a consulting surgeon in London, specializing in the eye. Throughout his medical career, he also worked for the Bank of England as a surgeon, a post that was specifically created for him.
Electro-Biology
Throughout his medical career, he also worked in chemistry and electro-metallurgy. In his earlier career, he created a battery. He also wrote a series of books that developed the study of electro-biology and analyzed how the human brain and nervous system process thoughts and reasoning. 
Prior to Smee's studies, there wasn't much known about the inner workings of the human brain. He used the limited technology and understanding in the 19th century to pioneer a study into the human brain using what he knew about chemistry, medicine, electricity, and metallurgy. 
He believed that each idea was based on a particular property such as redness or roundness being visible or absent in the brain. Each property was represented by nerve fibers being electrically stimulated. It was a cognitive mechanism design he developed and discussed in his many published works about electro-biology. 
What is Alfred Smee Known For?
Electro-Biology
Primarily, Smee was a surgeon and chemist who pioneered electro-biology in his various publications. He was interested in the human brain, and how the human body worked in relation to electricity. He published several books on the subject, the most popular being The Process of Thought Adapted to Words and Language in 1851. Smee wanted to create an artificial system of reasoning, that could imitate the way the human brain and nervous system process them.
He conducted exhibitions and experiments on the brain, apparently using stray cats. This was before the days of any animal rights activists. Using this, he developed theories surrounding the principles of the human mind and the process of thought related to the eye and activity in the brain. 
He also studied how the brain processes language and words in his later book The Process of Thought Adapted to Words and Language. 
Alfred Smee: Marriage, Children, and Personal Life
Marriage
Smee married Elizabeth Hutchison on 2 June 1840. He dedicated his last book, 'My Garden; it's Plant and Culture' to his wife and said she cared for his many anxieties. 
Children
Together, Alfred Smee and Elizabeth had a son and two daughters. His son was called Alfred Hutchison Smee, who followed in his footsteps and went into medicine. He also developed his father's love for plants and cultivated orchids. One daughter was named Elizabeth Mary Smee who went on to publish a memoir of her father in 1878 after he died. There is nothing published about his second daughter. 
Tragedy
Alfred Smee died at River Plate House, 7 Finsbury Circus in London on 11 January 1877, aged 59. He passed away due to diabetes and was buried at St. Mary's Church in Surrey. 
Alfred Smee's Published Works 
Elements of Electro-Metallurgy (1845)
This was his first book on electro-metallurgy which popularized the topic in the UK. It was originally developed in Russia by an engineer called Moritz Hermann von Jacobi in 1838. Smee had already developed a battery made from zinc plating and silver coated in platinum, containing an electrolyte of sulphuric acid. He discussed his invention in the book and the idea of producing further replicas of metallic objects. 
On the Detection of Needles… Impacted in the Human Body (1845)
This was a detailed description of needles and other steel instruments, and how they impacted the human body. It was part of a lecture he presented at the Aldersgate School of Medicine. 
The Potatoe Plant, It's Uses and Properties (1847)
Taking a different path from his previously published works, this book was all about the Irish Potato Famine of 1945. He discussed the cause and looked at how to avoid it happening again. Smee was a lover of plants his entire life, so it's unsurprising he also published books about this hobby. 
Vision in Health and Disease (1847)
He called this 'a treatise on vision and optical contrivances adapted to remedy its defects'. This short book contained lectures on vision, with lots of illustrations on the eye and optical nerve based on Smee's studies. 
Elements of Electro-Biology (1849)
This book was the foundation for his next publication on the topic of electro-biology, the Process of Thought Adapted to Words and Language. In this factual book, he outlined the definition of electro-biology and how he believed it functioned to explain the reasoning system in the human brain and nervous system. 
It was a pioneering work in the field and discussed electro-pathology, and electro-therapeutics. 
The Process of Thought Adapted to Words and Language (1851)
Alfred Smee called this 'a deduction from the general system of electro-biology'. In this book, he discusses the meaning of electro-biology, and how he believes electro-biology is responsible for the brain's system of reasoning. 
He also discussed the concept of creating a logical machine (Differential Machine or Relational Machine) that could operate in a similar function to the human mind to produce an artificial form of reasoning based upon the principles of the human mind. It's unclear whether Smee got as far as even making any models of his Relational Machines, but no actual machine was ever engineered. 
My Garden; its Plan and Culture (1872)
Published towards the end of his life, this is a book about his garden that he dedicated to his wife, Elizabeth. In it, he discussed the plants he cultivates in his own garden and the process which he uses to grow them. It's an analysis of botany and natural history. It also features illustrations of all the plants. 
Alfred Smee's Quotes
"Electricity is but yet a new agent for the arts and manufactures, and doubtless generations unborn will regard with interest this century, in which it has first been applied to the wants of mankind."
"To what part of electrical science are we not indebted to Faraday? He has increased our knowledge of the hidden and unknown to such an extent, that all subsequent writers are compelled so frequently to mention his name and quote his papers. That the very repetition becomes monotonous. [How] humiliating it may be to acknowledge so great a share of successful investigation to one man."