Before AirPods existed, millions of consumers enjoyed Beats by Dre. If you're curious how the brands compare, we have the answers in our AirPods vs. Beats breakdown. The brands have a similar range of products, despite different branding, including collections of in-ear headphones and traditional over-ear wireless headphones.
Airpods vs Beats: Side-by-Side Comparison
| | AirPods | Beats |
| --- | --- | --- |
| Company | Apple | Subsidiary of Apple |
| Founders | Steve Jobs, Steve Wozniak, Ronald Wayne | Dr. Dre, Jimmy Iovine |
| First Launched | 2016 | 2008 |
| Styles | In-ear, Over-ear | In-ear, Over-ear |
| Website | https://www.apple.com/airpods/ | https://www.beatsbydre.com/ |
Beats Wireless Headphones: Overview
Beats by Dre may have been the first pair of headphones from Beats to get a lot of attention, but it wasn't long before the company rolled out new products. They included the older Beats Executive along with several generations of the original headphones.
We earn a commission if you make a purchase, at no additional cost to you.
Currently, they have two pairs of over-ear headphones available, the Beats Solo3 and headphones. These headphones would be hard to tell apart from a distance, but there are a few important features that set them apart.
Beats Studio headphones have ANC with a slightly different design that envelopes the ear and increases their noise-canceling capabilities. They'll pair seamlessly with Apple devices thanks to the W1 chip, but are compatible with a wide range of other devices as well. Battery life is around 22 hours with ANC on or 40 hours with it off.
We earn a commission if you make a purchase, at no additional cost to you.
Fast-fuel quick charging and Spatial Audio are available on the Bets Studio and Solo 3 headphones. The Beats Solo also use the W1 processor and have quick charging. These headphones don't have ANC, so you'll get close to 40 hours per charge. The cups are different, however, considering they rest on the ear, not over it like the Beats Solo Pro.
There are several colors to choose from with Beats Studio compared to the four colors of the Beats Solo 3 headphones. There is also a significant price difference because of ANC on the Beats Studio headphones.
Beats In-Ear Headphones: Overview
While an on or over-ear headphone typically provides the best audio experience, they aren't exactly travel-friendly like in-ear ones. Whether you're interested in a pair of earphones to take to the gym or to listen to podcasts on the go, Beats has something for everyone.
We earn a commission if you make a purchase, at no additional cost to you.
The most affordable are the Beats Flex headphones. They provide around 12 hours of playback. And while they are wireless, the magnetic earbuds are joined by a cord. It's an entry-level product compared to the Beast Fit Pro earbuds, which are a step up in terms of performance.
We earn a commission if you make a purchase, at no additional cost to you.
Beast Studio Buds have active noise cancellation and offer 8 hours of power. The charging case brings the total battery life to 24 hours. They don't have the same array of features as the Beast Fit Pro, which come in slightly different colors, including a collection called Beats Fit Pro x Kim Kardashian.    
As the name suggests, Beast Fit Pro are different from the company's other earbuds. That's due in part to the design, which features a flexible tip to help keep the earbuds in place. Beats Fit Pro headphones are priced at a premium, although they measure up well against the Studio Buds in our comparison.
The other Pro earbuds from Beats have a completely different design than the rest. Power Beats Pro earbuds are also wireless and come with ear "hooks" which make them ideal for outdoors and exercising. They are less likely to slip off during activities. While they have many of the same features as other models, the Power Beats Pro have an older H1 chip.
Apple's AirPods Collection: Overview
Apple doesn't have quite as many headphones as Beats, but they don't have to, considering they own the brand. Their earbuds have comparable performance, but with a completely different style; one that's in line with the company's branding.
There have been three generations of the AirPods so far, although Apple currently only carries the 2nd and 3rd gen models on their official website. While you'll have trouble finding the original AirPods in stock, the company's classic EarPods are the cheapest style of in-ear headphones from Apple.
Apple EarPods Headphones with Lightning Connector. Microphone with Built-in Remote to Control Music, Phone Calls, and Volume. Wired Earbuds for iPhone
Unlike traditional, circular earbuds, the design of the EarPods is defined by the geometry of the ear. Which makes them more comfortable for more people than any other earbud-style headphones.
The speakers inside the EarPods have been engineered to maximize sound output and minimize sound loss, which means you get high-quality audio.
The EarPods with Lightning Connector also include a built-in remote that lets you adjust the volume, control the playback of music and video, and answer or end calls with a pinch of the cord.
Works with all devices that have a Lightning connector and support iOS 10 or later, including iPod touch, iPad, and iPhone. Also works with iPad models with iPadOS.
We earn a commission if you make a purchase, at no additional cost to you.
Apple EarPods are wired headphones that work through a lightning connector. They're an affordable alternative to AirPods and even have a remote on the cord for track or call control. Consumers looking for something a little more high-tech will want to consider the AirPods generation 2 earbuds, however.
The 2supnd/sup generation AirPods provide access to Siri and use the company's H1 headphone chip. Battery life is solid, but better on the newer AirPods.
We earn a commission if you make a purchase, at no additional cost to you.
The AirPods 3suprd/sup generation earbuds have battery life on the earbuds and with the case. They also have spatial audio, along with an Adaptive EQ, but you'll need to move to the Pro series for ANC.
AirPods Pro
Apple AirPods Pro - 1st Gen. (Renewed Premium)
Active noise cancellation for immersive sound
Transparency mode for hearing and connecting with the world around you
Three sizes of soft, tapered silicone tips for a customizable fit
Sweat and water resistant
Adaptive EQ automatically tunes music to the shape of your ear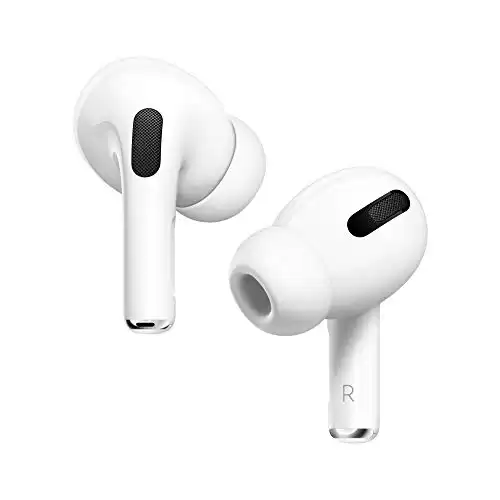 We earn a commission if you make a purchase, at no additional cost to you.
Apple introduced the first version of the AirPods Pro in 2019 as an upgraded version of AirPods. They have the same basic controls and features as the 3rd gen AirPods, including Siri support and the H1 processor.
Active noise cancellation and Qi wireless charging were the big additions, along with MagSafe. While still available through online retailers, the company recently introduced the 2nd generation AirPods Pro.
Best Overall
Apple AirPods Pro (2nd Generation)
Apple-designed H2 chip
Low-distortion, custom-built driver
Up to 2x more Active Noise Cancellation than the previous AirPods Pro
Personalized spatial audio
We earn a commission if you make a purchase, at no additional cost to you.
The new AirPods Pro may look like the previous version. However, the ANC has improved and so has the H2 chip that powers the headphones. Other advantages of these earbuds include the Apple UI chip, increased battery life, and better ear tips.
AirPods Max
All of Apple's wireless earbuds sound great with a wide variety of music, but pale in comparison to their only set of over-ear headphones: the AirPods Max.
Best for Apple Users
Apple AirPods Max Wireless Over-Ear Headphones
Apple-designed dynamic driver for high-fidelity audio.
Active Noise Cancellation blocks outside noise and lets you enjoy your music.
Hear and interact with the world around you via Transparency mode
Spatial audio with dynamic head tracking for surround sound experience.
Custom acoustic design combines with Apple H1 chip and software for elevated listening experiences.
We earn a commission if you make a purchase, at no additional cost to you.
Don't let the name fool you as these are full-sized headphones. Each cup contains the H1 chip and ANC is top-notch thanks to the technology and design.
The Apple AirPods Max headphones have spatial audio and around 20 hours of battery life per charge. Fans of the Apple Watch will also appreciate the digital crown for volume control on these high-end headphones.  
Airpods vs Beats: What's the Difference?
Beats and Apple have been joined at the hip since 2014 when Apple acquired the brand. Despite the takeover, the company's headphone lineups have distinct differences in design, audio quality, and pricing.
Design
From a design standpoint, Beats and Apple AirPods are on the opposite end of the spectrum. Both earbuds have a modern design, but you'll recognize Apple's AirPods instantly. They look like wired earbuds without the cord, compared to the more streamlined design of the Beats Studio Buds.  
We earn a commission if you make a purchase, at no additional cost to you.
You also get more colors to choose from across Beats' range of earbuds and more ways to wear them. Comfort varies on all in-ear models, but the wings on Beats Fit Pro and Powerbeats Pro's design is ideal for the gym and outdoors. They won't slip out of your ear as easily as AirPods, EarPods, or the AirPods Pro earbuds.
Beauty is in the eye of the beholder, so the draw of the design comes down to personal taste to a degree. With that in mind, we feel that Beats offers a wider variety of options across the board, including several custom and designer headphones.
Audio Quality
The audio quality of these headphones depends on the generation and models you want to compare. New AirPods pro will sound better than Beats Flex headphones, but have a different profile than what you'll find on the Beats Studio Buds.
Neither brand has anything on par with Sennheiser or Bose, which are in a different price tier. Beats headphones stay true to their name. That means you can expect more bass on their headphones compared to the AirPods lineup, which has a more neutral profile.
The ability to adjust the EQ with the AirPods Pro is an advantage that evens things out. Apple's earbuds have better ANC as well, so it's a toss-up depending on what you need from a new set of headphones.
Things are more interesting when you begin to compare the Beats Solo Pro vs. AirPods Max. This is another area where personal preference and musical tastes are key, but an area where Apple seemingly holds an edge.
Pricing
If you're on the fence about which brand you prefer, pricing could make things easy. Apple has always been known to put a premium price tag on its products, and its AirPods lineup is certainly no exception.
The most affordable pair of earbuds from Apple, the AirPods Gen 2, usually costs $20-40 more than the Beats Studio Buds. The Beats Fit Pro headphones are priced against the 3rd gen AirPods, but are significantly cheaper than the AirPods Pro.
This trend continues with the over- and on-ear headphones from both brands. Beat's most expensive model, the Beats Studio 3, is less than half the price of the Apple AirPods Max wireless headphones.
AirPods vs Beats: 4 Must-Know Facts
In 2007, Apple introduced the iPhone Bluetooth Headset without music capabilities.
The Beats Pill and Pill+ were portable Bluetooth speakers.
AirPods Max are Apple's first over-ear headphones.
Beats Music subscribers were moved to Apple Music in 2015.
AirPods vs Beats: Which One Is Better?
When you understand what both companies offer, choosing between AirPods vs. Beats becomes a little simpler. While Apple is technically in charge of both product lines, Beats are more affordable, come with better bass, and have a similar range of features. The AirPods line is geared towards Apple enthusiasts that have iPhones and Apple Watches, which share a similar design language.
Both provide respectable sound quality for their price, although we feel the AirPods Max are a step behind headphones like the Sony MX5 in some key areas. Regardless of which brand you choose, consider an extended warranty as both companies only provide a 1-year guarantee.
Last update on 2023-03-29 / Affiliate links / Images from Amazon Product Advertising API