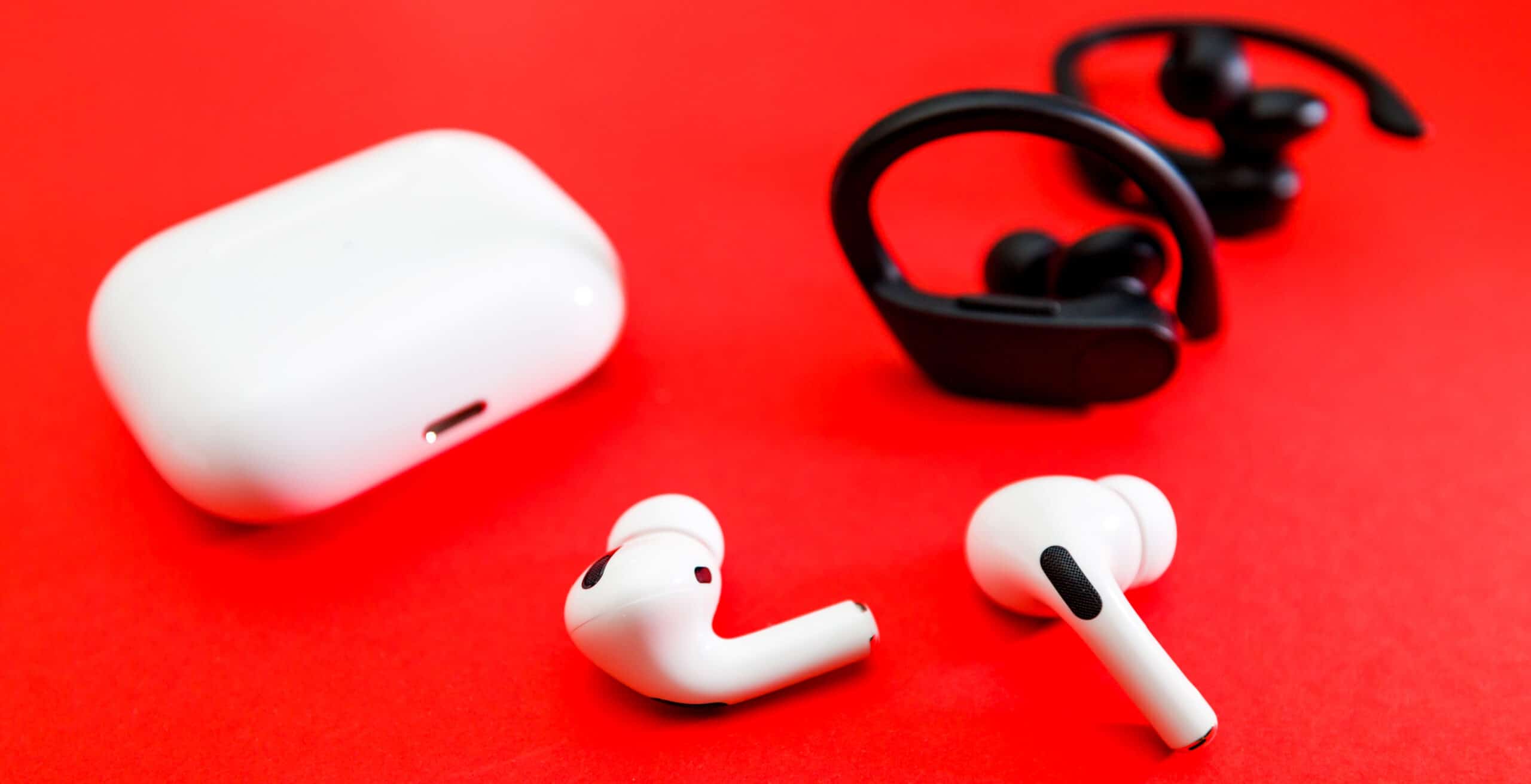 If you don't have a pair of wireless earbuds, there's no doubt you're in the market for some. This poses a problem for you, though: with so many options to choose from, which wireless earbuds are the best ones for you? And what sets them all apart from one another in the first place?
After all, wireless earbuds are wireless earbuds, right? How different can they be? As the AirPods Pro vs Powerbeats Pro debate goes to show, there are actually plenty of things that set two different types of wireless earbuds apart.
Let's dive deeper into this debate, pitting AirPods Pro vs Powerbeats Pro against each other in a head-to-head matchup. We'll start with a side-by-side comparison to get the basics out of the way, then head into an analysis of the key differences between the two.
From there, we'll examine the histories of the respective wireless earbuds brands and take a closer look at the pros and cons of each. After all this, we'll have a clear idea of what the real differences between the two are. This will be enough for us to name an ultimate winner.
AirPods Pro vs Powerbeats Pro: Side-By-Side Comparison
| | AirPods Pro | Powerbeats Pro |
| --- | --- | --- |
| First Released | October 30th, 2019 | May 10th, 2019 |
| Latest Release | AirPods Pro (2nd generation): September 23rd, 2022 | Powerbeats Pro (2nd generation): March 18th, 2020 |
| Brand | Apple | Beats |
| Price | $249 | $249.95 |
| Battery Life | 6 hours | 9 hours |
| Charge Time | 5 minutes in case = 1 hour of listening time | 5 minutes in case = 1.5 hours of listening time |
| Charging Case | 30 hours of charge | 24 hours of charge |
| Sound Quality | Dolby Atmos, Active Noise Cancellation, Adaptive Transparency, Personalized Spatial Audio, Adaptive EQ | Dolby Atmos, Spatial Audio |
| Waterproof Rating | IPX4 | IPX4 |
AirPods Pro vs Powerbeats Pro: 2 Key Differences
Looking at the AirPods Pro and the Powerbeats Pro side by side, it's clear that they have more in common than not: nearly identical pricing, an identical waterproof rating, and the same Dolby Atmos-enabled Spatial Audio. They're both great wireless earbuds in their own right, but they do have distinguishing factors, as well. Namely, battery life and overall sound quality. Here's where the two diverge the most.
Battery Life
Firstly, battery life. Is there anything more important for a pair of wireless earbuds than the actual amount of time you'll get to enjoy them per charge? Beyond price and compatibility, it has to be the top priority.
The AirPods Pro — both the 1st and the 2nd generation — are subjected to the same kind of complaints that exist across the full AirPods lineup. The 2nd generation Pros deliver just six hours of listening time per charge, and that's an improvement over the battery life in the 1st generations. That listening time drops even lower when used for calls and with noise cancelation.
The Powerbeats Pro, on the other hand, actually offer superior battery life to the AirPods Pro. They boast nine hours of listening per charge, with that number dropping with call time (as with the Pros). Coupled with the charges contained in each charging case, you get 30 hours of total listening per case.
With the AirPods Pro, that drops to just 24 hours. 5 minutes in an AirPods Pro case delivers one hour of listening, whereas 5 minutes in a Powerbeats Pro case delivers one and a half hours of listening by comparison.
Sound Quality
Best Battery
Apple AirPods Pro
Features Active noise cancelling technology
Water resistant (including sweat)
Siri voice control automatically enabled
Battery: 24hrs
We earn a commission if you make a purchase, at no additional cost to you.
Secondly, there's overall sound quality to consider. After battery life, the quality of the earbuds themselves is going to play a huge part in the product you ultimately choose. As far as the AirPods Pro are concerned, the list of sound quality specs goes on and on.
Dolby Atmos, Active Noise Cancellation, Adaptive Transparency, Personalized Spatial Audio, Adaptive EQ… Apple cuts no corners in this regard. And, as a result, the AirPods Pro are considered by many to be the highest quality wireless earbuds money can buy.
The Powerbeats Pro, by comparison, are a completely different story. Being owned by Apple, you'd think that Apple would load up the Powerbeats Pro with special features just like they did with the AirPods Pro.
Especially considering that the Powerbeats Pro are the more expensive of the two, albeit by less than a dollar. Alas, the Powerbeats Pro only offer Dolby Atmos-enabled Spatial Audio. They don't even have noise cancelation.
The History of AirPods Pro
In 2016, after years of getting hit with complaints about a lack of innovation, Apple countered this general attitude with the release of a truly exceptional product: the Apple AirPods. The first-of-its-kind wireless earbuds quickly became Apple's best-selling accessory in the company's history, hitting the mark in under two years.
While the AirPods themselves functioned remarkably well and soared above all other wireless earbuds competitors, they didn't leave it there. They went further. Given the success of the AirPods (and Apple's history of slapping the "Pro" label on their most popular products, from the iPhone and the iPad to the MacBook), it was only a matter of time before the AirPods Pro came about.
This product eventually did come to fruition on October 30th, 2019, equipped with the same H1 chip found in both the AirPods 2nd generation and the Powerbeats Pro. These weren't a simple rehash of the AirPods, however. They also came with Active Noise Cancellation, Adaptive Transparency, Personalized Spatial Audio, and other great new features.
Just shy of three years later, Apple updated the AirPods Pro with a 2nd generation iteration in September of 2022. This new and improved product was a level up in nearly every conceivable way.
It bumped up the H1 chip to the new H2 chip, added Bluetooth 5.3 connectivity, and made general improvements to sound quality, battery life, in-ear fit, noise cancellation, and more. They also improved charging, giving owners the ability to charge their AirPods Pro 2nd generation with an Apple Watch charger along with your standard MagSafe and wireless charging.
How Powerbeats Pro Compete
When you think about it, the real winner of the AirPods Pro vs Powerbeats Pro debate is Apple. The tech giant owns both the AirPods Pro and the Powerbeats Pro under their Beats by Dre umbrella. You might assume that they wouldn't want to create too much competition in the Beats sphere to draw away from the much more popular, much more lucrative Apple banner.
However, Apple makes it make sense by continuing the branding and messaging of Beats by Dre: products perfected by musical artists for the best studio-quality sound imaginable.
Best for Fitness
Powerbeats Pro Wireless Earbuds
Up to 9 hours of listening time (more than 24 hours with charging case)
Adjustable, secure-fit ear hooks for lightweight comfort and stability
Reinforced design for sweat- and water-resistance during tough workouts or running
We earn a commission if you make a purchase, at no additional cost to you.
This differs tremendously from Apple's branding and messaging, which is decidedly rooted in user-friendliness, simplicity, minimalism, efficiency, sleekness, and other adjectives that bring the company name to mind. This Beats by Dre branding comes straight from its namesake, Dr. Dre.
First established in 2006 in collaboration with record company executive Jimmy Iovine, musician and producer Dr. Dre wanted to take on the detrimental impact of music piracy and improve upon the poor sound quality of industry-standard plastic earbuds.
With these goals, Dre and Iovine established Beats by Dre. Designed and manufactured with the input of fellow music artists Pharrell, will.i.am, M.I.A., Gwen Stefani, and others, Dre and Iovine released the very first Beats by Dr. Dre Studio headphones in July of 2008.
Five years later, the brand had achieved a valuation of over $1 billion and dominated a 64% market share on upscale headphones. Apple bought the company one year later in 2014, paying $3 billion in a cash and stock for ownership of Beats — the biggest deal in their history, but one that continues to be lucrative.
AirPods Pro vs Powerbeats Pro: Pros and Cons
| Pros of AirPods Pro | Cons of AirPods Pro |
| --- | --- |
| Charging case delivers 30 hours of total charging | Listening time is worse than other wireless earbuds on the market |
| Audio quality is second to none in the wireless earbuds market | Silicone earbud tips are easy to get lost |
| Highly specialized noise cancelation tech | $249 is quite pricy for wireless earbuds |
| Seamless integration with Apple's full line of products | Not as compatible or as useful when paired with non-Apple products |
| Pros of Powerbeats Pro | Cons of Powerbeats Pro |
| --- | --- |
| Long listening time | Only 24 hours of total charging in the case |
| Great compatibility with Apple and Android alike | More expensive than the AirPods Pro |
| Better fast charging | Less adaptive fit than AirPods Pro |
| Secure fit keeps buds in place during activity and workouts | Lacks the discreet look of the AirPods Pro |
AirPods Pro vs Powerbeats Pro: 5 Must-Know Facts
AirPods singlehandedly kicked off the wireless earbuds craze in the fall of 2016. While Apple is occasionally accused of hopping on bandwagon trends, this is one instance where they truly paved the way.
Bluetooth headphones, earbuds, and speakers will always have lower sound quality than wired headphones and speakers. This is the nature of wireless playing. Wired will always sound better, no matter the technical specs of the wireless earbuds.
Battery life is a major downside to wireless earbuds of all shapes and sizes. While AirPods Pro offer a paltry six hours, some competitors can only offer as little as three.
Google, Samsung, and Amazon have all released their own wireless earbuds in recent years: the Google Pixel Buds, the Samsung Galaxy Buds, and the Amazon Echo Buds.
Apple competes with Beats in another area, as well: the AirPods Max are over-ear headphones on par with Beats headphones.
AirPods Pro vs Powerbeats Pro: Which Is Best?
It seems strange having two close competitors hail from the same parent company, but in reality, it's a lot more common than you think. (Some companies are just better at hiding it than others.) Nevertheless, AirPods Pro and Powerbeats Pro are head-to-head challengers in the wireless earbuds industry. As such, there can be just one winner.
Considering what we've touched on thus far, it only seems fair to name the AirPods Pro the ultimate winner. That's not to say the Powerbeats Pro are no good, but that the AirPods Pro are simply superior.
From their lower price to their extensive sound specs and more discreet look when in the ear, the AirPods Pro take the cake time after time again. The Powerbeats Pro do offer great support and excellent battery life — two factors that the AirPods Pro can't necessarily guarantee — but the AirPods Pro just end up with more points in their corner.
It's as simple as that. You can't go wrong with either, especially considering they come from the same mind, but the AirPods Pro win this round.