Apple's AirPods Pro are among the best wireless noise-canceling buds. However, this doesn't come without some stiff competition. Namely, with their closest competitor, Bose QuietComfort earbuds. The Bose QuietComfort earbuds are noise-canceling buds with a comfortable design and many good features.
The attributes and characteristics of AirPods Pro and Bose QuietComfort are neck and neck, making it tricky for customers to make a definitive decision. So, which among the two noise-canceling buds should you invest in? Continue reading for a comprehensive comparison that will help you make the best choice.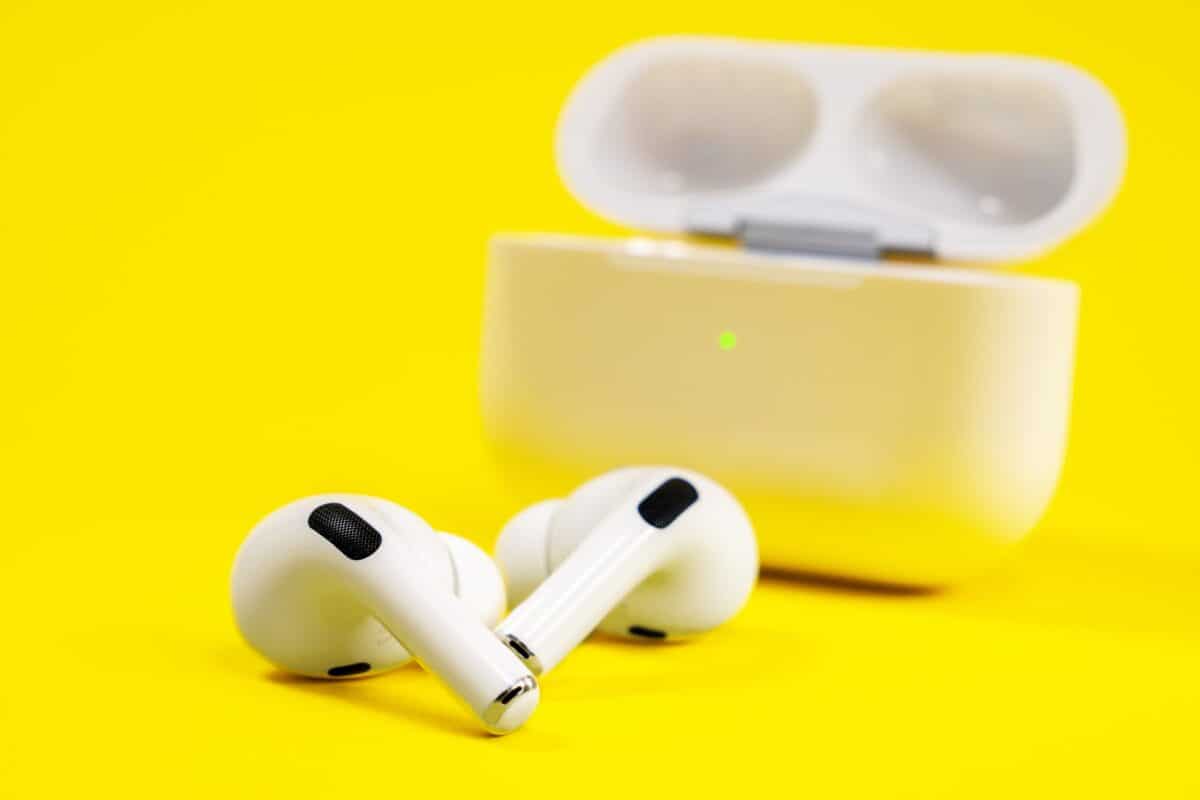 AirPods Pro vs Bose Quietcomfort Earbuds: Side by Side Comparison
| | AirPods Pro | Bose QuietComfort Earbuds |
| --- | --- | --- |
| What it is | In-ear wireless headphones with active noise cancellation | In-ear wireless headphones with active noise cancellation |
| Developed by | Apple Inc. | Bose |
| Conceived | Oct 30, 2019 | Sept 15, 2019 |
| Current price | $249 | $280 |
| Weight | 0.19 ounces (5.4grams) | 0.30 ounces (8.5grams) |
| Connectivity | Bluetooth 5.0 | Bluetooth 5.1 |
| Input | Dual beam-forming microphone | Improved microphone |
| Type | Wireless earbuds | Wireless earbuds |
| Charging case | Yes | No |
| Water resistance | Bud and charging case | Buds only |
| Transparency mode | Yes | Yes |
AirPods Pro vs Bose Quiet Comfort: What's the Difference
The AirPods Pro and Bose QuietComfort are both renowned and trustworthy tech giants. Although they serve the same purpose, they have traits that set them apart and make customers choose one over the other. Here are the key differences between these two noise-canceling, wireless headphones.
#1: Design
Best Battery
Apple AirPods Pro
Features Active noise cancelling technology
Water resistant (including sweat)
Siri voice control automatically enabled
Battery: 24hrs
We earn a commission if you make a purchase, at no additional cost to you.
Let's start with what is inside the box. Both buds come in a case. The case helps with wireless charging and is a good backup when you have no power outlet. In the case of AirPods Pro, you will also find a lighting USB-C cable for charging and documentation. Moreover, there are silicone ear tips that range from size XS to L, thus fitting ears of different sizes.
For Bose QuietComfort Earbuds, the box has a charging case, USB-A, and USB-C. Furthermore, there is a pair of large and small ear max ear tips. These earbuds are large and not pocketable. Additionally, they take up more space in the ear than AirPods Pro. Although they have fins that offer a secure and comfortable fit, they may get uncomfortable after wearing them for hours.
The Apple AirPods charging case has speakers that give users information, like low battery or charging status. The tone can also help find misplaced buds using the precision finding feature. In addition, AirPods Pro and Bose QuietComfort earbuds have IPX4, protecting them from sweat and water damage. All AirPods Pro are white, while the Bose QuietComfort earbuds have a triple black color.
#2: Control
You control AirPods either through slide gestures, voice assistance or by using your iPhone. Slide gestures use a touch button that is located on the stem of each AirPod. To play or pause, you press the touch control once and double press it to skip forward. To skip back, you triple press the touch button. When turning the volume up or down, you place your thumb on the stem and slide up using your index finger.
The press and hold touch controls are also used to switch between Active Noise Cancellation and Transparency Mode. AirPods also respond accurately to Siri's voice. Moreover, these buds have skin-detect sensors that warrant automatic pause whenever you take off the earbuds.
#3: Bluetooth
Although there is no app to control AirPods, you can control them using your iPhone through Bluetooth settings. To do this, connect the AirPods to your iPhone, go to settings, and then Bluetooth. Next, tap on the 'i' icon next to your AirPods name and do your customization. The Bose QuietComfort earbuds also have a touch control located on each earbud's outer surface. However, the touch controls of different sides have different functions.
The right touch controls phone calls, playback, and media, while the left controls shortcuts and noise cancellation. With these touch controls, triple, double, and single holds perform different functions. These earbuds also operate using touch and slide options, but touch is more reliable. Additionally, they detect when they are worn, although they are slower compared to Apple's AirPods Pro. 
Unlike Apple, which only responds to assistants of the iOS software, Bose QuietComfort responds to many native assistants such as Siri, Google Assistance, Alexa, and Bixby. This is made possible by their mic, which has excellent speech recognition. You can also download the Bose Music app and control your Bose earbuds through your phone.
#4: Charge Time and Battery Life
The Bose QuietComfort earbuds charging time is two hours. When the earbuds are fully charged, they have a listening time of up to six hours. With the charging case, you can use the earbuds for up to 18 hours. When charging the earbuds, you align each earbud with the pins on the charging case. 
Charging Case
There is a status light for the earbuds and the charging case to show the charging status. Charging the case takes about three hours. In addition, you can charge Bose QuietComfort earbuds wirelessly using a Qi-certified wireless charger (not included in the package).
Charging Mat
On the other hand, the AirPods charge wirelessly using a Qi-certified charging mat. The mat has LED colors to show the charging status. You can also charge using a lighting cable or an Apple watch charger. When the AirPods are fully charged, you get up to five hours of listening time. Additionally, you get up to 24 hours if the charging case is full. 
To check the charging percentage of the buds, you can use your iPhone, iPad, or iPod touch. When the battery is low, you get a notification on your screen. The AirPods also have a tone when the battery is low and before turning off.
#5: Features
Like other Apple products, AirPods Pro have some fantastic features. For instance, the second generation of AirPods Pro has a new H2 chip that promotes better noise cancellation and sound quality. The older AirPods generations have H1 chips that enable pairing and playback. 
The Bose QuietComfort buds have a technology that enables noise and sound cancellation for a specific individual. This is the Custom Tube sound calibration, activated when the earbuds are placed in the ears.
Transparency
Both AirPods Pro and Bose QuietComfort earbuds have Transparency mode. It's the opposite of active noise cancellation since it enables the user to hear the surroundings with the earbuds on. Moreover, the Bose QuietComfort has Aware Mode with Active Sense, improving transparency. This feature enables instant response to sudden noise, thus protecting hearing.
Additionally, the Bose QuietComfort earbuds have a Self-Voice Calling Mode feature. The feature enables the user to hear their voice to prevent them from shouting when they have the earbuds on.
#6: Sound and Noise Cancellation
Bose QuietComfort Noise Cancelling Earbuds-Bluetooth Wireless Earphones, Triple Black
Noise cancelling earbuds – Engineered with the world-class noise cancelling. Bose controllable noise cancellation and full Transparency Mode allow you to eliminate distractions, let your...
High-fidelity audio – An exclusive acoustic architecture brings your music, podcasts, and videos to life, while Volume-optimized Active EQ keeps the sound crisp and balanced at any level.
Comfortable wireless earbuds – Three sizes of StayHear Max eartips are included for a secure fit. Crafted from soft silicone, they provide passive noise blocking with total comfort.
Simple touch controls – It's as easy as tap, swipe, or press. Control your noise cancellation settings, pause, play, and volume right from the side of the earbud itself. Enable it all in the...
Noise-rejecting microphones – Tiny microphones work together to focus on your voice, filtering out surrounding noises for fewer distractions during phone calls.
We earn a commission if you make a purchase, at no additional cost to you.
Although AirPods Pro and Bose QuietComfort Earbuds have the exact same function of noise cancellation, they achieve this in different ways. The AirPods Pro have two microphones, one on the inside and the other on the outside. With Active Noise Cancellation (ANC), the external microphone has an anti-noise device that cancels sounds captured by the microphone.
In addition, the inner one captures noise that may miss the outer microphone. This inner microphone analyzes how the sound is coming through the buds and responds to the unique geometry of the user's ears. However, with the Transparency mode on AirPods Pro and Aware mode on the QuietComfort, you can let outside sounds in.
Bose Acoustic Noise Cancelling Technology
On the other hand, Bose has a more advanced noise canceling technology than Apple. First, it was the first company to invent noise-canceling headphones. Their Bose Acoustic Noise Cancelling technology has a sliding scale that ranges from 0-10. You can assign your three best listening positions through the Bose Music app and activate them by double tapping the left earpiece. While both models are perfect at noise cancellation, the Bose QuietComfort earbuds easily win in this category.
#7: Price
The price of AirPods Pro is $249, while the price of Bose QuietComfort earbuds is $280.
AirPods Pro vs Bose Quietcomfort Earbuds: Pros and Cons
| Pros of AirPods Pro | Cons of AirPods Pro |
| --- | --- |
| Cheaper than Bose QuietComfort earbuds | Limited colors choices |
| Can be charged wirelessly and with an Apple watch charger | No companion app |
| Water and sweat resistant |   |
| Have an H1 and H2 chip that you set up with an iPad, iPhone, or Mac |   |
| Pros of Bose QuietComfort Earbuds | Cons of Bose QuietComfort Earbuds |
| --- | --- |
| Perfect noise cancellation | More expensive |
| Besides the three differently sized ear tips, the buds come with fins for a secure fit | Reduced touch control |
| Aware Mode and Active Sense to improve sounds that are let in | Slightly bulky |
| Self-Voice to let you hear your own voice | Do not support multiple connections |
| Bose Music app for customization | |
| Rich, crisp, and balanced audio |   |
History of AirPods Pro
Apple released its first AirPods in December 2016. Later, in 2019, they released AirPods Pro. AirPods Pro had the same features as AirPods, including auto-pausing, optical sensors, a noise-canceling mic, and tap gesture detection. The AirPods Pro also had some features upgraded, like the Dolby Atmus Spatial Audio which used the H1 chip. This enabled better noise blocking. The AirPods Pro also had longer battery life.
These Pros came with a higher price, thus moving the price from $159 to $249. Next, they released the second generation of AirPods Pro in September 2022. These use the H2 chip and connect using Bluetooth 5.3. The second generation also has an extra battery life; namely, 30 hours of total charge. It also doubled the capability of noise cancellation. There is no extra charge for the AirPods Pro 2 since they still sell at $249.
History of Bose Quietcomfort Earbuds
Bose headphones started with the idea to provide active noise cancellation for pilots. This was after Dr. Amar Bose took a flight to Europe and concluded that the sound of roaring engines was too aggravating. As a result, they came up with a noise canceling technology, and, in 1986, they used that technology to make noise canceling headphones.
This was to help pilots participate in the around-the-world flight. Ten years later, and after adequate research and development, they produced customer-level noise-reducing headphones called Aviation Headset. This formed the basis of active noise cancellation used by all other companies. Bose continued developing its earbuds and released the Bose QuietComfort Earbuds in September 2022. They now sell at $280.
AirPods Pro vs Bose Quietcomfort: 7 Must-Know Facts
Bose was the inventor of the noise-canceling technology in order to help pilots during long flights.
AirPods Pro and Bose QuietComfort earbuds are usable in non-water sports since they are water- and sweat-resistant.
They both have a transparency mode that helps you listen to your surroundings, even with the earbuds on.
Bose QuietComfort earbuds have a Self-Voice calling mode that helps you hear yourself to avoid shouting.
AirPods Pro use an H2 chip that promotes better audio quality and noise filtration.
AirPods have skin detectors that detect when the user is taking them out, pausing automatically.
Bose QuietComfort works with many native assistants, including Google Assistant, Siri, Alexa, and Bixby.
AirPods Pro vs Bose Quietcomfort Earbuds: Which One Is Better? Which One Should You Use?
While Bose QuietComfort earbuds provide good noise canceling, they are more expensive and lack other outstanding features, such as multiple connections. With the AirPods Pro, you have all the amazing features you could get from Bose QuietComfort earbuds, but at a few dollars less. 
Additionally, these buds weigh less and are more comfortable in your ears, even after using them for hours on end. Therefore, if you already have other Apple devices such as an iPhone or an iPad, go ahead and add this other Apple product to your collection, and you'll be happy with your choice.
Up next